Semarang is a city located in Central Java and is the capital city of Central Java. The location of the city of Semarang is very strategic because it is located on the north coast of the island of Java, which is precisely in the middle of the route of Jakarta, Bandung, Surabaya and Medan. Almost all fields in the city of Semarang have begun to develop rapidly.
Semarang city has many nicknames, one of which is "Lumpia City" besides that the city of Semarang is often nicknamed "Venetia van Java". In addition to being famous for Semarang's culinary delights, the city of Semarang is also known for its many tours, ranging from nature tourism, historical tourism and also educational tours. It's good if we want to vacation in Semarang City with family, vacationing to educational tourist attractions is one of the best choices. The following are educational tourist attractions in Semarang. Check out the discussion:
1. MURI Museum
The MURI Museum or the Indonesian World Record Museum is a museum located at Jalan Perintis Kemerdekaan No. 275, Semarang. The first MURI Museum was founded in 1990 by order of Jaya Suprana. This educational tourist spot in Semarang is located in the Jamu Jago industrial area with a building area of ​​around 600 m2. The rooms in this museum are data and photo exhibition rooms, meeting halls and rooms for photographs and historical objects.
This museum is the first institution to store record data in Indonesia. The records in this museum are not only national records but also world records. The operating hours of this museum are open every Monday to Friday from 09.00 to 14.00 WIB. If there will be a visit by students or groups of foreign tourists, make a reservation in advance. There is no fee to enter this museum or it is free.
2. Langen Tirto Appears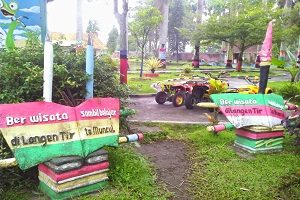 Langen Tirto Muncul is an educational tourist spot in Semarang Regency. Langen Tirto Muncul is located in Rowo Bone village, precisely in Banyu Biru District on the slopes of Mount Gajah Mungkur. Langen tirto appears as a natural tourist spot which also includes educational tourism.
The natural scenery around this educational tour is very beautiful and also the mountain weather is cool because the tour is located on the slopes of Mount Gajah Mungkur. Many rides that attract tourists to visit Langen Tirto Muncul include fishing ponds, mini zoos, restaurants and children's playgrounds. To enter this educational tourist spot, the entrance fee is very cheap, which is Rp. 5,000. Don't forget to capture your vacation moments by taking pictures, and there are also several photo spots in Semarang.
3. Central Java Islamic Development Museum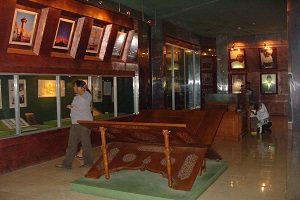 The Central Java Islamic Development Museum is a museum located on Jalan Gajah, Semarang and is located in the Central Java Grand Mosque complex, precisely on the 2nd and 3rd floors of the Asmaul Husna Tower. The collections of this museum are various Al-Quran artifacts, wayang golek, Sunan Muria Mosque, ornaments of the Mantingan Mosque, collections of early Islamic relics, miniature holy towers, and various collections of other Islamic developments.
This museum starts operating from 08.00 to 15.00 every Tuesday to Sunday, so don't come on Monday because the museum is closed on Mondays. If you are on vacation, don't forget to eat and visit some good restaurants in Semarang.
In addition to the six educational tourist attractions in Semarang, there are many more educational tourist attractions in Semarang. Here are other educational tourist attractions in Semarang:
Jamu Jago Museum
Raden Saleh Cultural Park (TBRS)
Lawang Sewu
Semarang Wildlife Park
Old City 3D Trick Art Museum
Semarang Gallery / Semarang Contemporary Art Gallery
Meneer Herbal Medicine Museum
Wonderia
Central Java Grand Mosque Tower
Mandala Bhakti Museum
Semarang Zoo
Ambarawa Train Museum
Cimory on The Valley
Lollipop Playland
Jatibarang Reservoir & Kero Cave
Sam Poo Kong Temple
Old City
Watugong Buddhagaya Pagoda
Ambarawa Pendem Fort
Banaran Coffee Village Agrotourism
Water Blaster Hill Temple Golf
Umbul Sido Mukti
Gedong Songo Temple
Kampoeng Taman Lele Tourism
Marina Beach
KB Park
Pandanaran Park
Madukoro Park
Semarang Chinatown Complex
Typical Culinary Semarang Simpang Lima
Young Monument
Manara Mosque (Layur)
New Bandungan Indah Waterpark
Boja Orchard
Semarang Fair (PRPP)
Medini Tea Garden
Durian Garden and Watu Simbar Educational Tour
Diponegoro University Educational Forest
Tuntang Rabbit Park
Ronggowarsito Museum
Maerokoco Castle
So, those are 45 educational tourist attractions in Semarang, how are you interested not to visit educational tourist attractions in Semarang. Also read about vacation tips so it won't be boring. Hopefully this article can provide a reference for educational tourist attractions that will be chosen while on vacation to Semarang. Happy Holidays!