If you have time to visit Bandung, of course it will not feel good if you miss the opportunity to shop. The city is nicknamed Paris Van Java because it is a shopping paradise in Indonesia. Here are some cheap souvenir shopping locations in Bandung. If you plan to visit this area, try to avoid weekends. Usually on weekends, many Jakarta people visit Bandung for shopping. The streets of Bandung became super congested. Of course you don't want to spend vacation time with traffic jams, right?
1. Cihampelas
Cihampelas is one area that must be visited, if you go to Bandung souvenirs. Along Jalan Cihampelas, there are dozens of shops selling various kinds of goods and souvenirs, from jeans to Mochi cakes typical of Bandung. Dozens of these shops also have merchandise in various price ranges. Therefore you can choose, whether you want expensive or cheap. Here are a few reasons that made this place one of the most famous centers:
Cihampelas' popularity is due to the many shops and boutiques that sell clothes made from jeans with the latest fashions.
There is no doubt about the quality of the jeans. This area is known as the center of jeans since ancient times. You don't have to worry about the price, because the prices for the goods sold at Cihampelas are guaranteed not to drain your pocket.
If you buy goods in large quantities, you can also bid to the seller. (Also read: Free Tourist Attractions in London)
In addition to jeans shops, this area is also enlivened by various culinary tours, hotels or inns and shopping centers. Some outlets are even decorated with giant ornaments from cartoon characters such as spiderman, superman hulk and others. (Also read: Cheap Tourist Attractions in Karawang) Access to the Cihampelas area is also quite easy. Many angkot routes pass through this area. Taxi or motorcycle taxi on line also easy to find in Bandung.
2. Cibaduyut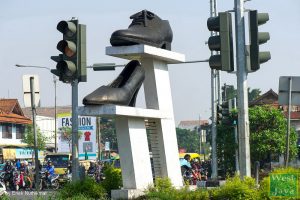 Cibaduyut is an area in the south of Bandung city. The area is the center of leather work home made in the city of Bandung. The most famous product is leather shoes. If you want to visit Cibaduyut, you will find a monument shaped like a shoe, a typical icon of Cibaduyut. As for some very interesting reviews of souvenir places in Cibaduyut as follows:
In the Cibaduyut area you can shop for shoes for women, men or children. (Also read: Cheap Vacation Tips to Japan)
There is no doubt that the quality will not be inferior to well-known brands such as Nike, Adidas or Reebok.
The price of the shoes will not drain your pocket because they are purchased directly from the craftsmen. The shoe models are also diverse and unique. You can even order a shoe model that suits your taste.

Many shoe traders from outside as a place for Bandung souvenirs shop or order shoes from this area. The traders are usually from Sumatra or Kalimantan. (read also:

Holiday Tips to Hong Kong Macau

)
There is one thing you need to prepare before you head to this area. Mentally. You have to mentally prepare yourself to bid on shoes. If not, you might get shoes that are too expensive. In addition to shoes, in this area you can also get leather wallets with good quality. Leather wallets are available at various prices, ranging from tens of thousands to hundreds of thousands of rupiah. There is also a leather bag. In Cibaduyut, there is a famous bag center that provides a variety of bags, from school bags to modern casual bags.
3. New Market Trade Center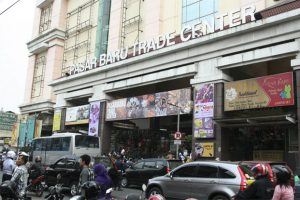 Pasar Baru Trade Center or commonly known as Pasar Baru is the largest wholesale center in Bandung. This market provides goods fashion with various models and prices are sold wholesale. The model of the item is always up-to-date.
Because of the size of this market, buyers do not only come from Indonesia but also from abroad such as Malaysia or Bruney Darussalam. Buyers usually buy in large quantities for resale. But don't worry, you can still buy retail goods. Fashion items that are usually sold in this market are:
Muslim fashion.
Party dress.
Casual fashion.
Jeans.
Shoe.
textiles.
Bag.
Cosmetics.
Batik.
Accessories.
Baby gear.
School uniforms.
Hajj equipment.
Sheets and bed covers. (Also read: Cheap Holiday Tips to South Korea)
The location of this market is very strategic because it is in the center of Bandung. This market is precisely located on Jalan Otto Iskandar Dinata 70 Bandung. Access to this market is very easy. You can take public transportation such as bus from Leuwipanjang terminal or city transportation to Kebon Kalapa but get off next to ITC. Then take another blue transportation to Sukajadi and get off at the Aroma Coffee Factory. Next you can walk to Pasar Baru. The Pasar Baru building is very large and majestic. There are 8 floors that sell a variety of fashion products with parking in the basement and top floor. From the 8th floor you can also see a very beautiful view of the city of Bandung. (Also read: Romantic Tourist Places in Yogyakarta – Lesehan Culinary Places in Jakarta)
4. Gasibu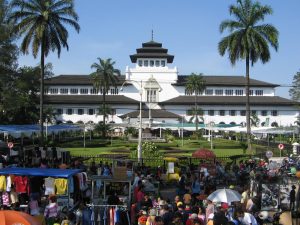 Gasibu Market is located in front of the West Java People's Struggle Monument. To the south of the Gasibu Market there is a Gasibu field, to the south there is Gedung Sate which is a landmarks Bandung. This market is the same as a surprise market or an impromptu market in general. Gasibu is only open on Sundays. (Also read: Holiday Tips to Bandung)
There are various items for sale in this market. From clothing to food. Bandung residents or tourists often invade this area because the prices of various goods are cheap. Examples of goods sold in the Gasibu market are:
Accessories.
Glasses.
Wallet.
Hat.
Bag.
Shoe.
Wristwatch.
Phone case.
Clothes.
Book.
Children's toy.
Food.
Drink.
Gasibu Market starts operating from 6 am to 12 noon. There are also some traders who are still selling until 3 pm. In addition, around the Gasibu market there are also children's playgrounds such as ball baths and mini carousels.
Other articles:
5. Amanda Brownies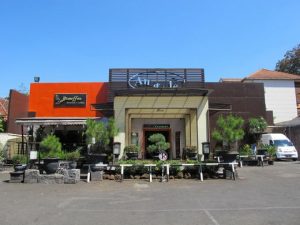 This Bandung-style brownie has been famous for a dozen years. Because of her popularity, Amanda Brownies has opened branches in various big cities in Indonesia, such as Surabaya, Yogyakarta and Jakarta.
Amanda Brownies are steamed brownies with various flavors such as pandan, strawberry, cream cheese, blueberry and almond. But visitors' favorites are usually original flavors. These typical Bandung brownies are sold from IDR 29,000 to IDR 55,000. Cheap, isn't it? (Also read: Tourist Attractions in Yogyakarta)
Amanda's brownies last a long time. Original flavor can last up to 4 days. Meanwhile, brownies with additional toppings can last for 3 days. Brownies Amanda is suitable to be served at meetings, social gatherings, birthdays or family snacks. In Bandung, Amanda opened the following branches:
Jalan Rancaboleng No. 29 Margahayu Raya.
Ruko Paskal Hyper Square A-23 Jalan Pasirkaliki No. 27-29.
Purwakarta Street No. D-44 Antapani.
Jalan Lengkong Besar No. 101 B. (Also read: Tourist Attractions in Kupang)
6. Kartika Sari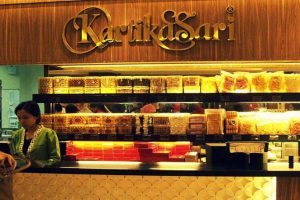 If Brownies are provided by Brownies Amanda, typical Bandung snacks are provided by Kartika Sari. The favorite snack of visitors at Kartika Sari is Pisang Bollen. Pisang bollen Kartika Sari is a pioneer of banana bolen as a place for souvenirs from Bandung since 1970. Banana bollen is a banana wrapped in pastry then baked until cooked. Kartika Sari provides a variety of banana bollen flavors including:
Besides banana bollen, Kartika Sari also provides baked or steamed brownies, pastels, risoles, croquettes and bagelen. Kartika Sari outlets are spread across several locations in Bandung such as in Kopo, Cimahi, Jakeju, Antapani, Buah Batu and many more. (Also read: Backpacker-style Vacation Tips to Lombok)
Those are some places to shop for souvenirs in Bandung. In addition, you can still shop for souvenirs at the following places:
PUSDAI Friday Market.
Lembang Market.
Amanda Brownies.
Dago factory outlets.
Riau factory outlets.
Setiabudi Factory Outlet.
Gepuk Mrs. ong.
Prima Rasa Picnic Roll.
Surabi Setiabudi.
Various Handicrafts Lembang.
Braga Street area.
Cigondewah area.
Gedebage Market.
Andir Market.
Parahyangan Market.
Bandung Indah Plaza.
Bandung Trade Center.
ITC Coconut Plantation.
Tamim Gang.
Flower City Market.
King's Shopping Center.
MD Plaza.
Binong Street Knitting Center.
Sacred Shirt Center (Skoci).
Gang Nata Shopping Area.
Minggon Punclut Market.
Palasari Book Market.
Jatayu Market.
Sausage House.
Batagor Kingsley.
Kosambi Market.
Iteung shop in Bandung.
Various Flavors.
Odjolali By-By.
Nituty Cookies.
Merdeka Soes Cake.
Know Tauhid Lembang.
Batargor Riri.
Every day the visitors always throng every corner of the New market. The number of visitors will increase on weekends or holidays such as Eid al-Fitr or the new year. So many reviews about the souvenir shopping center in Bandung. I hope this article helps your travels.