If you visit the city of Solo and you don't enjoy its culinary diversity, it will be very unfortunate. If you can, if you visit this place, don't eat breakfast with bread and jam. Even for the breakfast menu, there are various menus that this city has to offer you.
Take the time to go around and enjoy the various culinary riches typical of this city so that even from just this one city you will realize how rich the culinary diversity of our country is. Herewith we take you to visit 36 ​​culinary tourism locations in the special city of Solo:
Read also:
1. Serabi Notosuman
Serabi Solo is indeed widely sold, even in Jakarta, but nothing can match the taste of Serabi Solo that you get from Notosuman village, Solo.
The sweet and savory taste is very fitting and addictive. So even though they have to queue, tourists are willing to do it in order to get this delicious pancake.
Please provide IDR 20,000 to get 10 original pancakes, or IDR 21,000 for 5 original pancakes and 5 chocolate pancakes, or IDR 22,000 for 10 chocolate pancakes only.
This legendary culinary from Solo has started its business since 1923, surviving to this day. Currently, there are two Serabi Notosuman shops, namely Mrs. Lidia's on Jl. Moh. Yamin 28 with a green wrapper, rolled pancakes and belonging to Mrs. Handayani on Jl. Moh. Yamin 49 with an orange color wrapper, stacked pancakes bordered by banana leaves. Both are descendants of the pioneers of this business, namely the couple Hoo Geng Hok and Tan Giok Lan.
Read also:
2. Timlo Sastro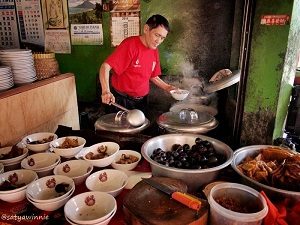 At a corner in Pasar Gede Solo, there is a Timlo Solo stall that is never empty of visitors so that almost every day the dishes provided at this shop run out quickly.
This stall is often called the Timlo Balong stall because the location of Pasar Gede is around Balong village. This restaurant, which has been around since 1952, is open from 6:30 to 15:30 in the evening, but often before closing time, supplies are sold out.
If you experience this, don't be disappointed just yet. Please come to the branch stall in Penumping village or to be precise Jl. Dr. Wahidin 5 No.30` or at Ruko Tugu Lilim A5, which is open until 21.30 pm.
This food is almost similar to soto, using a clear sauce containing liver gizzard, pindang duck eggs, and sliced ​​sausage solo. Visitors will also be entertained with live music keroncong so that it adds to the delicious and distinctive atmosphere. Oh yes, the price for a complete bowl of Timlo is Rp. 20,000, white rice is Rp. 5,000 while additional contents such as liver gizzard, eggs and others are set at Rp. 8,000-Rp. 16,000. While for drinks between the range of Rp. 5000- IDR 10,000.
Read also:
3. Tofu Kupat Sholikhin
Next we headed to the area of ​​Jl. Gajah Mada 91, precisely adjacent to the Solikhin Mosque in Solo. Therefore, this legendary snack place is often called Tahu Kupat Sholikhin.
Several stalls selling tofu kupat have lined up at this location since 1987, including a well-known one, Tahu Kupat Sido Mampir. This Sholikhin Mosque location is the most appropriate if you are looking for a Tofu Kupat snack because it tastes the best and fits right.
Kupat tofu is a mixture of sliced ​​diamonds, bean sprouts, fresh fried tofu, wet noodles, fried bakwan and fried peanuts. All of these ingredients are doused with a seasoning sauce consisting of sweet soy sauce with sliced ​​garlic. If you eat at this place, you can choose an additional fried egg which makes the tofu kupat dish here different from other locations. The unique atmosphere will be more memorable with the presence of traditional musicians who sing Javanese songs or old songs.
Read also:
4. Tengkleng Bu Edi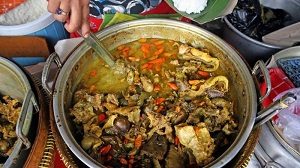 Most of you must be very familiar with the name of this dish, although maybe some have never tried it. If you happen to be visiting Solo, please stop by at Klewer Market where at this location you will find Bu Edi's Warung Tengkleng, which is extremely popular.
Even when it's not even hours, visitors are already lined up waiting in line. Tengkleng is a dish with spices similar to curry but more watery containing the bones, legs, head and offal of goat.
Mrs. Edi has continued this business since her grandmother started selling around Klewer Market in 1971. Currently, Mrs. Edi has a stall at the gate of Pasar Klewer between Pasar Klewer and the Great Mosque and is open every 12.00 hours. His merchandise sells out in just 3-4 hours even though he provides approximately 300 servings every day. For one serving or one pincuk Tengkleng, you have to pay Rp.25,000.
Read also:
5. Sate Buntel Mbok Galak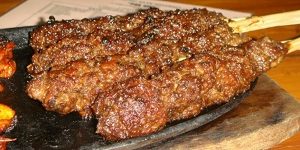 We turn to dishes that have been favored by the President of the Republic of Indonesia since the time of President Soeharto to Joko Widodo. These state officials really like the Sate Kambing, Sate Buntel and Tengkleng dishes prepared by this place to eat, although indeed the best known is the sate buntel.
Located at Jl.Mangun Sarkoro 122, Sumber, Banjarsari, this shop is open since 18.00 in the evening. For 2 Buntel skewers you have to pay Rp. 35,000 as well as 10 skewers of goat and tongseng. Meanwhile, for Tengkleng and Gule, one portion is Rp. 20,000.
Sate buntel is chopped goat satay wrapped in meat fat, wrapped around a bamboo stick. When bitten, the meat is very tender and odorless pregust. This dish is served with soy sauce, shallots, cabbage, sliced ​​lime and chilies. It was explained that there was no smell of goat's guts and that the meat was also tender because this dish was prepared by a goat that was about 1 year old.
Read also:
6. Nasi Liwet Wongso Lemu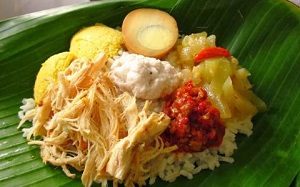 It doesn't feel right if you go to Solo without enjoying Nasi Liwet. You can find this dish a lot on the roadside or in snack centers, but the most famous one is Nasi Liwet Bu Wongso Lemu which is located on Jl. Teuku Umar, Keprabon, although the price is indeed more expensive than Nasi Liwet on the street.
The price of a regular portion of Nasi Liwet is Rp. 19,000 while a complete Nasi Liwet with liver gizzard is priced at Rp. 22,000. This culinary business has been started since 1950 until now it is still crowded by visitors, especially the sellers wearing kebaya so that it adds to the traditional atmosphere.
Nasi liwet is a combination of savory rice, with a side dish of boiled eggs, areh made from delicious coconut milk, sweet and spicy pumpkin vegetables accompanied by shredded boiled chicken. It is very suitable if enjoyed at night accompanied by music from street musicians in Solo. Banana leaves and pincuk which are substitutes for plates and spoons actually add to the delicious taste of this dish. If interested, you can visit from 16.00 in the afternoon to 01.00 in the morning.
Read also:
7. Bu Kis' Pecel Shop
Have you ever heard of Pecel Tumpang? This is where you can get this delicious dish. This place serves pecel but with chili tumpeng seasoning, the main ingredient is rotten tempeh, which is spicy and savory.
Besides being able to enjoy the main menu, you can also enjoy snacks or side dishes such as fried tofu, white tofu, rotten tempeh, empal, ati, kikil, mendoan and so on.
For those who are interested in visiting this place that has been around since the 1950s, please come from 07.00 am to 14.00 pm. This place to eat is located behind the Solo court or to be precise on Jl. Glege, Priyobadan with quite affordable prices.
Read also:
Not satisfied with the food menu above? If you are still in the city of Solo, please visit:
Soto Gading, South Square of Solo
Gudeg Cekek Bu Kasno, Jl. Monginsidi near SMU I Solo
Pecel Ndeso Solo, Jl. Dr Supomo 55 M'beling market
Mbak Lies Solo Strait, Gang II, Serengan, Solo
Sate Buntel Tambak Segaran, Pond Segaran 39, Solo
Bali Padi Resto, Jl. Kadilangu, Baki Pandeyan, Solo
Sate Kere Yu Rebi, Behind Sriwedari Stadium, Solo
Roemahkoe Resto, Jl. Dr. Radjiman 501, Solo
Meatball Alex, Jl. Gajah Mada, Solo
Soup Matahari Solo, Jl. Hasanuddin no. 99, Solo
Warung Pecel Solo, Jl. Dr. Soepomo, Solo
Tofu Kupat Mr. Brewok, Jl. RM. Said, Solo
Soto Mbok Giyem, Jl. Bhayangkara, Solo
Viens Strait, Jl. Hasanudin, Solo
Gudeg Ceker Bu Kasno, Jl. Monginsidi, Solo
Harjo Bestik, Jl. Veteran 140, Solo
Bale Padi Restaurant, Jl. Ovensari Raya, Kadilangu, Baki Pandean
For typical food and soft drinks, please visit:
Tahok Pak Citro, Pasar Gede, Solo
Es Gempol Pleret Pak Suhar, Jl. Dr. Wahidin, Solo
Tentrem Ice Cream, Jl. Urip Sumoharjo, Solo
Es Dawet Telasih Bu Dermi, Pasar Gede, Solo
Pak Cip Lime Dawet Ice, Kadipolo Market, Solo
Orion Bakery, selling various kinds of souvenirs, Urip Sumoharjo, Solo
Wedhangan Pendhop
Ledre Banana, Laweyan, Solo
Gethuk Lindri Subur, Jl. Slamet Riyadi, Sriwedari, Solo
Or if you want a fun hangout place surrounded by typical Solo snacks, please go to:
Ngarsopuro Night Market, every Sunday night, Jl. Diponegoro, Solo
Solo Pecel Shop
Solo Rambak Whip
Gudek Ceker Margoyudan Bu Kasno
Susu Shi Jack, has several branches including West City Square Front, Solo
Wedangan Pendhopo, Jl. Srigading, Turisari, Solo
Wedangan Tiga Tjeret, Jl. Ronggowarsito, Solo
Manahan Stadium Tent Stall, Solo
Galabo Night Market (Gladag Langen Bogan), every night on Jl. Mayor Sunaryo in the Gladag area
Solo Souvenir Center Jl.Adi Sucipto and Jl.Dr.Radjiman, Solo
Also try some special foods that may be available at the Night Market and scattered in several food shops such as Wedang Asle, Semar Mendem, Balung Kethek, Brambang Asem, Pecel Ndeso, Karang Gesing, Rambak Petis, Sausage Solo and many more. So, don't waste your time hunting for various specialties and dishes when you are in Solo, and don't just eat hotel food or what you usually eat every day. Happy culinary hunting in Solo!
Read also: