Bogor is a city located in West Java Province. Bogor is a city that is famous for its many tourist attractions. Besides that, Bogor also has many places that can be used as a place to hangout or hang out. Hanging out has now become a lifestyle trend for some young people. Currently, Bogor has many cafes that are suitable as a place to hang out with your friends.
The comfortable atmosphere and cool air make it easy for children to enjoy hanging out in Bogor cafes. For those of you who don't know a good and cool place to hang out in Bogor and are at a resort at the peak, here are 42 recommendations for hangout places in Bogor that can be used to hang out comfortably on your weekend nights as follows:
1. Nicole's Kitchen and Lounge
The first recommended place to hang out in Bogor is Nicole's Kitchen and Lounge. Nicole's Kitchen and Lounge is located at Kampoeng Brasco Cipanas, precisely on Jl. Raya Cipanas Hanjawar No.1, South Bogor. Nicole's Kitchen has the same building as FO D'Brasco, the 1st and 2nd floors are Nicole's Kitchen and the 3rd floor is the rooftop of FO D'Brasco. Each floor has its own characteristics, namely the 1st floor for Thai specialties, the 2nd floor of Nicole's Chocolate Factory and the rooftop area serving a variety of Western and Indonesian dishes. This place is really suitable to be used as a place to hang out and for people who like to take pictures because the hunting area in the Bogor area has a very beautiful view.
The indoor decoration is very comfortable, a variety of furniture made of rattan with shades of white. In addition to the colorful nuances, there are several spots with colorful sofas. And the attraction of Nicole's Kitchen is the outdoor area that offers a very beautiful view. In addition, Nicole's Kitchen has a private room that can be used as a pre-wedding place in Bogor with a very attractive design, which has a blue and white dome and there are imitation cherry blossoms and the arrangement of glass bottles to form a chandelier. There are also various white sofas and gazeboos and there is free wifi, this makes our hanging out more comfortable and cool. Nicole's Kitchen and Lounge is open from 10:00 to 22:00.
2. Lusso Cafe n Resto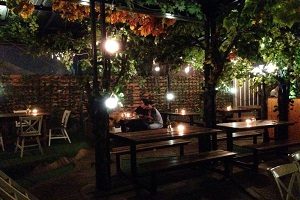 Lusso Cafe n Resto is located on Jl. General A. Yani No. 17 Bogor City. Lusso cafe can be used as a cool hangout place, Lusso cafe has a small garden with yellowing leaves. Lusso cafe has a 3-story building, just like Nicole's kitchen each floor at Lusso cafe has a different theme. Usually the visitors only occupy the 2nd and 3rd floors. The 2nd floor has a vintage theme with a variety of modern furniture, while the 3rd floor is treated to a beautiful view of the very strong wind blowing from the 3rd floor.
Lusso cafe is open every day from 13.00 to 21.30 on weekdays and 13.00 to 22.30 on weekends. Lusso cafe is very suitable as a place to hang out with friends or a place to date in Bogor. The food provided at Lusso cafe is very diverse, ranging from pasta, pizza, fried rice, chicken noodles, etc. In addition there are various desserts such as waffles, pancakes and for drinks there are various kinds of drinks ranging from tea, coffee, milkshakes, mocktails, etc. The price range at Lusso cafe starts from Rp. 4,000 to Rp. 50,000.
3. Momo Milk Bar
For you milk lovers, Momo Milk Barn is one of the hangout places that you can visit. But don't worry, Momo Milk Barn doesn't only sell milk, it also provides various other dishes, starting from pasta, western food, chinese food and various drinks ranging from tea, coffee and juice. Momo Milk Barn is located at Jalan Post Office, Bogor and has 1 branch at the Yogya Bogor food court. If you visit Momo Milk Barn on Saturday afternoons, this place is usually very crowded and sometimes you have to wait on a list to hang out at this place.
Momo milk barn has a ranch-style design, but it's a clean and comfortable farm. On each wall there are various interesting pictures and also in the middle of this place there is a small garden so that we feel like we are on a farm. For the mainstay menu at this place, namely the green tea kitkat milkshake. Now for the price range of food and drinks in this place, it is very affordable, only starting from Rp. 4,000 to Rp. 29,000. You can already taste the food and drinks from this Momo milk barn.
4. Lemongrass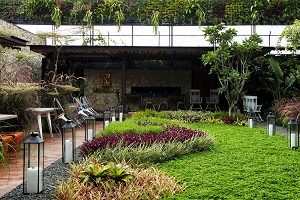 Lemongrass is a suitable place to hang out. This restaurant is located at Jl. Pajajara No. 21, Bogor. The location of the lemongrass place is on the side of the road so it won't be difficult to find this place. Lemongrass is a very attractive place at the front of this restaurant surrounded by a small pond with a beautiful garden. If other restaurants have a main door in front, Lemongrass has a unique design, the main door is on the side and we enter a small hallway to get to the main part of the restaurant. In every place, there are many Lemongrass writings arranged from ornamental plants and also the arrangement of lights so that there are many spots that are suitable for taking pictures.
Various food menus are available at Lemongrass, ranging from toasts, tissue bread, dimsum, small bites, noodles, rice, soup and salad, seafood, etc. As for drinks, there are juice, tea, coffee, milkshakes and there are also various desserts. Lemongrass is open from 10.00 to 22.00 WIB. The price range for food and drinks is very diverse because there are so many food menus in Lemongrass.
5. Coffee Toffe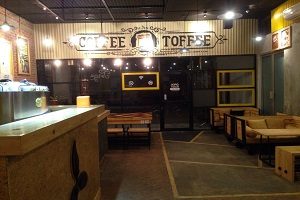 Coffee toffee is located at Jl. Pandu Raya No.84 besides that this cafe already has a branch, namely on Jl. KH Soleh Iskandar. This cafe has a vintage feel with tables and benches made of wood and warm white lighting. In addition, there are various displays of Indonesian coffee-koi and this place sells various merchandise ranging from t-shirts, key chains and mugs. In addition to coffee, this cafe provides a variety of foods ranging from pancakes, pasta, salads, bread and traditional food. While the drinks are available frappe blended coffee, fruit punch, ice coffee, hot coffee, hot chocolate and blended tea. The price range at this cafe varies for pancakes IDR 26k – 29.5k, pasta IDR 33k – 39.5k, salad IDR 25k – 29.5k, etc. While the drink price range for ice coffee starts from 19k to 26.5k, hot coffee starts from 24.5k – 26k. Coffee toffee is open every day from 08.00 to 02.00. So what are you waiting for, immediately visit this place to hang out with friends.
6. Cimory Riverside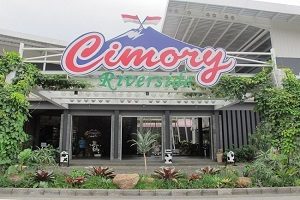 Cimory riverside is located at Jl. Raya Peak KM 77, Bogor. Cimory riverside is already very famous, even many visitors who come from outside the city of Bogor. From the name alone, you can guess "Riverside", this place is located on the bank of the river and has a very large area. The large area of ​​land makes Cimory Riverside create a mini zoo, which is a mini zoo, but the only animals that exist are only poultry, deer, birds, cows and various fish in the fish pond. Besides being able to see various animals, this place has very cool weather and has a comfortable atmosphere because it is surrounded by many pine trees and green scenery. Cimory riverside is one of the family tourist attractions in Bogor.
To enter this place you have to pay Rp. 15,000 and can be exchanged for cimory yogurt, this price does not include food and drinks to be purchased. The food provided at this place is a variety of processed beef and chicken which is processed into western food and Indonesian food. The price range is quite affordable for a place like Cimory Riverside, starting from Rp. 30,000 to Rp. 50,000. Cimory riverside during the weekend is very visited by many people so you have to be patient if you want to hang out on the weekend.
7. Two Stories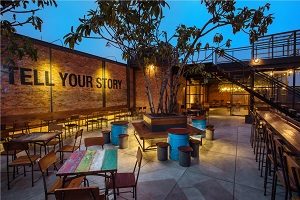 Two stories is one of the cafes that are often used as a place for young people to hang out. Two stories is located at Jl. Pajajaran Indah Raya V-07, Bogor. Two stories is open from 10:00 to 22:00. This cafe has a 2-story building and provides indoor and outdoor places. The 1st floor is a non smoking area and the 2nd floor is a smoking area. The decor of this cafe is very interesting, on the 2nd floor you can see there is a big tree decorated with lights, besides that the wall decorations and seating are very unique. Some tables and chairs are made of wood and some are recycled tables and chairs. The price range for these two stories is Rp. 10,000 to Rp. 125,000.
In addition to the seven hangout spots, there are many more suitable places to hang out with your friends. Here are other places to hang out in Bogor:
Ah Poong.
Tier Sira Resto & Cafe.
Gumbira's shop.
Garden Shop.
Cibogy.
Luke's Cafe.
Gumiati Cafe.
Bavarian Culinary Haus.
roof park.
De Cafe Rooftop Garden.
Forestthree.
Golden Park.
Burger Upzize Bogor.
Cyrano Cafe.
Mimi Granddaughter.
Dailydose Coffee and Eatery.
D'etre Resto.
Klappertaart Huize.
Gumati Cafe.
Popolo Coffee.
Arthentic Coffee.
Pie Apple Pie.
Hancock Resto & Cafe.
MM Cafe.
Boogie, Bogor Strudels.
Our Garden Cafe.
Cookie Store & Cafe Bogor.
Rani Coffee House.
Imah Nini.
Death by Chocolate.
Culinaire Van Bogor.
D'Glock.
Kroznat & Friends.
Royale Bakery & Cafe.
Lemon8 Cafe.
Pepino House Restaurant.
Monarchy Bistro.
Cupcake House.
Home Water Resturant.
The Siera Resto & Cafe.
The Ground Cafe.
Yellow Trux.
So, those are 42 hangout places in Bogor that you can use when hanging out with friends. Hopefully this article is useful for readers.