Jabodetabek is an area whose name has often been heard. It is there that the capital city of the country and the area around it are located. A place where many immigrants and visitors from various regions every day. Whether it's to earn sustenance or travel. For those of you who want to travel there, here are cheap tourist attractions in Jabodetabek that you can visit.
1. National Monument
The National Monument or more often referred to as Monas is a towering monument building. The height of the Monas itself is about 32 meters. Monas has become a symbol of Indonesian independence and has long been an icon of Jakarta and even Indonesia.
The initial purpose of the establishment of Monas was to commemorate the services of the heroes for the independence of Indonesia. Monas was founded as the brainchild of Indonesia's first president, Ir. Sukarno. Monas has a crown in the form of a tongue covered with gold.
Monas is open every day, from 8 am to 3 pm. Monas entrance ticket price is very cheap, namely Rp. 5,000 for adults and Rp. 3,000 for students and children. If you want to climb to the top, tourists will be charged an additional fee of Rp. 10,000 for adults and only Rp. 5000 for students and children.
2. Ragunan Zoo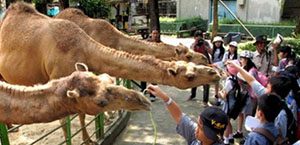 The next cheap tourist attraction in Jakarta is the Ragunan Zoo. This tourist spot has the theme of flora and fauna and is located on Jalan Harsono No. 1 Ragunan, South Jakarta.
In the zoo there are at least 270 types of animal species and about 171 types of plant species. This zoo is rumored to be the first zoo in Indonesia. It covers an area of ​​140 hectares and was built in 1864.
This tourist spot is an alternative vacation spot for families. There are about 50,000 trees there. This is what makes this place very cool.
Even though it is old, this zoo is still cheap to visit, at a rate of Rp. 4,000/person for adults and Rp. 3,000 for children. This admission price does not include the price of rides inside the zoo.
3. Bogor Botanical Gardens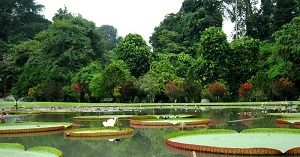 This cheap tourist spot in Jabodetabek has become a tourist icon in Bogor. Every tourist who has visited Bogor certainly knows him and has even visited him.
In addition to its strategic location because it is in the city center, tourists who come also like the freshness of the area. The name is a botanical garden, of course there are many trees and flowers in that place. This is the main attraction of the Bogor Botanical Gardens.
Tourists can see various types of plants while learning about flora. There are more than 15,000 types of collections of trees and other plants in this botanical garden.
This tourist spot in Greater Jakarta has been around since the days of the Sunda Kelapa Kingdom and during the Dutch colonial period it was considered one of the oldest Botanical Gardens in Asia.
If you trace to the back area, tourists will see a beautiful lake. In addition, there is also a suspension bridge. The price for admission to the Bogor Botanical Gardens is currently only Rp. 14,000 per person.
Read also:
4. Bogor Palace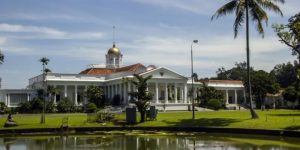 This palace was formerly known as Buitenzorg Palace. There are many art objects stored there, ranging from paintings, ceramics, sculptures, and much more. There are at least 448 paintings and 216 statues that are kept at the Bogor Palace.
Bogor Palace is one of the tourist attractions in Jabodetabek that is cheap and can be visited by tourists. It's just that to visit it there are several requirements that must be met by tourists, including submitting an application for a visit to the palace with a minimum of 25 visitors.
Tourists also have to wait approximately 3 days after submitting the letter. However, the entrance ticket to the Bogor Palace is quite cheap, at IDR 14,000 per person. As for foreign tourists, only Rp. 25,000 per person is withdrawn.
5. Cheerful Depok Swimming Pool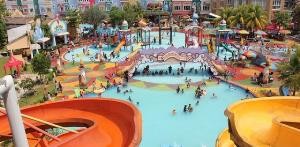 This tourist spot is commonly called the Cheerful Swimming Pool. This place consists of two types of swimming pools, namely a swimming pool for adults and a children's pool. In the children's pool, there are several spiral surfboards. Children tourists can slide through the slide safely and lead directly to the swimming pool.
No need to worry if you don't bring a life jacket. In this water park there is already a float rental which is very affordable.
The Ceria Swimming Pool also has some very interesting water rides. Tourists can ride a water bike. In addition there is also a ball pool and also a balloon palace.
To enter there, tourists do not need to pay a lot of money, which is only Rp. 25,000 per person. During holidays and weekends, the ticket price increases by only Rp. 2,000.
6. Depok Wiladatika Flower Garden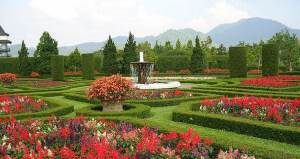 Depok Wiladatika Flower Park is one of the many tourist attractions in Jabodetabek which is most visited by tourists, especially teenagers. As the name implies, this garden has a collection of various types of flowers that will look very beautiful when blooming.
This tourist park is one of the many famous Depok attractions. It's not complete to visit Depok if you haven't visited this park. The location is at Jalan Jamboree No. 1, Depok.
Besides having a beautiful view, this park will remind tourists of the Netherlands. This flower garden also has various kinds of play facilities that are quite complete, including a swimming pool, mini cave, and several playgrounds. Therefore, this place is suitable for family tourism. Apart from being a flora educational tour, children can also play.
Read also:
7. Tangerang Cup Island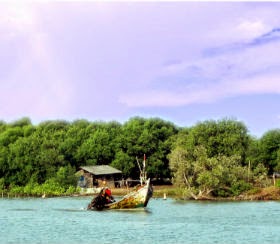 Cup Island is a must-visit while on vacation in Greater Jakarta. This place is located in Tangerang district and combines the experience of marine tourism, historical tourism, as well as pilgrimage tourism.
The reason is, on this small island which covers only 2.5 hectares, there is the tomb of the Prince of the Guardian of the Ocean. This prince is believed by local residents to be a propagator of Islam in the region.
Cangkir Island is located in Kronjo village, Kronjo sub-district, Tangerang district. Tourists who visit there, mostly also take the time to make pilgrimages.
Before 1995 the island was separated from the island of Java, then a connecting road was built to go to Cangkir Island so that access was easier.
8. Tanjung Bird Tangerang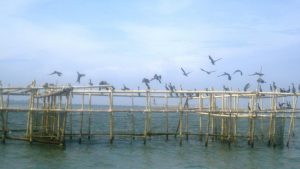 Tanjung Burung is the name of a village located in Teluk Naga sub-district, Tangerang district. This village is a village on the north coast of Java. Inside is the beach area of ​​the same name.
The Tanjung Burung area itself is known as the site of a fiberglass shipyard and is also the largest cattle ranch in Tangerang.
If you want to travel to Greater Jakarta, try to stop at the village of Tanjung Burung. There tourists can play water on the beach. After that, tourists can also go around the village to see the process of making fiberglass boats and see how unique the cattle farm there is.
Reportedly, in the village there is also a giant water reservoir made of fiberglass. In fact, the Indonesian Record Museum (MURI) recorded it as the largest water reservoir in Indonesia.
9. Curug Parigi Bekasi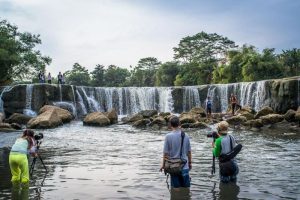 Jabodetabek is indeed a densely populated area, but it is not impossible if there are natural attractions that are still beautiful and beautiful. Prove it yourself by visiting Curug Parigi Bekasi.
This waterfall is near the Nusa Indah 5 Villa Housing and not far from the Bantar Gebang Integrated Waste Processing Site (TPS). Although the Bantar Gebang area is synonymous with waste processing, the charm of the Curug Parigi waterfall is very beautiful.
In fact, Parigi waterfall is said to be a miniature of the famous Niagara waterfall, because the shape of the waterfall is similar to Niagara, only smaller in size. Curious? Come and see for yourself.
10. Lake Marakash Bekasi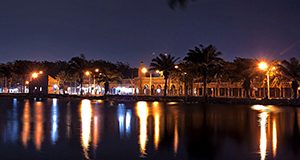 Jabodetabek tourists can enjoy the cool breeze and beautiful lake views at Lake Marakash Bekasi. The location is on Jalan Pondok Ungu Permai, Bekasi.
This lake is quite large, namely two hectares. This lake was originally an artificial lake for water storage since 1992. But now this lake has become a tourist destination.
Marakash Lake itself is never empty of tourists, especially in the afternoon. Moreover, to visit it, tourists are free of charge, aka free.
There are many interesting activities that can be done in this area, including fishing and culinary tours. There are also horses to ride.
Read also:
In addition, there are several other cheap tourist attractions in Greater Jakarta, which are as follows.
11. Jakarta Youth Pledge Museum
12. Jakarta Inscription Museum
13. Menteng Park Jakarta
14. Hayam Wuruk Lindeteves Jakarta
15. Pelita Harapan Museum Jakarta
16. Jakarta Textile Museum
17. Tanjung Kait Tangerang
18. Cigaru Blue Lake, Tangerang
19. Tanjung Pasir Beach, Tangerang
20. World of Wonders Citra Raya Tangerang
21. Tanjung Pasir Crocodile Park
22. Water World Citra Raya Tangerang
23. Muara Gembong Bekasi
24. Indonesian Crocodile Park Jaya Bekasi
25. Bekasi Tree House
26. Vihara Dharma Jaya Bekasi
27. Bekasi Waterplay Circus
28. Go! Wet Waterpark Bekasi
29. Tourist Attractions Dian Al-Mahri Mosque, Depok
30. Tourist attractions Pondok Zidane Depok
31. White Sands Tourist Park, Depok
32. Places to visit Setu Rawa Besar Lio Depok
33. Belimbing Dewa Depok Agro Tourism Places
34. Godong Ijo Tourist Attractions, Depok
35. Malimping Lake Bogor
36. Mekarsari Bogor Tourism Park
37. Tirta Sanita Hot Springs Ciseeng Bogor
38. Ciparai Hot Springs Bogor
39. Situ Gede Bogor
40. Bogor Sun Tourism Park
Read also:
Those are some cheap tourist attractions in Jabodetabek that can be visited. Some of them even are free. Hopefully this article is useful. Happy Holidays.