Doing culinary tours is best done at night, where activities and busyness have reduced. In addition, the evening nuance is also a nice atmosphere to gather with friends and family while enjoying a meal in a warm place. Especially in a culinary city like Semarang, where there are many special foods waiting to be eaten. If you want to get a dressing like that, here are some Semarang culinary at night that you can visit.
1. Goodfellas Restaurant & Bar
Places to eat in Semarang at night that can be visited is Goodfellas Resto & Bar. This restaurant building is located on Jl. Gajah Mungkur Selatan No.11, Semarang City. You can visit this place until midnight.
This place is perfect for hanging out at night with friends or family. The food menu served is more western. For those of you who like the classic colonial atmosphere, then this place is the best.
There is also a meeting room and several other facilities that can be used. The interior of the building is designed in a vintage style, and reflects a distinctly European atmosphere. Whether night or day, this place will look great. But at night it will be better.
Read also:
2. Trattoria Semarang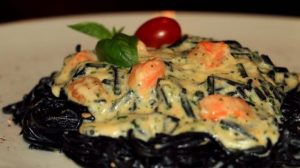 If you want to taste typical Italian food at night, come to this place. The location is at The Vee Building, Jalan Gajah Mada, Brumbungan, Semarang City. The opening hours of this place are from noon to midnight. Suitable for enjoying the atmosphere of the night.
Trattoria Semarang presents a menu of Italian specialties. In fact, this restaurant is even the first Italian restaurant in Bali. Currently there are also several other branches in other cities, including Semarang.
If you want to experience authentic Italian pizza and some other Italian specialties, then come here. The Italian food at this place is authentic Italian and is not diverted or adapted to the Indonesian tongue so it is very authentic. If you are curious, please visit there at night with friends or family.
3. KoenoKoeni Cafe Gallery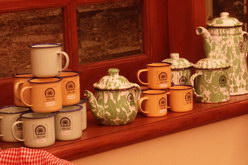 KoenoKoeni Cafe Gallery is a restaurant that has an ancient concept of a blend of Javanese culture and Western culture. This can be seen from the food menu offered there. Most of the food served is indeed a Javanese menu and a Western menu.
This place offers a main menu of mixed rice. In addition, there is also the typical lontong cap go meh and several other menus such as fish, lodeh rice, gudeg, and other Javanese specialties. For the western food menu, there are several processed foods such as steak and also processed from mushrooms, meat, and many more.
The concept of interior arrangement is an old school concept and will remind you of the warmth of the atmosphere of grandma and grandpa's house. This place is suitable for spending the night with the family because it is open until midnight.
4. Skyline Lounge & Exclusive Dining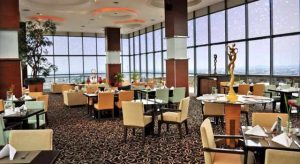 Want to hang out in an exclusive place at night in Semarang? This place is the most suitable, because it is open from 5 pm to 1 midnight.
The location of Sky Line Lounge & Exclusive Dining is on the 17th floor of Gumaya Tower Hotel Semarang on Jalan Gajah Mada. There you can enjoy a variety of luxurious menus that are served exclusively.
While eating, you can also enjoy the beauty of the city of Semarang from a height. At night, of course the nuance will be very exclusive because the lights of the city of Semarang will be very beautiful to see.
5. Carnivore Sky Bar & Grill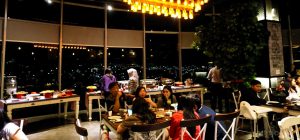 The next good dining or culinary location when visited at night is Carnivore Sky Bar & Grill. This restaurant is also open from 5 pm to 1 am. Suitable for you and your family or hanging out with friends.
There are many western menus that you can try. While eating, you can enjoy the beautiful panorama of the city of Semarang at night. The food served includes steak, burgers, pasta, pizza, and so on.
The location is at the Grand Edge Hotel, on Jalan Sultan Agung Semarang. If you are interested, come at night with friends or family.
6. Stove Syndicate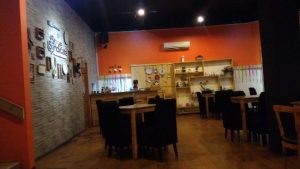 Stove Syndicate is a place to hang out while enjoying culinary delights close to the campus area. If you are a student studying in Semarang, this name may be familiar to you.
Many students also hang out there until late at night. This place is open until 12 pm. If you come there, you can enjoy western food and Japanese food.
The location is on Jalan Ngesrep Timur, Tembalang, Semarang. The budget for a culinary tour in this place is also not expensive. The menu there is sold from 6,000 to 20,000 rupiah.
Read also:
7. Bistro Menu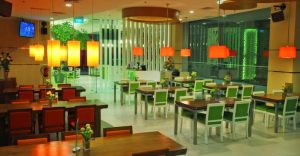 You are free to come at any time to Menur Bistro, because this restaurant is open 24 hours. You and your family or friends can eat there with food prices starting from IDR 25,000.
The location is on Jalan Ahmad Yani Semarang. Some of the foods that can be enjoyed starting from the main menu, side menu, to the dessert menu. The food that is the mainstay is Oxtail Sop, Horeng rice, and so on.
For the dessert menu, you can enjoy salads, hot dogs, burgers, fried bananas, and so on. There is also a smoking area, cable tv, as well as a coffee shop and live music.
8. Between Words Coffee Talk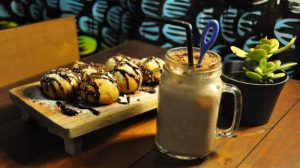 This one shop is suitable for you and your friends who really want to spend time together at night. Reportedly, this hangout is open 24 hours. The location is in Banyumanik, Semarang.
There are many young people every night who stop by there to enjoy the atmosphere of the Semarang night, accompanied by the warmth of conversation with friends. The main mainstay menu there is as the name suggests, namely coffee. But there are other foods too.
The interior concept is composed of wood and metal materials, and is very comfortable. It seems that this cafe is indeed designed for young people who like to chat with friends
9. Blendoek Angkringan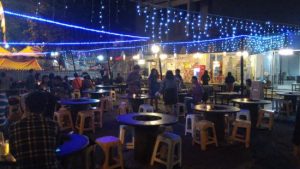 Do you like hanging out at a place to eat with the concept of angkringan? Maybe this location is suitable for you and your friends. This is Angkringan Blendoek. At night, many young people come there.
Although the food menu served is very simple, namely cat rice, anchovy rice, and fried rice, and several types of fried foods, this area is always crowded.
If you go to Semarang, just come to the Blendoek Church area. The location is in North Semarang. While enjoying culinary you can also spend the night until the early hours of the morning, because this place is open 24 hours.
10. Riverview Café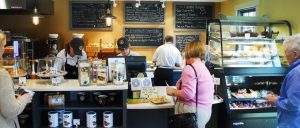 The next place that is suitable for a nighttime culinary tour in Semarang is the Riverview Café. This cafe is also open 24 hours and you can visit it anytime, including at night.
The food menu that is most enjoyed is the ribs penyet, chicken kremes, and oxtail soup. But apart from that, there are also many other menus for snacks, such as omelets, onion rings, to burgers.
You and your friends can stop by the Riverview Café to spend the night together while hanging out. The location is on Jalan Kh. Ahmad Dahlan, Central Semarang.
Read also:
In addition, there are also several other Semarang culinary at night that can be visited to hang out with friends, including the following.
Soto Bangkong
Gossip Kitchen & Bar
Mrs. Sami's Chicken Rice
Pak Gareng's Javanese Noodles
Gudeng Mbak Tum
Tripe Fried Rice
Dimlight Eatery
Pak Gik's Cat Rice
Wedang Kacang Lime
Joss Sujah ​​coffee angkringan
Semawis Market
AtoZ Bar Wine & Brasserie
The Salt Resto and Bar
Rustico Kitchen and Bar
Social Canteen
The Hills Dining Restaurant
KoenoKoeni Cafe Gallery
Gama Grilled Fish and Seafood
Simpang Lima Food Court
Cafe Hangout
Sakapapat Beer Garden & Resto
Book Cafe Deqiko
Grill on Restaurant
Keboen Party Restaurant
White Rabbit Dessert
Mrs. Widodo's Chicken Rice
Sea Village
Hanamasa
Bowery & Eastman
Golden Duck Restaurant
Read also:
Those are 40 culinary Semarang evenings that can be visited with friends and family to hang out and enjoy quality time. Hopefully this article is useful. Good luck.