Yogyakarta is an area that is often visited as a tourist attraction. Besides being popular as a cultural and historical tourist attraction, Jogja is also becoming known to tourists from outside the region as one of the areas with beautiful and interesting natural scenery to explore. If you are interested in enjoying the beauty of Jogja in the afternoon, here are some recommendations from places to hunt sunset in Jogja that are interesting and might be suitable for you.
1. Queen Boko's Palace
One of the most beautiful sunsets in Indonesia can be enjoyed at Ratu Boko Palace. This tourist area itself is in the Prambanan area and is only approximately 2 to 3 kilometers from Prambanan Temple.
The interesting thing about Ratu Boko Palace is the exotic sunset view. Especially with the existence of the main gate of Ratu Boko Palace which faces west. Visitors will find a different sunset impression in this one place.
No wonder there are so many tourists who are interested in visiting there in the afternoon. This place is also one of the interesting pre-wedding spots in Jogja and is often used as a photo spot too.
2. Kalibiru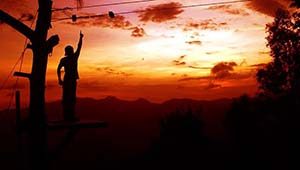 Another suitable tourist attraction for sunset hunting in Jogja is Kalibiru. Kalibiru is a tourist spot that has recently become popular. The interesting thing from there is the point to observe the beautiful surrounding scenery.
The location of Kalibiru Nature Tourism is in Kulonprogo Jogja and is an area with green views of the beautiful Menoreh hills. In addition, there is also a viewing post which is suitable for photo spots for tourists.
In the afternoon, the scenery in Kalibiru will be more beautiful. The orange color of the sunset will look even more charming with the hills and natural scenery there. Moreover, the viewing post is also a complement for tourists who want to capture the moment.
3. Bukit Bintang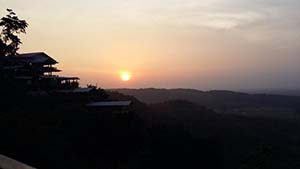 Looking for exotic sunsets and evenings in Jogja is not easy. But if you want to get the best sunset followed by a sparkling night atmosphere, Bukit Bintang is the answer.
Bukit Bintang is a hill where visitors can enjoy the atmosphere from evening to night. This is because not only the sunset is interesting, but the citylight at the Night Photo Spot in Jogja can also be observed very interestingly.
The location is on Jalan Jogja – Wonosari and is approximately 30 kilometers from the center of Jogja City. You can visit there with friends or family and can also enjoy warm coffee while enjoying quality time.
4. Parangtritis Beach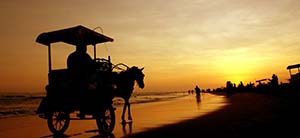 The name Parangtritis Beach has been known for a long time as a tourist spot as well as an interesting sunset hunting spot in Jogja. Parangtritis Beach is an interesting and legendary place in Jogja.
You can visit there in the afternoon to wait for the sun to set on the twilight horizon. The beauty of this beach is indeed very exotic, especially the waves on this beach are big enough to give a distinct impression.
You can do many things when you are at this Cheap Jogja Tourist Place, for example sitting while enjoying the fine sand, renting an ATV to get around, or just walking around barefoot.
5. Pok Tunggal Beach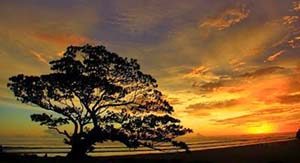 Another beach that is suitable for enjoying the beauty of sunset in Jogja is Pok Tunggal Beach. Pok Tunggal Beach is one of the beaches in Gunung Kidul Regency which has recently become popular with tourists.
Pok Tunggal Beach in Gunungkidul has white sand beaches and blue sea water. In the afternoon, the sunset view that is there will be very amazing and also beautiful.
The interesting thing about this beach apart from the twilight phenomenon is the presence of trees which are the main attraction of this beach. This beach is also often visited by tourists who want to camp by the beach. If you plan to camp in a beautiful place, maybe Pok Tunggal Beach can be a suitable alternative for you.
6. Mangunan Fruit Garden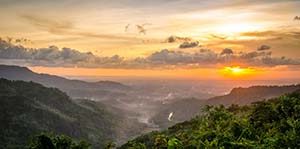 If you happen to be in the Bantul area, there is another interesting sunset hunting spot in Jogja, namely the Mangunan Fruit Garden. Mangunan Fruit Garden is a tourist spot that is also starting to be known by tourists.
This place if it is sunny, it will be the best place to enjoy the sunset view. This is because from there you can see the Oya River and the beautiful Sewu Mountains.
In addition, the Mangunan Fruit Garden has also provided facilities for tourists who want to enjoy a more comfortable evening atmosphere. Because there is already a viewing post that tourists can use to enjoy the evening twilight in Bantul.
7. Embung Nglanggeran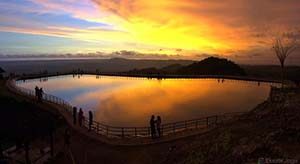 Back to the Gunung Kidul area of ​​Jogja, where there is not only a beach, but also a beautiful Embung as a tourist attraction. His name is Embung Nglanggeran.
Embung is an artificial lake or lake. Uniquely, Embung Nglanggeran Tourism is located on a hill. So from there you can see a very beautiful natural scenery. Especially when the afternoon approaches, of course the scenery will be very beautiful.
In the afternoon, the light of the sun that starts to turn orange will be reflected on the surface of the lake, so that the color of the lake water also turns orange. And this will continue until the sun really sets.
8. Parang Endog Hill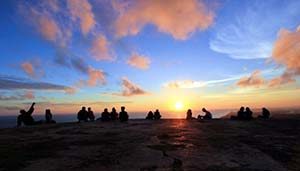 Another sunset hunting spot in Yogyakarta is not far from Parangtritis Beach. You can visit Parang Endog Hill which is in the Parangtritis tourist area.
As the name suggests, Parang Endog Hill is a hill. This hill can be used as an airstrip for paragliding in Jogja. However, this hill is rarely used for this sport. This hill is usually only used as an airstrip if there are certain events.
So that the tourists who come there can only enjoy the scenery from there. But even so, the sunset views that can be enjoyed there will not disappoint.
9. Ancient Volcano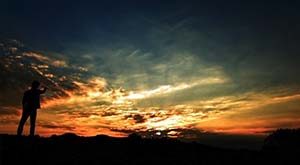 This Ancient Volcano which is located in the Gunung Kidul area of ​​Yogyakarta is one of the ancient mountains that presents beautiful views. This mountain is formed from a collection of giant rocks and forms a beautiful mountain range.
Although this mountain does not have a fantastic height, which is only approximately 900 meters above sea level, the scenery there is no less beautiful than other higher mountains.
One of the interesting things about this ancient volcano is the view of the sunset which can be enjoyed more freely because it is at an altitude. In addition, the tourist facilities that are there are also quite complete.
10. Becici Peak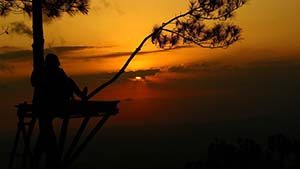 There is another place to hunt sunset in Jogja that is interesting to visit, namely Puncak Becici. Becici Peak Tourism is one of the most famous new tourist attractions in Jogja, namely in the Dlingo area, Bantul.
This tour is interesting because of the beautiful scenery that can be found there. In addition, there are also several viewing posts that are above the tree, making it suitable for tourists who want to enjoy nature.
When the afternoon approaches, the atmosphere of the orange sun combined with the silhouettes of the mountains and trees will amaze visitors. Because this place faces west, the sunset view will definitely be even more interesting.
In addition to some of the interesting places above, Jogja still has some of the best locations to enjoy the evening atmosphere while waiting for other sunsets, such as some below.
Granary Stone
Parangkusumo Sand Dunes
Kesirat Beach
Kosakora Peak
Mount Ireng
Mangol Kencana
Umbrella stone
Embung Batara Sriten
Panguk Kediwung Hill
Mojo Hill
Long Beach
Wediombo Beach
Sadranan Beach
Indrayanti Beach
Kukup Beach
Drini Beach
Mabu Watu Cliff
Bego Imogiri Hill
Pandansari Beach
Kuwaru Beach
Watu Lumbung Educational Village
Isis Hill
Baron's Beach
Baron Technopark
Breccia Cliff
Ijo Temple
Umbrella stone
Mangunan Pine Forest
Barong Temple
Suroloyo Peak
Those are some recommendations for places to hunt sunset in Jogja that are interesting to visit. Hopefully the information above is useful for you.