Indonesia is an archipelagic country which has many islands. In addition, one of the unique features of Indonesia is that it is directly adjacent to neighboring countries, such as Malaysia and Singapore. The area in Indonesia that borders Singapore is Batam.
Batam itself is already well known as a tourist destination that is worth a visit in the western region of Indonesia. Batam colonizes tourist charms that tend to be beach tourism because Batam does have quite a lot of exotic beaches.
However, if tourists want to visit a tourist destination in Batam that is different from the others, try visiting Galang Island. This island holds many historical events and can be explored in different ways. Curious? Check out the following explanation.
Read also:
History of Galang Island
This island is an island that has a sad story in the past which until now can be seen from the remains of buildings or objects. There is a location called Kampung Vietnam.
This island is a witness to the cruelty of the Vietnamese army, so that Vietnamese people are willing to flee far from their country.
This island is also a proof that the Indonesian people have been friendly since ancient times. It is evident from Indonesia's service to accommodate the victims of the Vietnam war.
Kampung Vietnam itself was a refugee location in 1975 with an area of ​​80 hectares. The location of this refugee camp was established during the civil war in Vietnam. There are many refugees from Vietnam being accommodated there. The number reached 250,000 refugees.
The refugees fled their country in wooden boats that could only accommodate 40 to 100 people. They tossed around in the South China Sea for even months. There are many refugees who died before reaching the refugee island. Mostly because of hunger. The survivors continued their journey until they landed in the Indonesian archipelago.
While living on this island, they can only rely on assistance from the United Nations to sustain their lives. The refugees were then repatriated to Vietnam in 1996 after the civil war ended.
Read also:
Accessibility
The tourist location of this island is about 60 kilometers from the city of Batam. Tourists who want to visit can come to the city of Batam. From there, tourists must head towards the Barelang bridge which is very famous in Batam. The journey continues by crossing 3 small bridges from there to arrive at the Memorial of Galang. The journey is about 1.5 hours past the Barelang Bridge.
Galang Island Tour
Tours on this island are opened with the concept of museums or historical tours, where visiting tourists can see the former refugees in Vietnam Village.
Tourism conditions on this island are different from other islands which mostly display natural beauty. On this island, tourists will feel as if they were in the ancient country of Vietnam. Of course there will be a new experience when visiting here. Some of the tourist spots that can be visited include:
1. Humanity Statue Tinhn Han Loai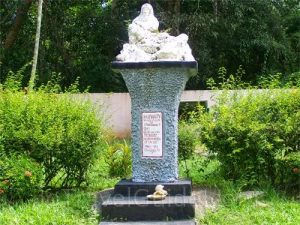 A statue near the entrance to Kampung Vietnam is a statue of humanity made to remind the world that peace is still needed.
The statue is named Tinhn Han Loai after one of the names of a Vietnamese girl named Tibhb Han Loai who died by suicide.
It is said that this woman was a victim of violence and rape committed by fellow Vietnamese refugees. This woman committed suicide because she could not bear the shame.
At the location of this statue there are many wild monkeys whose habitat should not be disturbed. But the monkey will not interfere.
Read also:
2. Boat Monument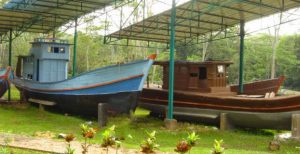 The boat monument is a spot that displays small wooden boats used by Vietnamese refugees to go to Indonesia. It was in the small boat that hundreds of refugees were jostled to escape. You can imagine how miserable they were.
The boat was sunk by refugees. Reportedly it was an attempt to file a protest with the Indonesian government because they were about to be repatriated to Vietnam.
Now the boat is being renovated and made a part of the Vietnam Village historical tour.
3. Nghia-Trang Galang Cemetery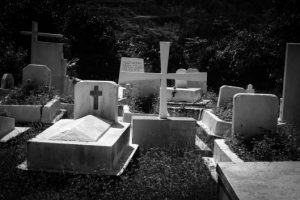 On this island there is also a cemetery complex that accommodates about 500 graves of refugees. They died because of the plague they brought from Vietnam.
The cemetery has a typical Vietnamese shape and is now increasingly unkempt. This cemetery is also a part of history which is a silent witness to the struggle of the refugees.
In the entrance area of ​​the cemetery there is an inscription in 4 languages ​​which is a message to remember this dark history. Until now, there are often refugee families from Vietnam who come here to make pilgrimages to the graves of their families buried here.
4. Vietnam Village Museum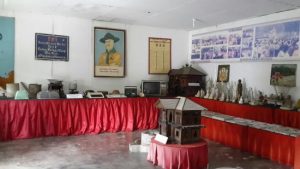 This museum is a museum that displays the relics of the refugees. There is also a photo of themselves that is now installed in the museum. The photos were posted under the title A Thousand Faces of Memories of Camp Sinam Galang Island.
In addition to photos, there are many living equipment for Vietnamese refugees on display, such as household equipment or United Nations office equipment while on duty on the island.
In addition there are also hospitals and prisons Kampung Vietnam. This prison in Kampung Vietnam is used to confine Vietnamese refugees who like to commit crimes. Both buildings are notoriously haunted.
Worship place
There are also worship buildings such as the Quan Am Tu Vihara, several other churches, and also a prayer room. The monastery has undergone several restorations and now its shape is not exactly the same as its original form. However, historical impressions and religious values ​​can still be obtained from there. This monastery was one of the places of worship that was often used as a place of worship at that time. there is a statue of Guang Shi Pu Sha in front of the temple.
Read also:
Travel Tips
For those of you who are interested in visiting this island, the following tips might help.
Tourists should come in the morning until noon. Because the atmosphere in the afternoon let alone at night will be very scary.
Tourists should bring their own food supplies, either heavy meals or snacks, because this island is an empty island with no vendors or food stalls.
Don't forget to pray before heading to the island. And always maintain ethics so that things don't happen that are not desirable.
If tourists come from outside Batam, it is better to already have a place to stay, be it an inn, hotel, or a family home living in Batam, because in this area there are no hotels or inns.
Bring a hat and sunglasses to minimize the heat from the sun in the morning and afternoon.
Thus a brief review of historical tourism on Galang Island in Batam. Hopefully useful and have a nice holiday in Batam.