Sorong is a city located in West Papua Province. Sorong is very famous for its underwater paradise, because in Sorong there are several beaches that offer very enchanting underwater beauty. The name Sorong comes from the word Soren which means the surging deep sea. Then the Biak Numfor tribe called this city "Land of Maladum" but foreign traders called Soron as Sorong. So this city has the name Sorong city. In addition to the underwater beauty of the city of Sorong, it has historical value, namely during the Dutch colonial era, the city of Sorong had an oil company called Heritage Nederlans Nieuw-Guinea Petroleum Maatschappij. In this discussion, we will discuss the recommendations for 39 tourist attractions in Sorong. Here are some tourist attractions in Papua in Sorong, including the following.
1. Cape Cassowary Beach
This beach is the main tourist attraction that is often visited by tourists when on vacation to Sorong. The atmosphere on the cassowary beach is different from the beaches in Bali, the cassowary beach is still not crowded with people except on holidays, even though the beauty of the cassowary beach is not inferior to the beaches in Bali. The white sand of the cassowary beach is still very clean and around the beach there are tall trees so that it can be used as shelter if it is hot during the day. Sorong City is often used as a stopover for travelers who will go to the Raja Ampat islands. The following are the advantages of Raja Ampat tourism.
To go to cassowary beach if we depart from downtown Sorong which is about 7 KM. Access to vehicles that can be used to get to cassowary beach is by using a motorcycle taxi at a rate of around Rp. 30,000 and if using a crowd then use public transportation for around Rp. 100,000 to Rp. 200,000. If you come from outside the city of Sorong, it is very easy to get to the city of Sorong, that is, you can use land or air. If you are going to use the sea route, then use the Pelni ship because this ship is the only ship from the island of Java that departs for Sorong City. Meanwhile, if you use the air route, there are several airlines with the aim of Dominiq Edward Osok, Sorong City. If you visit Sorong City, it's incomplete if you don't taste Soorng's special food, namely rolls of shredded bread.
2. Sorong Nature Tourism Park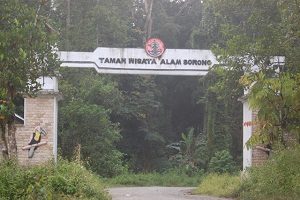 Sorong Nature Tourism Park is located about 14 KM from downtown Sorong, precisely on Jalan Sorong Klamono. This tourist spot is in the form of a protected forest and there are many types of plants and animals that live in this natural tourist park. Various activities can be done in the natural park, starting from camping, some outbound activities, but you must bring your own equipment because it is not yet available. This natural tourist park has a forest police guard post, so don't worry if something unexpected happens, you can immediately report it to the police post.
Beautiful natural scenery with cool weather is felt in this Sorong natural tourist park, equipped with a calm and comfortable atmosphere. Around the natural tourist park there is a waterfall with a fairly heavy water discharge and the water is very clear. This place is still very beautiful and has not been polluted by waste and urban pollution. Prepare enough food, because if you are hungry in this place, there are no food or drink sellers. Access to this tourist park can use public transportation, motorcycle taxis or buses. From downtown Sorong, it takes about 20 minutes to get to this tourist park. If you are going to use public transportation or buses, prepare a fare of around Rp. 5,000/person and ojek Rp.20,000. In addition to public transportation, buses and motorcycle taxis, you can also rent a private vehicle, which is at a rate of IDR 400,000 – IDR 500,000 / day, this price is complete with a driver.
3. Crocodile Island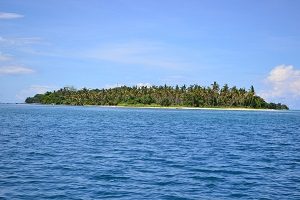 Crocodile Island is located not far from the city of Sorong but has a separate island from the city of Sorong. This island is named crocodile island because it has a shape resembling a crocodile. Crocodile Island has a very charming marine tourism, the sea water is still clear and of course it is still very clean because not many people visit this island. Crocodile Island has white sand surrounded by coconut trees. This island is already inhabited but not so many people live on this island, namely the fishermen. To get to the crocodile island, you have to use a ship from the port of Sorong.
Access to crocodile island must rent a boat because there is no public transportation that can transport tourists to visit crocodile island. The cost of renting a boat is around Rp. 200,000 – Rp. 250,000. To get to crocodile island it takes about 45 minutes from the port of Sorong. And there is no charge when you get to crocodile island. Some of the facilities that are available on this island are boats to go back and forth from the port to crocodile island, banana boats, donut boats, parasailing, paintball, etc. are available. If you want to spend the night on crocodile island, don't worry because cottages are available on this island.
4. Um . Island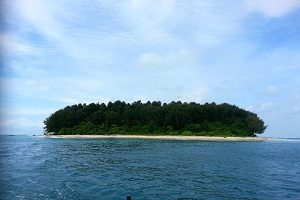 Um Island is an island located in Makbon. Makbon is an inland village located not far from the city of Sorong. This island is famous as an island which is the habitat of bats and seagulls. If you visit Sorong, Um Island is the right choice for a vacation. This island is the gateway to Raja Ampat and travel tips to Raja Ampat. This island has a dazzling natural beauty ranging from animals that are on land to animals that are under the sea. On this island you can catch lobsters, get a new sensation of swimming near sea cows, and dive underwater with many objects left over from World War II.
Um Island is an island that is used as a place for fishermen to stop when they sail. Usually the fishermen who stop on the island of Um sell the fish they just caught, so that tourists can immediately taste the fresh fish by burning it. Um island distance if taken from the city of Sorong is about 40 KM or about 2 to 3 hours. The vehicle access used is from the city of Sorong using public transportation to the Makbon beach pier at a rate of Rp. 20,000. After arriving from the Makbon beach pier, travel for about 30 minutes by speed boat. The journey to Um Island is presented with very beautiful natural scenery.
5. Ayamaru Lake
Ayamaru Lake is located quite far from Sorong city center which is about 170 KM or about 7 hours to get to this lake. Ayamaru lake has a very beautiful natural beauty, the water is still very clear with the surrounding natural atmosphere that is still beautiful. The lake is surrounded by hills and trees. The local people believe that if they keep the lake clean, it is the same as protecting their ancestors, therefore the lake is still very beautiful.
This lake has a depth of 6 meters but the water discharge is strongly influenced by the current season. During the rainy season there is a lot of water discharge and during the dry season the water discharge is usually less than usual. This lake is home to various kinds of fish, ranging from small fish, to rare fish, namely rainbow fish. During the dry season this lake becomes a place for migratory birds from Australia. Access to the vehicle used is by using the air route to Sorong airport and continued by land travel to Maybrat Regency.
6. Doom Island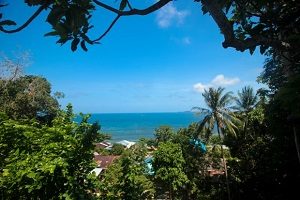 Doom Island is an island directly adjacent to the Pacific Ocean. The natural beauty of the island of Doom makes it an attraction for tourists starting from the beauty of its white sand, rocks and also has historical value. This island has an area of ​​​​about 5 KM, this island has the name Dum which means island full of fruit. Around Doom Island, you can find breadfruit in every house of local residents. This place has historical value, as can be seen from the buildings of former Dutch colonialism such as the Hoofd van Plaatselijk Bestuur Office, Doom prison, football field, Orange Christian Church and a place used for parties by the Dutch colonialists.
If you want to go around the island of Doom then you can get around by paying Rp. 30,000 to Rp. 50,000 by using a trishaw. In addition, we can go to Soop Island in just 15 minutes by boat from Doom Island. Vehicle access to the island of doom is if from Eduard Osok Airport you can use a motorcycle taxi or taxi to the port of Sorong. And continue the journey to the island of Doom by boat for around Rp. 20,000.
7. Culinary Tour at the Berlin Wall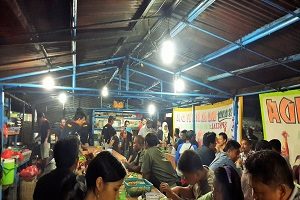 The Berlin Wall is a barrier between the highway and the beach. In the afternoon along the Berlin Wall, it is often used as a place for tourists and local residents to see the sunset, besides that at night there are seafood sellers. Culinary that is along the Berlin wall opens after sunset and closes when the day begins to enter the middle of the night. Usually the food courts are filled with many people and sometimes it is difficult to find parking. For the price, usually a portion of crab with rice is sold for around Rp. 60,000 to Rp. 120,000 depending on the type and size. In addition, you can also take a vacation to tourist attractions in Nabire Papua.
In addition to the 7 places above, there are several other tourist attractions in Sorong and its surroundings. Here are other tourist attractions in Sorong:
Klaijili Hot Springs.
Soop Island.
Kafiau Island.
Ram Island.
Jeffman Island.
Gun Island.
Dofior Beach.
Tanjung Batu Island.
Muran Dew.
Arfak War Monument.
Jeflio.
Saoka Beach Resort.
Mailan Makbon Beach.
Um Island.
Tirta Istiana Indah Waterpark.
Classic Waterfall.
standings.
Jesus Christ Monument.
Asbaken Waterfall.
Walio Beach.
Seget Beach.
Teminabuan.
Tampagram Beach.
Raja Ampat.
Fort Lido Shop.
Sorong DEO Park.
Sorong Fishing Port.
Puri Bridge Fish Market.
Misool Island.
wayag.
Embossed Sand.
Cendrawasih Bay National Park.
This is a discussion of 39 tourist attractions in Sorong. Hopefully this article can provide a reference for where to drink in Sorong. Don't forget the tips for packing a vacation to the beach.