Jogja is a place that holds a myriad of beauty. there are many tourist attractions in Jogja that we cannot miss. There are many most popular places in Jogja, these places don't just end in one place. However, there are lots of hit places around Jogja that we can visit.
Regarding the most popular places in Jogja, there are several places that you should and must know. Among others are
1. Kalibiru
This place is sure to be a lot of people who know already many know it. Kalibiru nature tourism, one of the natural tourist sites in Jogja that offers its natural beauty to visitors.
Here, visitors are spoiled with charming views of the Menoreh hills and the beautiful Sermo reservoir. Kalibiru is located in the village of Hargowilis in Kulon Progo.
One of the favorite spots here is enjoying the natural beauty from the top of the pine tree. This pine tree is built like a viewing tower that can make us free to see the natural beauty around Kalibiru.
this place itself is managed independently by the residents who live around the Kalibiru forest. Besides functioning as a tourist spot, the Kalibiru Forest itself also functions as a guardian of the natural ecosystem in the area.
2. Mangunan Pine Forest
the name of the Mangunan Pine Forest is not foreign to those who often travel to Jogja. As one of the tourist attractions in Bantul, this forest is a destination that should not be missed.
This place offers beauty and serenity from the natural atmosphere that we cannot find in the middle of the city of Jogja. The serenity of nature offered in this place is accompanied by the aroma of pine trees and dry leaves that make it even more serene. we can just enjoy the serenity of this atmosphere casually on the hammock that is in that location.
This pine forest itself is in the Mangunan area. The function as a tourist spot is an additional function that comes from this forest. The main function of this forest itself is as a place for nature conservation. so if you come here, as good tourists, we must also take care.
3. Mangunan Fruit Garden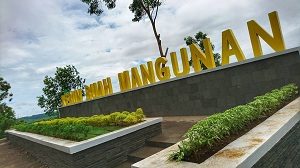 this place is still not too far from the Pine Forest Mangunan. however, the difference is that in the Pine Forest we can relax and enjoy a calm atmosphere. in this place we are treated to various types of fruits that we can enjoy.
In addition to being a fruit tourist spot, this place also offers natural beauty that cannot be taken lightly. The location of the Mangunan fruit garden itself can be likened to the cliffs of the Dago palace. this is because this place is at an altitude that makes us feel like we are above the clouds.
If we come in the morning, we will see a convoy of fog that still covers the area around the Sewu mountains. besides that at dusk we can also enjoy the beauty of the twilight which is very enchanting.
This place itself has a variety of facilities that we can take advantage of. other than that access to reach this one place is not difficult. We can use private vehicles or vehicles that we can rent.
4. Breccia Cliffs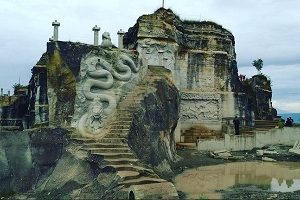 this one place is a new prima donna in the world of Jogja tourism. this place itself is in the Sambirejo Prambanan area. Before becoming a tourist spot as it is now, this place was a limestone quarry.
However, the mine was eventually closed by the local government. People who lost their livelihoods then made the place a new tourist destination. This is a form of creativity that is owned by the people of Yogyakarta.
At this location we can see a lot of very beautiful reliefs. We can enjoy various kinds of reliefs on the limestone cliff walls. better if you come to this location bring an umbrella or use a hat. this is because the weather in this place is quite hot especially when it is too late. The right time to come here is in the morning and evening.
5. Ratu Boko Temple
Ratu Boko Palace is one of the most interesting places to visit. rather than being called a temple, this place itself is more suitable to be called a palace complex.
This is because it is thought that this location was once a palace which eventually collapsed. other than as a cultural tourism object. this place itself is also famous as one of the places to enjoy the best sunrise in the Jogja area.
Ratu Boko Temple itself is very famous among tourists. to reach this location we can just come to the Prambanan temple. From Prambanan, there will usually be a tour that takes us to Ratu Boko's palace. The ticket price offered is also quite expensive. but the price will be paid with the beauty that we get.
6. Malioboro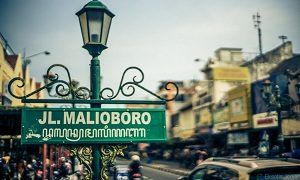 Who doesn't know this one of the most popular places in Jogja. The Malioboro area is an area that is very well known among both domestic and foreign tourists. This area itself has a lot of tourist objects that we can visit.
Starting from historical and cultural tours to shopping tours. This location itself can indeed be said to be an area that is the backbone of the economic movement in Jogja. the government also pays very serious attention to the development of this one place. This is because this location itself is the center of the movement of every tourist around Jogja.
Malioboro is also a shopping destination in Jogja. On either side of this road we will find various kinds of merchant stalls selling various kinds of souvenirs and food that we can enjoy.
7. Parang Kusumo Sand Dunes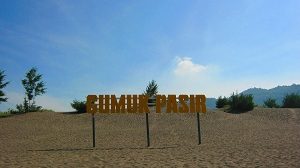 if you want to feel an atmosphere that is similar to the middle east region with its arid desert. then the Gumuk Pasir Parang Kusumo tourist location is the right answer for you.
This location is already very famous. Many people use this location as a pre-wedding place. this is what makes this location as one of the romantic tourist spots in Jogja.
This place itself also offers one of the sports activities that are quite challenging. here we can do by sport sandboarding. This sport itself is quite challenging for our adrenaline and quite extreme for those who do not have experience in this one sport.
8. Monjali Rainbow Park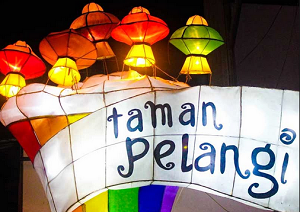 Who says Jogja is only beautiful in the morning? Jogja is also beautiful at night. The night tourism area in Jogja also has many interesting places. One of the tourist attractions in Jogja at night is this Rainbow Park.
This park itself is located in the Jogja Return Monument area or commonly abbreviated as Monjali. The beauty of this place is because of the many lanterns that adorn it.
The bright light of lanterns at night makes this place visited by many tourists. most of the visitors who come here are usually young people who often spend time. this place will become more crowded when the weekend comes or holidays.
9. Congot Beach Mangrove Forest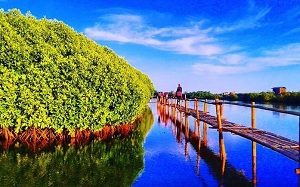 this one place has just started to be famous among local tourists in jogja. this one place is one of the only mangrove forests in Indonesia which is opened to the public as a tourist location. The process of developing mangrove forests in the Congot Beach area has actually been going on for quite a long time.
However, the emergence of this place as a tourist location in Jogja can be categorized as new. This place itself offers its own beauty for those of us who visit.
We can walk around in this mangrove forest while walking on the bamboo path provided. and enjoy the fresh beach breeze. The calm atmosphere that we get from this place is one of the advantages of this tour.
10. Kedung Pedut Waterfall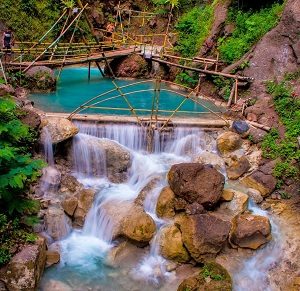 this time we will play with water in this one tourist location. One of the Jogja waterfall tours that we can enjoy its beauty. Kedung Pedut Waterfall. This tourist spot has two levels of waterfalls that have different levels of clarity and water color.
This tourist spot is in the Jatimulyo area. The difference in the color of the water in the two pools in this place is due to the difference in the arrangement of the rocks at the bottom of the pool.
About the beauty and beauty of this one waterfall, we don't need to doubt anymore. The facilities at this location itself can be said to be very adequate.
In this tourist spot you can enjoy a different natural atmosphere where the coolness of this waterfall is felt. For those of you who are looking for a suitable tourist spot then you can directly visit this tourist spot. Most recommended for those of you who like traveling with a free natural atmosphere. Guaranteed you are satisfied with the beauty provided by this Gunung Pedut Waterfall and guaranteed you are addicted.
11. Sri Gethuk . Waterfall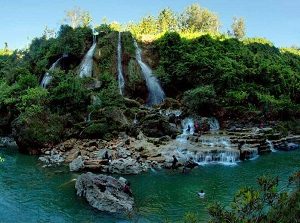 this one place is also the prima donna of waterfall tourism in Jogja. The beauty of this waterfall is very well known among tourists who have visited Jogja. the location of this waterfall itself is in the Bleberan area.
This waterfall is an oasis in the world of tourism in the Bleberan area. this is because it can be said that this area is a barren area and is filled with karst hills which are mostly barren. but with the beauty of the legendary Sri Gethuk waterfall, this area can be said to be stretching in the world of Jogja tourism.
For those of you who want to enjoy a very peaceful natural atmosphere, you must visit this tourist spot. It is suitable for those of you who want to enjoy a short vacation and still produce pleasant results.
12. Indrayanti Beach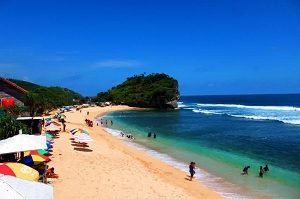 This beach in the village of Tepus is one of the prima donna of beach tourism in Jogja. besides this beach is also one of the most beautiful beaches in Indonesia. The original name of this beach itself is Pulang Syawal Beach, Indrayanti's own name because it makes it easier to remember.
This beach itself is also well known among foreign tourists. this is because this beach is very beautiful and clean. We're almost not going to find trash at this location. the manager of this beach himself is indeed keeping this beach clean and comfortable. the facilities in this place are also very complete and comfortable.
In addition to the tourist attractions above, there are other tourist attractions such as:
Fort Vredenburg
South Square
ivory plengkung
Baron's Beach
Prambanan temple
Sari Garden
Yogyakarta Palace
Jogja Monument
Lepo waterfall
Randusari Waterfall
Watu Lawang Mangunan
Nglingo Tea Garden
The peak of the gate
Sadran Beach
Green Village Gedangsari
Pindul Cave
Pengilon hill
Ngandong Beach
Nglangeran Ancient Volcano
Lava Tour Merapi Tour
single Pok beach
Jomblang cave
Pulo Sari Waterfall
Punguk Kediwung Hill
Kanigoro Tembelan Gorge
Nleng Cave
So, those were some of the most popular places in Jogja that we could visit, hopefully it will be useful