Ubud is a tourist village in Bali which is located in Gianyar Regency, Bali. Ubud is located approximately 20 KM from Denpasar City or takes about 30 minutes while from the center of Gianyar City it can be reached for 15 minutes. Ubud is often used as a resting place by foreign tourists because it is located between rice fields and forests so that it has a very green and beautiful view and is one of the tourist attractions in Bali. Ubud is located at an altitude of 300 meters above sea level so the weather around Ubud is cooler than in other parts of Bali. Apart from being located between rice fields and forests, Ubud is also famous for its arts and culture which is still growing rapidly. Around Ubud there are art galleries, as well as various musical and dance performances which are held alternately every night. If you are on vacation in Ubud and want to hang out, the following will discuss recommendations for 32 places to hang out in Ubud, including the following.
1. Pomegranate Cafe
Pomegranate is a cafe located on Jl. Subak Sok Wayah No. 5, Ubud, Gianyar. This cafe can be used as a hangout place in Ubud, the view around the cafe is a stretch of rice fields so that when you hang out at this cafe, you will feel the natural atmosphere. The best time to visit this cafe is in the afternoon to evening because from this place we can see the sunset well. This cafe is perfect for those of you who have a hobby of taking pictures, because this cafe has a very attractive design and is a photo spot in Bali. For access to this cafe, you cannot bring a private car because to get to this cafe the road is quite narrow, you can only access it by motorbike or on foot. Along the way to this cafe we ​​can see views of green hills, lush rice fields and can also be seen traditional houses
Cafe Pomegranate has a semi-outdoor concept. The cafe visitors can see firsthand how the activities that are being carried out by the farmers. From the west of this cafe, you can see a view of Campuhan Hill, a very beautiful hill view of weeds along with a row of trees and the Campuhan river. As the evening approaches, you can see the flickering lights of the villas on Campuhan Hill. If you look to the east, you will see a view of Mount Agung, then to the south you will see a view of the twinkling lights of Nusa Dua and Jimbaran. How very interesting is not the scenery around this cafe, one more thing that makes this place suitable as a hangout is free wifi. The menu at this cafe varies from
noodles
pizza
salad
juice
beer
coffee
etc
The price of food and drinks at this cafe is not too expensive, which is around Rp. 12,000 – Rp. 72,000. This cafe is open from 09.00 to 21.00.
2. Coffee Studio Artist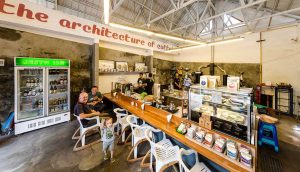 Seniman Coffee Studio is a coffee shop located on Jl. Sriwendari No.5 Ubud, Bali. This coffee shop has an art gallery concept and was created by Rodney Glick and David Sullivan. The interior design of this coffee shop is very interesting and becomes the main attraction for visitors. Starting from the chair that is impervious to coffee, this is a plastic chair, but it is modified in such a way that this plastic chair becomes a comfortable rocking chair. In addition, some of the objects used in this cafe are recycled objects which are very creative and have artistic value. The coffee served is also formulated by highly skilled baristas.
This coffee shop also roasts the coffee itself so that we can buy coffee to brew at home by ourselves, various kinds of coffee beans are available at this coffee shop. If you are on vacation in Ubud, then take the time to come to this coffee shop in the morning, enjoy a delicious breakfast menu at this coffee shop. We can immediately watch the barista mix his coffee by sitting at the coffee bar. If we want to know the types of coffee or anything related to coffee, don't hesitate to invite the barista to chat. Artist Coffee Studio is open from 08.00 to 19.00 every day, although certain holidays this coffee shop is still open.
3. Ubud Coffee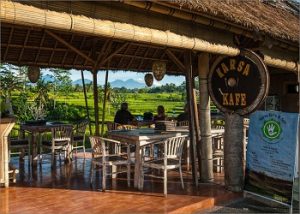 The third place that is recommended for hanging out in Ubud is Kopi Kats Ubud. Kopi Kats Ubud is located on Jl. Raya Sangggingan, Ubud, Bali. This place is a cool hangout place and the price of the food available is quite affordable, starting from Rp. 15,000 to Rp. 120,000.
The interior design of Kopi Katas Ubud is quite interesting, namely some sofas and chairs with Balinese nuances with a coffee shop roof made of thatched. The main menu available at this place is coffee ranging from cafe latte, cappuccino, and various other coffees. While the food menu available is crepes, rolls, etc. So what are you waiting for, immediately schedule hanging out in Ubud to visit this coffee shop with friends or loved ones.
4. Cafe Vespa Ubud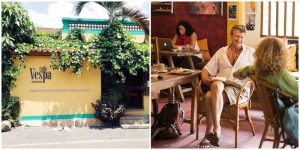 Cafe Vespa Ubud is a cafe located on Jl. Raya Penestanan Kaja, Ubud, Bali. If you want to find a place to hang out with a calm atmosphere, the Vespa cafe can be your choice. This cafe is located on the side of the road so to find it is not difficult. Cafe vespa first opened in 2011 and the owner of this cafe is Miho Woodgate. When this cafe was first opened, the owner of this cafe was a coffee lover, but every time he visited a coffee shop he usually had to go to the center of Ubud and experience traffic jams. From there the owner had the idea to make this cafe in Sayan, Ubud. The coffee offered at this cafe is coffee that uses Arabica coffee. Vespa cafe offers a variety of local coffee blends from Indonesia, while for roasting it's different from coffee studio artists who roast their own cafe vespa roasting through suppliers.
Some of the main dishes from cafe vespa are:
espresso
macchiato
mocha
cappuccino
cafe latte
americano
and classic types of coffee. So, if you want to hang out with your little brother or child, this place has umicchino, which is milk with foam and chocolate meses. Cafe Vespa is open from 08.00 to 22.00. In addition to coffee in this cafe there is tea, juice, and herbs. While the food menu available is with the theme of comfort and healthy food. In this cafe there are various vegetarian food menus, but not all contain vegetarian, there are several food menus that come from animal protein. The mainstay of the breakfast menu at this cafe is spinach mushroom, which is served with ciabatta bread and scrambled eggs. Some food menus whose basic ingredients are animal protein are chicken yogurt curry, salmon, etc. The favorite menu at this cafe is chicken and tofu patties, a unique dish served with yellow rice on a banana leaf. If you don't want to eat heavy food at this cafe, there are various cakes and desserts. The price range of various menus sold in this place varies from Rp. 25,000 to Rp. 84,000.
5. Freak Coffee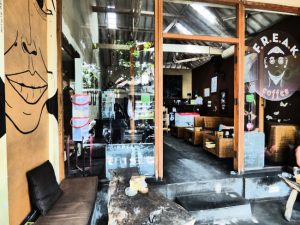 Freak Coffee is one of the hangout places in Ubud. Freak coffee is located on Jl. Hanuman No.17, Ubud, Bali. The name freak coffee is an abbreviation "FREAK" which comes from the abbreviation "Fresh Roasted Delicious Arabica from Kintamani" the meaning of this abbreviation is that this cafe provides a variety of organic Arabica coffee originating from the highlands of Bali where the coffee comes from plantations in Kintamani.
The baristas at this cafe are experienced experts while the espresso machines used are rancilio and mazzer grinders. This cafe is not a cafe that has a big place, this cafe has a small place but has a comfortable atmosphere to be used as a hangout. Apart from that the baristas and other waiters provide very friendly service.
6. Ubud's Good Pizza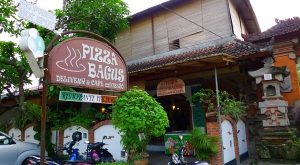 Pizza Bagus Ubud is a cafe located on Jl. Raya Pangosekan, Ubud. Good pizza was first established in 1996 with a menu that is available, namely pasta and pizza. However, with the development of time, this good pizza became famous with a variety of delicious pizza recipes so that the taste of pizza made is almost the same as pizza from Italy. In 1998 a good pizza moved to a location around the center of Ubud this was because the visitors were starting to get busy while the place was narrow. From this new place, the menu has increased with the presence of espresso coffee. In 2003, the pizza was good again and moved to Jl. Raya Pangosekan in this new place is the room where good pizza is getting bigger.
This new good pizza place has a large enough space so it's perfect for hanging out with friends, girlfriends or family. In addition to pizza, various other Italian specialties are being offered, such as gelato with various flavors. Currently, good pizza is often used as a meeting place for Italian citizens who are on vacation in Ubud and even often used as a place for business meetings or hanging out. Good pizza starts operating from 08.30 to 23.00, as for the price range of various food and drinks available at good pizza in bandrol from Rp. 27,000 to Rp. 81,000. Don't miss traveling to tourist attractions in Nusa Penida.
Those are some hangout places in Ubud. In addition to those 6 places, you can also hang out in several other places including the following:
Village Coffee
Clear Cafe Ubud
Arak Coffee
Village Coffee
Ubud Cafe
Titi's shop
Who's Who
La Pacha Mama
Warung D'Top
Oka's Mother's Shop
Ms Mangku's Kadewatan Chicken Rice
Naughty Nuri's Warung and Grill
Mrs. Rai
Cafe Uma Mandi
Coffee Anomaly
Garage Shop
Kismet Restaurant & Lounge
Revolver Espresso
Beecup
Ubud Bebek Bengil Restaurant
Fuzion Cafe
Tropical View Cafe
Folk Pool & Garden
Kakiang Garden Cafe
Mingle Cafe & Bar
Watercress Cafe Ubud
Those are some places that can be used as a reference for hanging out with friends, family or other loved ones. Don't miss going on vacation to tourist attractions in Ubud. Hopefully this article can be useful for readers. Happy hanging out in Ubud and its surroundings!