We cannot deny that currently the Greater Malang area where Batu City and Malang Regency are included has become the prima donna of Nusantara tourism. The tourist attractions offered are also of national level, maybe even international.
For the Malang City Regency area, which is the second largest city in the southern part of Java Island after Bandung, it is special because it is located in a cool highland. At least there have been 12 nicknames received by this city apart from of course the nickname Paris van Oost-Java, and one of them is the nickname City of Tourism.
Talking about tourism in the Greater Malang area, first try to put aside the various tempting and well-known tourist attractions. Given the cool area, this time let's look at the waterfall attractions in this area. Promising uniqueness and privileges, here are 16 stunning waterfall attractions in Malang:
Read also:
1. Coban Putri
Waterfall Tours in Malang, precisely in the Batu area, are also rich in waterfall tours. One of them is Coban (waterfall) Putri. Located in the village of Tlekung, District Junrejo, Batu.
The location is approximately 5 km south of the Batu Town square, not far from the Coban Rais campground. Or it takes about 30-40 meters from the city center of Malang. This waterfall has a height of 10-35 meters and a width of approximately 3 meters. The dense rocks that are the foundation of the fall of water from this tourist spot look very unique.
Although not as famous as the other Cobans and until now mostly visited by local tourists around Batu City, this tourist location promises beautiful natural scenery, with mirror-clear river water and safe because the current is not heavy and only has a depth of about an adult's thigh.
This place is named Coban Putri because it is related to a saga that tells about Princess Ken Dedes, consort of Ken Arok, king of the Singasari Kingdom. It is said that the princess not only often bathed in the Songgoriti baths, but also in this place. Therefore, this place is called Coban Putri. However, there are also those who think that the name Coban Putri was given because the shape of the water flow is similar to parting a princess's hair.
Read also:
2. Source of Pitu Overlapping and Hanging Rings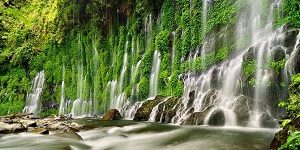 There are two waterfalls named Sumber Pitu in Malang, one of which is located in Tumpang District, therefore this waterfall is called Sumber Pitu Tumpang.
The location of the waterfall which is also known as Umbulan Pitu is in Duwet Krajan Village, Tumpang District, Malang. The appearance of this waterfall is very beautiful with a line of gushing water that promises a beautiful panorama, not to mention the dense expanse of grass that overshadows the area around the waterfall, bringing us to a view like a dreamland. It is said that there are seven springs that are located close together on a cliff so that it emits water so that it is called a waterfall source pitu.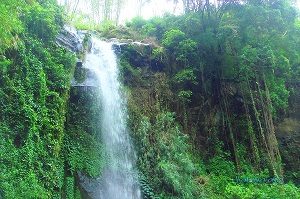 If you visit this location, you can also enjoy the view of the Ringin Hanging waterfall which is not far from the Umbulan Pitu location, flowing from a height of 40 meters. This waterfall is so named because there is a banyan tree that grows attached to the west side of the waterfall.
Very exotic. On the northern cliff of Ringin Hanging, Umbulan Pitu pours clear and swift water on the sidelines of the lush green plants covering the cliff walls.
Uniquely, the discharge of the water that radiates is not affected by the season and weather, so you can enjoy the beauty of this waterfall even during the dry season. Residents around the waterfall believe that Air Sumber Pitu is connected to Mount Bromo. There are even those who make this location a place to perform rituals, and consider the water that radiates to be holy water.
Read also:
3. Source Pitu Pujon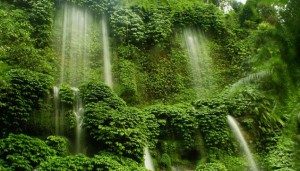 It is approximately 2 hours drive from Sumber Pitu Tumpang waterfall, there is Sumber Pitu Pujon waterfall which is precisely located in Tulung Rejo Hamlet, Pujon Kidul Village, Pujon District, Malang Regency. To enter this location, you need to spend around Rp. 10,000 per person.
Similar to Sumber Pitu Tumpang, this waterfall is also very unique, with several dripping points from one cliff. When viewed from afar, the shape of the shower is similar to a giant exotic curtain. Not unlike the one in Tumpang, the cliffs that shelter the falling water are also filled with dense greenery.
If you have ever visited the Cloud Forest, an artificial nature ride in Singapore, then the scenery at this waterfall looks similar to the vehicle, only what we have here is natural and not artificial.
Read also:
4. Coban Nirvana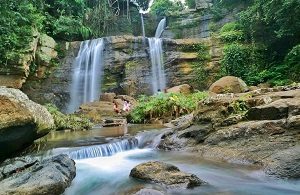 This one-story waterfall is becoming a prima donna among young travelers and is very popular among social media users because of its location which is filled with beautiful spots for taking pictures. If you intend to go to this place, you need to know that the location is in Gedangan Village, Gedangan District, Malang Regency. This place is located on the border between the Gedangan area and Sumber Manjing Wetan, Malang.
It takes about 90 minutes to travel from downtown Malang or a distance of approximately 50 kilometers. There is no official retribution fee to enter this area, so you can make voluntary donations to help residents who have played an active role in managing this very beautiful tourist spot. Don't forget to prepare everything before leaving because there are no adequate facilities in this place.
This waterfall does not yet have an official name. At first, this place was called Coban Mbok Karimah, which was quoted from the name of an elder who lived in the area around this waterfall, but now it is called Coban Nirwana. Even though it is being popular, there are not many directions to this location, so if you are already around the location, don't hesitate to ask the locals.
Read also:
5. Coban Talun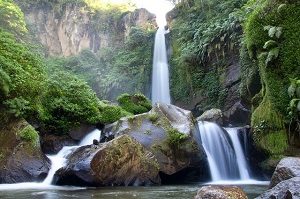 Another beautiful waterfall in the Malang area which is a shame if you miss it. Located in Tulungrejo Village, Bumiaji District, Batu. From the city center of Malang, you need approximately 1.5 hours to reach this location or approximately 15 kilometers. You can also reach this location by taking the City Angkot, and you can immediately be dropped off at the entrance of this tourist spot by only needing to take 3 different angkot rides and you will arrive at this location.
The beauty of the waterfall which has a height of 75 meters is that in addition to the running water itself, there are also mountain rocks that seem to be deliberately arranged to decorate. What is unique and special about this area is that when you are in this place on a sunny day, the droplets of water washed away by the wind will create a beautiful rainbow of colors throughout this tourist site, a sight that you will not forget. However, what you need to be aware of is that during heavy rains, tourists are required to leave this location as soon as possible because of the risk of flooding.
The price of admission to this area is Rp. 5,000 per person. From the payment counter, tourists who bring private vehicles must continue the journey for approximately 50 meters to reach the parking location. For parking, you will be charged Rp. 2,000 for motorbikes and Rp. 4,000 for cars.
Read also:
If you are not satisfied with the 5 locations above, there are 11 other waterfall tourist locations in the Malang area that have special features that you should see and enjoy, namely:
Coban Gintung
Try Tumpak Sewu
Try Cibulung
Try Ginger
Coban Trident
Banyu Falls Falls
Try Glotak
Three Colors Lake Waterfall
Naga Gintung Cave Waterfall
Coban Baung
Coban Rais
Coban Tundo
Try the Rainbow
Coban Rondo
Coban Kethak
Coban Gintung
Sumber Pitu Waterfall
Sumber Pitu Pujon Waterfall
Hanging Ringin Waterfall
Coban Cinde
Coban Manten
Middle Coban
Coban Siuk
Try Parang Tejo
Try Frog
Coban Grojogan Sewu
To be sure, prepare physically and equipment if you intend to visit Waterfall Tourism in Malang, and you are ready for adventure. Most of the locations require some physical preparation as the exotic locations are still a bit hidden and require walking distance before you actually stand in front of them. In addition, prepare yourself to meet the amazingly beautiful scenery at various locations of this waterfall.
Read also: