Probolinggo is a small town in East Java which is often visited by tourists. Probolinggo, which borders big cities in East Java, such as Malang, Surabaya, and Jember, is a city that is rich in tourism potential. Most of the tourism potential in Probolinggo is nature tourism.
If you are planning to visit East Java, there are many tourist attractions in Probolinggo that you can visit, including:
1. Bromo
Mount Bromo which is very famous all over the world is located in Probolinggo. Although most tourists go to Bromo from the Malang route, the Probolinggo route is the better route because it is easier to reach.
This mountain is located on the border of Probolinggo, Malang, Lumajang, and Pasuruan. The Bromo tourist route that can be visited from Probolinggo already has good accessibility.
In Bromo itself there are several locations that can be visited when traveling. Tourists can also ride horses there.
2. Hill B29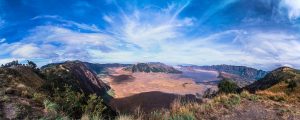 Bukit B29 is one of the hills in the area around Bromo Tengger Semeru which is currently accessible as a tourist attraction as well. The name B29 is derived from the condition of the hill itself, which is a hill with an altitude of 2,900 meters above sea level.
Of course the scenery there is very beautiful. Even Bromo Tengger Semeru National Park can be seen from there.
This hill can be reached by private vehicle, from Malang or Probolinggo. When you go there, it's better to wear thick clothes, because the weather will be cooler than in Bromo.
Read also:
3. Teletubies Hill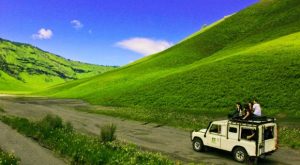 Around Bromo there is also a vast savanna similar to the savanna hills in the teletubies series. That's why this place is called Teletubies Hill.
Access to this hill can be obtained from Malang, namely from the Tumpang Poncokusumo direction. From there you will see a view of this hill from above. However, some tourists also access it from Probolinggo or after enjoying the sunrise at Penanjakan Bromo.
Taking pictures on this hill will be very interesting, because the green scenery typical of the mountainous savanna will be an interesting background. Especially if there are jeep facilities that can be used to take pictures.
4. Madakaripura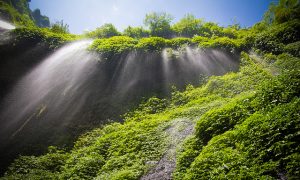 A phenomenal waterfall is also found in Probolinggo, precisely in Bromo Tengger Semeru National Park. The uniqueness of this waterfall is because the discharge is spatter but spread in many places.
According to history, this waterfall is the location of Patih Gajah Mada's meditation. Therefore, this location is often visited during the night of one Suro by Javanese people who believe in the story.
Tourists who stop by there are better off coming in the morning, because in the afternoon, this area will be emptied to avoid flooding from above the waterfall. If you go there, bring a coat or poncho, because during the trip tourists will be hit by a waterfall from above.
5. Umbulan Waterfall
Besides the charming Madakaripura, there are also other waterfalls in Probolinggo that are cool to visit. Its name is Umbulan waterfall.
The location of this waterfall is also still in the Bromo Tengger Semeru National Park and close to Madakaripura.
Tourists can come by private vehicle. You can also stop by from Madakaripura.
This waterfall has a water discharge that is not too heavy. But the natural atmosphere at this waterfall will spoil the eyes. Moreover, the water is cool and cold. The tiring journey will go away by itself.
6. Curug Watu Lawang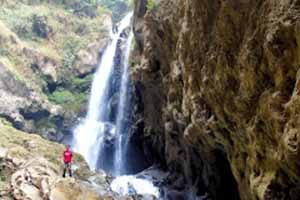 Still about waterfalls, in Probolinggo there is also a waterfall called Watu Lawang.
The name Watu Lawang is taken from the condition of the waterfall itself which has two stone canes flanking it and creates a space that looks like a door (lawang in Javanese means door).
The location is in Sukapura District. This waterfall has two streams of water, the left is heavier and larger, while the right is smaller. The stone steps under the waterfall also provide its own beauty.
Read also:
7. Mount Argopuro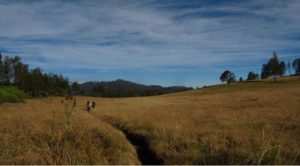 Still related to mountains, Probolinggo is also an area directly adjacent to Mount Argopuro. This mountain has a height of 3,088 meters above sea level and is often used as a reference for climbers.
On this mountain there are also ancient heritage sites. There is a terraced terrace and also a former building complex.
There is also a lake called the Living Garden Lake. On the lake, many climbers take pictures. To climb to this mountain, the track or hiking trail is quite long and very uphill.
8. Bentar Beach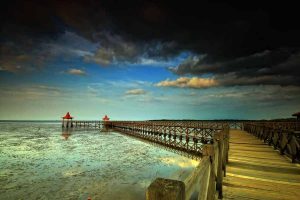 Not only mountain and mountain tourism, Probolinggo also has beaches. One of the tourist attractions in Probolinggo in the form of a beach is Bentar Beach.
The beauty of this beach is because it has biodiversity in the form of spotted sharks or commonly called whale sharks. These sharks will migrate to and from the oceans in Australia.
In addition, there is a long wooden pier that can be used as a location for interesting photos. From this beach you can also get a beautiful sunset view. There are also many photographers who make this location an attractive shooting location.
9. BJBR Mangrove Forest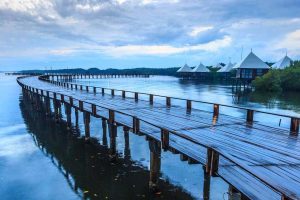 BJBR (Beejay Bakau Resort) is a mangrove tour in Probolinggo that is interesting to visit. Apart from being a tourist spot, the BJBR Magrove Forest is also used as a place for mangrove research.
This place used to be very rundown. But 3 young people gave brilliant ideas to change this place to be more cool and exotic. This tourist site, which was built in 2013, is immediately popular and until now many local and international tourists have come.
In the BJBR Mangrove Forest, tourists can write their names and their partners on a padlock, then install the padlock in one of the available spots.
Read also:
10. Gili Ketapang Island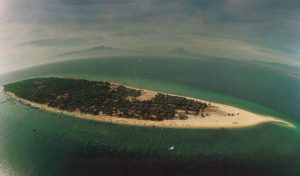 One of the most visited tourist objects in Probolinggo is Gili Ketapang. When you go to East Java, don't forget to visit it. This island can be accessed by crossing the ocean. The distance from the shoreline of Probolinggo in the Madura Strait is about 8 km.
Ketapang Island is about 68 hectares wide and is inhabited by the Madurese. Tourists can cross to Gili Ketapang from Tanjung Tembaga Harbor.
That said, Gili Ketapang is part of the island of Java. However, due to the devastating eruption of Mount Semeru in the past, this island was separated from Java.
There, tourists will get a beautiful view with clear sea water. Tourists can also swim and snorkel there.
11. Pekalen Rafting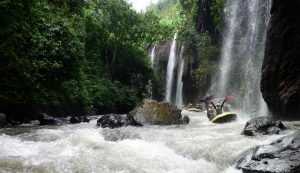 If you like water trips, just come to Pekalen River Rafting to enjoy the exciting sport of white water rafting with friends.
Pekalen River itself has a beautiful view. This river is located in three sub-districts, namely in Tiris District, Maron District and Gading District. The length of the river reaches 29 km and is divided into three zones, namely Upper Pekalen River (12 km), Middle Pekalen River (7 km), and Lower Pekalen River (10 km).
At Pekalen Atas, tourists will get 10 waterfalls that will stimulate adrenaline. In Lower Pekalen there are approximately 32 rapids. White water rafting tourists will also see the bat cave.
12. Ronggojalu Lake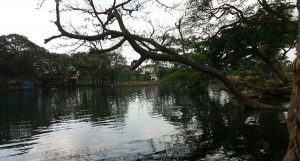 Probolinggo also has a lake for holidays with family. Its name is Ronggojalu Lake.
Besides being used as a tourist location, this lake is also used as a source of clean water and industry for the surrounding community. The surrounding community also uses this lake a lot to meet their drinking water needs, clean water, and irrigation of their fields.
The location is in Tegiswalan District. This lake is overgrown with trees which make the air around the lake cooler and refreshing for tourists
13. Great Lake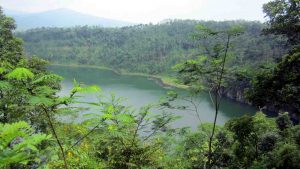 There is another lake in Probolinggo that can be used as a fun and beautiful vacation location to look at. Its name is Great Lake.
This lake is formed from the history of the Lamongan volcano which is still active today. Suhi around the lake is very comfortable, so tourists will feel very comfortable.
This lake is often referred to as Ranu Agung. Ranu itself is a term in the Tenggerese community to refer to a lake. The scenery at Ranu Agung is very beautiful and refreshing to the eye. Lots of green trees with calm lake water.
Read also:
14. Living Garden Lake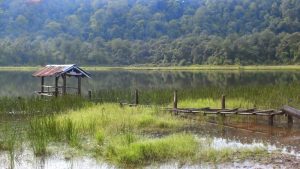 This lake is on the Mount Argopuro hiking trail. If you want to visit this lake, you need a lot of climbing and supplies, because the Argopuro hiking trail is known as a long hiking trail.
But this lake will definitely provide views and serenity. There are many climbers who stop at this lake to just unwind and rest.
If you want to visit it, do a good sport or physical exercise so you don't get tired easily. Bring along good mountaineering equipment. Because safety is the most important.
15. Andung Biru Tea Garden
There is also a tea garden tour in Probolinggo which can be visited as a tourist attraction. Its name is Andung Biru Tea Garden.
Tourists who come there can explore the distinctive beauty of a wide and green tea garden. Of course there are many tourists who come to take pictures or just enjoy the beautiful hills there.
This location is also interesting to be used as a contemporary photo background. Even though it is only a tea garden, in fact many young people come there to hunt for contemporary photos.
Other tourist attractions in Probolinggo include:
Agrotourism Sumberbendo
Tritis Village Hot Spring
Darungan Waterfall
Kalipedati Waterfall
Kedung Amis Waterfall
Sumber Pakis II Waterfall
Triban Waterfall
Bukit Bentar Probolinggo
Jabung Temple
Kedaton Temple
East Java Mangrove Forest
TRA . Swimming Pool
Probolinggo Museum
Gili Probolinggo Island
Ranu Segaran
Environmental Study Park
Those are some of the tourist attractions in Probolinggo that can be visited to fill your vacation time. Happy holidays and hopefully useful.