What do you know about Maluku? Yep, right. North Maluku is part of the province resulting from the division of Maluku province, which later officially became a province on October 4, 1999 and consists of nearly 400 islands, both inhabited and uninhabited. At the beginning of its establishment, North Maluku Province was capitalized in Ternate for 11 years, then on August 4, seven years ago, the capital was moved to Sofifi City, which is on Halmahera Island.
Maluku province, which is famous for having many talented talents in the world of singing, also has a very beautiful natural charm. This makes North Maluku worthy of your next destination. This is a North Maluku tourist destination that you can stop by and it is guaranteed to be one of your memorable experiences.
1. Sulamadaha Beach
This beach is one of the beaches that is famous for its white sand and clear water. This beach offers a view of the underwater beauty that can be enjoyed with the naked eye. The beach is located about 15 km from the city of Ternate.
Precisely in Sulamadaha Village, Ternate Island District, this bay has clear water and is opposite the beautiful Hiri Island. Sulamadaha Beach is perfect for those of you who like diving and snorkeling.
Read also:
2. Mount Gamalama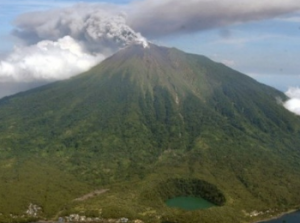 With the many myths it has, it doesn't make Mount Gamalama empty of visitors. Mount Gamalama can be reached on foot for approximately 30 minutes from the city center of Ternate. A lot of natural beauty that can be obtained when we visit there.
From the top of the mountain, you can see the expanse of clove and nutmeg plantations along the slopes, the green and wide forest and the beauty of the island of Ternate, Halmahera island, Tidore island and the blue expanse of the sea.
Read also:
3. Fort Tolukko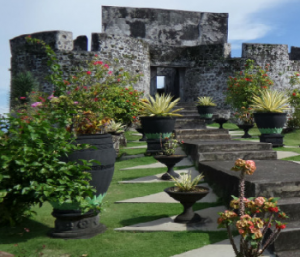 In addition to the beauty of its beaches, North Maluku also has historical attractions, for example Tolukko Fort located in Sangadji Village, North Ternate which was built around 1540 by a Portuguese commander then underwent several repairs until now.
Fort Tolukko stands on an igneous rock foundation by forming a basement, hallway and courtyard as well as the main building in the shape of a square. This fort will bring us to the memories of the colonial era. This is perfect for those of you who like historical tours.
Read also:
4. Jikomalamo Beach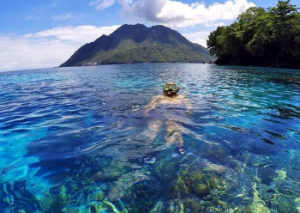 Do you have a hobby of snorkeling? Jikomalamo Beach might be the right destination because it is not known by many people, this beach is one of the best snorkeling spots in Ternate. Here you can see the beauty of the underwater world, but you should not damage the coral reefs where advertisements in Ternate live.
Jikomalamo Beach is a very beautiful beach with clean white sand with a stretch of white sand of approximately 100 meters. Located in a hidden bay directly opposite Hiri Island, this Jikomalamo Beach looks very beautiful. According to local stories, the name Jikomalamo was taken from the name of a village on Hiri Island.
Read also:
5. Kedaton Sultan Bacan Museum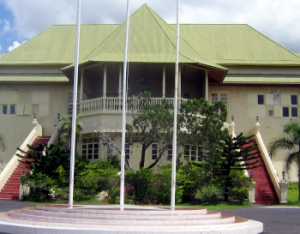 The heritage building of the Sultanate of Ternate which was later converted into a museum is a tourist place that you can visit with your beloved family. The location of this museum is in Bukit Limau, Jalan Sultan Khairun, Sao Sio Village, North Ternate District, Ternate City, North Maluku. This building is octagonal in shape that resembles a lion sitting with its two front legs facing the sea.
There are so many collections owned by the Kedaton Sultan of Ternate Museum, such as a collection of geological objects, ethnography, archaeology, numistic history, philology, technology, fine arts, and ceramics. Various relics of the Sultanate of Ternate such as crowns, golden thrones, war tools, traditional ceremonial equipment and handwritten Korans.
There is one uniqueness of the crown of the Sultanate of Ternate which has hair that can grow like human hair. To cut it, usually held an Istampa ritual ceremony on Eid al-Adha and the crown is estimated to be 500 years old since the first Sultan of Ternate.
Read also:
6. Nukila Park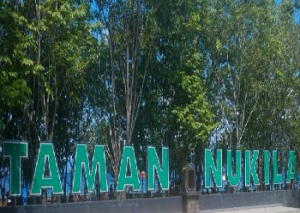 Taman Nukila was taken from the name of a Ternate woman fighter who at that time fought against Portuguese colonialism. She was the first female fighter in Indonesia, it is written in full on the inscription in Taman Nukila. This park was inaugurated by the Mayor of Ternate, namely DR. H Burhan Abdurrahman SH on November 30, 2014.
The location of Nukila Park which is on the beach which has shady trees, is perfect for filling your holiday. In this park there is also a playground for children and is equipped with a fairly wide pedestrian area. Because of this Nukila Park, the city of Ternate is more beautiful and cool.
Also read: Sukabumi Sawarna Beach
7. Halmahera Island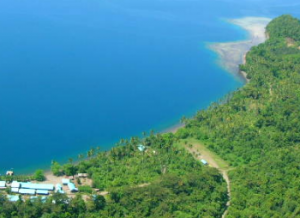 Halmahera is also no less beautiful than other islands in North Maluku. At the northern tip of this island there are very beautiful coral rocks and coral reefs along with a variety of biota in good condition can be found in these waters. Here also you can find white sand with two different types, coarse and fine. The natural surroundings and the clear water are perfect for relaxing, swimming or snorkeling with your beloved family.
In addition to swimming or relaxing on the beach, walking along the island is also an activity that is no less exciting that is often the target of tourists. Tobotobo Marine Park is a place that has a very beautiful marine park so it is highly recommended to do snorkeling and diving activities.
Read also:
8. Jailolo Bay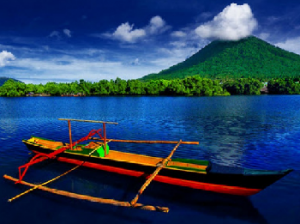 Jailolo Bay, which has the title Mutiara in North Maluku, is located between Ternate Island and Halmahera Island or to be precise in West Halmahera. A diving place that is worth visiting, you will find a variety of marine animals such as sharks, turtles, octopus, ornamental fish, neat, and many others that we have not had time to mention.
In Jailolo Bay, you can also see various types of coral reefs and a type of shellfish, it turns out that some of them contain rare shells. In addition to the underwater beauty, the beauty of the land is presented with views of Mount Gamalama which look beautiful. Oh yes, every May or June, the West Halmahera Regency government always holds a Jailolo Festival which is attended by 100 local and foreign divers.
Read also:
9. Lagoon Lake
This stunningly beautiful lake is located in Ngade Village, Fitu Village, District of South Ternate City, North Maluku. Laguna Lake is also often called Ngade Lake, because it is located in Ngade Village and is -+ 20 km from Ternate City.
The lake offers unspoiled and enchanting natural beauty for those who visit. You will be spoiled with the paronama stretch of the lake which is surrounded by green hills, blue sea and exotic mountains.
In addition to tourism, Laguna Lake is also used by residents for freshwater fish cultivation and as plantation irrigation. And don't miss it as a fishing and swimming tourist attraction for those of you who want it.
Read also:
10. Toilore Lake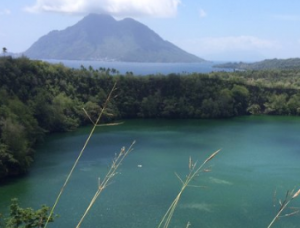 This lake is located at the foot of Mount Gamalama, besides having a unique shape it also has a very interesting legend. Lake Tolire consists of two lakes which people usually call Lake Tolire Besar and Lake Tolire Kecil, with a distance of only 200 meters between them.
The Great Tolire Lake itself resembles a giant baking sheet. Lake Tolire Besar is home to a variety of fish, uniquely local residents do not want to catch fish or bathe.
They believe that Lake Tolire Besar is inhabited by many stealth crocodiles. What's unique is that if you throw something into the lake, however strong the throw is, it will never touch the lake water.
Read also:
11. Fort Oranje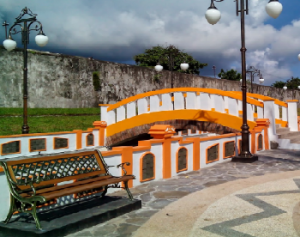 Fort Orange is certainly orange in color, but it's not without reason why this fort is Orange. This is because this fort was built by the Dutch colonials in 1607. At that time, the orange fort was used as the headquarters of the VOC in Maluku.
Formerly this orange fort was also used as the headquarters of the Indonesian army and police. But behind its history, the Orange fort is very beautiful when you see it from the air. This fort is perfect for those of you who like history and museums.
Read also:
12. Sultan Mosque of Ternate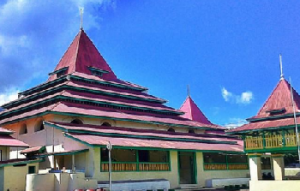 For those of you who are Muslims, this mosque should be included in the list of destinations that you will visit while in North Maluku. The Sultan of Ternate Mosque is only 100 meters from the Sultan of Ternate palace.
The mosque, which was founded in 1606, was built with an intricate arrangement of stones glued together using a mixture of the bark of the kalumpang tree.
The building of this mosque is unique because it consists of four square corners that imitate the shape of an overlapping pyramid, each of which is filled with 360 carved trellises according to the number of days in a year.
Read also:
13. Morotai Island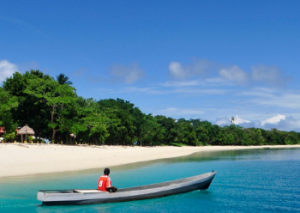 This island is unique because the surface of the island is quite flat. Morotai Island has a long history, when it was used as a Japanese war base during the second world war. No wonder this island holds a lot of treasures because of the many sinking ships around this island.
In addition to the history that characterizes this beach. Morotai Island also has beautiful natural beauty, which is also a favorite in the region. So for those of you who like history, you must come to this island while visiting North Maluku.
Read also:
14. Marikurubu Village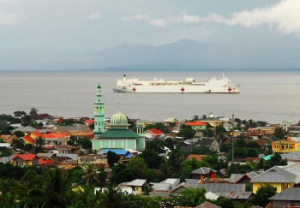 Marikurubu Village is located on Mount Gamalama. You who will climb Mount Gamalama must visit this village. Because to reach the village of Marukurubu you have to climb Mount Gamalama for about four hours.
Don't be afraid to be bored with this trip. During the trip you can see clove trees which are said to be one of the oldest clove trees in the world, which is 400 years old and can produce 400kg of cloves in a year.
In addition to that uniqueness, your eyes will also be pampered with the beauty of Mount Gamalama which is beautiful and for you connoisseurs sunrise and sunsetthis place will present the moment very beautifully.
Read also:
Other tourist attractions are:
Gamalama Volcano
Sagea Cave
Bobane Ici Beach
Tobololo Beach
Kahona Beach
Kastela Beach
Sasa Beach
Maitara Island and Tidore
Angus Stone
Castle Castle
Kalamata Fort
Orange Fort
Promise City Fortress
Kedaton Sultanate of Ternate
Al Munawwaroh Mosque, Ternate
Ternate Wonder Island
Those are some tourist attractions in North Maluku that you won't want to miss. Visiting these tourist attractions will make you get an unforgettable holiday experience.