Singapore is one of the countries in Southeast Asia. Although it has a small area, Singapore is one of the developed countries in Asia. No wonder many tourists from Indonesia are busy on vacation visiting Singapore. Singapore is located between Indonesia and Malaysia. The country that has the symbol of the merlion statue has a diverse population ranging from Indian, Malay, Chinese and some Caucasoid descent. In addition, Singapore is one of the cheapest tourist countries in Asia.
Singapore is a favorite destination for Indonesians when they want to vacation abroad. This is because the distance is not so far so the cost of transportation to Singapore from Indonesia is not so expensive. In addition, the many interesting tourist attractions make Singapore a suitable place for your vacation. If you want to take a vacation to Singapore and this is your first time to Singapore, in this article we will discuss 30 free tourist attractions in Singapore so that your vacation can be economical. Check out the recommendations for what tourist attractions you will visit when you visit Singapore, as follows:
1. Merlion Park
Merlion park is the first place you must visit when on vacation to Singapore. In this Merlion park there is a statue of a lion's head which is an icon of the state of Singapore. This place is often used as an object for taking pictures, because everyone knows that the Merlion is the only free Singapore tourist spot. This merlion statue has a height of about 8 to 9 meters and was designed in 1964. This merlion comes from the word mer which means sea and lion lion, so the merlion is the head of a lion seen by a prince named Sang Nila Utama, and it symbolizes the ancient city of Temasek, namely the sea.
To visit this merlion park if you use the MRT then get off at Rafles Place station and exit via Exit H (six battery road), after that walk towards the river. Look for the marina bay building and walk with a guide towards the Marina Bay Sand building. Merlion park is open every day for 24 hours, so you can visit anytime. To enter this place is free of charge.
2. Orchard Road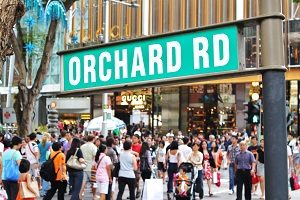 Orchard road is a shopping center with a road area of ​​about 2.2 km. For you shopping lovers, don't miss visiting Orchard Road. Prior to 1850 orchard road was only a small road with various fruit plantations. But around 1850 this road began to change, many people came to Orchard Road because at that time Orchard Road had turned into a culinary hawker center, wet market, etc. It was in 1903 that various shops began to be built and at that time the first supermarket as a free Singapore tourist spot was built, now it is the Centrepoint of orchard road. In the 1970s, cinemas, bowling alleys, and malls with large spaces began to appear. Until finally until now in 2007 on orchard road various places are growing.
If you visit orchard roadi then you will see various shopping centers, restaurants and hotels besides that you can also visit various culinary centers. On orchard road, you can shop for various fashions designed by well-known designers. A variety of upscale restaurants are available on this orchard road. In addition there are various ethnic crafts and art galleries. For those of you who want to find a place to hang out in Singapore, this orchard road is suitable as a place to relax with your friends.
3. Little India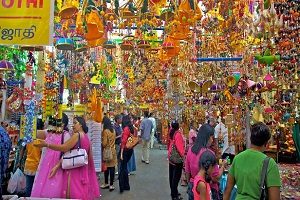 From the name, you can definitely guess, Little India is the place where people of Indian descent live. Little India is one of the busiest places in Singapore. When you walk along Serangoon Road and the roads around it you can find a variety of culinary delights, knick-knacks, fabrics, spices and even temples in Little India. Some places that you must visit when visiting Little India are Mustafa center, Tekka center, and temples of spiritual places.
If you want to enjoy a variety of Indian specialties, then visit the Tekka center. At the Tekka Center there are a variety of Indian specialties ranging from food, drinks and snacks. You can try Indian specialties here, namely briyani rice, besides tandoori chicken, roti prata and teh Tarik are sold at several outlets in this Tekka center. In addition to culinary, various typical Indian souvenirs can also be found in the shops in this Tekka center. Tekka center is open from 06.30 to 21.00.
In addition to the Tekka Center you can visit the Mustafa Center. Mustafa center is a cheap shopping place in Singapore, a shopping center for household appliances, electronics, various foodstuffs and souvenirs. The selling price at the Mustafa Center is relatively cheap, and please note that the Mustafa Center is open 24 hours a day. Well besides shopping you can also visit spiritual places, namely Hindu temples. Some of the temples that you can visit in Little India are the Sri Veeramakaliamman temple. Sri Veeramakaliamman Temple is open every 6 to 12 hours and reopens from 17 to 21. If we want to see how spiritual activities are carried out then visit the temple on Tuesdays and Fridays.
4. Chinatown Singapore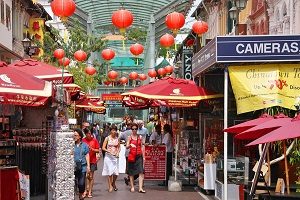 China town is where people who have Chinese ancestry live. Chinatown is the name given by the British, while the Chinese who live in Singapore usually call it Niu Che Shui. China Town has five districts including Telok Ayer, Bukit Pasoh, Kreta Ayer, Tanjong Pagar and Ann Siang Hill.
Telok Ayer is a district that is famous for its beautiful places of worship, besides that in Telok Ayer there are various cafes and unique shops along Ann Siang Hill Street. Bukit Pasoh is a place that has historical value regarding ethnic Chinese in Singapore. Meanwhile, in Tanjong Pagar now many apartments and various nightclubs have been built. Ayer Train is the center of China town where there are a variety of traditional shopping and also a variety of typical Chinese snacks.
If you want to visit China town you can use the MRT or bus. If you use the MRT, get off at the North East Line – China town (NE 4) station, usually the train going to China town lasts at 11.50 pm. Meanwhile, if you use the bus you can use the bus by stopping at South bridge road (C2, 166, 197, NR5), Eu Tong Sen Street (2, 12, 33, 54, 143, 147, 190, 520), Maxwell road.
5. National Museum of Singapore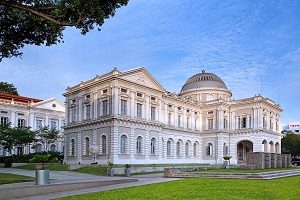 If you are on vacation in Singapore and want to know the various history of Singapore, then you can visit the National Museum of Singapore as an answer to your interest in the history of Singapore. Singapore Museum was built in 1849. Various historical relics can be found in this museum such as Singapore Stone artifacts, Dagguerreotype of Singapore Town, and many more. The building of this museum is also very interesting in the form of an ancient architectural building that has a Neo-Palladian and Renaissance design. The shape of this museum has 2 rectangles and has one dome.
The full address of the National Museum of Singapore is at 93 Stamford Rd, Singapore 178897. The museum is open from 10.00 to 18.00 (History gallery) and 10.00 to 20.00 (Living gallery). To enter this there is no charge except when you want to enter the gallery. Even if you want to enter the gallery, the ticket costs are not expensive and quite affordable, namely S $ 10.00 for adults, S $ 5.00 for students, and S $ 30.00 if you come in groups.
6. Esplanade
Esplanade is a theater located next door to Merlion park. The Esplanade officially opened 12 October 2001. The Esplanade was built with the aim of being an art center for all ages. The arts displayed also cover all genres, from music, dance and theater, all arts focusing on Asian culture. The Esplanade has two large rooms, consisting of a theater with 2000 seats and a concert hall that can accommodate 1600 people. In addition there are two small studios. The shape of the Esplanade building is very unique, namely the dome cover has a shape like a thorn so it is often called durian.
In addition, Eslpanade has an outdoor theater with a size of 300m and can accommodate an audience of 450 to 600 people. Esplanade operates Monday to Friday from 10.00 to 20.00 and on Saturday from 11.00 to 20.00. To enter the Esplane is free of charge or free, except for some events that require buying tickets. To get to the Esplanade you can use a taxi, bus, MRT and can sail using a ferry on the Singapore River.
7. Singapore Botanic Garden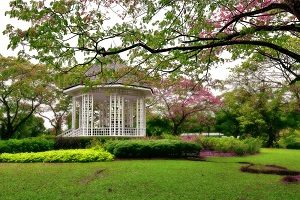 The Singapore botanic garden is a forest in the middle of the city. The Singapore Botanic Garden is located right next to Gleneagles hospital. Various kinds of plants live in this Singapore Botanic Garden. Various endangered plants are also reserved at the Singapore Botanic Garden. If in Indonesia this place is almost similar to the Nusantara Flower Garden. This garden has an area of ​​64 hectares. Various green natural views are served and the Swan Lake adds to the atmosphere of a more comfortable vacation.
You can have a picnic at the Singapore Botanic Garden and this is one of the tips for a family vacation by bringing food and you can enjoy under the lush trees with your family. Also in this place there is the National Orchid Garden. To enter the Singapore Botanic Garden is free or free, unless you want to enter the National Orchid Garden you have to pay a ticket of S $ 5 for adults, S $ 1 for the elderly, and free for children. Now if you want to shop for various souvenirs typical of this place, you can buy it right next to the park entrance.
In addition to the 7 places above, there are many more free Singapore tourist attractions. Here are other free tourist attractions in Singapore:
Henderson waves bridge.
Clarke Quay.
Haw par villa.
Raffles landing site.
Arab Street Singapore.
ST. Andrew's Cathedral Singapore.
Singapore Sultan Mosque.
Shopping tour – Mustafa center Singapore.
Culinary tourism – Katong.
East Coast Park Singapore.
Bugis street.
Fountain of wealth & suntec city mall.
Marina Bay Sands
Vivocity.
Chjimes.
Buddha tooth relic temple and museum.
Helix bridge.
Singapore river.
HarborFront.
Haji lane.
Southern Islands.
Asian Civilizations Museum.
Mint museum of toys.
Crane dance.
New Chinese.
Nature walk – dragon trail.
Gardens by the bay.
So, those are the recommendations for 30 free Singapore tours that you can visit while on vacation to Singapore. Hopefully this article is useful and can provide references to places that you will visit when you visit Singapore. Various travel tips to Singapore, do it right away.