Suitable Tourist Places for Farewells, Finding a suitable place for school farewell events, class farewells or it could be campus farewells, organizations or friends is indeed easy and difficult. In addition to being adapted to a theme that may have been planned in advance, you must also adjust to your tastes and the organizers, besides that you have to think about the location and the budget or costs required.
Maybe some of you want a fun and lively event or you just want something more serene and calm. What is certain is that the place where this event is held must have a privilege where all those involved in or attending this event will not easily forget the moment of togetherness before parting. What you want is that every time you remember the place, what you will think of are good friends who have had good times with you.
Parties or dining events can be held anywhere, but what's wrong with making this moment more special so that the audience can not only enjoy the meal, but also relax and travel at the same time? Of course, with this, a farewell event like this will be more memorable, right? For that, of course, what you need is to find a suitable tourist spot for a farewell, and here are 6 tourist attractions in Java, Bali and Sumatra that are suitable for a farewell event:
Read also:
1. Thousand Islands
WhatIf you live in Jakarta and need information on tourist attractions that are suitable for school farewells, you may need a place that can accommodate all your needs and desires but does not have to go out of town.
You can choose one of the islands in the Thousand Islands group. We recommend that you choose an island that people often visit and get a pretty good recommendation, such as Pulau Pramuka, Tidung, Ayer, Pari, Bidadari, Pelangi or Umang considering this is for a school farewell event.
In one of the Thousand Islands cluster, many things can be done such as snorkeling, fishing, kayaking, diving, using a boat around the island or visiting other islands, or just enjoying the sunrise and sunset and taking pictures with friends.
Here you can also hold a bonfire event to make it even more memorable. Meanwhile, for lodging, there are villas and houses for residents which can generally be used for overnight stays, and even stay and meal packages are also available. You can organize your own event or you can choose a package tour that has a lot to offer.
Read also:
2. Ujung Kulon National Park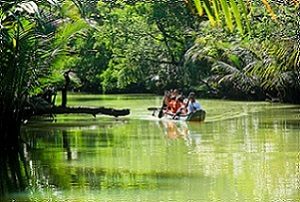 A little more shift, if you want a more memorable and unique farewell event, Ujung Kulon National Park is one of them. Located in Tatar Pasundan in the westernmost part of Java Island which is also part of the Krakatau region.
This National Park, which has been inaugurated as a UNESCO World Heritage since 1991, covers a large area of ​​protected forest and is inhabited by one of the most famous creatures in the area, the one-horned rhino. You can find lodging on several surrounding islands, such as Peucang Island and Handeuleum Island.
There are many activities you can do here besides of course finding many beautiful spots for selfies and group photos. Other unique and exciting activities are snorkeling and diving at Ciharashas and Cihandarusa Panaitan Island, surfing at Legon Bajp, Panaitan Island, hiking in Karang Copong Ceupang Island, Citerjun, and Tanjung Layar seeing a bull in Cidaon, Canoeing in Pamanggangan, Wildlife Viewing in Cigenter, visiting Sanghyans Sirah Cave, and Trekking in Cibunar.
Also Read:
3. Batu City, Malang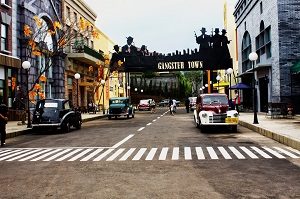 Today, the Batu, Malang area is the prima donna of tourism on the island of Java. This area offers a very interesting tourist attraction in addition to its very good management. Batu Malang is a very appropriate location to be part of the farewell event.
This area offers tourist attractions in Jatim Park 1 and 2, Batu Night Spectacular (BNS), Museum d'Topeng Kingdom, Museum Angkut, Eco Green Park, Apple Picking Tour, Omah Kayu, Selecta Park and can take pictures and gather at Inggil Museum Resto. Of course, there are many lodgings in this area, from affordable to exclusive. Guaranteed the atmosphere will be more exciting and impressive.
Read also:
4. Bali Botanical Gardens, Bedugul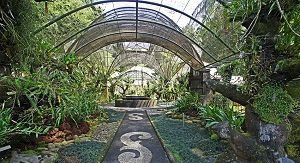 If you want Bali as a destination for the location where the event is being held, or indeed your school or campus is located in Bali and its surroundings, then Bedugul Botanical Gardens is a suitable place.
With a cheap entry ticket price of Rp. 9000/person while the vehicle provided at the location to get around is charged Rp. 12,000, you and your friends can enjoy togetherness, take pictures in beautiful and unique locations, in a place that combines research in the field of botany , plant conservation, education and recreation.
The botanical garden, which is located right in the middle of the island of Bali, about 60 km from Denpasar city, offers a bamboo conservation area, an orchid garden, tropical rain forest plants and bird life as well as various ornamental plants. It is not recommended to use public transportation to this place, because it is appropriate for you to go to your destination by bus or car. Cheap but clean and beautiful inns are also widely available around the botanical garden area, so you don't have to worry about lodging.
Read also:
5. Belitung Island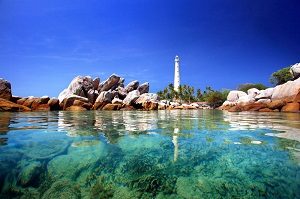 The effect of Laskar Pelangi can still be felt today, and once this place is so popular because of it and it is proven that this area does have its own beauty, then Belitung has finally become one of the prima donna of national tourism.
If you have enough time and money, holding a farewell by choosing one of the Belitung tour packages that are currently being offered is something interesting and hard to forget.
There are approximately 24 interesting tourist attractions in Belitung, most of which are water/beach tourism. Some of them that are well known are Tanjung Tinggi Beach, Kata Museum, Lengkuas Island, Tanjung Kelayang Beach, apart from being able to enjoy typical Belitung food or enjoy coffee at several legendary Belitung coffee shops such as Warung Kopi Ake and Warung Kopi Kong Djie. In this place the get-together can be more lively and memorable.
Read also:
6. Lake Toba, North Sumatra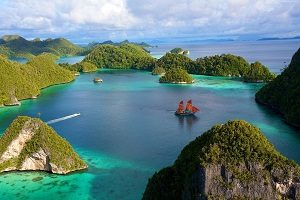 For those who are located around Sumatra, holding a farewell tour in one of the most beautiful volcanic lakes in Indonesia, namely Lake Toba, is an attractive option. This place is already very famous so that all the facilities will not be difficult to get and of course the location is very friendly to tourists so that you and your friends will feel comfortable and safe.
If you have arrived at this place, you can enjoy the beauty of the lake, take pictures and do activities that are together. You can also enjoy Samosir Island in the middle of the lake. The island, which is almost the same size as Singapore, has two villages that are visited by many tourists, namely Tomok village and Tuktuk village.
In Tomok village you will find several interesting attractions such as the Batak Museum, the Tomb of King Sidabutar, and watching the Sigale-gale puppet dance. Meanwhile, to stay overnight, you can choose lodging in the village of Tuktuk.
Read also:
Still want to know other tourist attractions that you can use for an unforgettable farewell event? Here is a list of 20 other unique tourist attractions that you can use for your farewell event:
Bukittinggi, West Sumatra
Anambas, Riau Islands
Bangka, Bangka Belitung
Karimun Jawa, Central Java
Beaches in Gunung Kidul, Central Java
Tanjung Puting National Park, Central Kalimantan
Tarakan, North Kalimantan
Derawan Islands, East Kalimantan
Flores, East Nusa Tenggara
Wakatobi, Southeast Sulawesi
Togean, Central Sulawesi
Polewali Mandar, West Sulawesi
Limboto Lake, Gorontalo
Bunaken, North Sulawesi
Ora Beach, Maluku
Halmahera, North Maluku
Raja Ampat, West Papua
Sentani Lake, Papua
Muaro Jambi, Jambi
Way Kambas, Lampung
Farewell does not mean that we will not meet again, but to celebrate the years or previous times of togetherness. By visiting a unique and fun place together, apart from inviting joy, it also gives a signal that the togetherness will not end here. Precisely in this tourist spot of your choice, a new story will begin together.
Read also: