Medan is the third largest city in Indonesia after the capital city of Jalarta and Surabaya in East Java. Medan is a place to live with quite a lot of people. Medan is a comfortable city, and is the capital of North Sumatra. Many tourists come to Medan, because of the attractiveness of Lake Toba. In addition, Medan has quite a lot of parks. If you want to spend time with your partner, here are some romantic gardens in Medan and its surroundings that you can visit.
Read also:
1. Labyrinth Garden
Lake Toba tourism has a beautiful garden and can be visited with a partner. There is a cafe that has the appeal of a maze garden. You and your partner can try to complete the maze mission.
The labyrinth garden is made of neatly arranged green trees. The shape is circular with certain road sections. You and your partner will be reminded of a fairy tale.
To enter the Labyrinth Park, you need to buy an entrance ticket. Visitors can walk through the maze starting from the beginning and try to find the exit. Although it looks easy, of course there are many pitfalls that you must be aware of. If not, then you can get lost.
Once at the exit of the labyrinth, you and your partner will find the center of Simalem Resort called "Fountain of Wealth". The shape of a fountain monument. You can take pictures there.
2. Cedika Scout Park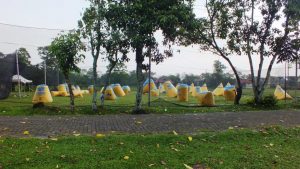 Cadika Pramuka Park is one of the parks in Medan that you can visit with your next partner. This park is located on Jalan Karya Wisata, Medan Johor District, Medan City. This flower garden was built in 2012. The area reaches 5,000 square meters and has a distinctive atmosphere of a very beautiful and green garden.
There are many shady trees. Several types of trees that exist there include smahoni, flamboyant, cape, kihujan, mangosteen, ketapang, rukam, coconut, nam-nam, and many more. In addition, various types of flowers fill some parts of the garden that give a certain color.
Uniquely, this park which is also visited by many people and families also has a small artificial lake that adds to the beautiful and cool impression. Although the size is not so big, the lake is very beautiful and has calm water. You and your partner can enjoy the atmosphere there.
The air in this park is also very fresh because it is surrounded by a lot of flora. You and your partner who come will feel calm and relaxed. Moreover, in this park there are also many park benches for visitors to feel comfortable.
In the park there are also two suspension bridges that you and your partner can enjoy. The suspension bridge divides the lake and is passable. In fact, many tourists are hunting for photos in this place. Do not miss this opportunity.
3. Sri Deli Park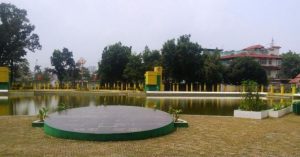 Sri Deli Park is a park that you can visit next. This park has a very high historical value because it is one of the relics of the Deli Malay Sultanate. Its position is on Jalan Masjid Raya, and not far from Maimun Palace.
Sri Deli Park has actually existed since the time of Sultan Ma'mum Al Rasyid Perkasa Alam. The purpose of its construction was to provide a place for the Sultan of Deli's family to relax. But at that time this park was called Derikanpark.
Although this park was abandoned in the past, now this park has been revitalized and becomes beautiful. This causes it to be in much better condition, well maintained, and worthy of a visit by many tourists. You and your partner can stop by there and enjoy it.
In the middle of the garden there is also a trapezoidal pool, and this pool is cared for and cleaned so that it always looks good and beautiful. In addition to the pool, there are also many other facilities and infrastructure in the park, including toilets, trash cans, and park benches that can be used as a place to relax.
In the Sri Deli park, there are also several memory photos whose functions are similar to museums. There are some photos about the history of Taman Sri Deli and the reign of the Deli Malay Sultanate in the past.
Read also:
4. Banyan Garden
The next park that can be visited is the Medan Beringin Park which is located on the border between Jalan Cik Di Tiro and Jalan Sudirman, Medan City. Like the previous gardens, this park is also very beautiful and romantic. Even the inside of the park is laid out like an urban forest, complete with a fountain pool that adds to the beautiful and comfortable impression.
Park visitors mostly come there to just unwind and refresh. In addition, this park is suitable for traveling with family and couples.
Banyan Park is actually a symbol of friendship between the city of Medan and the United States. The park was inaugurated on October 25, 2014, to be exact, during the visit of the crew of the USS David, the US Navy, who came to Indonesia to conduct exercises with the aim of enhancing the maritime defenses of both parties.
5. Avros . Educational Park
Avros Educational Park is an educational park located on Jalan Avros, Medan. This park is located on the banks of the Deli River, Medan. Inaugurated on September 25, 2014, this park is now increasingly famous in name and many tourists and young people come.
This park is indeed suitable to be visited to unwind for you and your partner, because it has a calm and cool atmosphere. In addition, and the many green trees there make it a very shady, beautiful, and cool place.
In addition, this Avros Educational Park also has a nature school program. Of course you and your partner can not only travel but can also learn about the types of plants, vegetables, fruits, herbal medicines, and so on. Avros Education Park also has outbound rides that you can enjoy. There are paint ball, flying fox, obstacle course, and also archery.
6. Ahmad Yani Park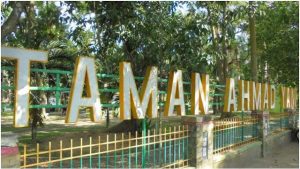 The next romantic garden in Medan is Taman Ahmad Yani. This park is located on the border between Jalan Sudirman and Jalan Imam Bonjol Medan. The name Ahmad Yani Park is because there is an Ahmad Yani Statue Monument. The monument is 11 meters high.
Ahmad Yani Park is very beautiful and cool. This two-hectare park has lush green trees. In addition, there are also several sports facilities that can be used by the surrounding community, such as jogging tracks and other sports equipment.
In addition, there are also several rides for children that can make children feel at home there. This park is suitable for family tourism or sports tourism.
Read also:
7. The Le Hu Garden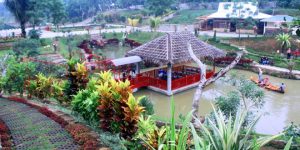 If you are looking for a garden full of colorful flowers in Medan, then come to The Le Hu Garden. There you and your partner will be presented with a full, beautiful, and very wide view of the flora.
This park is now quite popular among the people of Medan. Because the location is also easy to reach. Medan residents only need to go to the Patumbak area, Deli Serdang which is a short distance from Medan City.
During holidays or weekends, this park is often used as a destination for Medan residents who want to unwind. Many tourists also come from among young people because this place is a good location for photo hunting.
8. Bunga Bangun Sari Tourism Village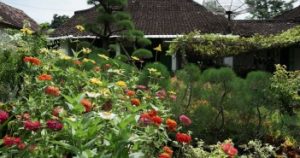 The Flower Tourism Village is located in Madirsan Gang, Bangun Sari Village, Medan. There you will see a large gate bearing the name Wisata Bunga Bangun Sari.
Those of you who come along Jalan Madirsan will be greeted with various kinds of plants and flowers that are arranged very neatly. Naturally, because basically the village is mostly flower farmers. This makes this area very cool and eye-catching. Naturally, the area is usually jammed because of the many tourists who stop by.
There you and your partner can not only look at the beautiful scenery, but also can shop for plants and flowers. In addition, you and your partner can also take pictures.
9. Tjong Yong Hian Flower Garden Taman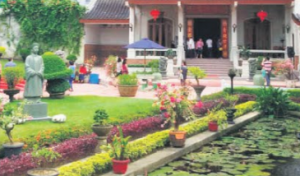 The Tjong Yong Hian Museum and Flower Garden is a tribute to Tjong Yong Hian. He is one of the rich ethnic Chinese brothers who built the Al-Mashun Grand Mosque.
Tjong Yong Hian Flower Garden is actually the final resting place of Tjong Yong Hian and his wife. There is also a museum that tells the story of his life. In addition there is a beautiful flower garden.
You and your partner can stop by there and feel the beauty of colorful flowers in the middle of the city. In addition, there are also buildings with a very distinctive Chinatown architecture.
10. Gunung Leuser National Park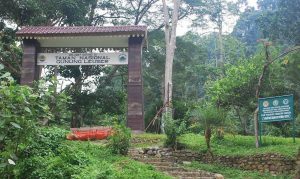 This national park takes the name Gunung Leuser in Aceh. Gunung Leuser National Park has a native ecosystem of many habitats, from beaches to high mountains. There you will be confronted directly with dense forests typical of Indonesia's tropical rains.
This national park is managed by a zoning system. Its purpose is to be used as a place for research, education, cultivation, tourism, and recreation.
Read also:
If you and your partner like natural nuances and like fauna, then visit there. The typical fauna of the area is ape species. You will definitely get a lot of new experiences if you visit there. Apart from that, there are also several other parks such as:
11. Model Garden
12. Gajah Mada Park
13. Creative Hamlet
14. North Sumatra Cultural Park
15. Pasaribu Mei Park
16. Beautiful Cemara Bird Park
17. Ashoka Asri Park
18. Reading Garden
19. Garden of Gethsemane Love Orphanage
20. Beautiful Mora
21. Batang Gadis National Park
22. Toddler garden Binjai
23. One Tree Hill, Taman Simalem
24. Ngogesa Sitepu Park
25. Lubuk Pakam Fruit Garden
Those are some romantic gardens in Medan and its surroundings that can be visited with a partner or family. Welcome. Always keep the garden area clean when visiting so that the garden atmosphere remains beautiful.