Semarang is the capital city of Central Java which is also a reference for travelers, both backpackers and flashpackers. Being famous for historical tourism is not enough to make Semarang satisfied. Currently, there have been many developments in terms of tourism in this coastal city.
As a result, there are lots of cool photo spots in Semarang that can be used as photo spots. If you want to go on vacation to Semarang, maybe some of the recommendations of cool places to be used as photo spots below will be useful for you. Here's the explanation.
Read also:
1. Jatibarang Reservoir
Jatibarang Reservoir is currently a fairly popular place among residents of Semarang and its surroundings. The reservoir, which has existed since four years ago, is now also diligently visited by photographers who are looking for the best photo spots.
There tourists can fish and take boats. In addition, the existence of a reservoir which covers an area of ​​189 hectares allows tourists to enjoy the sunset view.
Those of you who like tourist attractions in the form of lakes or reservoirs will definitely feel at home there. You can also use this location as a pre-wedding photo location. The natural impression of this reservoir will make your photos very beautiful and natural.
2. Kali Kulon Tree House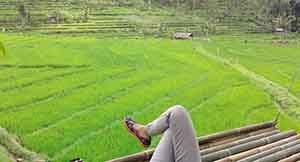 The Kali Kulon Tree House is a new tourist spot in the Banyubiru area, Semarang. There you can go up to the tree house and enjoy the view of the green rice fields.
In the distance, there is a view of the hills that will spoil your eyes. Although relatively new, this tree house is already quite crowded with tourists. Most of them are local tourists who are also young people around Semarang.
Most of the young people who come are those who are really looking for the best photos from the height of the tree house. The tree house itself is very simple and only made of a few bamboo slats arranged horizontally.
3. Brown Canyon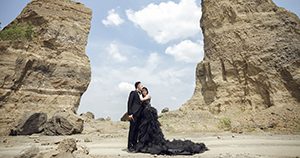 A mining location will remind you of the Grand Canyon. This is one of the newest tourist spots in Semarang that you can visit to hunt for the best photos.
This place is also a location that is often used as a pre-wedding location. The formation of towering stones will show an atmosphere like abroad.
There are also many local residents who carry out mining activities. If you want to go there, a good time is in the afternoon. Bring your best camera, because there are not many sights like this in Indonesia.
4. Slope View Post of Kelir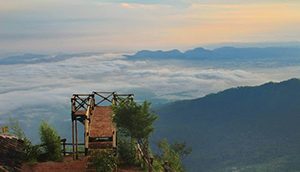 This place is classified as a new tourist spot. Not many have come there yet. The Lereng Kelir Viewpoint is the best spot to see and enjoy the beauty of the city of Semarang from a height.
At the viewing post you will find a wide and spacious view. The green trees below will clear your mind.
The location is in the Ambarawa area. To get there the journey taken is about 1 hour drive from the city center. You can visit with a two-wheeled vehicle to make it more practical. In the afternoon, maybe you can get the best sunset photos from there.
Read also:
5. Sky Pool Star Hotel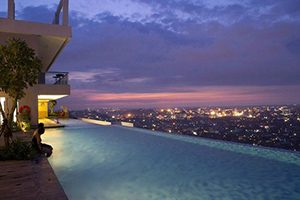 Love swimming and want to try a new sensation in swimming? Just come to Sky Pool Star Hotel. This cool swimming pool is the highest swimming pool in Indonesia, you know.
While swimming, you can enjoy the atmosphere of the city of Semarang from a height. This elegant and minimalist swimming pool design will also make you more comfortable and more contemporary.
Because of the cool design and combined with the concept from a height, the photos that you will get will also be elegant photos and seem expensive. You must try it if you have more budget in your vacation.
6. Bantir Hills Nature Tourism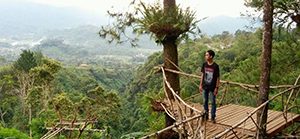 This photo spot in Semarang was only opened around the beginning of 2017. Until now, there are still many development processes that will be carried out in this spot. There you can enjoy the view from a height that leads directly to the low side of the hills.
There are several tree balconies that can be visited for photo hunting. If you are curious about this new tourist location, you can come anytime. The place is in the Sumowono area, Semarang.
In its development, this tourist spot plans to add various other facilities such as camping ground, viewing post, sunset viewing spots, tree houses, and even love locks. Hopefully the construction will be completed soon so that tourists can enjoy it soon.
7. Old Town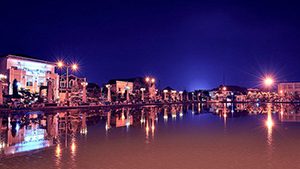 Haven't been to Semarang if you haven't been to Kota Lama. It seems that expression has some truth in it. Kota Lama is indeed a typical icon of the city of Semarang which is very mandatory to visit when on vacation to Semarang.
There you can enjoy historical tours because there are so many ancient buildings such as Dutch colonial buildings. One of the famous buildings is the Blenduk Church.
There are also many spots in the Old City that are used as pre-wedding photo spots. You can hunt for photos there either morning, afternoon, or night. There are also many photographers who like to hunt for photos there. The atmosphere at night will be more beautiful to be immortalized.
8. Kayon Pine Forest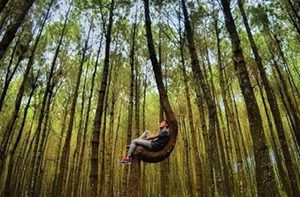 As the name suggests, this place is a pine forest. Many people come to this pine forest for camping, to unwind, while hunting for contemporary photos that seem natural.
Its location on the slopes of Mount Merbabu makes this place cool and cold. There is a popular spot in this pine forest, which is a pine tree that looks different from the others. The pine tree is slightly bent, not perfectly straight. Because of its uniqueness, the tree is often climbed and used as a cool photo spot.
You and your friends can camp and spend time together in this pine forest. The atmosphere served there will make you more fresh after the holidays. The cool air and green views of the typical pine forest will spoil your heart and mind.
9. Central Java Grand Mosque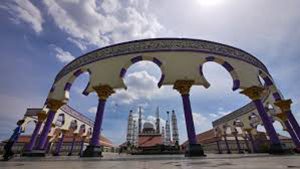 This mosque is very unique and quite phenomenal. Why? Because the architectural form is very similar to the Grand Mosque. In short, this mosque is a miniature of the Grand Mosque. If you want to visit the Grand Mosque, just come here.
This mosque also has a hydraulic umbrella like the Grand Mosque which can also open and close automatically. This mosque will really allow you to have a religious tour in Semarang.
To get there is quite easy because the location is still in the city. Precisely on Jalan Gajah Raya, Sambirejo, Gayamsari, Semarang City. If you want to pray or take a break from a busy holiday, you can pray there. The capacity of the mosque is also very large, reaching 15,000 people.
10. Setiya Aji Flower Farm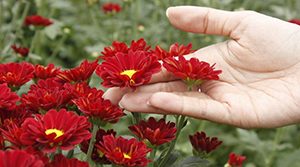 Located in the Badungan area and a place at the foot of Mount Ungaran, Setiya Aji Flower Farm is a good place for flower plantations.
For those of you who like farming and love the beauty of flowers that have many colors, this place might be for you. Many tourists who visit there just to enjoy the colorful flowers while hunting photos.
This place will make your photos more colorful. You can come with family and friends to hunt for photos in a flower bed that is always blooming. You can also learn about the types and colors of flowers at this location.
Read also:
11. Lawang Sewu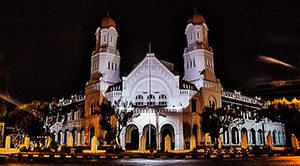 Who is not familiar with the legendary Lawang Sewu building? Apart from its splendor and history, Lawang Sewu is also famous for its mystical air. But even so, this place is an interesting photo spot.
Many photographers make this place the object of their photos. Many couples also took pre-wedding photos there. If you are interested in coming to Lawang Sewu, you can visit from 8 am to 9 pm.
Lawang means door and Sewu means a thousand. It is called Lawang Sewu because of the large number of doors in this building. The exact position is at the Tugu Muda Complex, Jl. Youth, Sekayu, Central Semarang, Sekayu, Semarang.
12. Nglarangan Village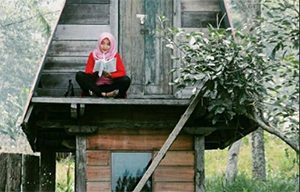 Located in the Badungan area, Semarang, Nglarangan Village has not been visited by many people because not many people know about this location. However, the location is quite close to Gedongsongo Temple.
There is a photo spot that is quite unique, namely a building made of natural wood. The shape of the building is very simple with a small space below and a large roof space above.
There is a ladder that can be climbed to lead to a small balcony near the roof. The roof is in the form of a gable roof which is slightly curved at the top. You will definitely feel back in time when you are there.
13. Young Monument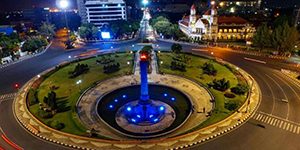 Another Semarang city icon is Tugu Muda. There you can enjoy the night atmosphere of the city of Semarang while spending time with friends and family.
There are many good spots to take pictures while looking at Dutch heritage buildings. Besides hunting for photos and hanging out, other things that can be done around Tugu Muda are culinary hunting.
There are so many people who go on a culinary tour around this Tugu Muda area. You can eat food that is sold at various prices. Some are expensive and some are cheap. While eating, you can enjoy the city lights of Semarang at night. All of that will provide a separate space experience for your holiday atmosphere.
14. Peak of Mount Ungaran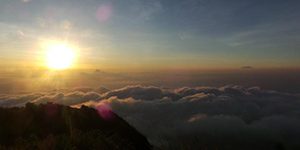 Photo Spot in Semarang, Mount Ungaran which has a height of 2050 meters above sea level is a reference for climbers from various regions. Most are novice climbers who are trying their mental and physical endurance for the next higher climb.
The climbing route of Mount Ungaran which is not too long and comfortable enough to pass will not make you difficult. You can learn to climb mountains and learn about climbing by climbing this mountain.
However, even so, careful preparation must still be made to go to the peak. The best photo spots are indeed at the top, more precisely while waiting for the sun to rise. But along the way to the top there are also many cool spots that can be used as spots to take pictures.
15. Maerokoco Castle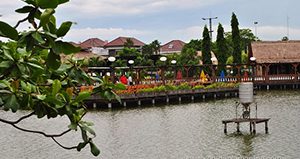 Puri Maerokoco is a mini version of Taman Mini Indonesia Indah in Jakarta. There will be many miniatures that reflect the area of ​​Central Java. You can visit there and enjoy the existing cultural tours.
You will also get lots of photos from this one tourist spot. There are also other interesting rides such as water tricycles, outbound areas, and also unique boats.
Puri Maerokoco is suitable for family tourism. If you are on vacation in Semarang with your family, take your family here. There you and your family can learn many things about Javanese culture, especially Central Java and its surroundings.
Read also:
From some of the references above, which place do you think is interesting? In addition to these 15 places, there are also several other recommended places that you can visit, such as the following.
Semarang Contemporary Art Gallery
Gubug Eat Mang Engking
Umbul Sidomukti
Sam Poo Kong Temple
Watugong Buddhagaya Pagoda
Marina Beach Semarang
Tinjomoyo Forest Semarang
Benowo waterfall
Bsb Rubber Garden
Mount Telomoyo
Those are some cool photo spots in Semarang that you can visit while on vacation in Semarang. Don't forget to always prepare a thorough travel plan. Don't let your vacation time go to waste. Hopefully useful and happy holidays.