Yogyakarta has been famous since time immemorial. This cultural city as well as a student city has succeeded in becoming a tourist city due to the large number of cultural tourism that has been called by tourists, both domestic and international. After being famous for Borobudur Temple as one of the wonders of the world, Jogja continues to spread its wings in the tourism sector.
Currently, there are many photo spots in Jogja that are suitable for photo hunting. If you want to visit Jogja to get contemporary photos, maybe some of these photo spot references can help.
Read also:
1. Tamansari Water Castle
Tamansari Water Castle is part of the Yogyakarta Palace. The location is also not far from Malioboro. To get there, tourists usually take a rickshaw or even walk.
Tamansari Water Castle is a pond area that was used by the Kings to spend time with his wife. There is a photo spot in Jogja which is very famous for hunting cool photos. The place is a former underground mosque.
Many tourists are willing to go all the way to the place just to take good pictures. But getting a good picture is not easy, because the spot is very crowded. Tourists must alternate with other tourists.
2. Malioboro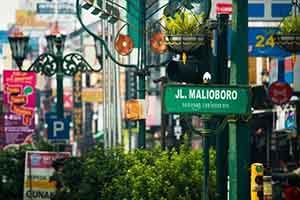 Who doesn't know Malioboro? Along Malioboro Street is a popular photo spot that will definitely be the first tourist destination for tourists. Besides being close to the station, Malioboro has indeed become a tourist icon in Jogja that must be visited.
Malioboro Street has now been repaired and has become a very neat area compared to before. Tourists usually like to take photos under street signage and also on roadside benches which now look cooler.
There are also many inns scattered along this road. You don't need to be confused about finding lodging because all the pedicab drivers there can definitely help find lodging. The price of lodging around Malioboro is also not expensive. Suitable for those of you who like backpackers.
3. Breccia Cliff
A new tourist area not far from the city center, Breksi Cliff is a limestone hill that was ex-lime mining. This place will remind you of Jaddih Hill in Madura or Garuda Wisnu Kencana in Bali.
Breksi Cliff is very beautiful because many formations are carved directly from limestone mountains. To hunt for photos at Breksi Cliff, the recommended time is late afternoon, because at sunset, you can get beautiful views.
To get there, you can take a private vehicle. But if you don't have a personal vehicle while in Jogja, you can come to Prambanan Terminal. There will be many motorcycle taxi drivers who want to take you there. One motorcycle taxi driver charges around Rp. 70,000 round trip.
4. Depok Beach Runway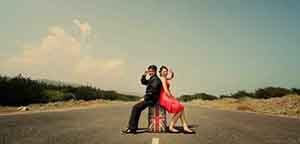 As the name suggests, Depok Beach Runway is indeed an airplane runway. If you want to go there, the trip will take about 90 minutes from downtown Jogja.
There you will see a straight road along 400 meters which is a runway. This spot is currently also often used as a photo spot by young people and by couples taking pre-wedding photos.
The best time is in the late afternoon, because here you can see a very beautiful sunset. You can also enjoy the sensation or see the view of low-flying airplanes here.
5. Dlingo Pine Forest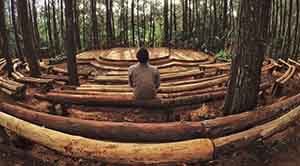 Dlingo Pine Forest is a pine forest located in Dlingo, Bantul, Jogjakarta. Quite far from the city center when compared to Imogiri Pine Forest. However, the long journey will be paid off with this typical view of the Dlingo Pine Forest.
The best photo spot in Jogja from this pine forest is in the amphitheater area in the pine forest. The amphitheater is unique because it is made of wood that is aligned from bottom to top. The stage below is also good, perfect for photo hunting.
This location is suitable as a place to hold nature-themed events. If you are looking for a location for an event, just stop by this pine forest. You will also get a cool and cool atmosphere here.
6. Imogiri Pine Forest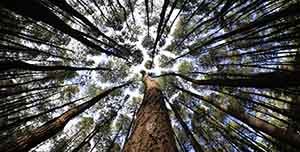 Not far from the city center of Jogja, there is a pine forest that is already very famous. Its name is Imogiri Pine Forest. There you can hunt for Twilight-style photos.
Almost every tourist who visits Jogja will definitely visit this pine forest. You and your friends can also stop there. Reportedly, to enter the Imogiri Pine Forest you don't need to pay an entrance fee or it's free. Of course, backpackers will benefit from this.
The view that you will get is a typical view of a pine forest with tall pine trees. You can also visit other attractions around this pine forest to find other tourist experiences.
7. Goa Cemara Beach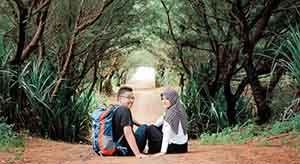 As the name suggests, Goa Cemara Beach is a beach that has many pine trees. The location is in the Bantul area, Jogjakarta. To get there, a private vehicle is recommended.
You can visit there to hunt for the best photos. There are many interesting spots to be used as photo backgrounds with the best results.
This beach has also often been used as a pre-wedding location. The best photo spot is at a location where there is a hallway formed from rows of cypress from two directions. The shape is like a cave. Maybe that's where the name Goa Cemara Beach came from.
8. Abang Temple
Remember the television series Teletubies? If you remember, then this Abang Temple will make you want to go there even more. The reason is, there is a spot that is very similar to the hills in the Teletubies series.
There is a mound overgrown with green grass that you can make a contemporary photo object. In addition, the existing temples can also be explored further.
The location is in the Sleman area. Many tourists are starting to know this place and come there just to enjoy the spacious view. Many young people from Yogyakarta also come there to just relax.
9. Jomblang Cave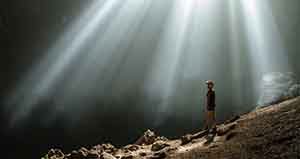 Interested in cave tourism or like caving? Maybe this is the right spot for you. This cave is located in the Gunung Kidul area. His name is already quite famous.
For those of you who want to take photos, there is a spot in the cave that is really cool. This cave has a hole at the top that allows sunlight to penetrate down.
From the sunlight will emerge an exotic scenery like heavenly light. Even from that hole, many caving activists use it as an entrance to the cave with the help of ropes. Interested in trying?
10. Kalikuning and Kaliurang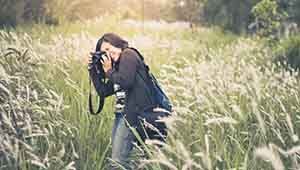 Kalikuning and Kaliurang are the names of rivers. The river is very clear and suitable for hunting cool photos. The best photo spots from this location are a bridge and also a reed field.
You will look like you are abroad. To get there, you need to travel by private vehicle or public transportation.
To take public transportation, the trip can be started from Prambanan Terminal and then continued by taking a minibus to Kaliurang. Stop at Doyo Village. Later there will be village transportation that will take you to the location.
Read also:
11. Kosakora Peak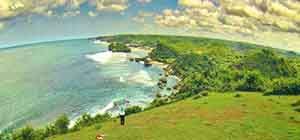 If you are looking for a view like in Bali, you can go to the peak of Kosakora. The scenery there is similar to the scenery on the island of the gods, where you can see the ocean open from the top of a hill.
The location is in the Gunung Kidul area. You don't have to pay a lot to get in there. Only IDR 2,000 is enough. With such a cheap price, the view you get is certainly more than the previous expectations.
The best time is in the afternoon before dusk. However, if you visit it during the day, the scenery you will get is no less beautiful. Prepare your best camera for photo hunting on this hill.
12. Kalibiru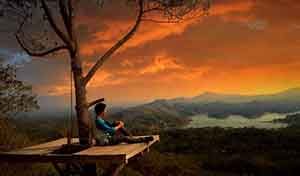 Jogja never runs out of photo spots for people hunting for sunset views. Kalibiru is also one of the cool photo spots for those of you who like twilight or sunset.
There is a wooden tree balcony spot that you can sit on to take pictures while facing the direction of the afternoon sun. The location is in the Kulon Progo area.
There are also adrenaline test spots such as flying fox and climbing. Those of you who like outbound activities or other outdoor activities can visit there and enjoy some of the available rides.
Read also:
13. Becici Hill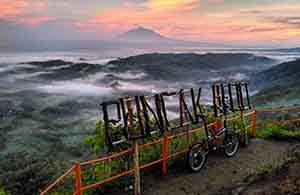 Becici Hill is located in Bantul, Yogyakarta. To get there you need to walk or trekking to go through the pine forest first. But don't worry because the trekking route to Becici Hill is good enough.
There you can enjoy the view of Mount Merapi and Mount Sindoro from one place. Of course the mountains that exist will make your photos the best photos.
The best time is late in the evening because the sunset that you will get will look exclusive because it has united with the silhouettes of Mount Merapi and Sindoro which look very dashing. The entrance fee is also very cheap, only IDR 3,000.
14. Lintang Sewu Hill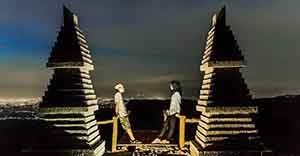 Located in the Dlingo area, Bantul, Jogjakarta, Bukit Lintang Sewu is a hill that is suitable for finding the best photos from a height. This photo spot is suitable to be visited from afternoon to evening. You can get a cool sunset here.
At night, you can see diamond fields or city lights from a height. If you are looking for a spot to capture the lights of the city of Jogja from a height, this is the spot that you can visit with friends or relatives.
However, you need to prepare all the cameras and also warm clothes so that your activities in Bukit Lintang Sewu are not disturbed. Because it is located at an altitude, of course this location has a cold temperature at night.
15. Mojo Hill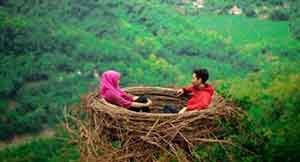 Mojo Hill is a tourist area in the Mangunan area. This tourist area is indeed a photo spot paradise. There are lots of photo spots that can be used to find contemporary photos. You will not regret if you come there.
There are photo spots that are shaped like a bird's nest, some are shaped like hearts, sunflowers, and some are photo spots like the balcony of a house and some are shaped like a boat made of wood. You can hunt photos from 5 am to 6 pm.
Read also:
In addition to the fifteen lists, you can also visit the following photo spots.
Gorgeous gorge
Nglinggo Tea Garden
Sermo Reservoir Water Bamboo Park
Spot Riyadi
Semin Blue Lake
Amben Stone
Sleigh Stone
Umbrella stone
Tekek Rock
Songgo Sky
Those are some recommended photo spots in Jogja. If you want to visit Jogja, make sure all your vacation plans are very well organized. Because in Jogja there are too many tourist attractions that need to be visited. Therefore you must prepare a plan very carefully. Happy holidays and hopefully useful.