Bali is well known as a tourist island. Visited by tourists from all over the world, Bali is an island whose name is already very well known. Various tourist objects are there ranging from nature tourism, urban tourism, to cultural and historical tourism.
As a result, almost every area in Bali is experiencing a fairly rapid development. However, its distinctive character is still maintained to this day. If you are going on a trip to Bali, you definitely don't want to miss a moment with friends or family.
And if you are bored with the same tourist attractions in Bali, then, make sure you visit some of the following tourist attractions which are very suitable to be used as contemporary and anti-mainstream photo spots.
Read also:
1. El Kabron Restaurant
El Kabron Restaurant is a really cool place to eat near the beach. The exact location is on Pecatu Hill.
You can enjoy the beauty of the beach and sunset while eating food that is guaranteed to be very good. There is also a very well designed swimming pool. To eat there, you will be treated to typical Spanish food.
For the price of each spot was different. For example, for a sofa in the front row, you must order with a minimum price of IDR 300,000. As for the wooden chairs in the back row of baping, you only need to order a minimum of IDR 100,000. This place will definitely make your vacation seem exclusive.
2. Full Moon Beach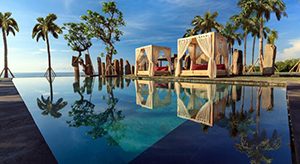 The location of this beach is in the Sukawati area, Gianyar, Bali. The interesting thing about this beach is the garden design that will remind you of Stonehenge in England.
Stonehenge is combined with a design in the form of a small exclusive gazebo and a very cool pool. This spot is also the best spot to enjoy the sunset.
Because this tourist attraction is exclusive, not many people come there so the photos will definitely be more beautiful and private. However, general tourists can still enjoy the beauty of this beach from outside the park.
3. Wanasari Mangrove Ecotourism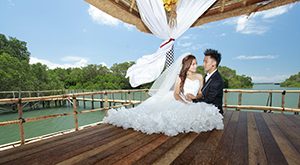 This place is a mangrove forest which can quite describe the atmosphere of the mangroves of Bali. You can take pictures on the mangrove bridge, viewing tower, or even on a canoe that is rented out.
In addition, tourists who come here can also learn all kinds of mangrove plants and mangrove fauna. In addition, tourists can also eat seafood such as crabs.
The mangroves there are very natural. There is even a lizard habitat there. If you are lucky, you can also see the herd of monitor lizards in the mangrove forest. However, you have to be careful with the lizard.
4. Cocoon Beach Club

Cocoon Beach Club is located around Seminyak Beach. Like El Kabron Restaurant, the concept of Cocoon Beach Club is a place to eat on the beach.
There is also a luxurious swimming pool that can be used. The atmosphere offered is a typical Balinese coastal atmosphere with a modern minimalist design. Of course the photos you will get are more than what you want.
To eat there, you can come anytime. However, the night atmosphere is recommended because it looks more luxurious. This is because the lighting and design techniques of this place are more visible at night. Cocoon Beach Club opening hours are from 10 am to 12 pm.
5. Gunung Payung Beach
Have you ever seen a beach but is surrounded by land full of savanna and reeds? This is the place. Gunung Payung Beach is a new beach that is still not visited by many people.
There you can hunt for photos with natural and rare concepts, because not many beaches have savanna characteristics like this.
This beautiful beach view can also be enjoyed from the top of a very green hill. You definitely won't regret coming there. To get to the top of the hill, of course you need to walk or climb. But the beauty above will be irreplaceable beauty.
6. Hanging Gardens Ubud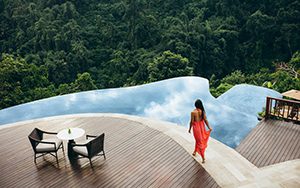 If you want to feel a new sensation when swimming, just come to Hanging Gardens Ubud. The concept offered by this place is swimming in the middle of the forest.
You can be satisfied hunting cool photos there. You will really feel the natural impression and impression in the forest because there are still many sounds of birds and the sound of rivers flowing.
There is also a temple that can be enjoyed from the swimming pool. At night, many couples also have dinner there. What's interesting about this place is that there is a cable car facility that will transport guests to the top.
Read also:
7. Nusa Lembongan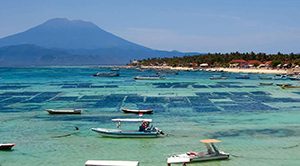 Nusa Lembongan Island is also a new tourist attraction that is currently being hit in Bali. You will be able to see a wide view of the beach combined with a view of Mount Agung which is dashing and seems sacred.
The clear beach water can even make you see the seabed. Of course, this location is suitable as a contemporary photo spot. The location is in Klungkung Regency.
To get there, tourists must first sail by motor boat for approximately 45 minutes from Sanur. Tourists can use the services of local fishermen to deliver to the intended location.
8. Yellow Bridge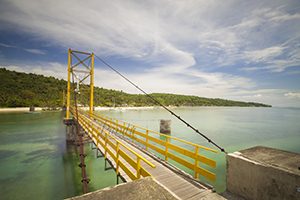 As the name suggests, the Yellow Bridge is a yellow bridge. The location is in Nusa Ceningan. Nusa Ceningan itself can be reached from Nusa Lembongan.
Currently this spot is on the rise, because it is really cool to be a photo spot. Although not too crowded, quite a lot of tourists who come there just to enjoy the beach view while hunting for photos on this suspension bridge.
This place is open every day and is open 24 hours. The best time to come there is in the morning, because the view of the sunrise on this beach is indeed very exotic. To cross there, tourists can depart from Sanur and head to Nusa Lembongan. Only after that cross to Nusa Ceningan.
9. Uluwatu Surf Villas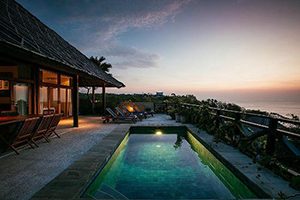 The location of Uluwatu Surf Villas is near the tourist attraction of Uluwatu. The best place to enjoy the view of the sunset is currently being discussed.
While enjoying the sunset, you will sit on a very natural grass plain. The back is hills typical of the coast of Bali. There are also lights that will create a very elegant atmosphere.
You can hunt photos here and get amazing photos. The location is quite crowded by foreign tourists. However, it is precisely such an atmosphere that makes this place interesting.
10. Atuh Beach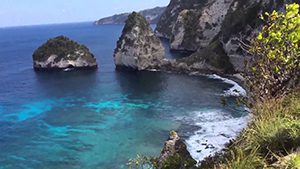 The location which is quite hidden makes Atuh Beach quite difficult to access. You need to trek first to reach this beach. But the beauty it has is really worth fighting for.
This beach is filled with coral islands that will remind you of the beauty of Raja Ampat in Papua. You can also enjoy the view of this beach from the top of the cliff.
To get there, you need to first come to Nusa Penida Island by motor boat that can be rented from Sanur. The opening hours of this beach are from morning to evening only. How, are you interested in going to Atuh beach?
Read also:
11. Pinggan Village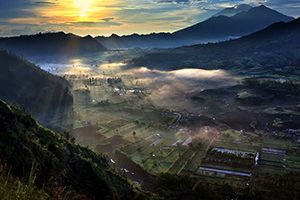 Located in the Kintamani area, Pinggan Village is one of the best spots for hunting sunrise views from a height. The feel of the sunrise that you will get is not just an ordinary sunrise, but a very exotic sunrise because there is often a thin fog hanging under the hill.
In addition, the morning sunlight that appears will look like a very beautiful spotlight. Combined with views of the mountains and hills, this location is perfect for those of you who like the atmosphere at an altitude.
This location is very popular right now. Many local and international tourists wait for the sunrise and enjoy the typical rural atmosphere here. If you want to come there, it's a good idea to arrange a visit time so you don't miss the sunrise moment that you crave.
12. Tukad Valley Melanting Banjar Antungan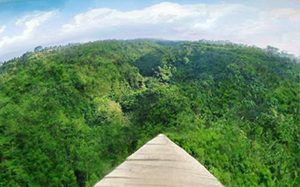 This place is indeed a famous photo spot that is quite extreme because the bottom of the spot is a ravine. Those of you who are afraid of heights better not come there.
Although it is quite scary, however, the scenery that is presented is indeed very beautiful. The photo spot that is often discussed is a balcony above a ravine that looks like a ship's bridge. Only one person can stand there.
To be able to take pictures there, tourists have to take turns and even queue. The location is in Bangli, Bali. If you take pictures there, it is guaranteed that the photos you will get will be very interesting. However, always put safety first.
13. Bali Waterbom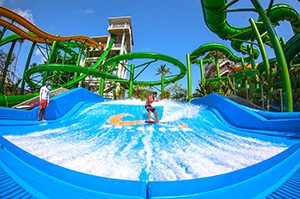 This theme park is perfect for those of you who like water tours. Most of the visitors are young people. You can freely swim and enjoy many other water rides.
To be used as a photo spot, of course the location is very cool. There are also other facilities there besides water baths. You can try fish spa, meni pedi, and also reflexology.
Make sure your vacation with your friends becomes a very fun vacation by swimming, playing water, while taking pictures at Waterbom Bali.
14. Toya Devasya Hot Springs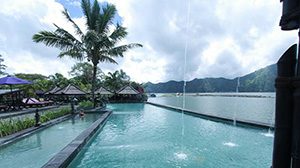 Do you like hot showers but the view you get is just like that? Maybe you need to visit Toya Devasya Hot Springs.
There you can not only take a hot bath, but also enjoy a very cool view of a very natural lake and hills.
The location is in Kintamani. The hot water there does not contain sulfur, so it does not smell of sulfur. You can freely take pictures and enjoy the atmosphere because this place is exclusive and rarely tourists visit.
15. Bunut Bolong Tree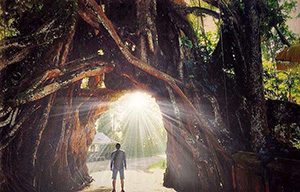 Ever walked through a tree? If not, you need to come to the Bunut Bolong Tree. The location is in Manggissari Village.
There is a tree that has a hole in the bottom and can be passed by vehicles. The hole is formed from a separate root form between two parts.
You can take pictures here but don't be careless, because local people believe that the tree will give negative air. Especially for couples. It is believed that the couple who crossed the tree would not last long.
Read also:
In addition to the 15 cool spots above, there are still some spots that you must also visit. And of course the following spots are also anti-mainstream spots.
Gala Underworld House
Bali Zoo
The Underwater Temple in Pemuteran
Lovina
Elephant Safari Park Lodge
Frankenstein's Laboratory
The Pirate Bay
Honey Sari Mountain Restaurant
Sardines
Bali Marine and Safari Park
Those are some recommendations for anti-mainstream photo spots in Bali. If you want to travel to Bali, make sure the theme of the trip and which locations must be visited. Don't let there be regrets because you haven't had time to visit the tourist spot you want. Hope it is useful.