Bogor is a bustling city when the holidays arrive. Including Eid holidays. Its position not far from Jakarta makes Bogor the first city visited by local urban tourists from Jakarta. Especially for young people who want to unwind for a while.
Of course, Bogor is a very attractive choice. For tourists who want to travel while spending time during a cool holiday in the Bogor area, it's a good idea to read some references to the following Lebaran tourist attractions in Bogor.
1. Mount Pancar
A typical view of the pine forest will spoil the eyes of the tourists who come here. The cold temperature complete with a natural atmosphere is suitable for an atmosphere to celebrate Eid.
If you and your family want to go there during Eid, the location is near The Jungle Land, Sentul, Bogor.
Things that can be done there include hiking, camping, hot baths, and also cycling. Very fun to spend time with family.
When else can you travel while enjoying the typical shady mountain atmosphere on holidays?
2. Ciherang waterfall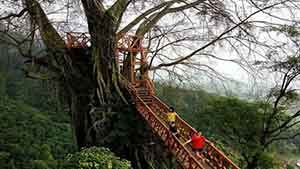 Curug Ciherang is located in Sukamakmur District, Bogor Regency, West Java. There is also a tree house there. In the tree house, tourists can hunt for contemporary photos from a height.
You and your family can visit this location during Eid. You can see a wide view from the top of the tree house and the wooden bridge.
If you want to continue the journey, you and your family can go to the waterfall on foot. How? Interested in going to this place during the Eid holidays?
3. Lake Quarry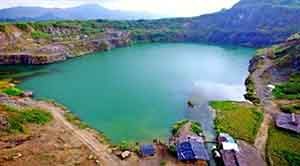 Recently, the name of Lake Quarry is also being discussed, especially by young people in Bogor.
This tourist spot which is still relatively new can also be used as an alternative Eid holiday that is suitable for families who like natural nuances.
Actually this location is a former sand mining. Currently this lake is managed by the surrounding community. The location is in Cigudeg District, Bogor Regency. If your hometown is near that location, just come there.
4. Cibaliung waterfall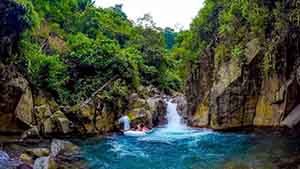 Still in Sentul, Bogor, this waterfall is also suitable for Eid tours in West Java. Although not too high, this waterfall is still a beautiful waterfall with a fairly heavy water discharge.
The clear water will make you and your family not want to leave immediately. You can also swim or play in the waterfall pool.
Ticket prices are also not expensive, you know. Only IDR 10,000 per person. Suitable for you and your family who like charming natural beauty.
Read also:
5. Goa Agung Garunggang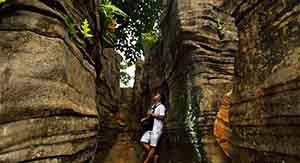 The location of this cave is in the Sentul area, West Java. Not many people have come here because this cave is relatively new. There you will find many beautiful spots to take pictures on Eid day.
To enter the cave, you should hire a guide who is also a local villager so you don't get lost. Inside the cave there are also cool stalactites.
There is also a spot that makes the body feel as if it is being squeezed, because there is a gap that only one person can pass through.
6. Cibodas Sakura Park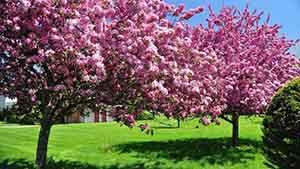 If you want to see the beauty of cherry blossoms that are blooming during Eid, you don't have to go far to Japan. Just go to West Java.
In Cibodas Botanical Garden there is a park called Sakura Park. The types of cherry trees planted there are Prunus yamasakura, Prunus cerasoides, to Prunus arborea.
These flowers bloom only twice a year.
If you want to visit and take photos there with your family, make sure you come at the right time, namely in January – February and July – August. Hopefully this Eid, the cherry blossoms will bloom, okay?
7. Mongolian Camp
The right location for you and your family who like to hunt for contemporary photos. There tourists can camp. The location is on the slopes of Mount Salak, West Java.
The name Mongolian Camp itself is taken from the formation of the tents there which resemble the houses of the Mongols.
The cold temperature and the natural scenery around this place will also make you and your family feel at home to linger there.
Reportedly this location is also still relatively new. But soon Mongolian Camp will also be crowded with tourists. Especially during Eid.
8. The Jungle Water Adventure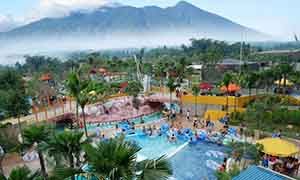 Do you like water trips or like to play in the water at the water park? This is the place you can visit in Bogor during Eid. Located in Nirwana Resident, this place is suitable for family tours or tours with friends.
You will find many photo spots there. There are many water rides there too. The price of admission to The Jungle Water Adventure is quite expensive, which is around IDR 80,000 to IDR 95,000 depending on the time of visit.
However, the price is equivalent to the facilities obtained by visitors.
Read also:
10. Lake Dora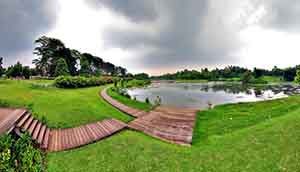 Lake Dora is a conservation lake which is also a part of the Bogor Botanical Gardens.
Many people like to jog on this lake. If you and your family don't want to travel to strange places, just come here.
The natural impression is clearly visible from this not-so-wide lake. The green grass around the lake will be decorated with a path made of wood.
This is the attraction of Lake Dora. You can take pictures there with your family. Look for beautiful spots.
11. Little Venice Peak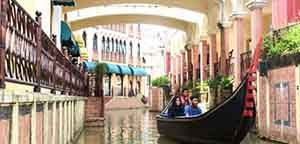 Ever been curious and wanted to come to the city of Venice in Italy? No need to go far there. Just come to West Java at Little Venice Puncak, Bogor.
Here there is a spot that is very similar to the city of Venice which is always filled with water. You and your family can freely take pictures there.
There are also small boats that can be rowed by themselves or by officers. When else can you enjoy the wonders of Venice from this close? The scenery there is certainly suitable to fill the Eid holiday with family.
12. Leuwi Lieuk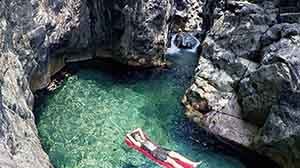 This place is also a suitable place to be used as a modern Eid vacation spot. The location is in Madang District, Bogor Regency.
The unique thing about this place is a section of the river flanked by towering rocks. You and your family can play in the water in this place.
Leuwi comes from the Sundanese language which means the deepest depths of the river. Not many tourists who come here. So, it is likely that this location will be a quiet location.
13. Sindangbarang Cultural Village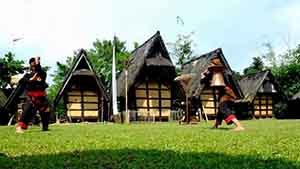 If you want to take a vacation during Eid in a different place than others in West Java, you and your family can stop by the Sindangbarang Cultural Village.
The location is around Bogor. There you can see some of the heritage sites of the Pajajaran Kingdom that can be studied.
There are also eight types of Sundanese arts that can be seen directly. The cold and cool hills can be the background for your photo with your family.
This place not only presents its natural beauty but also the cultural diversity that exists.
Read also:
14. Giri Jaya Deer Captive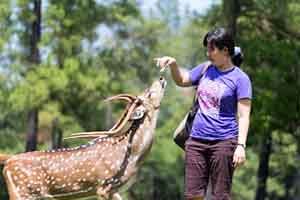 This tourist attraction has been around since 1993. However, its popularity has not disappeared. There are still many tourists who come there to enjoy the view from this deer captivity. Especially during Eid
Tourists can be close to the deer. If you want to go there during Eid, you and your family can also feed the deer and take pictures with the deer, you know.
There are many types of deer that are protected in this place. There are also outbound areas and campgrounds, perfect for you and your family who like a challenge.
15. Bread Hill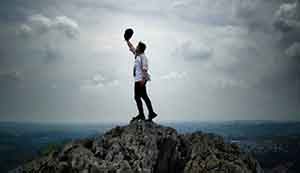 A unique name for a unique hill. From downtown Bogor, you need to travel about 45 minutes to an hour to get there if there is no traffic jam.
To get to the top of the hill, you still need to do trekking through the steep and full of incline roads. However, all the fatigue will soon pay off once you get to the top.
Is a limestone hill, this hill is also a former limestone mining in the past. You can celebrate Eid from above while hunting for cool photos.
16. Fly Indonesia Paragliding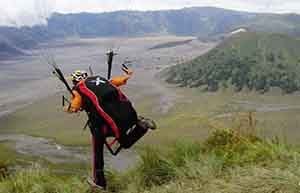 Fly Indonesia Paragliding is a tourist location that is suitable for you and your family who like extreme sports. You can try paragliding and fly from a height.
Don't worry if you are a beginner, because there is always a guide accompanying the flight. While flying, you can enjoy the scenery while taking pictures or taking pictures from a height.
But for those of you who don't want to fly, the view from up there is also beautiful enough to be used as a photo spot to capture Eid moments with family. The opening hours of this location are from 9 am to 5 pm.
Read also:
Those are some references to Lebaran tourist attractions in Bogor that you must visit. Which spot makes you want to visit immediately? If you haven't found it, here are some additional references that you can visit.
16. Bogor Botanical Gardens
17. Alesano Hill
18. Matahari Tourism Park
19. Tirta Sanita Hot Springs Ciseeng
20. Ah Poong Floating Market
21. Pura Parahyangan Agung Jagatkartta
22. Gunung Gede Pangrango National Park
23. Big Swamp
24. Peak Tea Mountain
25. Megamendung Tourism Area
Happy holidays during Eid. Always put safety first.