The city of Solo, which is still in the province of Central Java, is also a cultural city similar to Yogyakarta. This can be seen from the existence of the palace, mosque, alun-alun, and several traditional Javanese ceremonies that are very much carried out in this city.
As a result, just like Yogyakarta, there are a lot of tourist visits in Solo. Therefore, there are also many photo spots that attract tourists to return to this quiet city. For those of you who are planning a vacation, here are some recommended photo spots in Solo that can describe the cultural heritage and uniqueness of Central Java that you can visit.
Read also:
1.City Walk
City Walk is a wide pedestrian walkway in the Jalan Slamet Riyadi area. This location is similar to Malioboro in Yogyakarta where there are comfortable pedestrians and several typical Solo buildings that can be visited.
Most of the buildings around City Walk are historic buildings that have a typical Dutch colonial architecture. There is also R. Maladi Stadium and Sriwedari Park.
Along the way there are also typical Solo benches that have been provided for tourists. You can freely hunt for photos here, and of course this location is an icon of the city of Solo that you must visit.
2. Kasunanan Palace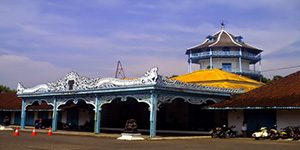 Just like the Yogyakarta Palace which is not far from Malioboro, Kasunanan Palace is also not far from City Walk. You can visit here for a tour as well as hunting for photos that really describe the uniqueness of this Solo city.
You can also learn a little about the history of the city of Solo from this palace. There is also the Great Mosque of Surakarta which is inside the palace complex. To come there you can walk or take vehicles such as trishaws and carriages.
You must visit this tourist attraction when you are in Solo because there you will find another side of Solo and other interesting things that you will not be able to get in other cities.
3.Solo Zero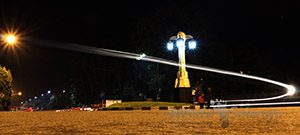 Photo Spot in Solo, Solo Zero Point is a place at the end of Jalan Slamet Riyadi or City Walk. You can hunt for photos with several Dutch colonial heritage buildings and other old buildings such as Vastenburg Fort, city hall, BI Building, churches, pagodas, and others.
There is also the Zero Point Monument which is very typical of Solo. The monument is a monument marking the location of the zero point. The shape is not much different from the monuments in other cities. However, of course there is a special characteristic of this monument when compared to other monuments.
You are free to take pictures anywhere, because all the spots at Solo Zero Point are cool to capture. You can hunt photos around the area at night. The night lighting around the monument will look cool in the photo.
4.Ngarsopuro Night Market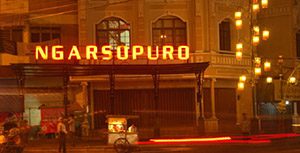 Want a weekend night in Solo and looking for a very solo atmosphere? Just come to the Ngarsopuro Night Market. The location is in front of Mangkunegaran.
Previously this area was a slum area. But the last few years this place has changed to be more interesting. There are many interesting spots to be captured and used as photo spots.
There are many two-dimensional and three-dimensional works of art that are lined up and are suitable for those of you who like to take selfies or take pictures with friends. Many food vendors can also accompany your culinary tour.
5.Press Monument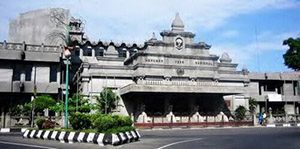 Not many people know about this building, even though this Press Monument building has a lot of historical knowledge that can be learned. In fact, it is said that not many natives of Solo have visited this place.
The architectural form is quite unique. A combination of a Dutch colonial building with a typical Hindu-Buddhist building, the Press Monument is suitable as a cool and unique photo spot.
You can travel there and look for the best photos. Inside the building there is also a library, garden, and also the mayor's official residence. The location is also not far from the Mangkunegara Palace. Of course, after visiting there, your insight into the city of Solo will continue to grow.
6. Balekambang Park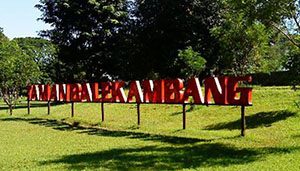 Balekambang Park is a green open area built by Sultan Mangkunegara VII. Because it is a green open area, this location is certainly suitable as an interesting photo spot.
There are not only many shady trees and green grass but there are also some fauna that are kept. You can meet geese and deer that are already tame.
Many local residents often come to Balekambang Park to spend time and enjoy the city of Solo in the afternoon and evening. Many families also bring their children here. This location is suitable to be used as a place to relax after tired of traveling here and there.
7.Batik Village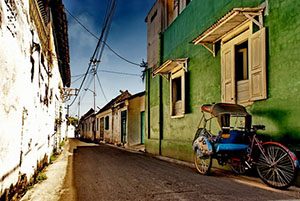 The next thing that is typical of Solo is a Batik Village which is near the Klewer Market. There are two batik villages. The first is Kauman Batik Village, and the second is Laweyan Batik Village.
You can see the process of making batik and hunting for cool photos typical of Solo there. Many photographers also use this location as a field to capture special moments of Solo.
To get there, you can take a bus or private vehicle. The famous Batik village is Kauman Batik Village. Besides being able to see batik, this village is one of the villages that can describe the conditions of other villages in Solo.
8. Sukuh Temple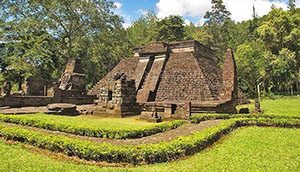 Sukuh Temple is located in Karanganyar Regency, Central Java. Precisely on the slopes of Mount Lawu. Because of its location at an altitude of 1,186 meters above sea level, the temperature there is certainly very cool.
This Hindu royal temple has a shape similar to a pyramid. Formed from an arrangement of stones in the form of blocks, this temple was built using great ancient techniques.
Guaranteed the photos produced around this Sukuh Temple will be cool. You can also get to know more closely the historical heritage that Solo has. In addition, this temple will remind you of Thailand because of the shape of the building.
9. Cetho Temple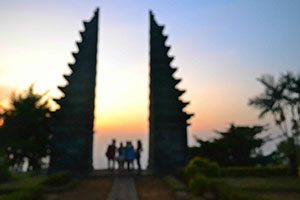 Similar to Sukuh Temple, this temple is also a relic of the Hindu kingdom. The locations are both in Karanganyar. There you can take as many photos as you want while learning history
There is a cool spot to be used as a photo spot, namely in the form of a gate which is also part of the temple. The gate has steps. There are nine levels in total.
To visit there, it is better to choose the right time, namely the afternoon or early morning. Because during the day, the sun will make you uncomfortable. In the afternoon, you can also enjoy the sunset and hunt for cool views from this location.
Read also:
10. Jumog Falls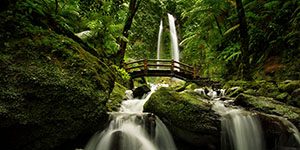 This waterfall is quite famous among local tourists in Solo. Having a cool air and very natural scenery, this waterfall is quite cheap to visit. The entry ticket price is only IDR 5,000.
There is a bridge right in front of the waterfall that connects the two mainlands. This bridge used to be just a simple wooden bridge. But now the bridge is more in good shape.
The interesting thing about this waterfall is the appearance of a rainbow that occurs every 10 am. So, if you want to hunt for photos there, it's better to come at the time the rainbow appears to prove the truth of the myth.
11. Kedung Ombo Reservoir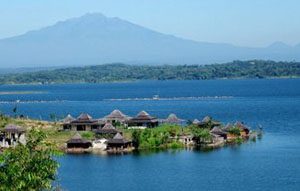 Photo Spot in Solo, Kedung Ombo Reservoir is a large reservoir located on the border of Grobogan, Sragen, and Boyolali. This reservoir can be reached from downtown Solo.
In this reservoir, which covers 6,576 hectares, you can fish as much as you want. Many tourists, both domestic and foreign, visit this place to find fish and enjoy fresh water fish specialties.
There you can also enjoy the natural scenery with a backdrop of hills and mountains that will spoil your eyes. You are also free to hunt for cool photos in this place while enjoying the atmosphere.
Read also:
12.New Selo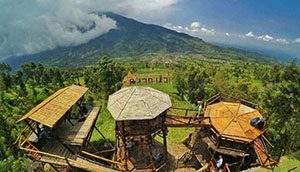 Photo Spot in Solo, New Selo is a climbing basecamp and is the name of a new route to climb Mount Merapi. The location is in Boyolali and can be reached from the city of Solo. You can also visit this spot even if you don't want to climb a mountain.
There you can see an amazing view of Mount Merbabu and Mount Merapi lined up. There are several buildings that can be stopped to eat while enjoying the view.
There are also new facilities in the form of binoculars to enjoy the surrounding scenery, you know. If you visit Solo, you must come to this place because this place will not disappoint you.
13.Galabo Solo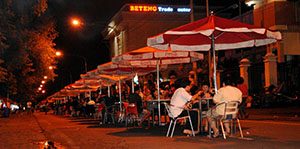 Want to hunt for photos while on a culinary tour in Solo? Here it is. Galabo is one of the most famous culinary tourism spots among young people in Solo.
The peculiarity of Galabo is in the ranks of the dining area in the form of a table and chairs with an umbrella on it. You can enjoy typical Solo snacks while taking pictures with friends or even family.
To come there, it is recommended at night because the night atmosphere more describes the authentic Solo atmosphere. The night atmosphere will also make the photos more beautiful with the existing lighting.
Read also:
14.Three Tjeret Cafe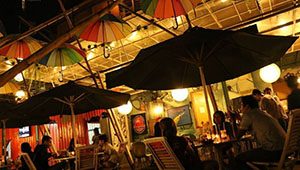 The location is on Jalan Ronggo Warsito. This place is a place to eat and hang out for young Solo people with prices that tend to be cheap.
The concept is similar to Galabo, only this location is busier and more impressive for young people. You can enjoy the night atmosphere while taking pictures in this place. There are many places that can be used as a place to hang out and chat with friends.
Even though they have a cafe theme, the food served and sold at Cafe Tiga Tjeret is typical Solo and other Central Java specialties and not food in the style of contemporary cafes. You can choose which foods you will enjoy and of course these foods will make you more familiar with the tastes of Solo people.
15. Radya Pustaka Museum
Want to travel and hunt for photos at the oldest museum in Indonesia? The museum is the place to be. Built since 1890, this museum complex holds many historical objects such as weapons, gamelan, inscriptions, and several other Hindu-Buddhist heritage buildings.
There is also a library to learn more about the history of Solo. The museum is closed on Mondays. There you can take pictures around the museum which has a distinctive and old-school architecture.
From some of the recommendations above, which location would you most like to visit? Here are also some additional recommendations that you can visit when traveling to Solo.
Jebres Village Smart Park
Pandawa Water World
Vihara Dharma Sundara
Grand Forest Park (Tahura)
Mangkunegaran Temple
Grojogan Sewu
Danar Hadi Batik Museum
Taru Jurug . Zoo
Klewer Market
Sriwedari People's Amusement Park
Those are some Photo Spots in Solo to hunt for holiday photos in Solo that are unique and describe the cultural heritage of the city. Happy holidays and I hope the recommendations are useful.