Bandung is currently a city that has a lot of tourism potential. Being in the right geographical condition, Bandung is a city that has very charming natural scenery. There are many tourist objects that have mushroomed, ranging from natural attractions to urban attractions.
Therefore, there are lots of Photo Spots in Bandung that can be used as interesting photo spots. For those of you who want to vacation in Bandung or who want to explore Bandung to get contemporary photos, here are some recommended photo spots.
Read also:
1. The Lodge Maribaya Lembang
Have you seen some of the photos that have been trending recently? For example, when you see a photo on Instagram showing a person riding a swing over a cliff with a green hill in the background.
Or some people who ride air bikes whose bottom is a ravine? Yes, this is the place, The Lodge Maribaya Lembang. Here you can get the latest photos as you desire.
For those of you who are afraid of heights, there is no need to worry because safety equipment must have been prepared. In addition, there must be officers on duty for every photo spot. If you want up-to-date photos like that, just come there.
2. Keraton Cliff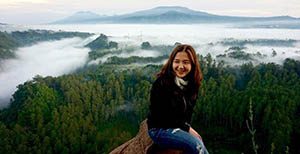 Another Photo Spot in Bandung that often appears on Instagram recently is Tebing Keraton. There you can get photos with the concept of hills or mountains with a background of green plants.
Popular since 2015, the Keraton Cliff is enough to provide its own natural feel for tourists. This place is located at an altitude of 1,200 meters above sea level and is suitable to visit while waiting for the sun to rise.
To get there, it is better to use a private vehicle to be more practical. The best time is on weekdays, because on weekends the spot will be crowded and you won't be able to get the photos you want.
3. Farmhouse Lembang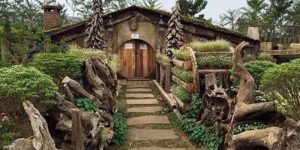 If you come here, you will immediately be reminded of the movie The Hobbit. Because at Farmhouse Lembang there is a unique photo spot that resembles a dwarf's house which is designed with a mini size.
Popular since 2015, this tourist spot offers many other facilities. There are beautiful flower gardens and love locks, just like in Korea.
You can freely take photos anywhere because every spot in this tourist attraction deserves to be immortalized. Prepare a camera and memory with a large capacity, because you will definitely like taking lots of photos here.
4. Cliff of Mount Hawu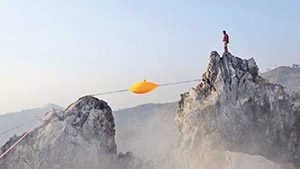 Dare to hunt for photos while increasing your adrenaline? The cliffs of Mount Hawu are the place to be. There you can play a hammock tied directly to two cliffs, you know.
Of course you will hang directly over the abyss. But don't worry, because all the security systems are well maintained. But for those of you who are afraid of heights, think carefully before trying the rides.
For tourists who like wall climbing, there is also a spot that can be used as a wall climbing spot. You can climb or climb in one spot while exercising to strengthen the muscles of the hand.
Read also:
5. Glamping Lakeside Patenggang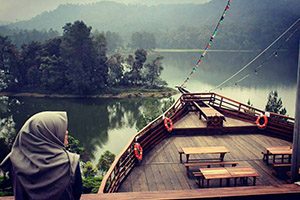 This photo spot in Bandung is also currently popular. Glamping Lakeside Patenggang is actually a modern place to eat that has a very unique concept.
This restaurant is located on the shores of the lake. Its shape resembles a large phinisi boat. To get there, you have to cross a long bridge first.
The sensation of eating at Glamping Lakeside Patenggang is like eating on a luxury boat that is sailing. This place is suitable for you to make a contemporary photo spot.
6. Bamboo Village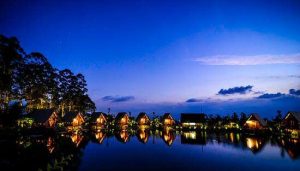 If you want to take pictures in rows of houses that seem to float on water, just stop by Dusun Bambu in the Lembang area.
There you will be treated to natural views that have been combined with very cool architecture. You can also stay there if you have more budget.
There is also a place to eat that will make you feel at home for long. Its name is Lutung Kasarung Restaurant. There you can eat on top of a round building woven from rattan. It's like eating in a giant birdcage.
7. Bugbrug Waterfall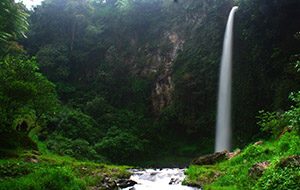 This waterfall is a waterfall that you must visit while in Bandung. You can take pictures with completely natural nuances at Curug Bubrug.
The location is in the North Bandung area. The name Bubrug is based on the Sundanese language which means to pile up. So named because the water that falls like piles up before then lands on the bottom.
When visiting there, you have to walk first before arriving in front of the waterfall. But don't worry because the walking route to get there is not that far. You can visit on weekdays or weekends, but it's better on weekdays because it will definitely be quieter.
8. White Crater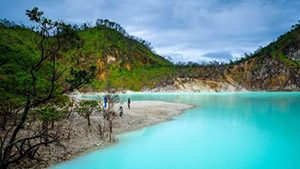 This crater tour is already very well known to foreign countries. As the name suggests, Kawah Putih is a crater that has white sand.
While the water in the crater itself is more towards the green color of Tosca. This location has become a tourist attraction for many years.
You can get the distinctive feel of the mountains in this place while taking pictures in a very exotic crater. The cool temperature and beautiful scenery will make you willing to spend hours there.
Read also:
9. Soreang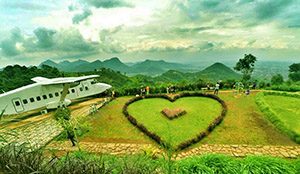 Located in the hills area of ​​Bandung, the tourist area of ​​Sadu Soreang has become a new tourist location that is quite unique. You can get beautiful natural scenery from there while hunting for contemporary photos that will not make you regret.
One of the photo spots that is very popular and has become a tourist icon of Sadu Soreang is the formation of a heart formed from plants that are arranged very neatly. Its name is Taman Love Sadu Soreang.
There is usually used as a pre-wedding photo spot. There is also a white airplane near the spot. If you want to take photos near the plane, of course you are allowed. You can also see the view from a higher ground.
10. Pine Forest Camp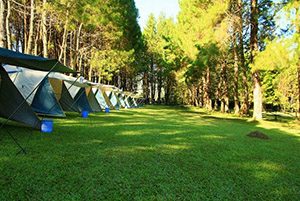 Located at an altitude of 1,200 meters above sea level, this place is a cool place that can be used as a reference for holidays with family. Pine Forest Camp is a camping ground suitable for nature tourism with friends and family.
Founded in 2003, this place is perfect for a weekend visit. Those of you who like to hunt for contemporary photos can make this place a camping ground.
There are also many outbound spots that will make you more fresh and active. You can enjoy your vacation time there while looking at the typical highland pine trees in Bandung.
11. Paris van Java Mall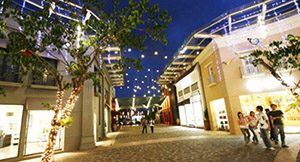 For those of you who want another holiday feel in Bandung, you can come to Paris Ban Java Mall. This place promises a lot of photo spots with a classic urban concept.
You can shop or eat there. And of course this place is worthy of being a contemporary photo spot with friends or family.
Many young people come to this place just to hunt for photos. If you have more time while on vacation to Bandung, it's a good idea to visit Paris van Java Mall.
12. Maribaya Resort Bandung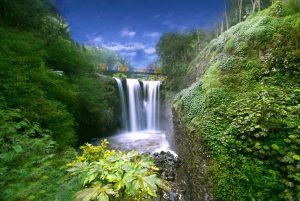 If you want to find many photo spots in one place, you can visit Maribaya Resort Bandung. There are photo spots from natural to unnatural photo spots.
The location is in North Bandung. You can come and hunt for photos at waterfalls, places to eat, or just take a walk on the bridge that is currently popular.
You can also take a hot bath there. There is also a place that can be used for fishing and catching fish. If you don't want to go in, there is also a place to eat outside this attraction that you can visit and take photos of. Enough for those of you who like culinary tourism.
13. Selasar Sunaryo Art Space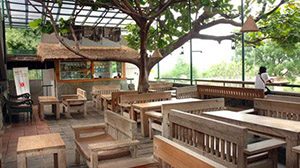 Selasar Sunaryo Art Space is a modern art gallery that has a very unique concept and formation. There are many spots that you can make photo spots there. And of course your photos will not disappoint.
The design of the building is made with great detail. Even the prayer room in it is also very well designed. You can also enjoy coffee at Kopi Selasar which is there. The place will not disappoint you.
Selasar Sunaryo Art Space was designed by renowned architect Baskoro Tejo. There are many philosophies present in this area. No wonder why this area is an area that deserves to be visited by many people.
14. Lawangwangi Creative Space
If you want to come to an art gallery and eat at a comfortable place to eat, just come to Lawangwangi Creative Space.
This place is a modern dining place that is also an art gallery of modern art. You can find many unique things in this place.
You can also freely take photos from the spots you want. The location is around Dago, Bandung. Therefore this area has a cool temperature. Suitable for those of you who don't like crowds in the middle of the city.
15. Balitsa Lembang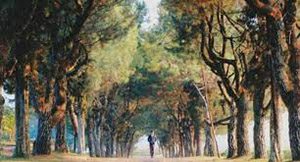 Balista is a Plant and Vegetable Research Institute located in the Lembang area, Bandung. At this location there is a spot that will make you feel as if you are abroad.
The spot is a straight road surrounded by rows of pine trees on the right and left. Balista Lembang is also often used as a place for pre-wedding photos.
There are also interesting spots to take photos, namely the greenhouse or green house. You can also learn about various kinds of plants there.
Read also:
In addition to the 15 lists above, you can still find other photo spots that are no less beautiful. Here is a recommended list.
Cihideung Flower Garden
Juanda Forest Park
Stone Garden
De Ranch Lembang
Moko Hill
Stamford International School
Cafe D'Expert
Situ Patenggang
Trans Studio Bandung
Labyrinth Hill
Those are some recommended photo spots in Bandung. Make sure your vacation is comfortable and enjoyable while in Bandung. Hopefully useful and happy holidays.