Indonesia is a country consisting of a group of islands of various sizes. The islands are inhabited by people of various ethnicities and languages. There are also some islands that are not inhabited by humans and are only a place to live for animals.
The cluster of islands that make up the State of Indonesia is included on the island of Sumatra. It has a very enchanting natural panorama. Because of its very beautiful charm, currently several islands in Indonesia are opened to the public and used as natural tourist destinations which have also become very famous and phenomenal to foreign countries. Call it like the island of Bali, Pulau Weh, Belitung Island to other small islands such as Tidung Island, Oar Island and many more.
The Most Beautiful Island in Indonesia
Because there are too many islands with beautiful views in Indonesia, this article will limit only reviews of the most beautiful islands in Sumatra. The following are islands in Sumatra that you can visit for a vacation trip with a very memorable and unforgettable experience.
1. Weh Island
This island is an island located at the western tip of Sumatra Island, Indonesia. This is where Indonesia's zero point is located. This island is one of the small volcanic islands owned by the State of Indonesia with a number of very beautiful regional assets and attracts many tourists to foreign countries. Call it like Iboih Beach which is famous for its beautiful underwater natural charm. The following must be considered in getting to the destination of Pulau Weh:
To visit this island you can travel from Jakarta to Aceh using an airplane at a price of around 600 thousand. (Also read: Tourist Attractions in Pekanbaru)
After getting off at Sultan Iskandar Muda International Airport, then continue the journey to Ulee Lheue Harbor by using public transportation that is tailored to your travel budget such as taxis, damri, motorbikes, trishaws or using typical aceh vehicles, namely labi-labi.
If you have arrived at Ulee Lheue Harbor, continue your journey by crossing to Balohan Harbor using a ferry or fast boat.
If you have managed to get off at the port of Balohan, it means that you have arrived at Pulau Weh and you can explore all the tourist attractions there to your heart's content. (Also read: Tourist Attractions in Southeast Asia)
Also Read:
2. Belitung Island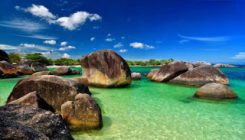 Belitung Island is an island located off the east coast of Sumatra Island. This island has become very phenomenal because it was used as a shooting location for the film Laskar Pelangi by Andrea Hirata. This film exploded in the market and was enjoyed by almost all Indonesian people until the island of Belitung was nicknamed "Laskar Pelangi Island" because of the phenomenal nature of the film, as follows:
Setting foot on the land of the island of Belitung, you will be greeted by granite stones that line up and glisten in the sun beautifully along the coastline.
This is what makes the island of Belitung very much inviting tourists to stop by and enjoy the beauty of the natural "paradise" that is served on the island of Belitung.

(Also read:

Medan Culinary Tour)
Also read: Tourist Attractions Visited by Foreign Tourists – Extreme Tourist Places in Indonesia
3. Karimunjawa Island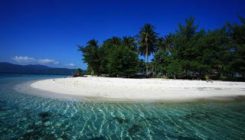 The island in Sumatra is the island of Karimunjawa which is famous for its Enchanting Marine Park which is now increasingly being developed and much favored by domestic and foreign tourists. This island with an area of ​​​​about 1,500 hectares is located in Jepara Regency, Central Java Province, Indonesia, as follows some that are good in their beauty:
There are so many tourist attractions that adorn the beauty of this island such as Menjangan Besar Island which is very famous as a shark breeding place and Menjangan Kecil Island which is famous for the beauty of coral reefs and colorful fish that move beautifully under the ocean.

Apart from these two islands, there are many other beautiful islands on the island of Karimunjawa, the number is known to reach 27 islands although only five islands are inhabited by humans.

In addition to having a very enchanting natural beauty, this island also has a community life that is rich in noble values ​​and very interesting customs. (Also read:

Photo Spots in Jakarta

)
4. Mentawai Island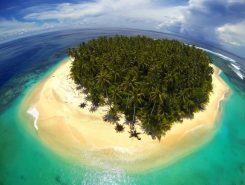 Mentawai Island is already very well known to foreign countries with its natural beauty that is very enchanting. Mentawai Island has a unique beauty, which you need to know as follows:
There are many endemic animals ranging from animals that we usually meet to endangered animals that are protected by the government such as the Mentawai Beruk, Pig-tailed Monkey, Kasturi Squirrel, Sipora flying squirrel, Siberut flying squirrel and many others. (Also read: Tourist Attractions in Palembang)
If you are interested in visiting the Mentawai Island, you can travel by crossing the sea using a motor boat that you can rent for 105 thousand rupiah to 125 thousand rupiah.
In addition to motorboats, you can also use air transportation, which has a faster travel time but at a much more expensive price. (Also read: Sundanese Food in Bandung)
5. Idol Island (North Sumatra)
Berhala Island is an island in North Sumatra with an area of ​​​​2.5 square kilometers. This island is used as a turtle breeding place and is decorated with exotic scenery. Geographically, this island is located in the area of ​​Berau, Medan, which is the outermost island in Indonesia which is directly adjacent to Malaysia and the Philippines. (Also read: Tourist Attractions in Brebes)
Currently, the island of Berhala is closely guarded by mariners because the island, which is located in the Tanjung Beringin District, Serdang Bedagai (Sergei) Regency, is one of the outer islands of Indonesia which is prone to being seized by other nations or illegal matters relating to the state occur. (Also read: Tourist Attractions in Madiun)
Read also:
6. Sikuai Island Beach, West Sumatra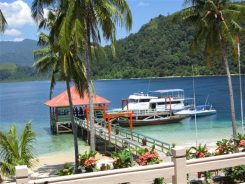 The island in Sumatra is Sikai Island which is famous for its beautiful and exotic sunset views from the top of the island. To visit this island, you can take a trip route through Muara Harbor by using a fishing boat that you can rent or by using a speedboat to make it faster, but the price is more expensive.
Entering the area of ​​this island, you can do many exciting activities to entertain yourself from the monotony of routine fatigue. Like enjoying the beach atmosphere, swimming, snorkeling, diving or trekking in hilly areas with a variety of exotic views that are very charming. (Also read: Raja Ampat Tourism, West Papua)
7. Pahawang Island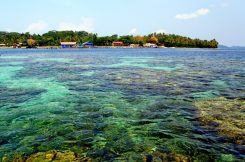 Pahawang Island has natural wealth in the form of beautiful coral reefs and fish with various colors that move around creating stunning views of their beauty. In addition to ecotourism adventures, on Bintan Island you can also feel a thick historical atmosphere from previous civilizations which until now have been well preserved for their historical remains. (Read: Palembang Culinary Tour)
Near the tomb of the lovers there is a large tree which is believed to be able to carve the names of their loved ones and their loved ones on this tree, they will marry and become a married couple that lasts until they are old. It is located in the Punduh Pidada sub-district, Pesawaran Regency, Lampung, Indonesia. This island is touted as a new paradise for divers because of its beautiful underwater natural wealth. (Also read: Tourist Attractions in Manado) (Also read: Tourist Attractions in Purwakarta)
Apart from these islands, there are many other islands in Indonesia such as:
Enggano Island.
Riau Bintan Island.
Sibandang Island.
Poncan Island.
Uggeh Island.
Mursala Island.
Nias Island.
Tolphin Island.
Tao Island.
Pagang Island.
Mandeh Island.
Pamumpahan Island.
Sawo Island.
Pandan Island.
Water Island.
Sibunta Island.
Bindalang Island.
Thus the discussion about the 60 Most Beautiful Islands in Indonesia, hopefully this article will provide positive benefits for all readers. Hopefully with you you know there are many beautiful islands in Indonesia, hopefully you can travel on each of these islands.