Bandung is indeed the right place for shopping. But sometimes we always shop at the same place every time we travel to Bandung, or only a few places that we know so that our shopping destination in Bandung is only limited to a few locations. For those of you who love shopping, especially in the city of Bandung, it is better if there is a shopping location guide so that your shopping schedule becomes more creative. For you shopping lovers, here are 24 interesting shopping centers in Bandung:
Read also:
1. Cihampelas
This place is already widely known by shopping lovers, but maybe there are still people who don't know or want to know more about this place.
This shopping location is located in Cihampelas District, West Bandung Regency, where this is a shopping paradise, especially for lovers of clothing made of jeans or denim and leather, so this location is often called 'jeans street'.
Front sight factory outlets there is also unique, equipped with giant statues of fairy tale characters such as Spiderman, Hulk, Aladdin and others. The decorations of each store are also unique and varied so that it is not only a shopping paradise but also a feast for the eyes.
Regarding the price, if you shop at this place and are good at bargaining, you will get a product that has good quality at an affordable price. The choice of materials and models is also very diverse, so you will be satisfied walking around in this place.
You can also visit a mall with an indoor outdoor concept, namely CiWalk or Cihampelas Walk, and can enjoy culinary delights in this place. If you are still not satisfied with exploring, you can also choose to stay at a hotel around this location so that the next day you can go back to hunting for the jeans you are after.
Read also:
2. Cibaduyut Market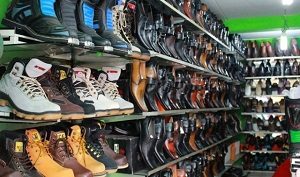 Besides Cihampelas, this shopping location is no less famous. If in Cihampelas you can happily choose jeans and leather materials, then Cibaduyut is the place if you want good quality locally produced bags, wallets and shoes. Most of the goods sold here are home-made products around the Cibaduyut location.
Same as in Cihampelas, the prices offered at this place are very affordable according to the materials and quality of the goods. So, if you can get good quality goods at exorbitant prices in shopping centers, then you will get much cheaper prices in this place with the same good quality or maybe even better.
In addition to getting a relatively cheap price, satisfied with shopping and washing your eyes, then by buying goods at this location, it means that you have helped the pace of the movement of the local people's economy. So, what's wrong if we buy good stuff in this place.
Read also:
3. Binong Jati Knitting Center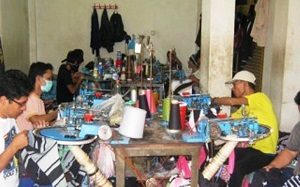 Materials or knitted clothes never die. Always fit to be used on every occasion, and often looks classy. The next shopping area is a place where Bandung Mayor Ridwan Kamil wants this place not only as a knitting center but also as a tourist destination. The place is the Binong Jati Knitting Center which is located on Jalan Binong Jati, Batununggal District, Bandung.
This is where good quality goods are produced from sweaters, jackets, cardigans, scarves, sweaters and others. If you shop here, you can get several advantages, namely, besides being able to witness the process of making knitting materials firsthand, you can also get the products you want at affordable prices, of good quality and you can also ask for products to be made according to the pattern we want. .
Read also:
4. New Market Trade Center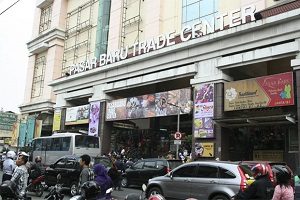 This place is one of the must-visit shopping destinations when you are in Bandung. Not only known in Indonesia, this shopping location is also very well known by foreign tourists who visit. You can get various products in this place, ranging from daily clothes, retail and wholesale office clothes, to household items. Complete!
Instead of going to the mall and getting one shirt at a fairly expensive price, you should go to this place so you will get more than one shirt at an affordable price and of course with good quality. This shopping place, which is similar to the Tanah Abang Market in Jakarta, is located at Jalan Otto Iskandardinata 70, Bandung.
Read also:
5. MD Plaza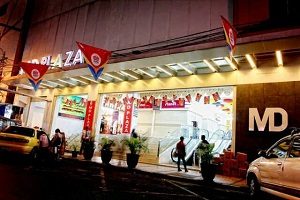 This shopping center is relatively new, where the vendors in it previously sold at King's Shopping Center. After King's had a fire accident, the merchant was moved to this place.
So for those of you who were previously familiar with King's shopping because the goods offered are of good quality and affordable prices, then you can start trying to visit MD Plaza. If you want to visit this place, please come to the Bandung Square area, Jalan Dalem Kaum48-52, Bandung.
Read also:
6. Gang Tamim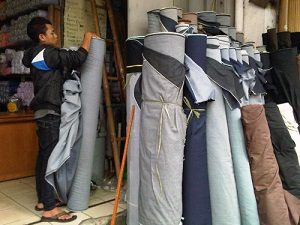 If you can get good materials, good quality and also cheap, why buy expensive ones? This may also be a major consideration for those of you who want to shop in Bandung, including this place is a Shopping Center in Bandung, especially for you jeans and denim lovers.
You can choose from various kinds of jeans material, and that's not all. Only by paying Rp. 100,000-Rp.200,000, you will get the jeans material you want at the same time as the cost of sewing with good sewing quality.
Interested? Please come to the place where the name of this place is taken from the name of a famous cloth skipper in this place, namely H. Tamim. The location of this alley is behind Pasar Baru. Apart from going through Pasar Baru, you can also visit this place via Jalan Sudirman, Bandung. Here, in addition to jeans and jeans material, you can also hunt for various kinds of fabrics, including batik fabrics.
Read also:
7. Gedebage Main Market
If Pasar Baru is similar to Pasar Tanah Abang, then Pasar Gedebage is similar to Pasar Senen Jakarta. Visitors can not only shop for daily necessities such as side dishes and vegetables and fruits, this place also sells a variety of used clothes. Jackets, bags, clothes, jeans, shoes, hats and so on are available here, including used ones.
This market, which is also often referred to as the Cimol Market, has more than 400 shops. This is indeed the center for used clothes, where you might find clothes with famous brands sold at super cheap prices. But actually this place not only sells used clothes but also imported clothes from abroad, including from South Korea, Singapore, Japan, Thailand and Malaysia. Of course you can also get local goods at this place
Read also:
Those are some shopping places that can be your consideration, so you can be more creative in shopping and find unique and interesting items. But of course, there are still many shopping places in Bandung that you can go to. For those of you who choose factory outletshere are some FOs that you can go to:
Victoria, Jl. Ir. H. Juanda 111
Level, Jl. Ir. H. Juanda
Blossom, Jl. Ir. H. Juanda 181
Seximo, Ir. H. Juanda 106
Grande, Jl. Dago 118
The Secret, Jl. Riau 47
The Summit, Jl. Laks. Laut RE Martadinata 61
Heritage, Jl. Riau 63
Stamp, Jl. Laks. Laut RE Martadinata 38
Tas Terminal, Jl. Laks. Laut RE Martadinata 32
For Men, Jl. Riau 18
Fashion House, Jl. Dr. Setiabudhi 41
House of Donatello, Jl. Dr. Setiabudhi 45
Some of the other places are:
ITC Coconut Garden
Flower City Market
Gasibu (Bandung Struggle Monument Shocked Market)
Friday Market Pusda'i
Thus, it is quite complete the activities that you can do in Bandung and its surroundings. Not only can you enjoy the uniqueness of the city of Bandung which still maintains old buildings to be used as places of business and offices, various culinary tours, watch the creativity of its attractive young people and finally enjoy shopping paradise without having to dry your pockets. Enjoy the city of Bandung!
Read also: