What comes to your mind when we mention the city of Jogjakarta? You might mention gudeg, the beauty of nature, the creativity of its citizens or various other unique answers. The Special Region of Yogyakarta has at least five special nicknames given to it, namely the first, of course, the Student City, then the City of Culture, the City of Artists, the City of Museums and the City of Gudeg.
As if all these nicknames weren't enough, Jogjakarta also offers countless unique and amazing tourist attractions. Malioboro Street, Prambanan Temple or Parang Tritis Beach may be some names you are familiar with. But you need to know, the uniqueness of Jogja's tourist attractions is not only found in those places, but also in the abundance of other tourist attractions in this area, including waterfall tours. The following are 20 waterfall attractions in Jogjakarta that captivate the heart:
Read also:
1. Grojogan Sewu
The name of this tourist spot is similar to a waterfall tourist attraction located in Tawang Mangu, Karang Anyar, Surakarta. However, the Grojogan Sewu waterfall that we will discuss is located in Beteng Hamlet, Jatimulyo, Girimulyo, Kulonprogo Regency in the Jogjakarta region. You have to take 1.5 hours from downtown Jogja to arrive at this tourist location.
This tourist spot is named so because of the large amount of overflow of water that passes through the rapids before falling into the river. The location is very shady decorated with green trees that surround the location of this waterfall. There are tourists who recommend bringing a change of clothes when you intend to go to this tourist spot because you will not be able to resist the temptation to play in the water at this waterfall location.
You only have to prepare Rp. 2,000 for parking and a voluntary contribution to enter this tourist location. From the entrance, you do have to walk about 200 meters past the residents' plantations, but this is where it's unique. On your way to enjoy the natural beauty and plantations of residents where the scenery is like a tourist forest. There are already toilets, changing rooms and simple stalls in this place, so you don't have to worry if you want to play in the water or are hungry.
Read also:
2. Soka Flower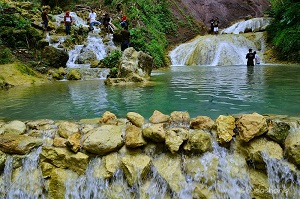 Still in the vicinity of the Kulon Progo Regency, the waterfall which is located between two hamlets, namely Gunung Kelir Hamlet and Kembang Soka Hamlet, Jatimulyo, Girimulyo, Kulon Progo is very beautiful to the eye.
The waterfall is terraced with white and turquoise water, decorated with clear rivers and golden yellow rocks at the bottom of the river, as well as reddish stones on the cliff to the left of the waterfall. All of this makes the location of the Kembang Soka waterfall unique and beautiful. For those who like to take selfies or have a hobby of photography, this location is the right choice.
This place has been managed as a tourist location since 2014. The facilities available for tourists are also relatively complete, such as changing rooms, food stalls and parking areas for two and four-wheeled vehicles. The cleanliness of this location is also maintained, while tourists can also participate in maintaining cleanliness by throwing garbage in places that have been provided by the manager in several strategic areas. Don't forget to enjoy a walk through this location by climbing a unique winding bamboo bridge.
This waterfall has two clear springs that can be drunk, namely Jaran Springs and Kembang Soka Springs. The origin of the name Kembang Soka is that apart from that part of the location of this waterfall which is in Kembang Soka Hamlet, it was rumored that in the past there was a fairly large Kembang Soka tree around the waterfall area, but unfortunately the tree is now dead.
Read also:
3. Sri Gethuk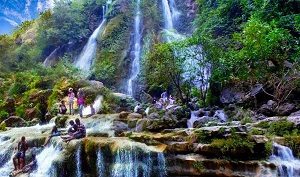 This waterfall which is located on the banks of the Oya river, Menggoran Hamlet, Bleberan Village, Playen, Gunung Kidul Regency has its own uniqueness. The collapse of the water is like a melting crater, not just focused on one falling point.
Not to mention that the water does not fall directly into the river below, but stops first to hit the karst rocks around the river. It's so beautiful, Hollywood has made this location one of the shooting locations for movies sci-fi entitled Beyond Skyline produced in 2017 which also stars two Indonesian actors, Iko Uwais and Yayan Ruhian. This location is also dubbed as the Jogjakarta version of the Green Canyon.
The price of admission to the waterfall area is Rp. 7,000 per person. If you want to rent a raft and a buoy then you have to pay more. Or you can also choose a complete tour package for Rp. 30,000 including a tour guide. Enjoy a traditional raft trip down the Oya river before arriving at the location of this waterfall.
Read also:
4. Njurug Gedhe
If you want to enjoy a unique sensation like an adventure in the wild from a tourist location, try visiting this place. The location is not far from Mount Nglanggeran or precisely on the border between Dusun Gembyong, Ngoro-oro Village, Patuk, Gunung Kidul, and Prambanan District, Sleman. To arrive at the location of the waterfall, your adventure has begun, where you have to pass through a forest area.
The waterfall, which looks proud and mighty, with a 25-meter-high running water, studded with thick rocks around it, is believed to have a mystical story. Therefore, those of you who visit here are expected to be able to guard your words and actions. At this location, besides being able to enjoy the scenery around the waterfall, you can also do activities repplingtrail tracks, outbound and a challenging walk across the phenomenal Gembyong Suspension Bridge.
This bridge that offers tension and excitement is a very good location for those of you who have a hobby of photography or intend to take selfies. In addition, at this location you can also visit the Batu Gajah and Randu Twin sites.
Read also:
5. Pulosari Gorge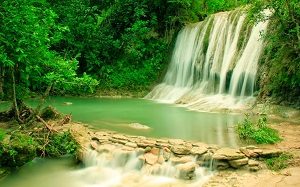 The waterfall, which is located in the Krebet Sendangsari Tourism Village, Pajangan, Bantul, is like a beautiful moving curtain in the eyes with its greenish river water surrounded by dense forest surrounded by golden rocks at the end of its terraced river. Very exotic. Apart from relaxing, climbing (climbing), reppling (climbing down) and outbound are some of the activities that you can do at this beautiful location. If you need a guide, you don't need to worry because at this location there are guide local ready to help.
What you need to pay attention to is that the public facilities in this place are not yet fully available, so you need to be prepared that there are no standard public toilets that you can use. Motorbike parking is charged Rp. 2,000 per vehicle. Everything you need you can ask the locals, and the most important thing is to keep this place clean to keep its beauty intact.
Read also:
6. Parang Tritis
What we will discuss this time is not Parang Tritis beach, but Parang Tritis waterfall, which is located approximately 0.2 km from the beach location. From the beach you just have to walk towards the hills to the east.
The appearance of this waterfall is very unique, like flowing water in an artificial garden where water spews between the rocks on a cliff full of green plants that are quite sloping.
Fresh water comes from a river that flows from the top of the karst hill that stretches behind the beach. However, if you intend to visit this place, you should not in the summer so that you can witness the uniqueness of the water flowing.
Read also:
If you are still curious about the waterfalls in the DI Jogjakarta area, below are some other Jogja waterfalls:
Curug Setawing, Kulon Progo
Grojogan Mudal Waterfall, Kulon Progo
Banyunibo Waterfall, Gunung Kidul
Gorge Falls, Pulosari
Luweng Sampang Waterfall, Gunung Kidul
Selarong Cave Waterfall, Bantul
Watu Jonggol Waterfall, Kulon Progo
Gedangsari Beautiful Waterfall, Gunung Kidul
Kedung Pedut Waterfall, Kulon Progo
Jogan Beach Waterfall, Gunung Kidul
Goa Cerme Waterfall, Bantul
Tlogomuncar Waterfall, Sleman
Gedangan Waterfall, Bantul
Siluwuk Waterfall, Kulon Progo
Now you have a list of interesting and unique waterfall attractions in the Jogja area. So, if Jogjakarta becomes your next vacation destination, don't forget to stop by some of the unique waterfalls above to get an interesting and interesting experience and of course make other people want to explore the same place.
Read also: