New Year is a special moment, and this is the best time to gather with family, friends and loved ones. Together with them we can welcome the new year together by having fun together, praying together and making resolutions together. This moment of togetherness will be more perfect if it is passed in the right location and can accommodate all our needs. What's wrong if we miss this special moment in a special location.
Our country has many tourist sites where the new year is held lively with diversity that can be your choice. Of course, at the time of the new year, airline tickets and hotels soared in price because of the many fans. Therefore, there is nothing wrong if you have determined the direction of your destination and the people closest to you to spend time together on New Year's Eve, book flight tickets and hotels well in advance.
Still confused about your destination to celebrate the new year? The following are some recommended tourist attractions that are suitable for your New Year's event:
Read also:
JAKARTA
This metropolitan city is indeed busy and extremely congested, but it must be admitted that the New Year's event in this city is quite lively and is held in many places with great fanfare. Fireworks are generally the most awaited event in this city, and all you have to do is choose the location that you think is the most appropriate for you to enjoy it.
The most important place where fireworks are held with great fanfare is of course the Hotel Indonesia Roundabout. Residents usually gather around the HI Roundabout to watch the fireworks. For some tourists, they take advantage of this festive atmosphere by staying at one of the hotels around the HI Roundabout, so that when the fireworks start they don't have to walk far because this location is usually free of motorized vehicles on New Year's Eve. Or you can also see the excitement of this atmosphere from your hotel room if you are lucky to get a room facing directly towards the HI Roundabout.
The second location is Ancol Dreamland Park. In addition to fireworks, at this tourist location you can also enjoy stage entertainment and cultural parades. To enter this tourist area, you need to pay HTM of Rp. 20,000 per person while for motorized vehicles you need to prepare an additional ticket of Rp. 15,000 for motorbikes while for cars it is Rp. 20,000. If you choose to use public transportation, then the TransJakarta bus is the right choice because on New Year's Eve, TransJakarta service is 24 hours.
For those of you who want something unique from the New Year's Eve event, then Taman Mini Indonesia Indah is the right choice. In this place, shadow puppets are usually held all night. Entrance ticket prices are also relatively very cheap, namely IDR 10,000 per person, IDR 6,000 for motorbikes while for cars IDR 10,000.
Read also:
BANDUNG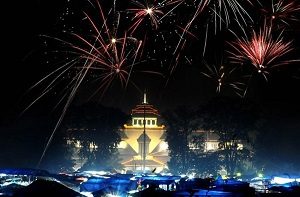 The city of Bandung is often a holiday destination, even though not on New Year's Eve. Especially on New Year's Eve, this city has become a favorite destination for tourists. Some locations in the city of Bandung and its surroundings that deserve your consideration include:
One of the places to celebrate the new year that is most visited by residents and tourists is the city square of Bandung, where in this location besides being able to see fireworks, enjoy Bandung and West Java culinary specialties and watch free entertainment.
The second most favorite choice in Bandung is the Dago area. In this area, there are usually many creative communities that celebrate New Year's Eve. On New Year's Eve, a car free night is usually applied so that you and your group can enjoy this area comfortably.
Another area of ​​choice is Bukit Bintang. This area which is favored by young people is very beautiful at night. If you are in this place on New Year's Eve, it will be easier for you to watch the fireworks in the background of saving stars.
Another area that is recommended for this year's night is Tegalega Field which presents historical stories, typical snacks, night markets and fireworks parties.
Read also:
YOGYAKARTA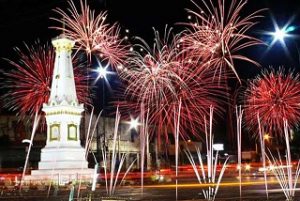 This city is arguably complete. The city is developing very rapidly while its traditional culture is well preserved. Like in other tourist locations, Yogyakarta also offers several locations where fireworks are held.
The North Square of the Yogyakarta Palace is one of the recommended locations, and is wider than the South Square. In this place, residents and tourists usually gather while waiting for the turn of the year.
If you want a more unique location, camping in the pine forest area of ​​Mangunan, Bantul can be your choice. Enjoy the sprinkling of stars while waiting for the new year with your closest people. This place is also a beautiful area for you to take a selfie or selfie.
Another location is still related to natural tourism, namely Kaliurang. This area is very well known and is often a vacation spot with family. By renting an inn or villa, you can spend time with your family and make your own special event at the villa location, for example with grilled corn, satay or barbecue.
For those who like to climb mountains, then climbing to Mount Merbabu can be your consideration. Getting closer to nature at the turn of the year will be an unforgettable experience.
BALI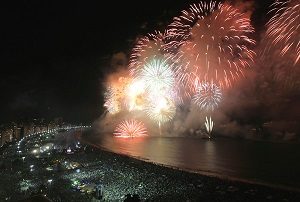 If on the island of Java we have Yogyakarta, then the island of Bali is a similar alternative. Both are regions that have progressed rapidly but still maintain their traditional culture. For this one island, there is no need to question its superiority. The world already knows a lot about the beauty of Bali as well as being an expensive and exclusive tourist destination for world citizens other than Indonesia.
Because it is the main tourist destination, the island of Bali certainly doesn't want to be left behind in enlivening the New Year's Eve. Local residents, domestic and foreign tourists gathered to welcome the new year with a lively atmosphere, not only fireworks but also various traditional dances.
Some of the tourist attractions in Bali that you can make a destination when you want to enjoy New Year's Eve on the island of Bali include Sanur, Besakih Temple, Garuda Wisnu Kencana, Seminyak, Tanah Lot, Kuta Beach, Jimbaran, and Bedugul with various events and festivities on offer. Remember to book plane tickets and lodging in Bali in advance to get a more affordable price and avoid being fully booked.
Read also:
LOMBOK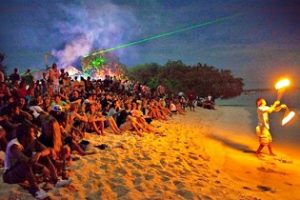 Slightly shifted a little, Lombok is also the belle of the new year's tourist destination that you can try. For the island of Lombok, the most appropriate area to spend New Year's Eve is the Gili Terawangan area.
At this location, if tourists can't find an empty inn because two months before the end of the year usually the inn there is already fully booked, then they can stay at a resident's house or set up a tent on the beach.
The recommended location in this area is Mawun Beach, which is not much in demand or even unknown to tourists. Here you can still enjoy a calm and more comfortable atmosphere. It's just that, because the waves are quite big and there are no coast guards, you have to stay alert and careful.
MOUNT BROMO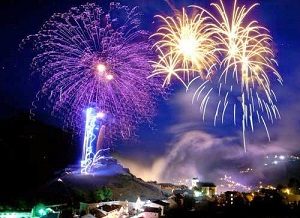 Watch the sun rise for the first time at the beginning of the new year at the top of Mount Bromo. The natural charm around it also makes your New Year's travel experience with family and friends even more memorable. There are also many tour packages to this location, so you don't have to worry.
If you want a more unique experience, try celebrating your New Year's Eve with the friendly Tenggerese. Guaranteed you will get an exciting and unforgettable experience.
Read also:
It's time you don't just stay at home and just stare at the television screen waiting for the turn of the year. If you want the coming year to be a year full of passion, adventure, challenge and hope, start your first day with joy with the people closest to you, in an unlikely place.