Labuan Bajo is the capital city of West Manggarai Regency, East Nusa Tenggara. Labuan Bajo is located precisely on the western tip of Flores Island, visit the tourist attractions in Ende Flores. The majority of the residents of Labuan Bajo have jobs on the water, it can be seen that there are many sailing ships and boats in the bay. The beautiful scenery in the capital city of West Manggarai is very amazing, wooden huts with thatched roofs and various trees in the surrounding environment are the main objects of this view in Labuan Bajo.
Labuan Bajo is a gathering place for people who will vacation on Komodo Island or Rinca Island, therefore Labuan Bajo is very much visited. If you are going on vacation to Labuan Bajo, you can explore the various islands around Labuan Bajo starting from the island of Sambil, the island of angels, the island of Sabolo and Kanawa. In the southern part of Labuan Bajo there is a route to Rinca Island where at dusk you can see lots of bats flying around. Currently Labuan Bajo has been visited by many local and foreign tourists so that various facilities are already available. The following are recommendations for 20 tourist attractions in Labuan Bajo that can be visited while on vacation, including the following.
1. Komodo Island
Komodo Island is an island located in West Manggarai Regency, East Nusa Tenggara. Meanwhile, Labuan Bajo is located inside Komodo Island. Komodo Island is a place where Komodo dragons live, the number of kodos living at this time reaches 2500 tails. In addition to the Komodo dragon, what attracts tourists is the exoticism of the natural beauty around the Komodo island. The small islands around it are very charming with clear blue sea water and still clean. Besides Komodo Island, there is also the Komodo National Park which was established in 1980. The park was created with the aim of protecting the Komodo Dragon from extinction and protecting the flora that lives around the Komodo National Park. UNESCO recognizes the island of Komodo as a world heritage site and is one of the seven wonders of the world.
This Komodo National Park consists of several islands including Komodo Island, Rinca Island, and other small islands. Some interesting activities that can be done while on vacation to the Komodo National Park include seeing Komodo dragons directly, playing water in the sea, diving, snorkeling. In addition, we can also surround the island of Komodo and visit other small islands. And one thing that should not be missed is diving in Samsia rock if you want to swim with turtles and sharks, then diving in crystal rock if you want to see various fish such as barramundi fish, parrotfish and various typical Komodo dragon fish and the last dive at Manta Point point this dive is the best point for diving because we can see manta rays up close. The entrance fee to Komodo National Park is Rp. 102,500/person.
2. Gili Laba
Gili Laba is a small island located in Komodo National Park, West Manggarai, East Nusa Tenggara. If you visit Labuan Bajo, don't miss visiting Gili Laba. Because the natural beauty is very enchanting on Gili Laba, the stretch of sea looks very beautiful from the top of the hill. The view of the clear blue color of the sea water with white sand can be seen stretching from Gili Laba. From the top of Gili Labu, you can see the overall view on the Komodo Island. During the rainy season the colors of the trees around the hill are green and during the dry season the color of the trees is yellow.
Along the way to the hill on Gili Laba, you will pass various inclines, so prepare all the preparations, because it requires extra energy to climb to the top of Gili Laba. The hiking trail to get to the top can be accessed through any route because there are no special climbers' points. Although it requires extra energy but when you get to the top of Gili Laba, everything will be paid off by the stunning view of the natural beauty of the Komodo islands. If you don't want to climb to the top you can also play water, sunbathe and snorkel. The route to Gili Labu from Komodo Island takes about 1 hour, but if you are from Labuan Bajo, it takes a long time, which is about 4 hours.
3. Rinca Island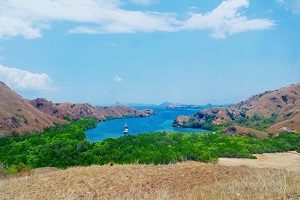 Rinca Island is one of a group of islands located in the Komodo archipelago. Apart from Komodo Island, apparently Komodo dragons live on Rinca Island, although the size of Rinca Island is not as large as Komodo Island, but the Komodo dragons that live on Rinca Island are around 1500 individuals. Rinca Island has a closer distance than Labuan Bajo, on this island the highest point is Mount Ora with an altitude of 670 meters above sea level. Besides Komodo dragons, there are other animals that live on this island such as buffalo, birds and wild pigs.
On Rinca Island, visitors are offered to take part in environmental conservation activities, namely the mangrove planting program. By paying Rp. 150,000 visitors are given mangrove seedlings that can be labeled with our own names. Access to Ranca Island is if you come from Labuan Bajo, you can use the Dewaan ship. The trip to Rinca Island takes 2 hours from Labuan Bajo and the ship docks at the Loh Buaya pier. The ticket price to enter Rinca Island is IDR 25,000 / person. Some of the facilities that are available on Rinca Island are homestays around the guard location, food stalls and toilets.
4. Cunca Wulang Waterfall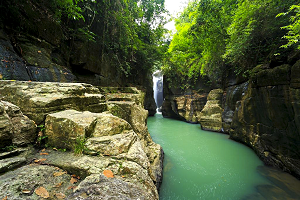 Cunca Wulang Waterfall is located in the Mbeliling forest area. This waterfall is located at an altitude of 200 meters above sea level, this waterfall looks like a green canyon but is a narrower version. Various rocks flanking along the river can be climbed because these rocks do not have sharp sides. If you have a hobby of jumping from rocks, then you can jump on rocks as high as 6m at this Cunca Wulang waterfall, but you must first consult with your guide because sometimes the water discharge can decrease when the dry season starts.
The thing to note is to bring food and drinks because there are no food stalls at this waterfall. The route to the cunca wulang waterfall is 30 KM from the port of Labuan Bajo or about 1 hour then arrive at Wersawe Village which is the main door to the cunca wulang waterfall, in Wersawe village you have to write your name in the guest book and hire a guide. To get to this waterfall you have to walk through the forest, rocks and bushes and it takes about 1 hour and quite a bit of extra energy. Besides that, you can also try visiting waterfall tours in Lombok.
5. Kanawa Island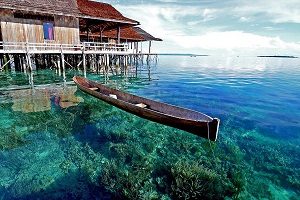 Kanawa Island is an island located in East Nusa Tenggara with an area of ​​about 35 hectares. This island has a very beautiful and enchanting natural beauty, especially the beach and underwater. The natural beauty can be seen from the turquoise sea water and white sand which is still very clean. The underwater beauty of this island is no less beautiful than the Bunaken underwater park.
Even its beauty can be seen from above sea level various coral reefs, colorful small fish, sunfish and turtles can be seen clearly this is because the sea water is still very clear. The uniqueness of this island is that when the afternoon approaches the sea water will slowly recede. For visitors who want to dive on Kanawa Island, a diving center is available. If you want to spend the night on Kanawa Island, there are already around 13 cottages, the rental price for the cottages starts from Rp. 300.000/night. The route to Kanawa Island is about 15 KM from Labuan Bajo and can be accessed by speed boat. The speed boat rate is IDR 60,000 / person or you can rent a boat for IDR 250,000.
6. Rangko Cave
Rangko Cave is a cave located in Rangko Village, West Manggarai Regency, East Nusa Tenggara. Stamps Cave is a cave where there is clear blue sea water decorated with various stalactites that make the scenery around the cave very exotic. However, to get to this place is quite difficult because it is easier to access by motorbike. The location of the Rangko cave is still not available on google maps, this is because the Rangku cave is located in a remote village with roads that are still damaged and not asphalted.
The road to get to Rangku's cave is very difficult to pass through rocky roads and shrubs with roads that go up and down. However, on the final journey to the cave, the natural beauty has begun to radiate and the road has been paved. Usually tourist attractions in Labuan Bajo are often stopped by black people, they are natives of Rangko Village who offer to be guides. After arriving at Rangko village, visitors must use fishing boats at a rate of around IDR 300,000 to 350,000 with a maximum capacity of 10 people. Arriving at the cave, visitors can swim freely while enjoying the natural beauty that surrounds the cave.
7. Padar Island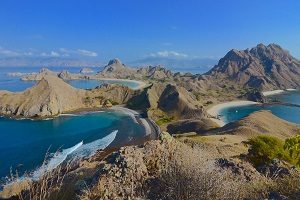 Padar Island is one of the famous islands after Komodo Island. Unlike the case with Komodo Island and Rinca Island, on this Padar Island we cannot find Komodo dragons. To get to Padar Island, you need an experienced captain and guide. On Padar Island only grass grows and there are no big trees.
From the top of Padar Island we can see the beauty of the ocean around Padar Island and other small islands. If you are going to visit Padar Island, it is recommended to use shoes because if you want to go to the top of Padar Island, you will not be comfortable wearing sandals. Don't forget to also try culinary tourism in Lombok.
Those are some places that you can visit in Labuan Bajo and its surroundings. In addition to these seven places, there are still several places that you can visit in Labuan Bajo, here are some places that you can visit in Labuan Bajo:
Mirror Stone Cave
Seraya Island
Love Hill
Cunca Rami . Waterfall
Kalong Island
Angel Island
Pink Beach
Manta Point
Sano Nggoang Lake
Mbeliling Mountain Peak
Moringa Island
Goat Island
Wae Rebo
Those are some recommendations for tourist attractions in Labuan Bajo. Selian Labuan Bajo you can also visit tourist attractions in Lombok. Prepare all your vacation needs so that your vacation is fun. Hopefully this article is useful and can provide a reference for your preferred vacation spot.