If dinner decorated with candles or watching a movie is no longer a dream for couples who are dating, then another alternative to enjoying interesting and romantic moments together is certainly what you are looking for. Especially after messing around with all the busyness of work so you rarely meet your lover and want a special date place. Even if you have to go to a place to eat, then a unique place to eat is what you need to look for.
For a special moment for both of you, for those who live in Jakarta and its surroundings or for those of you who are traveling around the Greater Jakarta area, take a look at this city located 59 kilometers south of Jakarta. There's nothing wrong with shifting a little from dating places you've often visited to get a special location, other than that, especially for those of you who are planning the application process, shooting for boyfriends, celebrating anniversaries or Valentine's Day. The following are 20 tourist attractions for dating in the city of Bogor:
Read also:
1. BOGOR Botanical Gardens
If you mention the city of Bogor, it doesn't feel right if you don't mention this place. The location is beautiful, spacious, not too crowded and frugal. Only by preparing Rp.14,000 per person you can enjoy the beauty of the 87-hectare park and witness the uniqueness and beauty of the approximately 15,000 types of tree and plant collections owned by this place.
In this place you can express your feelings more freely in a beautiful natural setting and many spots that can be used to take pictures together. But if you want a calm atmosphere, you can choose weekdays to visit this place, because this place is usually crowded with visitors on weekends.
Read also:
2. CUPCAKES HOUSE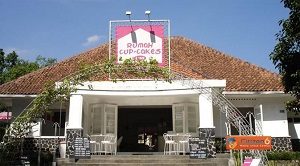 This time we visited Central Bogor to visit this place. This place is actually a restaurant, but the location is very unique and interesting.
This place to eat is located in one of the classic houses that are shaped in such a way that it becomes a place to eat without leaving the authenticity of the shape of the building. Not only enjoy the food and the atmosphere of the ancient house, but you can also enjoy the beautiful and beautiful backyard of this house.
The place is located on Jl. Sanggabuana 4 is open from 07.00-20.00 Monday to Sunday. The special menu is of course Cupcakes with a variety of unique flavors such as the Black Ketan Nutella Cupcake, Capuccino Cupcake or Chocochips Cupcake. With this cupcake, you can pamper your loved one while relaxing in a beautiful setting. For those of you who ask, it is more appropriate if you choose to visit early because this place is usually full of visitors.
Read also:
3. COLORS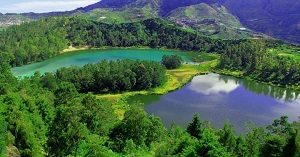 This is one of the tourist attractions in the Puncak area, Bogor. The lake water that can change color makes the atmosphere more romantic and calming. The lake water here can change color, one of which is due to the reflection of the trees around the lake area.
In addition to enjoying the atmosphere of the lake together, you and your partner can also do other activities such as water rides, flying fox, trekking to enjoy the beauty of birds, or take selfies in the lush and beautiful tea gardens.
This place is open to the public from 8.00-17.00 in the evening. The ticket price is very cheap at IDR 7,500 per person. This park has an area of ​​5 hectares for the entire area while the lake area itself has an area of ​​1.5 hectares. As for the facilities, you don't need to worry because they are complete and good, such as places of worship, toilets, places to eat and lodging.
Read also:
4. RIUNG MOUNTAIN PARK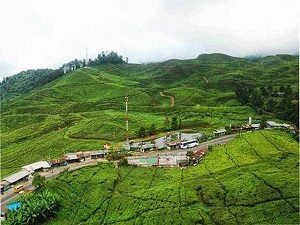 Another romantic tourist spot in Puncak, Bogor is the Riung Gunung Park. The beautiful and orderly atmosphere of the tea garden is perfect for taking pictures and enjoying an unforgettable atmosphere of togetherness.
Not to mention the beautiful mountain atmosphere makes all tiredness and stress disappear, so besides enjoying togetherness, you can also take advantage of the coolness and natural beauty of the mountains for yourself.
If you feel it's not enough just to enjoy nature and the tea garden, then you can bring your partner to eat at the restaurant or chat in the café, swim, flying fox, fish therapy and camping. One thing Ana needs to know, of course, is how much it costs to enter this area. The price of admission to this location is Rp. 5,000 per person while for flying fox You need to prepare a pocket of IDR 15,000 per person.
Read also:
5. CITY OF FLOWERS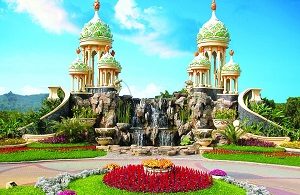 For couples who are dating, then this one place is very appropriate. This tourist spot is not only unique but takes you to the romantic atmosphere of world tourist attractions.
This tourist spot, dubbed Little Venice, promises a world atmosphere in an area of ​​125 hectares. You don't have to travel overseas to discover the world's leading tourist attractions.
Actually, Kota Bunga is the location of a Villa Estate with a world tourism concept. Several world miniatures are presented in this location, such as Asian and European miniatures, and even a miniature of the Jakarta Fantasy World.
Along with a beautiful miniature world, you can also enjoy several rides in Little Venice, such as a gondola, banana boat, water bike, bubble ball, inflatable boat, and the Mississippi ship. But of course if you are interested in enjoying these various rides, then you have to prepare enough money to be able to enjoy the excitement of the rides, especially the romantic rides, namely riding the gondola boat.
Read also:
6. GANG SELOT Snack Center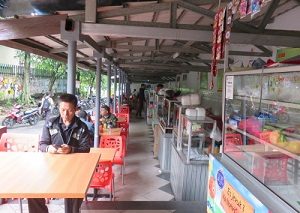 Want to take a walk and eat something cool and cheap in Bogor? Try to stop by this one place. If you've done nature tourism, you've done shopping, and you just want to enjoy the excitement of the Bogor atmosphere by chatting and enjoying Bogor specialties that don't drain your pocket, then you have to aim for this place.
This hawker center is located close to the location of SMU Negeri I Bogor and SMP Negeri I Bogor. Given its location which is very close to the school location, you can imagine how the food served at this location is very pocket-friendly. While reminiscing about the good times at school, you and your partner can happily enjoy cheap food
Read also:
7. IPB DRAMAGA SHOPPING CENTER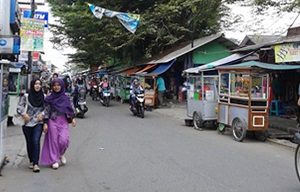 Another place for a snack that is suitable for a date in Bogor. Located in the middle of the IPB campus, you and your partner can enjoy the cool atmosphere in the shade of the trees that surround the campus location and get cheap snacks.
This location is often called Babakan Raya or Bara, where here you can choose a variety of snacks from street food carts to street food stalls. It is quite complete and affordable because it fits into the pockets of students.
Read also:
If you still want to enjoy the city of Bogor with your partner and want a place to eat that is not only unique and interesting but also exclusive, try these places:
Two Stories Café, East Bogor
Lusso Café & Resto, Tanah Sareal
Momo Milk Barn, East Bogor
Papolo, East Bogor
Nicole's Kitchen & Lounge, South Bogor
Lemongrass, North Bogor
Meanwhile, for those who still want to enjoy the unique tourist sites of the city of Bogor, try visiting the places below:
Struggle Museum
Ethnobotany Museum
Perfect Field
GOR Pajajaran
Bogor Public Library
Yasmin roundabout
CIFOR . Deer Farm
Don't forget to prepare flowers, chocolates or something unique and special if your date is being prepared for a special moment. Enjoy the cool and calming rainy city, hopefully your dating trip this time will make your relationship even closer and hopefully it will be a beautiful experience that will not be forgotten for you and your partner.
Read also: