Bali has long been known as the island of the Gods, which is often visited by tourists from all over the world. Bali is very famous for its cultural and artistic diversity and that's why there are so many cultural attractions in Bali that are scattered. Some of the famous cultural attractions and visited by many tourists include the following.
1. Tanah Lot Temple
Tanah Lot Temple is one of the popular cultural tourism destinations in Bali and is always visited by many tourists, both local and international.
There are two temples that stand firmly on the rock. The two temples are bordered by the sea and serve as a place of worship for the guardian god of the sea.
Apart from the temple, tourists come there to enjoy the natural panorama. The waves there are so big. In addition, many tourists also come with the aim of enjoying the sunset.
Read also:
2. Uluwatu Temple
Pura Luhur Uluwatu is one of the temples that is also quite famous and visited by many tourists. Just like Tanah Lot, this temple is also located on a rock that is directly adjacent to the sea.
The location is at the southwest tip of the island of Bali. This temple is a type of Sad Kayangan Temple which is believed to be a buffer from the 9 winds by the Hindu community.
The location of the temple is in Pecatu Village, Kuta District, Badung, Bali. Apart from the temple, this location has become popular because underneath is Pecatu Beach, which is often used as a world-class surfing location.
3. Tirta Gangga Palace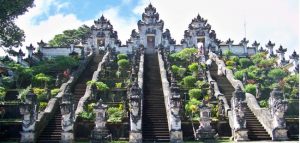 Tirta Gangga Palace is a former royal palace. The location is 5 kilometers east of Karangasem Bali. Tirta Gangga has become popular because this water palace is one of the water parks belonging to the Karangasem Kingdom of Bali.
Many tourists who come there also to learn the history of the kingdom. In this palace, tourists can see a maze of ponds and fountains surrounded by lush gardens.
In addition, there is also a composition of the statue that fits perfectly with the water so that a harmonious form appears that is very beautiful and has a sacred impression.
4. The USS Liberty Shipwreck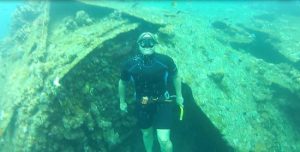 The shipwreck USS Liberty is a warship due to World War II 1942, which sank. The waters around the shipwreck finally attracted tourists because it was overgrown with coral.
These colorful corals eventually become a place to live for marine life. This beauty is unique enough that many tourists stop by and try to dive there.
The corals on this shipwreck are visited by many divers from abroad who are curious about the wreck and the beauty of its marine life.
5. Tirta Empul Temple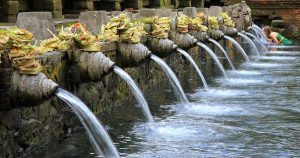 Tirta Empul Temple in Bali is a Hindu religious temple. The exact location is in Tampaksiring District, Gianyar Regency, Bali.
This temple is famous for its holy water. This holy water is widely used by Hindus who want to seek self-purification. This temple was built in 962 AD during the Warmadewa dynasty.
On the left side of the temple there is a modern villa. At first the ink villa was built for the visit of President Soekarno. Now this villa is used as a resting place for guests or important people.
Read also:
6. Besakih Temple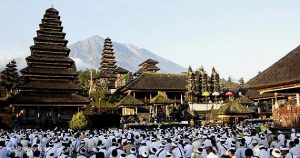 Besakih Temple is a temple complex which is the center of all temples in Bali. The location is in Besakih Village, Rendang District, Karangasem Regency, Bali.
Among the many temples in the Besakih Temple complex, there is one largest, namely Penataran Agung Temple. Penataran Agung Temple is the center of the temple in the entire Besakih Temple complex.
Besides being used as a place of worship, Besakih Temple is used as a tourist attraction. Currently this location is being proposed as a UNESCO World Heritage Site because it is quite popular and visited by many tourists from all over the world.
7. Penglipuran Village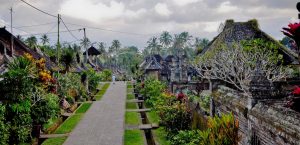 Penglipuran Village is a traditional village that has a unique structure and architecture. This village is also named as one of the cleanest villages.
When entering the village of Penglipuran, tourists seem to be invited into a foreign area with a collection of Balinese traditional houses that are lined up neatly. The location is in Bangli district in the east of Bali.
Penglipuran village was originally inhabited by resident artists who entertained the king. As the name implies "Penglipur" which means Comforter. Until now, the cultural heritage of the Penglipuran community remains sustainable.
8. Tenganan Village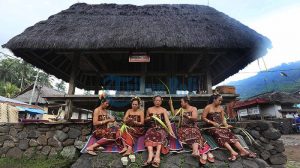 Tenganan Village is one of the Bali Aga villages. Bali Aga, is a term for Ancient Bali, which is one of the ancient Balinese communities before the migration of Majapahit in the early 15th century from Java Island.
Tenganan village has a unique traditional culture and architecture. This village has been known since the 1970s and since then this village has become a tourist attraction for traditional Balinese culture.
Gringsing cloth is still used by local people. This cloth is a type of cloth that is woven and used to protect oneself from evil influences. In this village there is also a ritual curry currywhich is a ritual performed every year to honor Lord Indra.
9. Sukasada Water Park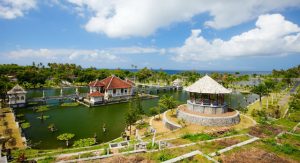 This water park is located in the city of Ujung, precisely on the lips of the Lombok sea. This water park has beautiful views of the ocean and classic gardens. Sukasada water park is a classic garden typical of Karang Asem.
Tourists who come can see the unique architecture which is a combination of typical European gardens and ruins of buildings that create a harmonization of unique forms.
This place was originally a bathing place for the king. Then it also became a resting house for the Karang Asem royal delegation. Now, this water park has become a tourist spot popular and often used as a pre-wedding location.
Read also:
10. Candi Dasa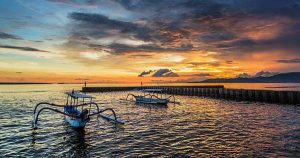 Candi Dasa in East Bali is perfect for enjoying the calm atmosphere and cool sea breeze. Candi Dasa is very suitable for tourists who only have a short time to travel to Bali because there tourists will find natural tranquility.
Although quite far from the hustle and bustle of the city, Candi Dasa is not a boring place. Even there, tourists can also enjoy Balinese seafood, such as mahi-mahi, or enjoy the atmosphere at a local cafe.
Unfortunately, this place does not have a beach that can be used to play in the water. But not far from Candi Dasa, there is a white sandy beach that is still rarely known by tourists.
11. Tulamben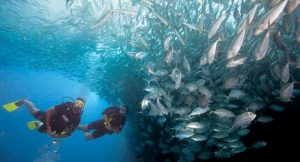 Tulamben is the name of a small fishing village located in northeastern Bali. Tulamben Village in the end turned into the best place for scuba diving and snorkelingsince 60 years ago.
The underwater biota and coral diversity are very beautiful and quite often visited by foreign tourists. This location is even today still popular even though more and more marine tourism objects are opening in Bali.
Reportedly, not only the owner of the certificate diving who are allowed to dive to enjoy the underwater scenery. In addition, tourists can also snorkeling. If you like underwater tourism, try to come there and enjoy the beautiful scenery.
12. Goa Lawah Temple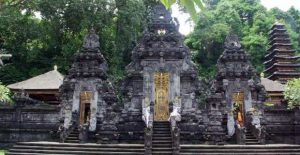 Goa Lawah Temple is one of the nine directions of Bali's sacred temples. This cave is also known as the home of thousands of bats. That is why this cave is called lawah (lawa = bat).
According to local people's beliefs, in this cave there is also a giant dragon known as Vasuki hiding in it. According to Balinese history, Goa Lawah Temple has existed since the 1000's.
This temple was built by Mpu Kuturan. This cave has never been explored, and it is believed that the end of the cave is at Mount Agung. Tourists who stop by there usually also stop by Kusamba Beach whose position is opposite the Cave.
13. Semarajaya Museum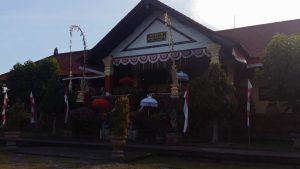 The Semaraja Cultural Museum was actually a school building that was used during the Dutch colonial period. The location of this museum is inside the Kertha Gosa and Taman Gili complex.
This museum displays objects that are products of authentic Balinese culture. In addition, tourists who come can also find objects of prehistoric heritage. Most of these items were used in the Puputan Klungkung War.
This museum was inaugurated in 1992 by the Minister of Home Affairs of the Republic of Indonesia. In addition to seeing historical objects, tourists can also relax in the very beautiful courtyard of the museum.
Read also:
14. Kertha Gosa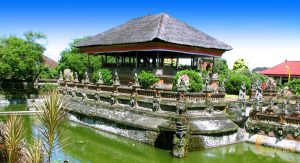 Kertha Gosa is one of the most well-preserved cultural heritages in Bali. Kertha Gosa was built during the Klungkung kingdom, or around 1686.
At first, this area was used as a discussion place for royal officials about the condition of the Balinese people at that time. The development of this area was initiated by Ida I Dewa Agung Jambe who at that time was the holder of power in Bali.
There, tourists can see buildings with Balinese architecture. In addition, tourists can also enjoy the work of painting. The entry ticket price is only Rp. 12,000. Before entering, tourists usually have to wear a special Balinese scarf.
15. Bedugul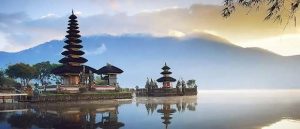 This tourist spot is one of the choices of cultural tourism that is most often visited by tourists. The location is in a cool mountainous area. There is Lake Beratan which is wide and green.
There is also Ulun Danu Temple which is a holy temple. If you want to go to the temple, tourists must take a boat. Bedugul is also a village located at an altitude.
There are many strawberry plantations because the weather is very suitable. In addition there are also several other tourist objects in Bali related to culture, including:
Saren Templeto enjoy a traditional Balinese dance performance
West Gianyar Mas Villagewhich is one of the sustainable traditional villages to this day.
Blanco Renaissance Museumwhich is a Balinese painting museum.
Sukawati Art Marketwhich is an art market that displays all the knick-knacks of Balinese art.
Holy mountainwhich is one of the sacred and sacred mountains in Bali.
Thus 20 cultural attractions in Bali that can be visited while on vacation in Bali. Hopefully this article is useful. If you want to travel to Bali, it's a good idea to start looking at the cultural tourism there as an additional insight and different impression. Happy Holidays.