Central Maluku is a district located in the province of Maluku. Some areas in Central Maluku are located on separate islands, namely Seram Island, Ambon Island and are located on other small islands. Central Maluku is known as one of the spice centers in Indonesia, so it is not surprising that during the colonial era, Maluku was one of the provinces that also had tourist attractions in Ambon that the colonialists wanted. Apart from the spices, Central Maluku is known to have a very enchanting natural beauty. For those of you who feel tired of work, you can try visiting various natural attractions in Central Maluku. If you are confused about not having a reference for a vacation in Central Maluku, here are our recommendations for 17 tourist attractions in Central Maluku.
1. Banda Island (Banda Naira)
Banda Island or Banda Naira is one of the islands located as a tourist spot in Central Maluku, precisely in the Banda Islands. During the colonial period until the 19th century, Banda Island became a center for the spice trade, which is also a tourist spot in North Maluku. In addition to being one of the historical places in Indonesia, Banda Naira is well known for its fascinating marine tourism. The beauty of the underwater world is amazing with diverse flora and fauna, around 250 species of marine life live under the sea on Banda Island.
Besides being able to see the beauty of flora and fauna in the underwater park, we can also see various large marine mammals such as whales and dolphins. We can watch whales and dolphins directly on the boat when we explore Banda Island. Not only the beauty of the sea that is found on Banda Island, we can visit the Belgica Fort which stands very majestic and has high historical value.
To get to Banda Island we can take a ferry from Ambon city and it will take about 1 night to get to Banda Island. If you are from the island of Java, you can use the Pelni ship from the Tanjung Periok port and keep in mind that this Pelni ship only travels to Banda Naira every 2 weeks via the Ambon route to Banda Naira.
2. Liang Beach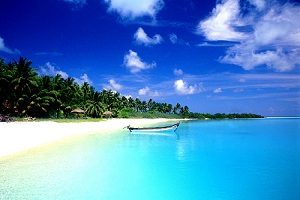 Liang Beach is one of the beaches that has been named the most beautiful beach by UNDP – the United Nations in the 1990s. This beach has white sand and looks sparkling when the sun shines. You can do various activities as a suitable tourist spot for a farewell on the burrow beach, namely playing water. Liang Beach has very clear sea water with a bluish color. Swimming and playing in the water by enjoying the beauty of the burrow beach is very suitable to be used to fill your holiday time.
To get to Liang Beach, we can use a motorcycle taxi from downtown Ambon at a rate of Rp. 50,000, but if you want to visit it with friends, you can rent transportation which will be cheaper than an ojek. Usually if you rent public transportation you will be charged Rp. 200,000 and this transportation can accommodate a maximum of 10 people. The distance taken to get to Liang Beach is about 40 km from the city center of Ambon. For the price of admission to Liang beach, don't be afraid to be expensive! Because with only Rp. 15,000 you can enter this Liang beach tour.
3. Ora Beach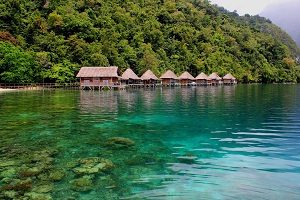 Ora Beach is one of the attractions located on Seram Island, a tourist spot in Central Maluku. Ora Beach is known as the Maldives of Indonesia which is an attraction as a romantic and cheap honeymoon place because it has white sand with very clear sea water. For the route to Ora beach, if you come from Jakarta, you can take air travel to Ambon. After arriving in Ambon to continue to Ora beach, use the sea route through Hulnara Harbor by ferry. This fairy ship can only accommodate 350 people and will travel to Seram Island, please note that the sailing schedule to Seram Island is carried out 2 times a day with a ticket price of around Rp. 150,000 and for VIPs around Rp. 292,000, the time needed to get there Seram Island is approximately 2 hours.
We can do various activities including as a suitable tourist spot for backpackers, namely diving, snorkeling. To enjoy the beauty of the underwater world, tourists do not have to dive deep because with a depth of only 2 meters, the underwater beauty of the beach is not visible. Various coral reefs and marine life really attract the attention of tourists, besides that there are still many sea urchins and spiny starfish that can be found around Ora beach. How are you not interested in visiting Ora Beach? What are you waiting for, immediately schedule a vacation to Ora Beach.
In addition to the 3 tourist attractions above, there are many other tourist attractions that you can visit in Central Maluku including:
Natsepa Beach.
City Door Beach.
Osi Island.
Nusa Pombo Island.
Amsterdam Fort.
Bair Island.
Morea Wai Village.
Hatuasa Hot Springs.
Makariki Cliff Lake.
Namalatu Beach.
World Peace Gong.
Screen Stone.
Santa Beach.
Lawena Beach.
Ambon Bay.
Mount Binaia.
Watubela Islands.
Those are some tourist attractions that you can visit in Central Maluku. Make sure to prepare all your vacation needs completely, so that the holidays are comfortable and keep your stamina while on vacation. Hopefully this article can provide a reference when you are going on vacation to Central Maluku. Happy Holidays!