Talking about tourism objects that are suitable for young people, actually all regions have tourist attractions that are suitable for young people who are adventurous, cheerful, and always want to try new things. Here are some places in Indonesia and abroad that can be a reference for young people to travel.
Karimunjawa Islands
Karimun Jawa, located in Jepara, is very popular among tourists who like beaches, especially young people. To reach the Karimun Jawa Islands, you can take a ferry. The advantages of this one tourist attraction are beautiful beaches with clean and clear sea. For those of you young people who like snorkeling and diving, you don't have to look far to find the right location, just come to the Karimun Jawa Islands.
Lombok
Now the name Lombok is as popular as Bali. The atmosphere of Lombok, which is not as busy as Bali, makes it a popular tourist choice for young people. Some tourist destinations in Lombok that are suitable to be visited with friends include Senggigi Beach and Tanjung Aan, as well as Gili Trawangan. (read also: tourist attractions in lombok)
Yogyakarta
Gudeg City is the next tourist destination for young people. What are the advantages of Yogyakarta so that it is suitable for youth tourism?
A complete tourist destination; The Special Region of Yogyakarta has a complete and interesting tourist destination to visit. Starting from shopping, culinary, religious tourism, to nature tourism, all are available. Those who like to climb mountains can come to Merapi, or for those who like historical tours, visit Vredeburg Fort or Prambanan Temple, don't forget to watch the Ramayana Ballet stage, OK?
Student City ; Yogyakarta is also known as the city of students. Because this city has many students and has many schools and colleges. Well, who knows if a vacation to Yogya will meet new friends and they both like traveling, maybe they can be friends on a trip to unique places in Indonesia.
Culinary delicious and cheap ; Food in Yogyakarta is famous for its deliciousness and low prices. Besides gudeg, there is also stir-fried firecracker and cheap cat rice that shakes the tongue. With a thin wallet, we can already taste delicious culinary delights.
Many places test your guts; Many tours that test your nerves and trigger adrenaline, are worth a try. For example, the Timang Beach cable car, Parangtritis paragliding, sandboarding Gumuk Pasir.
Easy to reach; The location of the city is easy to reach from anywhere so there is no need to bother if you want to enjoy a vacation in a warm city.
Interesting photo spots; There are many interesting tourist spots that we can snap, such as temple buildings, monuments, enchanting nature, and enchanting beaches.
Bali
Bali, the Island of the Gods, has many tourist destinations that are suitable for young people. Such as visiting Sanur Beach, Kuta, or visiting Trunyan Graves, Lake Batur, Sukawati Market, Kintamani, and those who like to take photos can see green rice fields with terraces. Anyway, beautiful scenery, challenging natural attractions, beautiful beaches, and delicious culinary. Suitable as a tourist spot for young people. (Also read: tourist attractions in Bali)
Where to Hang Out for Young People in Yogyakarta
Gelato Tempo
This place is a kind of cafe with industrial and rustic style architecture. This place really attracts the attention of young people because Tempo Gelato is different from other hangout places in the Prawirotaman area which serve a lot of heavy food. Tempo Gelato provides Italian gelato or ice cream with various flavors.
Starting from chocolate, strawberry, nutella, vanilla, mango, green tea, and so on. The price is Rp. 20,000, – up to Rp. 25,000, – very affordable, right? And here it is also widely used for photo locations because of the unique interior.
Location : Jalan Prawirotaman 43, Yogyakarta.
Epic Café

This cafe is a hit among young people and is quite luxurious. The interior with the design of the New York industrial warehouse not only functions as a cafe but also sells many unique interior objects.
This place is suitable for gathering with family because the place is spacious. The menu is varied and of course has a delicious taste. Food and drinks here range from IDR 17,000 to IDR 35,000.
Blanco Coffee and Book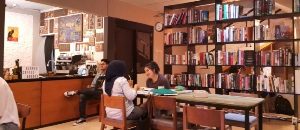 Blanco Coffee and Book is very lively and fun to hang out. The place is also suitable for working because of the large size of the desk.
The mainstay menu available here is the croissant, which is a type of bread with a crispy outside and soft inside and filled with cheese, which is a favorite of the visitors. The price of food and drinks in this place is priced at Rp. 15,000, – to Rp. 30,000, -.
Roaster and Bear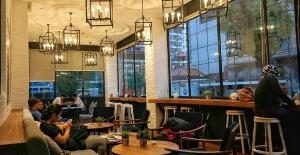 The unique interior, which is a combination of glass, wood, and iron elements makes this cafe even more elegant. This new cafe is perfect for gathering and hanging out with friends.
This beautiful cafe is also suitable for taking pictures. There are many variations of coffee and latte with affordable prices, which range from Rp. 12,000 to Rp. 55,000,-.
Location on Jalan Mangkubumi No. 52, Jetis, Yogyakarta.
KR

This angkringan is a gathering place for young people and the community. The price is cheap and does not drain the pocket. On weekends this angkringan will be busier than usual. The menus available here include cat rice, fried tempeh rice, kikil rice, chicken rica rice, anchovy chili rice, and others.
With an additional menu of intestine satay, quail egg satay, fried food, and crackers. For drinks, the mainstay here is iced milk tape ijo. The price of food and drinks ranges from Rp. 1000, – to Rp. 5000, -.
The location is Jalan Mangkubumi, in front of the People's Sovereignty office.
Tourist Attractions for Young People Abroad
Prague, Czech
A city that has an antique charm from Europe and is perfect for young people who like cultural adventures. It is highly recommended to walk through the entire city on foot, so that you can enjoy the beauty and splendor of the city as seen in the movie.
Paris, France
For young people who like romantic travel, Paris is the right choice. A city of light known for its high-quality fashion, culture, art and food. Suitable for those who are looking for a place of romantic entertainment. Don't forget to visit the Eiffel Tower, okay?
Rome, Italy
A city that has a high culture and a unique history from Europe is very suitable for young people to explore. Magnificent buildings adorn the city, including one of the highlights is the sloping minaret of Pisa. It definitely creates a sensation of its own when walking through the city.
Bangkok, Thailand
The city has a tropical climate with beautiful beaches, exotic natural scenery, and a bustling nightlife that makes this city popular among young people. Magnificent temple buildings and delicious unique culinary delights such as mango sticky rice and tom yam make Bangkok not to be missed from the list of must-visit tourist attractions for young people.
Amsterdam, Netherlands
Amsterdam, one of the cities in Europe that is rich in culture, art, and architecture. Offering young people to join in and greet the community is warm and really fun. Some places worth a visit include Anne Frank's House, the city canal, and the Van Gogh Museum.
Dublin, Ireland
Looking for a party atmosphere? Come to Dublin and have a great party here. There are many fun places for young people, restaurants and cafes are right for those of you who are young at heart.
Havana, Cuba
The beautiful beaches and culture of the city of Havana are stunning and don't forget to also visit the famous cigar factory there, yes.