Karimunjawa is one of the marine tourism areas in Indonesia which has always been favored by tourists who like beaches, seas and islands. This tourist attraction is located in Jepara, Central Java. Karimunjawa is one of the large islands inhabited by the community. Then what are the tourist attractions in Karimunjawa that can be visited when doing tourism activities there? Here's the full review.
1. Lele Lele Beach
Legon Lele Beach is one of the tourist attractions in Karimunjawa which is quite famous and quite often visited by tourists. Reportedly, this beach has historical value, which is the first spot where Sheikh Amir Hasan landed who was going to spread Islam on the island of Java.
On this beach, tourists who come can enjoy white sand and a very spacious sea view. To visit it, it is recommended before sunrise, because this beach is one of the best spots to welcome the day.
To come there, tourists can rent a two-wheeled vehicle. The road to this beach is not completely perfect. Therefore, it is very necessary to be careful when driving a motorbike.
2. Joko Tuwo Hill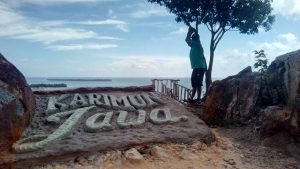 One more tourist attraction in Karimunjawa that can be visited by tourists, namely Bukit Jowo Tuwo. This hill is on top of a hill that is still very natural. This hill is also very beautiful to visit.
The specialty of this hill is that there is a giant mammal skeleton which is believed to be a whale skeleton. In fact, the name Joko Tuwo itself is taken from the philosophy of the whale, which is male and has a long life.
In addition, this hill is also a cool spot to enjoy the sunset view. This hill also has very beautiful andesite rocks.
3. Bukit Love Karimunjawa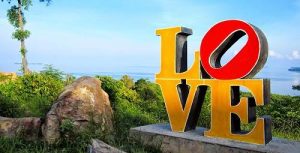 Love Karimunjawa Hill is still near Joko Tuwo Hill. From the Karimunjawa square, this hill can be reached in about 20 minutes using a two-wheeled vehicle.
The specialty of Bukit Love is its stunning beauty. In addition, there are also several markers that can be used to take pictures as memories with traveling companions.
The location of Love Hill is in Jatikerep Hamlet, Karimunjawa Village. This hill is also one of the best places to enjoy the wide view of the Karimunjawa archipelago.
4. Ujung Gelam Beach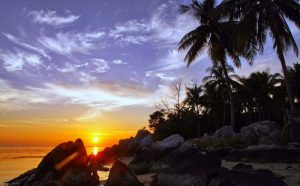 One of the Tips for Packing Holidays to the Beach is to bring the best camera. If you visit Karimunjawa, try visiting this beach in Karimunjawa. Ujung Gelam Beach is a beach that is quite famous and often visited by tourists. This beach is a beach at the western end of Karimunjawa.
Its position is not far from the center of Karimunjawa, with a distance of 30 minutes using a two-wheeled vehicle. Most tourists who visit Ujung Gelam Beach are to enjoy the best view of the sun.
Karimunjawa tour packages which are widely offered to tourists also usually provide recommendations to visit this beach in the afternoon to wait for the sunset.
5. Batu Mask Beach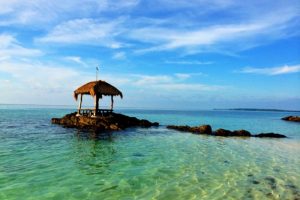 Not far from Ujung Gelam, there is another beach that is also interesting to visit, namely Batu Topeng Beach. This beach is also the best spot to enjoy the sunset.
The beach sand is very white and also clear. Visitors can also sit and rest in a gazebo while waiting for the sunset itself.
In addition to the gazebo, on this beach there are also trees and swings that can be enjoyed while relaxing. The specialty of this beach is that it is quite quiet because tourists usually go to Ujung Gelam at sunset, and not to Batu Topeng.
6. Annora Beach and Hills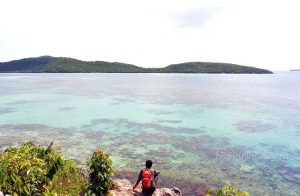 Annora is a location in Karimunjawa which has hills and charming beaches. The location is on the north side of Karimunjawa. Annora beaches and hills are suitable for adding recommended vacation references in Karimunjawa.
This location has a very artistic decoration element, namely with tables and chairs that can be used as a place to rest. There are also swings like on Gili Terawangan, Lombok. There is also a beautiful garden there.
Meanwhile, Annora hill itself can be climbed to see a wider view of the sea from a height. And of course this will add to the collection of memories from Karimunjawa.
7. Tomb of Sunan Nyamplungan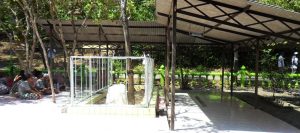 Sunan Nyamplungan is another name for Sheikh Amir Hasan who is the son of Sunan Muria. Sunan Nyamplungan is an important figure in Karimunjawa, who introduced Islam.
Tourists who want to see historical tourism in Karimunjawa can visit this place. There is the petilasan of Sunan Nyamplungan or Sheikh Amir Hasan.
Although this place is not actually a tourist spot in Jepara, if there is time, tourists who want to visit there are also allowed. As long as you maintain good manners and cleanliness.
8. Mangrove Tracking Karimunjawa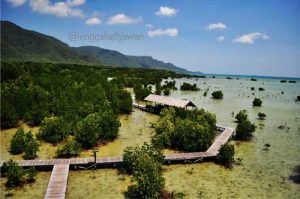 Marine tourism is also synonymous with the existence of mangroves. When traveling to Karminujawa, try to come and enjoy the sensation of tracking in the mangrove forest. There is a tracking path along 2 kilometers of wood.
The lush and green mangroves can provide its own beauty and memories. In addition there is also a viewing tower that can be climbed. At its peak, you can see a wide view of Karimunjawa.
This mangrove forest itself is divided into two sides, namely those that enter the Karimunjawa Island area and those that enter the Kemujan Island area. To enter Kemujan, tourists can also go through this mangrove bridge.
9. White Stone Beach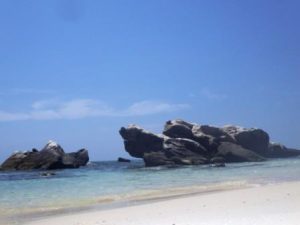 One more beach in the Karimunjawa area that can be visited by tourists, namely Batu Putih Beach. This beach is approximately 15 km from the center of Karimunjawa, which is more precisely in Jelamun Hamlet.
The name of the White Stone is taken from the presence of a large white stone sticking up. The stone when wet will be dark in color, but when dry it will be white and make this place has its own charm.
On this beach there is also a simple wooden pier. This pier can be used as a cool photo spot because it directly leads to the blue ocean. What's special is that this place is still quiet so tourists can enjoy the beach like a private beach.
10. Jabe Flower Beach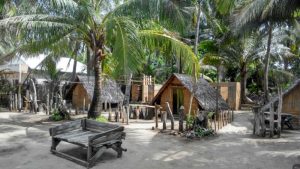 Bunga Jabe Beach is one of the tourist attractions in Central Java which has an indescribable beauty. There will lay white sand, perfect with a very beautiful blue sea. The uniqueness of this beach is that there are interesting art installations.
This installation takes the form of swings, houses on stilts, tables, chairs, canoes, and even dwarf houses. In addition, the building on this beach is a building on stilts that will remind tourists of the Bugis tribe.
Food menus can also be found there, so this location is also one of the locations for culinary tours in Karimunjawa which is recommended with a variety of delicious menus.
11. Bugis Village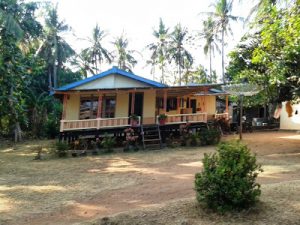 As explained above, Karimunjawa will remind tourists of the Bugis tribe. It is true, because Karimunjawa is also a location where there are many Bugis tribes there.
The Bugis then build houses and buildings similar to their respective cultural heritage. Those who live there still maintain the culture of the traditional Bugis architecture.
Tourists who go to Karimunjawa can also enjoy the simplicity of the Bugis Village that is there. Although this Bugis house has adapted to the environment more or less, the richness of the Bugis is still original and natural.
12. Bako Lolo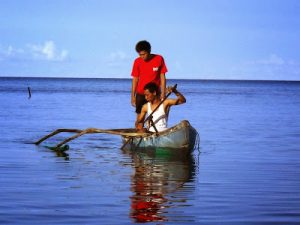 Bako Lolo is one of the spots in Karimunjawa that will provide tranquility and shade. This place is actually a lagoon that has a dense mangrove forest.
This lagoon is not affected by waves from the ocean because it is surrounded by mangroves. Therefore the waters in Bako Lolo are classified as very calm. This place is one of the best locations for canoeing and is quite safe.
This tourist spot does not have many facilities because it is not yet developed. Many tourists also do not know this place.
However, local residents will definitely want to show the way and also help tourists to get there. Just ask the residents around Karimunjawa about this location.
13. Ujung Batu Lawang Beach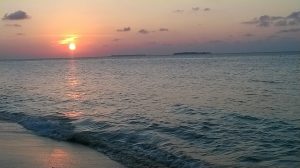 Travel equipment to the beach in Karimunjawa is to make a list of tourist attractions to be visited. One of them is this beach. Ujung Batu Lawang Beach is a beach located at the northern tip of Karimunjawa Island. This beach is certainly a beach with a wide sea view.
There is also a mangrove forest that can be used as an interesting tracking location. However, this beach is also still quiet and can be used as an interesting reference to enjoy a quiet tour in Karimunjawa.
A natural and natural atmosphere and impression can be found here. Although the trees are very dense to be able to pass, but for visitors who like adventure, the trip to this beach will be very giving an experience in itself.
14. Mrican Pier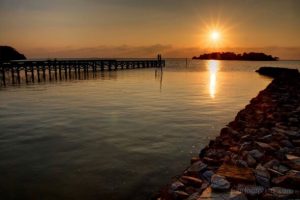 Mrican Pier is a pier that is quite large and very useful for fishermen around Karimunjawa. This is because, on this beach, fishermen anchor their boats.
Fishermen who come will be welcomed by residents who want to buy fish directly from them. Usually this buying and selling process is done in the morning. For tourists who want to see this culture, come in the morning.
But if you want to come in the afternoon, that's okay too, because the sunset on the pier is also very cool to be captured with the best camera. Come in the afternoon towards sunset and enjoy the sunset in this quite quiet place.
15. Barracuda Beach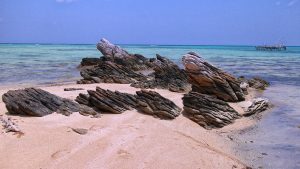 Barracuda Beach is a beach in Karimunjawa which is quite often visited by tourists who come. The scenery on this beach is very beautiful, with clear blue seas.
In addition, you can see a group of small islands from a distance, so that it can provide a unique view that may not exist on other beaches in Karimunjawa.
This beach can be used as a swimming or playing spot because the waves are quite calm. There are also many inns that can be rented to spend the night on Kemujan Island.
16. Shark Hatchery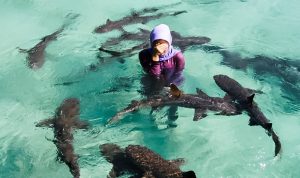 In Karimunjawa there is also a tourist spot that allows tourists to swim with sharks. This shark sanctuary is on Menjangan Besar Island. When will you be able to swim with sharks?
If you're curious, come to the Karimunjawa Shark Hatchery Center and try swimming with the sharks. But take it easy because the shark in it is certainly a tame and harmless shark.
However, the size of this large shark can give a distinct impression for tourists who come. Especially if you've never seen a shark before.
Those are some recommendations for Karimunjawa tourist attractions that can be visited. Enjoy tourism in Karimunjawa as effectively as possible. Immediately determine which attractions are interesting and schedule a trip with a fun traveling companion. Happy Holidays.