Indonesia, a beautiful country with a diversity of flora, fauna, and ethnic groups. Indonesian nature has no doubt its beauty. In addition, Indonesia's various natural conditions, such as mountains, caves, beaches with towering waves, can attract tourists to visit and enjoy different tourist sensations and maybe adrenaline because of the extreme natural terrain.
Speaking of extreme tourism, does it exist in Indonesia? Of course! Let's take a look at the extreme tourist attractions in Indonesia.
Timang Beach Cable Car
The location of this tourist attraction is in Yogyakarta, precisely in Purwodadi village, Tempus sub-district, Gunung Kidul. This is an area where lobster/shrimp fishermen are often found.
Maybe there are those who don't know that on Timang beach there is an extreme tour. Yes, cable car! Ah, just the cable car, where's the extreme? Eitts … this one is not an ordinary cable car, you know.
If in our imagination comes a train with pull engine technology, push the shadow aside. Because the Timang island cable car is still traditional. It is at a height of 50 meters and a distance of 100 meters. This train is actually a means of transportation used by local fishermen for the large coral menu on the other side.
However, because of the extreme, namely: the train is only made of wood, when passing over the sea the water splashes up to our bodies and the waves sometimes wet the body, at the most extreme this train only contains one passenger each time crossing (cannot be crowded) many tourists interested in trying it even though access to Timang beach is quite difficult.
It should be noted, yes, that the Timang beach cable car is not an official tourist spot, so there is no insurance or guarantee if something happens to us when trying the extreme sensation of crossing using a traditional cable car.
Fun Surfing in the Mentawai Islands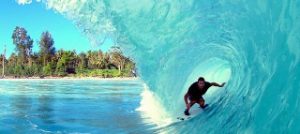 We can do this exciting surfing when visiting the Mentawai islands. The area is located about 150 km in the Indian Ocean, Mentawai. Has several main islands consisting of: North Pagai, South Pagai, Sikakap, Sibora. We can enjoy beautiful beach tourism objects here.
Not only that, the high waves (1.5-4.5 meters) are included in one of the best waves in the archipelago. And the various characteristics of Mentawai waves make domestic and international tourists interested in trying out the taste of surfing in Mentawai.
With 72 surfing points, with 49 entry points being an exclusive category, it can satisfy visiting surfers. So, for those of you who like surfing, please come to the Mentawai Islands
Explore Jomblang Caves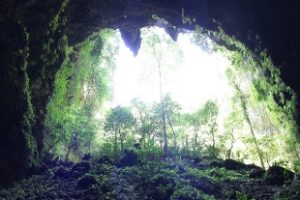 Jomblang Cave is located in Yogyakarta, precisely in the village of girlfriends, Samano sub-district, Gunung Kidul. What's interesting about the Jomblang cave, in addition to the vertical shape of the cave, is also due to the existence of an ancient forest at its base whose species are endemic plants that have evolved due to minimal lighting from the sun.
Beautiful cave ornaments can be found in a passage that is approximately 300 meters long. This passage is the door that leads to the Cave Hut where there is the light of heaven. The mouth of the Jomblang cave is about 50 meters wide. And entering it requires expertise in the form of a single rope technique. So you can't enter carelessly without equipment.
In exploring this vertical cave, we will be accompanied by an experienced guide. For safety equipment and cave exploration equipment in the form of ropes and helmets, rental is provided and one person is charged a rental fee of IDR 140,000. Hmm… quite affordable, right?
Every day, visitors who want to enter the Jomblang cave are limited, so you have to be fast in order to enjoy the sensation of going down this vertical cave. In order to see the beautiful light of heaven, the ideal time to enter the cave is between 11-1 pm.
Paragliding Sensation in Matantimali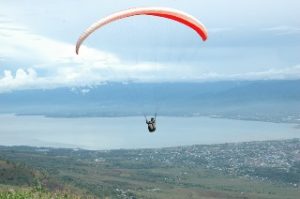 Want to feel how paragliding is? Visit the Matantimali Mountains, Sigi district, Central Sulawesi. Precisely 30 km from the city of Palu.
From the Matantimali mountains we can see how beautiful the city of Palu is, because these mountains are located 1000 meters above sea level. The Matantimali Mountains are the best paragliding places in Southeast Asia and one of the best in the world.
The wind that blows down the slopes of the mountain is very helpful for those of us who want to paraglide. Here we can feel the sensation of paragliding all year round. Several sporting events such as the Indonesia Open Paragliding were also held in the Matantimali mountains.
Extreme Rock Climbing in Harau Valley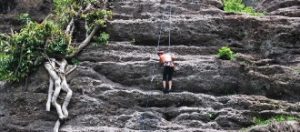 Rock climbing lovers or professional rock climbers must be familiar with the name Harau Valley, West Sumatra.
Yes, right! It is touted as a paradise for Indonesian rock climbers. The exact location is in the city of Payakumbuh, about 2 hours from the city of Padang.
The height of the valley is up to 300 meters and around it there are several hills, such as Singkarat hill, Tarangtang, Jambu hill, and Air Putih. The species in the Harau valley is the long-tailed monkey. On the slopes of the cliff, there is also a natural pool formed from several waterfalls that flow from the top of the cliff. The names of the waterfalls are Sarasa Ayeloluyi, Sarasa Murai, Sarasa Bunta, Sarasa Ayeange.
Blue Lagoon Cliff Jumping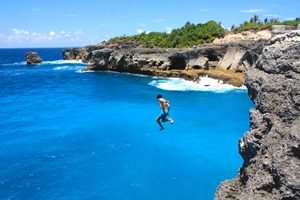 This extreme nature tourism is located in Nusa Ceningan, Bali. This island with exotic panoramas, apparently saves extreme tourism too, yes.
In Blue Lagoon cliff jumping, we will jump from a cliff as high as 13 meters and below will be greeted by fierce sea waves.
So, in jumping, you need to wait for the waves to calm down first, to be safe. When performing the attraction of jumping from a height, it is expected to remain careful and alert because medical services are not provided here.
The right time to sample the Blue Lagoon extreme tourism is the summer around June to September, and October.
Climbing Mount Anak Krakatau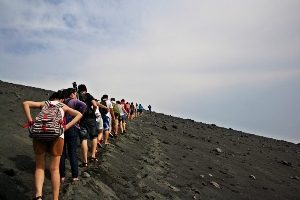 Mount Anak Krakatau is located in Lampung. This mountain was formed due to the eruption of Krakatoa that occurred in 1883. As many as two-thirds of the island of Krakatoa, where Mount Krakatoa stands, sank into the ocean and the rest is a small island called Anak Krakatau.
Mount Anak Krakatau has a height of 230 meters above sea level and has black volcanic sand. So when we climb, it will be a bit of a hassle because the footing in the form of volcanic sand is easy to sink and not sturdy. When climbing, we don't need to worry because we will be accompanied by nature reserve officers.
However, it should be noted that the climbing limit is only up to near the dome for safety reasons. But the view from the slopes is also very beautiful, really. You can see the blue expanse of the Sunda Strait stretching with small islands around it.
Conquer Mount Semeru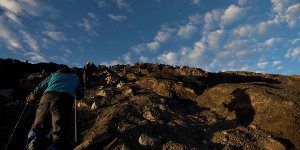 Mount Semeru is located in East Java and has a peak called Mahameru.
The highest mountain on the island of Java, has a height of 3,676 meters above sea level. At the top of the mountain we can feel what the land above the clouds is like.
Keep in mind, the climb can be done for 4 days so prepare your stamina and keep your energy strong. We can also find the beautiful Ranukumbolo Lake in Semeru.
Strolling through Trunyan's grave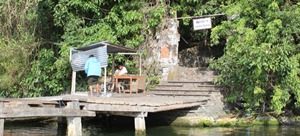 The exact location of Trunyan's grave is Bangli, Bali. Or on the side of Lake Batur which is close to Mount Batur. To go to the Trunyan grave, tourists can take a boat from the Kedisan pier. There are two guards, one of whom plays gamelan.
There is no charge for us to explore Trunyan's grave. But only need to fill out the guest book and make donations as sincere as we are.
What's so extreme about Trunyan's grave? This grave is not the same as other graves. There are no burial mounds, but we will find skulls here and there.
White water rafting on the Alas river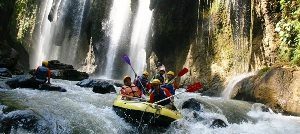 The location of the Alas river is 165 km southeast of Takengon, namely in the Gunung Leuser National Park. The rushing river water with lush forests in the Gunung Leuser National Park, makes us challenged to be able to conquer the Alas river.
Rivers with rapids that are full of challenges and winding terrain make the adrenaline rush. Various animals can also be found when we rafting.
Among others: birds, deer, monkeys and elephants. For beginners the route starts from Muarasitulan (Kutacane city) to the city of Waves (adjacent to the Indian Ocean). For professional rafting, take a further route, namely from Angusan which is adjacent to Blangkejeran.
Exploring Pindul cave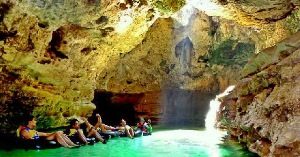 Pindul Cave is located in Gunung Kidul, Yogyakarta. Exploring this cave we can enjoy the beauty of stalactites and stalagmites.
But before searching, it is necessary to use security equipment such as head lamps, buoys, rubber tires that have been prepared by the manager.
Tracing the calm flowing river in Pindul cave takes about 45-60 minutes. From the crevices of the cave will be found light that enters through the gaps, and this is very beautiful.
And the best time to visit is at 09.00 or 10.00.
Lawang Sewu

Lawang Sewu is located in the Tugu Muda area, Semarang. This ancient building which is famous for being haunted is visited by many tourists, you know.
Because it has a high historical value. Some of the buildings in Lawang Sewu are former prison buildings, mass murder sites, and bunkers.
Lawang Sewu means a thousand doors. Actually this building does not have so many doors, but many long and large windows that are considered like doors. This is why the building is named Lawang Sewu.
Safari on Komodo Island
Komodo Island is located in East Nusa Tenggara. Here we can enjoy the sensation of interacting with ancient animals that still exist and live today, namely giant lizards which we also know as Komodo dragons.
Has a body length of 2-3 meters with a weight of up to 165 kg. These ancient animals are very sensitive to the smell of blood.
When on the island of Komodo, it is expected to remain vigilant and continue to be near the guide. It is not recommended for someone who is experiencing open wounds or menstruating women.
Green Canyon body rafting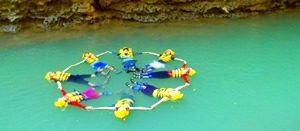 Green Canyon, it's overseas, huh? Not! This extreme tourism is in our country, to be precise the Pangandaran area, West Java.
Here we can do body rafting, white water rafting! Wow, fun! Enjoy the flow of the Cukang Taneuh river, by simply wearing a life jacket, water shoes, and a helmet.
The currents of the river are swift and unpredictable. Tourists must jump if blocked by river cliff walls or large rocks. You need to be careful to avoid accidents, injuries, or torn pants. This river has a current of 8 km and can be reached in approximately 5 hours.
Climb to the top of Rinjani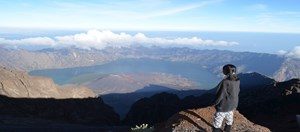 Mount Rinjani is located in Lombok, West Nusa Tenggara. The climb can be done via four routes. First, the Senaru route (600 meters above sea level), is the most preferred route because it is short and passes through lush tropical forests.
Both Sembalun trails (1150 meters above sea level) are gentler than Senaru and the terrain is tough, passing through the savanna.
When passing this route we will be on the Sembalun field and can set up a tent there while enjoying the beauty of Segara Anak lake and Barujari mountain. Torean route, it's good to go through this route because there is a porter service that makes it easier for us during the climb. Timbanuh route which has water stock throughout the ascent to Rinjani.
Citatah rock climbing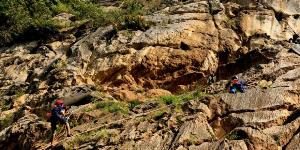 The Citatah limestone mountains are located in West Java, Padalarang. The rocks here are of the karst type. The part of the cliff that is suitable for beginners is the one whose path is easy to climb, namely cliffs 125 and 48.
The height of the cliff reaches 100 meters with a climbing route named Poster, Cobra, Rockstar. You still have to be careful when climbing and pay attention to the rules, such as respecting fellow rock climbers and local residents and not destroying cliffs.