Southeast Sulawesi Province has many interesting tourism potentials that you should visit. Of the many tourism potentials that exist in Southeast Sulawesi, save a million beauties that are full of culture and history. Many foreign tourists have gone on vacation to enjoy the natural beauty in Southeast Sulawesi.
Here are some tourist attractions that you must visit, when you are on vacation in the provision of Southeast Sulawesi:
1. Muna Island
Muna's palau charm can make you pampered, when it comes to this place. Muna Island has a tropical climate making it rich in green plants that thrive. In addition, the island of Muna has an underwater panorama that is no less beautiful. The mainland of the island of Muna is generally lowland which has an average height of 100 meters above sea level. Due to its fertility, the island is famous for its teak and cashews. The teak wood produced from this island has become one of the most famous mascots. Muna Island is located in the southeastern part of Southeast Sulawesi Province. The area of ​​​​the island is approximately 2,889 sq km and is located south of the equator.
Read also:
2. Labengki Island
In the area there are several diving spots and snorkeling. It is undeniable, Labengki Island has beautiful coral views and clear water. That's why this place has become one of the tourist destinations that are being hunted by tourists. In addition, the beaches on Labengki Island are on average white sand. Labengki Island is located in Lebengki Village, precisely in Lasolo District, North Konawe Regency, Southeast Sulawesi. If you want to take a vacation to Lebengki Island, you must bring food and drinks. Because this island does not provide food stalls and even lodging facilities. If you want to stay overnight, it is recommended to bring your own tent.
Read also:
3. Nambo Beach
Nambo Beach is located in Kendari City, precisely in Abeli ​​District. This beach is approximately 16 km from the center of Kendari City. If you want to visit this place, you are required to be extra careful because the road conditions are quite winding and there are ravines and cliffs on the right and left sides of the road. As far as the eye can see Aanda will be treated to beautiful natural beauty and cool air towards Nambo Beach.
The facilities at Nambo beach are quite adequate because there are 31 gazebos, rinse rooms, villas, parking areas, and stalls selling food and drinks. This tourist spot is perfect for spending your holidays with family or loved ones.
Read also:
4. Liwutongkidi Beach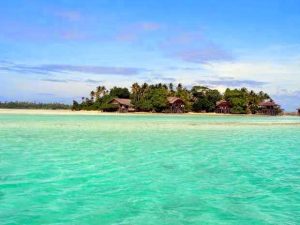 Along Liwutongkidi Beach, there is a stretch of clean white sand. Not only that, the underwater natural wealth of Liwutongkidi Beach is a tourist attraction. You can find various types of unique charcoal reefs in this place. This beach is located in Buton Regency, Southeast Sulawesi. If you want to visit this place, you can use airplane transportation with a travel duration of 1 hour from the city of Kendari or by ship with a travel duration of approximately 4 hours.
The atmosphere of the beach in Sulawesi will make you feel happy in itself. With natural views of the sea and also tall trees so that it gives a cool and beautiful feeling if you visit this beach.
Read also:
5. Samparona Waterfall
This waterfall has a height of about 45 meters. The existence of the Samparona waterfall is flanked by two cliffs and surrounded by natural and cool forests. Samparona Waterfall is located in Kalisabu Village, which is located in Sorawolio District, Bau-Bau City, Southeast Sulawesi. The trip to the location of the waterfall is very challenging, as well as adrenaline. But don't worry, the fatigue that will come your way during the trip will be pleasant because there are rows of pine trees and the chirping of birds which gives a natural effect during the trip.
Read also:
6. Tumburano Waterfall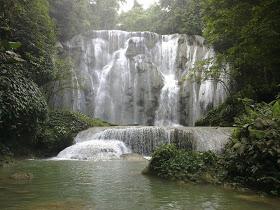 The beauty of Tumburano Waterfall is so enchanting as far as the eye can see. This waterfall has three levels that are still beautiful. You should visit this waterfall, because the beauty of this waterfall can spoil your eyes. However, the beauty of this waterfall is not commensurate with the facilities in this place. Tumburano Waterfall is located in Konawe Regency, Southeast Sulawesi Islands.
This waterfall is located in the forest, but apparently this place is the most beautiful place. Because, there is a very large cliff resembling the roof of an ancient traditional brown house. This provides its own uniqueness that can be conveyed and enjoyed by visitors. You can feel directly the coolness of this waterfall. You will feel fresh, pleasant, and calm when you go down the rocky cliff.
7. Moremo Falls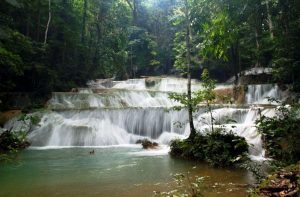 Many people say that the Moremo waterfall is the most beautiful waterfall in Indonesia. Moremo Waterfall is located in the forest area of ​​Tanjung Peropa Nature Reserve. The distance to get to this place is approximately 40 km from the center of Kendari City. The water conditions in this place are very clear and natural. Unlike other waterfalls, here the marble stone flowing by the water is not slippery.
This is because the Moremo waterfall area is in a limestone area, so suit moss grows. This beautiful and exotic tourist attraction is located in Sumber Sari Village, right in the Moremo District, South Konawe Regency, Southeast Sulawesi. Stop at this one tourist spot so you can enjoy natural attractions that are very mandatory for you to enjoy.
Read also:
8. Blue Lake
Blue Lake is located in Parambahan, precisely in Talawi District. This lake is a flood in Southeast Sulawesi. This lake is formed from former coal mine excavations which over time filled with water and became a small lake. In this area you will be presented with a beautiful view, with a blend of green trees. This place is a destination that you should visit. If you intend to go to this Blue Lake, you are encouraged to use a special vehicle. Because the terrain to get to this place is quite challenging. The rocks are quite sharp, making it a challenge in itself if you want to go to this place. (Also read: Tourist Attractions in Palembang)
With the atmosphere of this amazing blue lake, it makes you feel at home for a long time enjoying the atmosphere of this lake. You can enjoy an atmosphere that is truly natural and at the same time you can jump right in to enjoy the atmosphere of the lake.
9. Taborasi River
At first glance, the Taborasi river is not like a river in general. Because this river has a length of only 20 meters. That's why this river is often dubbed the shortest river in the world. Taborasi River is located in Tamborasi District, Kloka, Southeast Sulawesi. It is different from other rivers which are always polluted by waste. The Taborasi River is still beautiful and natural. So you will feel calm and comfortable while on this river.
The clarity of the water in this river, makes everyone who comes want to swim to enjoy the freshness of the river water. This place not only radiates the beauty and beauty of the river, but the beauty of the shady trees makes the atmosphere cool and comfortable. If you want to come to this place, you can take it by land, with a distance of about 85 km from Kolaka City.
Read also:
10. Wawolesea Hot Springs
Wawolesea Hot Springs is located in Wawolesea Village, which is located in Lasolo District, North Konawe Regency, North Sulawesi. In this place has hundreds of hot springs that come from the bowels of the earth. Hot water in this place has a difference with hot water in other places. Because the hot springs here taste salty, like seawater and smell like sulfur.
The bathing pool in this place has a staircase pattern composed of limestone. When viewed from a distance you will see a blue gradation of water. Around the baths are overgrown with pine trees which make this place more beautiful and comfortable.
11. Wakatobi Marine Park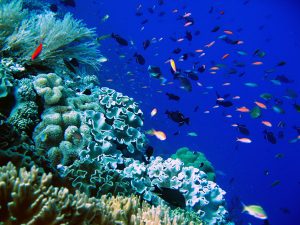 Wakatobi Marine Park is located in Wakatobi Regency, Southeast Sulawesi. This sea tourism has become a popular tourist destination that has been known for quite a long time. Wakatobi Marine Park is famous for its coral reefs and diverse marine life. Specifically, this marine park area is surrounded by beaches of coral islands for approximately 600 km. There is a lot of potential that can be managed from this Wakatobi Sea Tamam tourism. This area is perfect for those of you who like activities diving, snorkelling, swimming or fishing.
The natural beauty of the sea which is in a tourist spot in Sulawesi, this landmark makes you will not be able to forget how beautiful the underwater world is that is still well preserved.
Read also:
12. Buton Palace Fort
Buton Fort is circular in shape with a circumference of about 2,740 meters. Buton Fort is one of the historical relics. Previously this fort functioned as the capital of the Sultanate of Buton which has a unique architect, with limestone material originating from the mountain. The Buton Palace Fort has 12 gates and 16 cannon emplacements. The fort is located at the top of a hill. When you are at the Buton Palace Fort, you can see the beauty of the city of Buton or the city of Bau-Baudari on high. Until now, the Buton Palace Fort still stands strong. (Also read: Raja Ampat Papua)
This Buton palace fort has its own characteristics that are owned by the people of Sulawesi. So many tourists who want to see this Buton fort. They will not only enjoy your history but they will also be given a view of the surroundings of this fort.
13. Tanjung Paropa Forest Reserve
Tanjung Paropa Sanctuary Forest is designated as a wildlife reserve area, because in this forest there are various tropical blind ecosystems, mangrove forests, groves, and coastal forests. If you visit this forest, you will find wild plants and wildlife such as anoa, deer, cuscus, black monkey, and various birds.
This forest has a main function as the protection of the life support system, besides this area is functioned as a water regulator for the Tanjung Peropa area and its surroundings. (Also read: Matahari Tourism Park)
14. Kendari Beach
The beach, which is still in Kendari Bay, offers its own beauty for tourists. Apart from being a tourist spot, Kendari Beach can be used as a favorite hangout place for the surrounding community. If you visit this place, you will see round tents. These tents provide karaoke facilities and sell food and drinks.
By enjoying the natural beauty that is in addition to the view of the boats of the fishermen who are starting to move aside which will add to the beauty that is in view.
15. Kendari Mayor's Park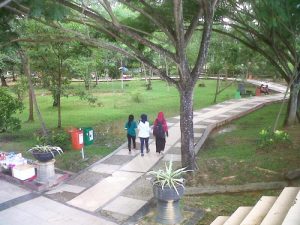 The following is one of the tourist attractions in Southeast Sulawesi, namely the mayor of Kendari which has a garden. In the Kendari mayor's park there is a land which has an area of ​​4 hectares, this land is specifically for facilities and infrastructure. Here it is also equipped with free electricity, walkways that you can enjoy, tables and concrete chairs that are made permanently. Kendari mayor's park also has hundreds of trees that are still small and there are also trees that are already large enough to make this park look cool.
Kendari Mayor's Park which has a cool and beautiful area that makes you feel at home to enjoy your tour in Kendari Mayor's Park with your family or friends. You also do not need to spend a large budget to enter this park. With a standard budget, you can enjoy the natural atmosphere that is provided. The trees in the mayor's park already have a dozen years, namely during the reign of Loade Kaimoeddin these trees were planted.
Those are some of the attractions in Southeast Sulawesi. Actually there are other tourist attractions, which you can find. Hopefully this article is useful for you. Don't forget to capture your precious moments while on vacation in Southeast Sulawesi.