Rembang is one of the areas in Central Java which is directly adjacent to East Java. Rembang is a small town in Java that is passed as the Pantura route. The city is also famous for the figures of Kartini and Sunan Bonang.
It turns out that this city has a variety of interesting tourism potentials to visit. Anything? Check out some of the tourist attractions in Rembang below.
Read also:
1. Lodan Embung
Embung Lodan is a marine tourism. Previously, this location only functioned as irrigation for residents. But because of the beauty of the scenery, nowadays many tourists also come.
Embung Lodan does have a view in the form of a wide water basin surrounded by vast green fields and beautiful hills are also visible. This location is suitable for family tourism.
The location of the Lodan Embung is precisely in Lodan Wetan, Sarang District, Rembang Regency. Residents who visit are mostly residents of the Sarang itself.
2. Mangrove Forest
Rembang also has quite a lot of beach areas. As a result, there is a coastal tourist attraction in the form of a mangrove forest. Initially this mangrove forest only functioned as an antidote to abrasion from the sea on the shoreline.
Over time, the location was developed as a mangrove tourism area. Most of those who come are domestic tourists. Those who come usually only hunt for photos.
The location of this mangrove forest is in Pasarwangi Village, Rembang. To enter the mangrove forest, tourists are only charged Rp. 2,000.
3. Karangsari Park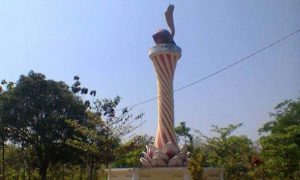 The city of Rembang apparently also has a camping ground or campground. Its name is Karangsari Park. This bumper is managed by the Scout Movement Kwartir Branch in Rembang Regency.
Reportedly, this bumper is also the largest campground in Rembang. There have been many big events related to scouting and other outdoor activities that have been held here.
Several major events that have been held here are the XII Regional Jamboree and the Scout Anniversary of Central Java. The location of this bumper is in Karangsari Village, Sulang District, Rembang Regency.
Read also:
4. Tomb of Raden Ajeng Kartini
Who doesn't know RA Kartini? This female emancipation hero is buried in Rembang.
The location of his burial is always crowded with pilgrims and domestic tourists.
The tomb of RA Kartini is a witness to the history of the struggle of the Indonesian people against the Dutch colonialists, especially to increase the dignity of women in Indonesia.
The location of Kartini's grave is in Bulu Village, Bulu District, Rembang Regency. If you visit Rembang, don't forget to visit this tomb.
5. RA Kartini Service Room Museum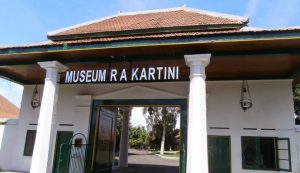 In addition to the tomb of RA Kartini, in Rembang City Center there is also the RA Kartini Service Room Museum. This museum is a tourist location that is often visited during study tours from schools. But there are also independent tourists who visit alone with their families.
Most of the tourists who visit are curious about the history of Indonesia, especially Kartini's activities in the past. There is an original writing from RA Kartini's handwriting that can be seen.
The location of this museum is on Jalan Gatot Subroto, Rembang city. The museum can be visited every day, except Monday. Opening hours are 8:00 a.m. to 5:00 p.m.
6. Binangun Beach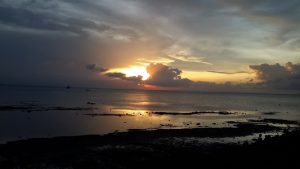 Rembang, which is a city on the north coast route, of course has a fairly long coastline. Around Rembang, there are several beaches that are now a tourist attraction, one of which is Binangun.
Binangun Beach is located right on the edge of the highway. Tourists who have passed the Lasem – Rembang route must have passed this beach. Near the beach there is also another tourist attraction which is Petilasan Sunan Bonang.
Even though this beach is on the side of the road, the view will be very charming, especially at sunset. The plan is that this beach will be developed as an official tourist location with the addition of several other facilities.
Read also:
7. Caruban Beach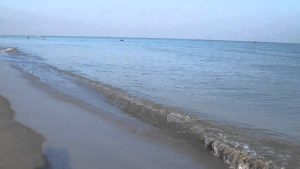 Caruban Beach is a beach located in Lasem District, Rembang. Precisely in Gedongmulyo, Lasem, Rembang.
This beach has not been visited by many tourists because it does not have complete facilities as a tourist attraction. But there have been several people or local residents who visited this place.
The specialty of this beach is the long and wide sand area, so tourists are more free to play in the water there. In addition there are many green plants that refresh the eyes.
8. Dampo Awang Beach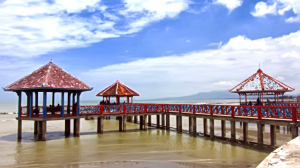 This beach is quite famous because it is in the heart of Rembang. Formerly this beach was named Kartini Beach Recreation Park. However, the name was changed to Dampo Awang Beach because in Jepara there is a beach with the same name.
This beach has developed as a tourist location that has many facilities. Tourists can play and try flying fox, boats, and also a children's playground.
The location is very easy to access and it is certain that all Rembang residents know the location.
9. Jatisari Beach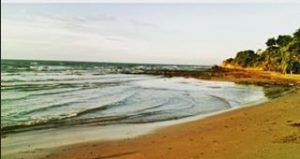 In addition to the three beaches above, in Rembang there is also a beach that is quite charming. The name is Jatisari Beach. This beach has white sand and distinctive rocks.
The naturalness of this beach is still awake. The main feature of this beach is that tourists can see a charming sunrise view. If you want to visit, it is better in the morning while waiting for the sunrise.
The location of Jatisari Beach is in Sluke District, Rembang. Many tourists who come there to enjoy the panorama.
10. Ginger Coral Beach
The next beach in Rembang is Karang Jahe Beach. This beach is classified as a newly opened tourist beach in Rembang. The name of this beach is popular because of social media.
The name of this beach is taken from the condition of the beach which has many pieces of sea coral that are shaped like ginger. That is the uniqueness of this beach which is different from other beaches.
The beach is also still very clean and white sand. If you want to visit it, the location is in Panjulharjo, Lasem, Rembang.
Read also:
11. Sunan Bonang's Petilasan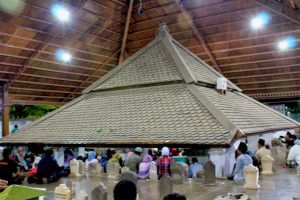 This tourist spot in Rembang may be familiar to the public, especially those who are Muslim. This is the petilasan of Sunan Bonang. Local residents believe that this place is a resting place for Sunan Bonang.
Sunan Bonang himself is one of the Walisongo who used to spread Islam in Java. His real name is Raden Maulana Makdum Ibrahim.
This place has become a religious tourism location which is always crowded by visitors and pilgrims from various regions. The location is in the area of ​​Bonang, Lasem, Rembang.
12. Argopuro Lasem Puncak Peak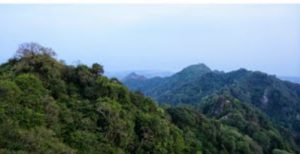 Mount Argopuro is one of the mountains directly adjacent to Rembang Regency. The mountain which has a height of only about 806 meters above sea level is crowded with tourists and nature lovers.
Although it is a mountain that is not too high, it takes quite a strenuous climb to get to the top. From the bottom, climbers usually take 2.5 hours on foot, depending on body condition.
The location is in Ngroto Village, Pancur District, Rembang Regency. You who like to climb mountains, just try climbing to the mountain.
13. Sumber Semen Nature Tourism Park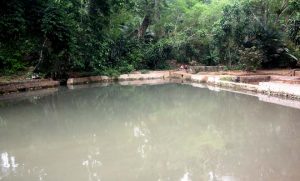 This tour is still fairly quiet. Not many tourists come because this location still needs better development. But many camped there.
This tourist park is a tourist park with a collection of flora and fauna as a means of education. Some of the flora that are kept are Teak, Miri, Persimmon, and Mahogany. While the fauna consists of langurs, partridges, and finches.
If you want to visit this place, it's better with your family, because this location is suitable for family tourism.
14. Kartini Mantingan Tourism Area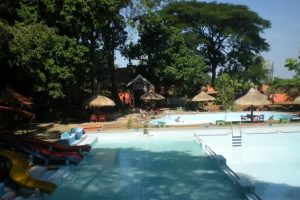 This Kartini Mantingan tourist location is in Mantingan Village, Bulu District, Rembang Regency. This tourist area is a natural tourism which is also a family tour that can be visited.
This tourist location is also not far from the Tomb of Raden Ajeng Kartini. If you visit Kartini's grave, it's better to stop by this tourist area as well to just relax.
The specialty of this tourist area is that it has a shady tourist forest. In addition, there are also many facilities that accommodate tourist activities, for example a children's playground, swimming pool, and several gazebos that can be used to rest when tired on the trip.
15. Lasem Sejarah Historical Tour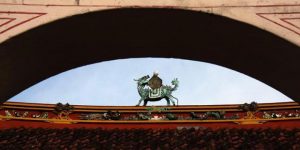 Lasem area is to the east of Rembang City. This location also earned the nickname Little China because there were many ethnic Chinese landings on the island of Java. As a result, many historical relics are still maintained their authenticity.
In addition, there are also many Tinghoa villages that color the city of Lasem. Over time, the Lasem area also received the influence of Islamic civilization. This condition makes Lasem dubbed the City of Santri.
From this history that combines Chinese history and Islamic history, it is not surprising that in Lasem there are many historical tours that can be visited.
Those are some tourist attractions in Rembang that can be visited and explored more deeply. Happy traveling in Rembang, Central Java. Hope it is useful.