Honeymoon is one of the most memorable things for newly married couples. Therefore, many people want to spend their honeymoon also in impressive and beautiful places. Bali and Lombok are among the best honeymoon spots in Indonesia. But it turns out that many also want to honeymoon abroad. For that, here are some of the best honeymoon places abroad that can be used as references.
1. Maldives . Islands
Maldives is the name of an island that is still in the Asian region so it is affordable from Indonesia. The Maldives Island and its surroundings are often used as a favorite place for couples who want to honeymoon after marriage.
The Maldives Archipelago itself actually consists of many small islands directly adjacent to the Indian Ocean. Therefore the scenery is very beautiful.
At night, if tourists sit by the beach, they will see a small sparkling light coming from another island that is so beautiful. Especially if the weather is sunny and equipped with star and moonlight. Surely the atmosphere will be very romantic.
On the Maldives Island there is also a special honeymoon program called Deserted Couple. In this program, each couple will be taken on a tour, one of them to an uninhabited island. They were only provided with food, then left to explore the island until the afternoon. After the afternoon, they will be picked up again. This program wants to emphasize the impression that the world belongs only to the two of us. How? Unique isn't it?
Read also:
2. Venice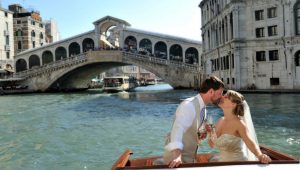 Venice is one of the most popular and romantic honeymoon spots in the world. Venice, also known as the floating city, is located in Italy. SThe main means of transportation in Venice are not buses or taxis, but boats and boats.
This is because the city of Venice was built on an archipelago, more precisely on 117 islands and is connected by canals and bridges. Interesting right? In addition, tourists and couples can enjoy typical Italian buildings in the city of Venice. One way is to ride the Gondola.
Honeymoon here will provide a valuable experience. It's best to come in February because that month there is usually a celebration or carnival there.
3. Phuket – Thailand
Want to find one near from Indonesia? Try coming to Thailand. As one of the countries in Southeast Asia, this country has an island that is a favorite destination in Asia for honeymooners, namely Phuket.
There are many interesting things that can be enjoyed with your partner. In fact, if you don't want to be complicated, honeymoon couples can ask for help from the resort to prepare romantic travel packages for honeymoon couples.
Various interesting activities can be done there, such as a spa with your partner, islands hopping, sailing on a cruise ship, romantic diving and snorkeling together, and you can also enjoy a romantic dinner by the beach. Definitely this will be the best honeymoon experience.
Even more interesting, couples can also remarry because there is a resort that provides a typical Thai wedding ceremony package. So that couples can feel the sensation of getting married in a Thai style, complete with live music on the beach. Besides that, exploring the city of Phucket at night is also fun. Couples can hunt for Thai specialties there.
4. Cebu – Philippines
A honeymoon with another beach concept besides Pucket is Cebu in the Philippines. Still in Southeast Asia, the Philippines does have endless natural landscapes to discuss. Cebu is an archipelago with small islands around it.
This place can be the right choice for honeymoon couples who don't want to go far. Many things can be done there with a partner to enjoy the atmosphere.
Some of the favorite activities for honeymooners who vacation in Cebu include sailing on a cruise ship in Mactan and watching sharks in Oslob. In addition, couples can also take honeymoon packages that have been prepared by certain resorts. Just choose the best resort and explore this tropical area with your partner.
Read also:
5. Udaipur – India
Udaipur is often said to be the most romantic city in India. Of course this is certainly suitable for couples who want to have a honeymoon or romantic honeymoon. Udaipur is a blend of cultural tourism, historical tourism, as well as having a modern part as well. This makes Udaipur very famous.
Honeymoon couples who like history are definitely suitable to come there. All tourists who come must be interested in walking around the city and entering the beautiful ancient buildings. Some of the famous buildings are the City Palace Museum as well as the City Palace itself.
Couples who like cultural richness can also visit Bharatiya Lok Kala Mandal. There is a large collection of dolls, masks, and other things that are very Indian. In addition there are also musical performances that can be enjoyed at certain times.
6. Istanbul – Turkey
Want to honeymoon in a beautiful country and have a heterogeneous population? Just come to Turkey. Honeymoon in Istanbul is the best choice for couples who want to get a unique atmosphere of a blend of western and eastern cultures. This is the charm of Turkey, where people can live in harmony.
The people there are very friendly. In addition, the beauty of the city of Istanbul is unquestionable. This city is a blend of many cultures. Some of the cultures that dominate Turkey include Greece, Persia, and Rome.
There are many places that can be visited for a honeymoon. There are several beautiful historical buildings, such as the Blue Mosque, Aya Sofya, Topkapi Palace, and the Basilica Cistern. Honeymooners can also taste a variety of Turkish specialties in the city of Istanbul. There are many traditional foods and processed foods.
7. Abu Dhabi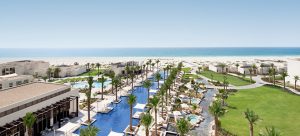 The next honeymoon overseas is Abu Dhabi. This place is indeed one of the countries whose name is currently quite famous. Abu Dhabi is famous for its beauty and modern facilities.
If you and your partner want to honeymoon in a unique area while traveling, this is the perfect location for the both of you. There are many resorts that can be visited with a comfortable, luxurious, and elegant concept. This condition will make the honeymoon couple willing to stay there for a long time.
In fact, there are many resorts that do offer honeymoon packages, so honeymooners don't have to bother looking for tourist attractions and are confused about the price. Interested in honeymooning in this place?
8. Langkawi – Malaysia
Apparently, honeymooning abroad doesn't have to be far, just go to Malaysia. This neighboring country also has interesting destinations for couples who want to honeymoon. One of the best places is Langkawi.
This place offers beautiful views typical of the tropics with many very beautiful destinations and it's a shame to pass up. Langkawi is also known as the Jewel of Kedah, so its natural beauty must be very attractive. In addition, this place has a similar weather to Indonesia, so there is no need to adapt to the new weather.
One of the attractions of Langkawi is the Cable Car. The cable car can provide a view of the beauty of Langkawi from a height. From above you can also see several small islands in the vicinity which are no less beautiful. Look for a honeymoon package to Langkawi to make it more practical.
Read also:
9. Hong Kong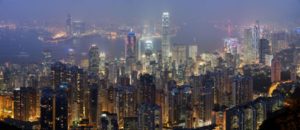 The next overseas honeymoon spot is Hong Kong. Hong Kong is a country in Asia that offers a beautiful city, rich culture, culinary delights, as well as a complete shopping tour. This country is also a target for many people who want to honeymoon.
There are many things to do as a couple in Hong Kong. You two can walk around the city while learning about Chinese culture first-hand. Exploring this country will never end. Moreover, there are many food vendors who offer a lot of delicious-smelling culinary delights.
This country is suitable as a honeymoon tourist attraction for those who like adventure and sightseeing in the city center while learning about many cultures. How? Interested in honeymooning in Hong Kong?
10. Saint Lucia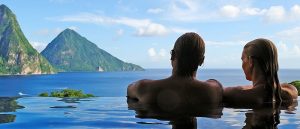 The next favorite choice is Saint Lucia. This place is a very natural and beautiful place, and offers interesting natural scenery typical of the archipelago. There are several resorts that can be booked to spend a romantic honeymoon.
You will be presented with views of the blue sea combined with green hills and sticking out of the flat sea. In addition, the blue color of the sea will blend with the blue of the sky. All of them will give a very different feel. Honeymoon couples who come there are definitely reluctant to go home as soon as possible.
In addition, there are many resorts to choose from, with swimming pools that directly lead to the ocean. Honeymoon couples can also do water sports together, such as kayaking or diving together. The underwater world is very beautiful to explore.
11. Lake Louise – Canada : Very suitable to visit for a honeymoon in winter or summer with a partner.
12. Tofino – Vancouver Island : Tofino on Vancouver Island can be visited to enjoy the sunset view with your partner and spend the night there.
13. Florence – Italy : Many ancient buildings with beautiful architecture that can be visited during honeymoon.
14. Tahiti : A typical coastal tourism that has beautiful views and is often used as a romantic and unique honeymoon location.
15. Kenya : There is a typical view of the vast grasslands and a variety of fauna that pass by, suitable for couples who like to travel in the wild.
Read also:
Those are some interesting honeymoon places abroad to visit with your partner. Determine your goals now and find a honeymoon package that suits your character and your partner. Happy honeymoon and happy holidays.