For newlyweds, of course, they want a romantic and beautiful honeymoon place. You don't have to go abroad to find your dream honeymoon location, you know. Because in Indonesia too many places that are fun and suitable for a honeymoon.
Bali
Not all places in Bali are suitable for honeymooners. Some places are already too crowded. The bustling atmosphere is certainly less romantic and fun for a honeymoon. Like Kuta or Benoa, both are tourist destinations that attract a lot of visitors to come. Well, if you want to honeymoon, choose a place that is not too crowded with fresh, cool air, a romantic atmosphere, and comfortable.
For the island of the gods, maybe the Ulun Danu Temple area, Kintamani, Bedugul, or Ubud, could be the right choice to celebrate your honeymoon. Meanwhile, for couples who like the beach atmosphere and want to stay near the beach, you can choose the Dreamland area or Karma Beach.
In addition to being suitable for honeymooners, the two beaches are also commonly used as locations for taking pre-wedding photos. With a supportive and comfortable atmosphere in Bali, your honeymoon will be unforgettable. (Also read: tourist attractions in Bali)
Bangka Belitung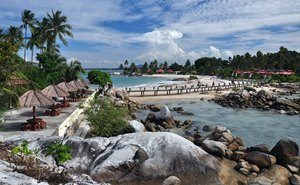 Tourist attractions in Bangka Belitung are mostly beautiful beaches and small islands. Indeed, these tourist attractions attract many tourists to come to visit, especially when the long holiday season arrives. For those of you who want to celebrate a honeymoon with your partner, Bangka Belitung can be an option.
But what needs to be considered is the selection of the time to visit, not during the holiday season, okay? Right, the honeymoon atmosphere will not be fun if it is too crowded and the place is not quiet.
If your time is limited, you should visit tourist attractions on one of the islands, Bangka or Belitung. But if you and your partner have enough time, you can visit Bangka and Belitung islands at once. (Also read: tourist attractions in Bangka Belitung)
Lombok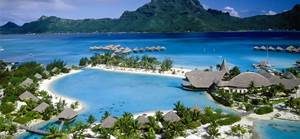 Several places in Lombok that are visited by many couples who are on their honeymoon include Senggigi, Gili Air, Gili Trawangan, Gili Meno. Meanwhile, tourist attractions that are suitable and do not require a lot of energy and time to visit there include Tanjung Aan Beach and the beautiful Narmada Park.
For couples who want to spend time on a honeymoon, it is not recommended to visit Segara Anakan or Pink Beach. Indeed, both are super beautiful tourist destinations.
However, to achieve it requires struggle, waste a lot of energy and time. So better choose another place. In addition to some of the places mentioned above that are suitable for honeymooners, there are other places that are also suitable for your choice of honeymoon location.
Its name is Gili Nanggu, the beach is white sand with turquoise sea water and blue sky. Here there is only one inn called Gili Nanggu Cottage. This inn carries a traditional concept and thatched roof. During the day you can play sand or snorkel with your partner and in the afternoon enjoy the beautiful sunset as a cover. (read also: tourist attractions in lombok)
Lembang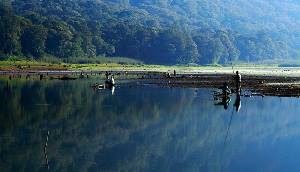 This tourist area that has a cool air has become one of the favorite honeymoon destinations, especially for those who live in Jakarta and only have limited vacation time.
Bandung is a city that is quite fresh when compared to Jakarta with all its activities, various tourist attractions in Bandung have become a favorite place for Jakarta residents, because the city is quite close.
Some locations in Lembang that are worth a visit include Ciater Hot Springs (soaking the body will certainly give you a sense of comfort and relaxation) or Tangkuban Perahu.
Both are recommended for those who want to spend a honeymoon in the Lembang area because it does not require much time and effort to achieve it. Well, if you want culinary, try coming to Lembang Floating Market and tasting the various delicious foods on offer.
Raja Ampat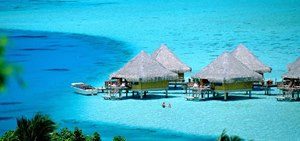 Raja Ampat is not only famous for divers' paradise but also for newlyweds. Yes, this is one of the right destinations to spend together you and your partner. Stunning underwater panoramas, the beauty of coral reefs and beaches are a complement to your honeymoon.
The location is in West Papua and the name is already popular to foreign countries. The many species of beautiful fish and coral reefs, white sandy beaches, small islands surrounding, all make Raja Ampat like a paradise for honeymooners. The famous resort here is the Misool Eco Resort which offers the enchanting beauty of the sea.
But unfortunately, tourism to Raja Ampat requires large funds. But for those of you who are already financially established, of course, that is not a barrier. There are so many advantages of Raja Ampat tourism that you can enjoy, vacationing to this tourist spot is the right choice, especially exploring the coast.
Bunaken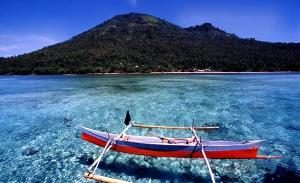 Bunaken, which is located in Manado, is a prayer place that seems to be labeled as a world-class honeymoon destination. Not without reason Bunaken was nicknamed that.
In the past, Bunaken tourism object witnessed the love of Prince Charles and Princess Diana when they got married. After they visited, many followed in the footsteps of the prince and princess pair.
The beauty of the marine park and its beaches is unquestionable and very fitting for a honeymoon. Couples who go on a honeymoon will enjoy the beauty of the sea more comfortably, especially when there are more things to do on the beach for a vacation.
Cape Lesung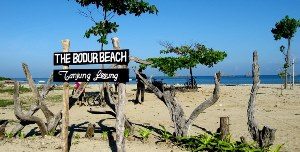 Tanjung Lesung Beach, which is located in Banten, is one of the attractive destinations of the many beautiful beaches there which are commonly used as a place to spend a honeymoon.
The location is not too far from Jakarta. The reason Tanjung Lesung is right for honeymooners is because it is a quiet place, can be used for diving, with stunning panoramas.
Not inferior to the beaches in Lombok and Bali. Indeed, the cost of lodging is quite expensive, but if this is a once-in-a-lifetime moment, there is nothing wrong, right? Moreover, you and your partner have a special budget for your honeymoon.
Losari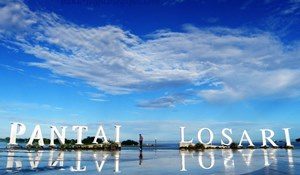 Losari Beach, located in Makassar, Sulawesi, is an option for newlywed couples to spend their honeymoon, especially those from the Makassar area.
Losari Beach with a charming orange tinge in the afternoon, you can see from the window of your inn room.
In the evening, you can have a romantic dinner with candlelight friends at a restaurant along Losari Beach. In the morning you can swim and dive together around Salmalona Island. Fun, right? So this is the right place for newlyweds to spend romantic time together.
Bukittinggi
Some of the interesting things about Bukittinggi as a tourist spot include, the place has cool and fresh air even during the day, as well as a calm atmosphere. Tourist destinations that you can visit with your partner are Jam Gadang, Ngarai Sianok, to Hole Japan.
Don't forget to capture the entire beauty of Bukittinggi with your camera lens. In addition to visiting beautiful tourist attractions, you and your partner can feel the sensation of riding a wagon and wagon around the city.
Looking for a cheap five-star hotel or lodging? Come to around Jam Gadang. Anyway, the alluring panoramic treats accompanied by fresh cool air make a honeymoon here complete.
Macassar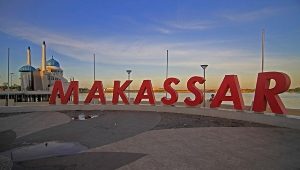 Makassar, which is the capital of South Sulawesi, is the perfect choice for your honeymoon. You can taste the beautiful underwater scenery that is served with various kinds of delicious cuisine when you are in this city.
This city is never empty of visitors and of course there are many choices of lodging with varying prices. Many tourist attractions that can be visited by tourists as well as exploring Makassar for tourists from outside the city and abroad.
The choice of tourist attractions include the historic fort of Fort Rotterdam and sip the coolness of Malino. Don't miss out on enjoying delicious food in Makassar with your partner.
Lake Toba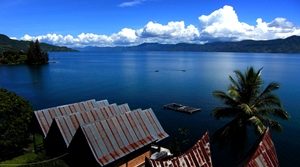 The charming Lake Toba becomes the next honeymoon tourist destination. Enjoying the blue water of the lake with the green surrounding natural scenery, it's really soothing to the eyes.
We can walk along Lake Toba by boat with a partner and stop by Samosir Island in the middle of the lake to see the typical Batak culture. There are many inns around the lake, so couples can rent a room and enjoy the beauty of the lake to their heart's content.
Yogyakarta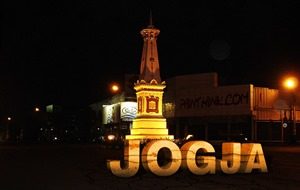 Yogyakarta is the next honeymoon destination. Here, there are a variety of interesting tourist attractions and lodging, ranging from shallow pockets to high-end available.
Enjoying a honeymoon with your partner in the city of gudeg is certainly very fun. Don't forget to enjoy the atmosphere of Yogyakarta angkringan and feel the sensation of eating together at the angkringan.
Some locations worth visiting include, Malioboro with various souvenirs, gifts, and delicious culinary, Taman Sari, Prambanan Temple, Ratu Boko Palace, Parangtritis Beach, beaches in Gunung Kidul, and various tourist villages.
Don't forget to also watch the Ramayana Ballet which was staged at Prambanan Temple and is the legendary love story of Rama and Shinta.
Sampireun Village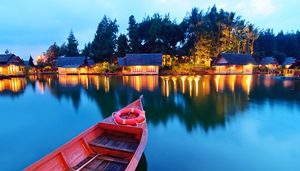 Sampireun Village which is located in Garut is a resort on a lake that has a thick Sundanese feel. The exact location is on Jalan Samarang Kamojang, Samarang District, Garut, West Java.
The altitude of this place is 1000 meters above sea level. Cool air, green nature, above the lake, you and your partner can spend time on the boat.
Sampireun Village has 22 bungalows on the shores of the lake with prices ranging from IDR 400,000 to millions of rupiah. Anyway, it's suitable to spend a honeymoon with a partner.
Ora Island, Maluku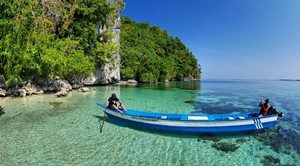 Ora Island is located in North Maluku. The place is no less beautiful than the Maldives. With a beach with clear green water and a really rich underwater panorama. Moreover, there is a resort on the sea as a place to stay for newlyweds.
Indeed, the trip to Ora Island is not easy and takes a long time. But when it arrives, the tiredness will disappear, replaced with a sense of happiness and amazement at the natural charm of Ora Island.
Want to spend more time on Ora Island? Overnight at the wooden resort. This is not just any inn, you know. The location of the resort is not on land, but in sea water. So if it's morning and just opening the door, we can immediately see the sea water in front of us as if inviting us to play. In the afternoon we can see beautiful ornamental fish on the wooden resort terrace. This is an unforgettable experience for you and your partner.
Moyo Island, West Nusa Tenggara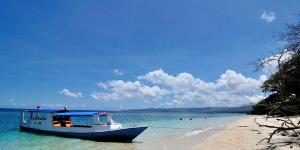 A honeymoon spot filled with beautiful beaches is Moyo Island, located in West Nusa Tenggara. Here we can not only enjoy the beauty of the beach and walk around the beach, but can do various exciting activities with a partner. Among other things, trekking, sailing, swimming, to diving.
The beautiful and clean beach atmosphere gives a sense of comfort when honeymooning here. For those who like adventure, you and your partner can try to explore the jungles of Moyo Island, there must be a sensation that is different from other tours. One of the resorts on Moyo Island is Amanwana.
But this inn is not suitable for those of you who have a thin wallet and a limited budget because overnight, eight million rupiah will be lost if you stay here. The building resembles a tent, you and your partner will feel like spending the night in the middle of beautiful nature. In the morning, a stretch of clean white sand will be the main sight with a hotel with a calm atmosphere, very comfortable for a honeymoon.
Those are some locations that are suitable for those of you who want to honeymoon. The selection of a quiet place, not too crowded, clean, beautiful, comfortable, and has beautiful tourism objects to visit are some of the criteria in choosing a honeymoon destination. Hopefully useful and happy honeymoon!