Sukoharjo, you could say, is one of the cities in Central Java that has many potential tourist attractions that we can visit. In addition, this one city itself is not far from tourist attractions in Solo. So, for tourists who are interested in visiting this city, it is not too difficult because the road access is quite easy from various directions.
The existence of many tourist attractions in Sukoharjo itself also makes Central Java full of tourist objects that can spoil us as tourists. The diversity of types of tourism in this area is classified as very much, we can find various types of tourist attractions in this city.
Some of the tourist attractions that we can visit in this area are quite a lot. However, this time we will discuss some examples of tourist sites that are quite famous here.
1. Alaska Waterworld
This tour, which is located in the Polokarto area, Sukoharjo, Central Java, is an individual property. The owner of this business is arguably quite observant to see the situation in Polokarto, which is arguably quite arid and hot. The state of nature owned by
Polokarto is very suitable for making a tourist spot based on water tourism. the existence of this place is very liked by the residents around this because this place itself is like a cooler for themselves.
If we talk about completeness, it can be said that this location has quite adequate equipment, although some aspects are still undergoing development and expansion. For the facilities themselves here are quite complete. the completeness possessed by this tempt such as
swimming pool
fishing pond
food court
slide
animal cultivation
2. Pandawa Water World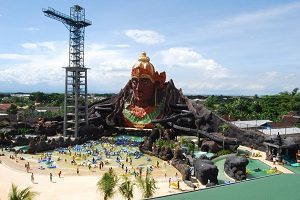 One more tourist attraction in Sukoharjo related to water. this time this tourist spot is located in the Grogol Solo Baru area. The location of this one is very close to the Indonesian people, especially the Javanese people.
The concept brought by this place by carrying the name Pandawa made it quickly popular and quickly became a prima donna for the local community. other than that this place itself is also quite spacious. as well as with various kinds of statues and reliefs that are very thick with the feel of the Pandavas, making visitors feel comfortable here.
If we talk about facilities then don't doubt this one place. The location is wide enough to make this place has a variety of facilities that are certainly very interesting for us to enjoy. Some examples of the facilities they have such as,
Stream Pool
Action River
Milky Slide
Sight tower
Warm Spa
Black hole slide
3. Royal Water Adventure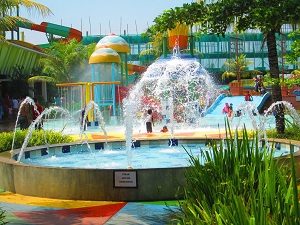 Sukoharjo has quite a lot of water attractions. One of the many places is this one. Royal Water Adventure, a water tourism spot that combines the concept of modernity with the concept of a family waterpark.
This place itself is in the Telukan area, or rather near the Solo – Wonogiri route. The place is very strategic and very easy to visit and find, so don't be surprised if this location is also one of the tourist destinations to play with family.
the facilities owned by this place are also quite good and varied. some of the facilities that we can find here such as
stream pool
child play ground
semi olympic swimming pool
body slide
4. Dam Colo
Tourist destinations or tourist locations can come from anywhere, sometimes there can even be an unexpected location. One location that is arguably very different from the others is this location. The Colo dam or dam actually functions to withstand the flow of water which is often used for irrigation in rice fields.
However, it turns out that this dam itself has a very good potential, namely as a tourist attraction that has not been touched by the government. The dam itself is in the Nguter Sukoharjo area.
In recent times this location is often visited by many people because of their curiosity. If we go down to the bottom of the dam, we will see rows of rectangular concrete below. This is what makes many people interested to come and feel or see for themselves the beauty of this dam. Usually those who come aim to take photos. It's better to come to this location and have to check the time and coordinate with the officers for our safety as well.
We don't only find reservoirs or dams that are tourist attractions in this area. Other cities also have similar tourist attractions, the closest is in the Boyolali area. we know Sidorejo Reservoir which has now become one of the tourist attractions in Boyolali.
5. The Palace of Kartosuro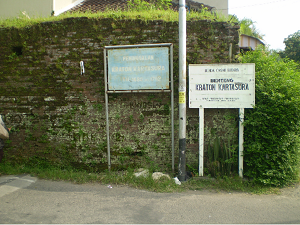 Tourism has various forms and purposes. However, what is certain is that everything will bring happiness. This tourist location in Sukoharjo is arguably a bit different from the others. This tourist location has considerable historical value.
There are not too many Petilasan Surakarta Palace in the Ngadirejo area. It's not even possible to say it's a complex. The number of remnants of this palace itself has been lost or changed its function into a residential area.
But we can still find the remains of a brick wall that encircles the complex inside the Kraton. If we want to explore the area around the complex, we can find some relics from the Kraton which was founded in 1680 and ended in 1742. At least we can still see that in this area there is one location that had become the center of government in Java at that time.
6 Pajang Palace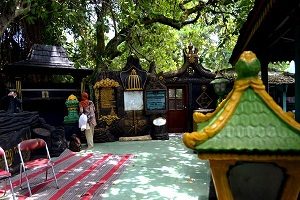 Another tourist spot in Sukoharjo that has a high historical value. The remains of the Pajang Palace which are still in the Kartosuro area. Here we can find various things related to the Pajang Palace which was founded in 1549 by Sultan Hadiwijaya or commonly called Jaka Tingkir. Pajang had become the center of government in Java, before finally experiencing a setback and disappearing from the royal arena in Java.
If we come to this location, we will see a lot of objects that are closely related to the display or Jaka Tingkir. These objects are either in the form of paintings or other objects that are considered to have a close relationship with Jaka Tingkir. While looking around, we can talk to the Kuncen interpreter in the petilasan about the history of the development of Pajang from its inception to the end of its decline.
7. Mount Sepikul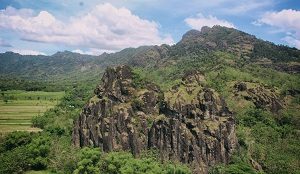 This tourist location offers stunning natural beauty in the Sukoharjo area. a location in the form of 2 twin rock hills that rise firmly, this makes many people want to come to this one location.
To be called a mountain is actually not quite right because it looks more like a hill. This tourist spot is in the Gentan area, Sukoharjo. To reach this place is not too difficult because there are indeed many accommodations that we can use to reach this one place.
This location is often used as a destination by many young people to travel and most of them are those who like to take photos in this area. This location is indeed famous for having a very beautiful and interesting spot for solo. For those who like photography, especially Landscape Photography, this location has a very beautiful and enchanting view. We recommend that you come to this place at dusk or early morning when the fog still hasn't dissipated too much. These two times are the right time to capture moments in this area.
Apart from that, there are several places that must be visited, namely:
Kora-kora Tourism in Purbayan Village, Baki-Sukoharjo District
Sendang Pinilih located in Sawah Jero, Janglengan, Nguter, Sukoharjo
Mulur Reservoir
Thousand Stone Chinatown pennant
Langenharjo Hot Springs
Petilasan of the Sultanate of Pajang which is located at the address: Jl. Joko Tingkir, Gang Benowo II Sonojiwan RT 5/RW 22 Tomb of Haji, Kartosuro, Sukoharjo.
Tomb of Ki Ageng Sutowijoyo
The tomb of Ki Ageng Purwoto Sidik located in Sarean Hamlet, Jatingarang, Weru Sukoharjo, Central Java
The number of tourist destinations in this city makes the city of Sukoharjo itself one of the tourist attractions in Central Java that must be visited. So, those were some tourist attractions in Sukoharjo that we could visit and visit. Hope it is useful