Indonesia has been widely known by various countries because of its natural beauty, unique culture and delicious cuisine. The combination of these three categories is a driving factor for foreign tourists not to hesitate to visit Indonesia. Previously, Indonesia was known for its exotic island of Bali or Padang's signature rendang cuisine, which is the best food in the world. Currently, the Indonesian people can be proud, because many Indonesian tourist destinations are favorites for foreign tourists.
The emergence of new natural tourist destinations from Indonesia did not just happen. There is a role for the government and its citizens to develop the natural potential that makes everything possible. Like Central Lombok Regency, which is actively developing tourism and competing with other cities/regencies in West Nusa Tenggara Province. Several tourist destinations in Central Lombok are well known to the public.
Central Lombok Regency is one of the regencies located in West Nusa Tenggara Province. It is located about 32 kilometers from Mataram City, the capital of West Nusa Tenggara Province. Here are 15 tours in Central Lombok including beach tours, waterfall tours, cultural tours and culinary tours.
Read also:
1. Mawun Beach
Mawun Beach is one of the beaches that must be visited if you are in Central Lombok. This beach has characteristics that are suitable for those of you who want to enjoy the beauty in tranquility because this tour is not too crowded with tourists.
Clean white sand stretches along the beach, calm blue sea water with a gentle breeze pampers your body. At the corner of the beach there is a hill that adds to its beauty. You can use this location to swim, take pictures and rest while enjoying the fresh young coconut on a hot day with your family or partner.
2. Selong Belanak Beach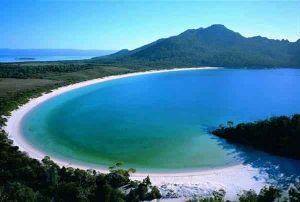 The famous beautiful beach in Central Lombok is one of the tourist attractions that you must visit. This beach is flanked by two large hills.
The blue sea there has waves that are big enough and can be used for surfing. On the other hand, the waves are so calm that you can swim or just play in the sand.
On this beach, you can also enjoy eating fresh sea fish with some Lombok specialties such as plecing kale or eggplant duck as a complement. Enjoying the sunset with your family can be your way to enjoy your vacation here. Its natural charm makes anyone who visits there will feel a satisfying vacation.
Read also:
3. Tanjung Aan Beach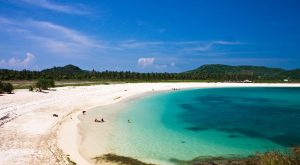 This beach has its own uniqueness compared to other beaches in Central Lombok. This beach has two different characteristics of sand. In one place, clean white sand stretches along the coastline. Elsewhere, the sand is slightly brownish in color.
Tanjung Aan Beach is the longest beach in Central Lombok. The local community then divides this beach into three parts, namely Batu Kotak beach, Orong beach and Cemara beach. This tour is suitable for playing ball in the sand or swimming because the waves there are not too big so it is safe for you and your family.
Read also:
4. Semeti Beach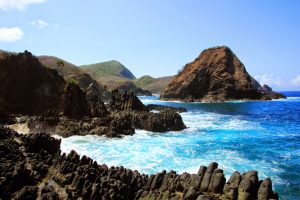 Semeti Beach is arguably the most complete compared to the beaches in the same area as Selong Belunak Beach and Mawun Beach.
The reason is that this beach has green hills at the corners, rocks that line the ocean, clean white sand that stretches along the beach and surging blue sea.
For those of you who like to take selfies at this location, it is guaranteed that you will have no trouble finding good photo spots. Access to this location is still not good, so it takes an extra struggle to feel its beauty. Even so, your tiredness during the trip will be paid off with the charm that you will feel while setting foot on this beach.
5. Kuta Beach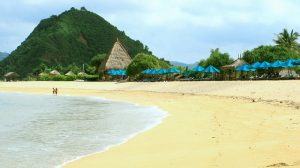 Kuta Beach is identical to the beach on the island of the gods, Bali. However, in Central Lombok there is also a beach with the same name. For tourists who have visited there, Kuta beach in Central Lombok is more beautiful. The reason is, Kuta beach in Central Lombok has clean white sand and a long coastline.
Kuta Beach is visited by many local and foreign tourists. The advantage is the location of the beach which is close to the highway and hotels where to stay. In addition, many local people peddle food, drinks and traditional cloths for souvenirs.
Read also:
6. Batu Payung Beach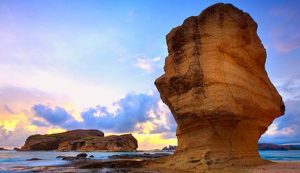 Batu Payung Beach has its own beauty that is different from most beaches in Central Lombok. Usually the beaches in Central Lombok are famous for clean white sand along the coast. On this beach, you will only see rocks along the coast.
What adds to its beauty is the towering rock that resembles an umbrella. That's why this tour is called Batu Payung Beach. This tour became known to tourists after being used for filming for advertisements. then many local people are interested in visiting this location. This beach is also ideal for enjoying the sunrise.
7. Yarn Netting Waterfall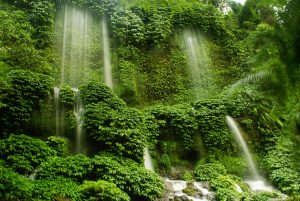 Tourism in Central Lombok does not only offer the beauty of the beach. Waterfalls in Central Lombok are also very beautiful and different from waterfalls in Indonesia. The famous waterfall in Central Lombok is called Benang Kelambu Waterfall.
The name is unique because the flow of water is not large which directly leads to the pool as in general. The water flow is located at several points touching the shady gambung trees and rocks before flowing into the pool.
As a result, this waterfall looks like a mosquito net or curtain attached to a rock cliff. It is said that local people believe that bathing in this waterfall pool will make you look a year younger.
Read also:
8. Batu Kawangan Waterfall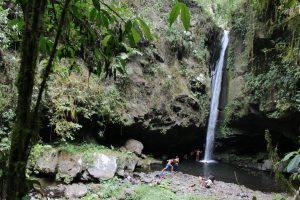 Batu Kawangan Waterfall is located in Lantan Village, North Batukliang District, Central Lombok Regency. The local people call it Tete Batu Waterfall.
This waterfall has not been visited by many tourists because it has not been used as a tour. Nevertheless, this place is worth a visit. The location can be reached by motorbike or car about 2.5 hours from downtown Mataram.
For those of you who want to find a new tourist atmosphere besides the beach, you can try visiting the village of Lantan. This waterfall has a cold temperature and is very fun to visit on a hot day.
9. Sade Traditional Village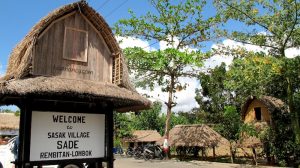 Sade traditional village is well known by local and foreign tourists. This village has been used as a tourist location for the indigenous people of Lombok by the local government.
The Sasak people who inhabit this village still maintain the authenticity of the building. The houses in this village still use palm fiber for their roofs, bamboo booths for their walls, and are grounded. Build a house without using nails to glue but tied with twisted straw. By visiting this village, you will feel like you are in the past life of the Lombok people.
Read also:
10. Taliwang Grilled Chicken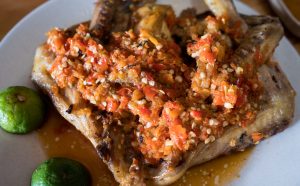 It's not complete when visiting Lombok without trying regional specialties. In Central Lombok, there are many restaurants that serve a special dish, namely Taliwang grilled chicken. This dish serves grilled chicken covered with chili sauce with a dominant spicy and sour taste.
This dish is the original cuisine of the Sasak people since ancient times and has now spread to various regions in the archipelago. If you are in Central Lombok, there is no harm in trying this dish directly from the area of ​​origin.
11. Merese Beach
12. Serenting Beach
13. Tunak Beach
14. Stokel Yarn Waterfall
15. Bebalung Lombok
Those are some of the tours in Central Lombok. Of course, it is very interesting to include in your vacation agenda. Hopefully add to your holiday reference.
Read also: