Tourist attractions that are not far from Jakarta, for those of you who live in the middle of the busy city of Jakarta, we often feel tired of working and feel we need a place for recreation that is not monotonous like a mall or cafe. But what if you still have to work on a certain project so you're not allowed to take time off, or you've just started working so it's impossible for you to request a leave of absence?
You need to know that just a little shift from the center of Jakarta, you can already find unique and interesting tourist attractions that you might not even expect, where you can let go of stress and fatigue for a moment without having to reduce your annual leave. Maybe you think that it must be Bandung, the Thousand Islands, Puncak or the Bogor Botanical Gardens, even though there are still many interesting and unique tourist attractions while eliminating boredom with the same tourist attractions. Where are these places? The following are 15 exciting tourist attractions not far from Jakarta:
Read also:
1. CURUG CIHERANG
Tourist attractions that are not far from Jakarta, talking about Bogor is not only the Bogor Botanical Gardens, which is your tour. The name of this place is taken from the Sundanese language which can be interpreted as 'clear waterfall', and is very suitable for the condition of the waterfall which is fresh and clear. Located in Sirnajaya Village, Sukamakmur District, Bogor Regency, this place is very beautiful with lush green trees ready to spoil your eyes. This tourist location that enters the Sentul area is relatively new, but it has a lot of demand and has been widely recommended.
If you are interested in going to this place, don't forget that the opening hours are from 07.00-18.00, Monday-Sunday. This place is approximately 40 kilometers from Jakarta and 20 kilometers from Citeureup District, Cibinong, and it takes approximately 2.5 kilometers to get here from Cibinong. Don't forget to bring a change of clothes in case you are tempted to play in the water, because the location is unique and tempting. So, if you drive just a little bit out of the city center, you can see beautiful green nature with chirping birds accompanied by the peaceful roar of a waterfall, of course this place is one of the locations that should be included in your list of stress-relieving therapies and you should try this weekend.
Read also:
2. TREE HOUSE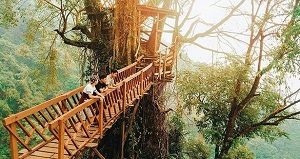 If you are satisfied and your mind is clear just by playing in the water and enjoying the beauty of the waterfalls of Curug Ciherang and returning home because you feel you are ready to face the challenges in Jakarta, of course it will not be a problem.
But if you still want to linger in this place, then there are two very unique and beautiful spots that you really shouldn't miss, namely the Tree House and the Ciherang Curug Suspension Bridge. You don't have to go to Omah Kayu in Malang if you want to enjoy the sensation of a tree house and get beautiful spots to take pictures.
For those of you who are not afraid of heights and enjoy exciting challenges, and of course you don't want to miss out on beautiful photo spots, then stopping by these two areas at the location of Curug Ciherang is the right decision. Being in this place feels like being in another world, or at least very far from the noise and pollution of Jakarta. Even if you still want to stay longer in this place to spend the weekend, please try lodging around this area which is no less unique and exciting because of the traditional nuances it offers.
Don't forget that you need to prepare money to be able to enter this tourist location, where the entrance ticket is IDR 5,000 per person, while the parking fee is IDR 5,000 for motorbikes and IDR 20,000 for cars. This price includes the price to enter the waterfall area, tree house and suspension bridge.
Read also:
3. THE SITU IS HUGE
Still in the Bogor area, now the tourist attractions that are not far from Jakarta offered are Situ Gede or which can mean 'big lake'. This lake is located on the edge of the Dramaga Forest, which is a research forest of the Forestry Research and Development Agency, Ministry of Forestry in Situgede Village, West Bogor. The location of the lake which covers an area of ​​​​approximately 6 hectares is often used for filming of films and soap operas. In this place, besides you can enjoy the beauty of the lake, you can also fish and it is often a destination for those who like to do this activity, boating while enjoying the beauty of the middle of the lake in a bamboo boat or taking a walk to enjoy the lush and cool forest around it.
To enter this area, you only need to pay a retribution of Rp. 5,000, and you can get an adventurous experience. While strolling in the forest in this area, you will come across tame deer and can play with them. An exciting and unique experience being able to play with deer in their natural habitat, surrounded by green and lush trees.
Read also:
4. ANGKE MANGROVE NATURAL TOURISM PARK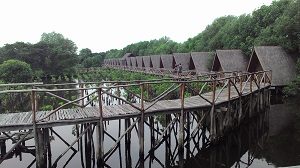 This tourist spot can be said to be still in the city of Jakarta, but it is still rare who do not know or lack information about it. Located in the Kamal Muara area, Penjaringan, North Jakarta, you will feel the beautiful and cool natural atmosphere so you forget that you are still in Jakarta. You can also come immediately in the morning when the air is still quite clean, because this place is open from 7 am to 6 pm.
This area has an area of ​​99 hectares and 40% of the area is Mangrove Forest which is intended to withstand the abrasion of sea waves. The price of admission to the mini-tourism location is Rp. 25,000, not including boat tours, mangrove planting activities or playing water bikes. In this place there is also a villa to stay, if you still want to enjoy the cool natural atmosphere but also want to be more comfortable. If you want to feel the atmosphere of adventure, please camp at this location.
Read also:
5. Estuary of Gembong Mangrove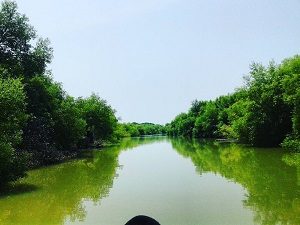 Who says Bekasi doesn't have interesting places? Try visiting this Mangrove forest in the Bekasi area. You will be taken to an adventurous atmosphere like in the middle of the Borneo forest or even the atmosphere of the Amazon jungle.
Boating a canoe, you can walk along the river with views of the mangrove trees on the right and left. You don't have to travel that far to have this unforgettable experience.
The Mangrove Forest or mangrove forest which is about 17 kilometers long in this area was originally damaged because it was used as a pond by fishermen in this area, causing abrasion and flooding to hit this area and damage the environment. Fortunately, there is a community of environmentalists who care about the preservation of this mangrove forest, which then fixes it and conducts conservation. In this place, besides traveling, you can also find out how to cultivate, how to plant and maintain mangroves.
Read also:
In addition, there are still many tourist attractions that you should look at to unwind and at the same time find experiences that you might not even get if you travel far, including:
Jatiasih Tree House, Bekasi
Cariu Deer Farm, Bogor
Fly Indonesia Paragliding, Cisarua
Cibaliung waterfall, Sentul, Bogor
Mount Pancar, Bogor
TVRI Nature Studio, Depok
Urban Forest, Depok
Godong Ijo, Depok
Mekarsari Tourism Park, Bogor
Agro Gunung Mas, Bogor
Tourist attractions that are not far from Jakarta, namely in the middle of a traffic jam when you come home from work, this time you don't need to stress. Think that there are many places around Jakarta that you can immediately visit to unwind. Imagine that this weekend is a great day with lots of exciting plans. Happy Holidays!
Read also: