Jakarta has many tourist attractions in every corner of the city. Starting from historical tours in the Old City to culinary tours, it is worth stopping by once in a while. But what about the night snack? Here are some Jakarta night culinary tours that you should make your next dining destination. (Also read: Cultural Tourism in Bali)
1. Pecenongan
Pecenongan is the name of a street located in the Sawah Besar area, Central Jakarta. Around Pecenongan there is an auto parts center for Sawah Besar, Juanda area, Istiqlal mosque and Pasar Baru. During the day, Pecenongan street looks like an ordinary street in Jakarta. From evening to night, Pecenongan changes. Sellers of various kinds of food gather to set up their tents and prepare to offer their wares, as follows from this place's description:
Pecenongan night culinary tour has been around since the 1970s. Since then Pecenongan has turned into one of the destinations for Jakarta residents to enjoy culinary at night. (Also read: Gitgit Waterfall)
Pecenongan is also an attraction for foreigners to come to liven up the streets of Jakarta.

Food vendors in Pecenongan sell their food at a price that is quite expensive. You could say, the price is not much different from big restaurants or cafes in other elite areas in Jakarta.

Maybe because this street has been known as a night snack center for a long time.

Moreover, the Pecenongan area is in the center of Jakarta's nightlife. No doubt the buyers who come are usually the upper middle class. (read also:

Prewedding Place in Bali

)
If you have the opportunity to come to Pecenongan street at night, hurry up seafood, Chinese food and martabak. These three types of food are the most sought after by culinary connoisseurs who come to Pecenongan.
Here are some restaurants on Jalan Pecenongan that are worth trying:
2. Food Fighters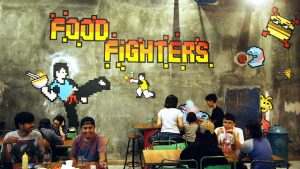 This one-night culinary tourism area is very popular among young people. But of course not only young people who come to Food Fighters, because around Food Fighters there is a family tourism area. Food fighters are behind Blok M Square, more precisely at the Fave Hotel. Next to Food Fighters are Kopi Oey and Gramedia, here are some of the unique features of this place:
At Food Fighters you can gather, just hang out, have fun, unwind, fill your stomach and more. (Also read: Tourist Attractions in Nusa Penida)
The atmosphere is comfortable and cool. Visitor seats are provided with a quite unique concept. Some chairs are made of wood and others are made of old iron with the words RW blabla on the back.
The design of the room also seems unique, cool, contemporary and, of course, instagramable.
There are many murals with themes arcade gameswell-known era 8 bit video games 90s. (Also read: Advantages and Disadvantages of Tourism in Bali)
To order food you have to visit tenant want to try. After making your choice, please order food. Then you will be given a temporary receipt. Take this receipt to the cashier in the middle of the Food Fighters. Pay and you just wait for your order to arrive. (Also read: Waterfalls in Bali)
A number of tenant at Food Fighters are the same tenants as at Pasar Santa including:
Chino Noodles
Grandma's Kitchen
Bonara
Zucker Waffle
Judas Kitchen
Market Coffee. (read also: Photo Spots in Jakarta)
Other articles:
3. OTW Food Street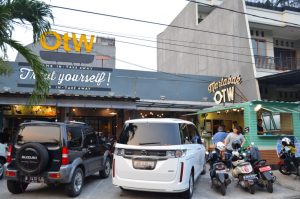 OTW Food Street is located in the Kelapa Gading area, North Jakarta. Just like Food Fighters, OTW Food Street is also a hip culinary area in the afternoon until the evening. OTW Food Street carries the concept of a mini food court. Here, there are only four food stands. But each has a unique concept and is different from the others (read also: Tourist Attractions in Bali). The four stands are:
The OTW Martabak is at the front of the OTW Food Street. Like other martabak stalls, Martabak OTW provides two types of martabak, namely sweet martabak and salty martabak. Sweet martabak has four choices, namely original martabak, pandan martabak, martabak green teaand martabak red velvet. Each serving of sweet martabak comes with toppings standard is cheese, chocolate, sesame, and nuts. If you don't want any of the toppings, you can ask for 3 toppings with more toppings to be added. The price of this sweet martabak is set between Rp. 70.000 – Rp. 80,000. (Also read: Gili Nanggu Lombok)
Jakarta night culinary tour is in the OTW martabak place also has other toppings such as Toblerone, Cream Cheese, Oreo, Silver Queen, Nutella, Skippy, Durian, Ovomaltine, and Kit Kat Green Tea. The price is about Rp. 20,000 – Rp. 70,000. Salted martabak is provided in several flavor variants, namely meat martabak, martabak black pepper beef, tuna martabak, corned martabak, and kebab martabak. The price for one portion of salty martabak is around Rp. 65,000 – Rp. 70,000. (read also: Pink Beach)
OTW Rice, Noodles and Bread
In the OTW Rice, Noodles and Bread section there is a fried rice menu, rice bowls, chicken noodle, and meatball marrow. The price ranges between Rp. 23,000 – Rp. 30,000. In addition, here you can also order Long John Bread, Black Beef Burger and toast. (Also read: Tourism in Central Lombok)
Duren Bar & Kue Chew A Bit is also in front of OTW Food Street but a bit far from Martabak OTW. Here, there are two menu options. First, cendol with various toppings, with a price range of approx Rp. 15,000 – Rp. 20,000. Second, durian ice with toppings which is no less unique, with a price range of Rp. 24,000 – Rp. 30,000. Chew A Bit has several kinds of cupcakes in 4 flavors, namely: milo, green tea, red velvet, or taro. The price is Rp. 20,000. (Also read: Tourist Attractions in Cengkareng)
Coffee & Drinks – OTW Milky Bar
Coffee & Drinks is on the inside of OTW Food Street. This section has various types of tea (hot or cold) with various flavors. Besides, there are coffee-based beverage (hot or cold). Finally, there are various types of chocolate-based drinks. The price is pegged between Rp. 5,000 – Rp. 30,000. You can also choose a drink made from milk at the OTW Milky Bar. The variant is SSpecial Blended, Iced Blended Milk and Flavored Cold Milk. (Also read: Prewedding Place in Jakarta)
4. Balai Pustaka Street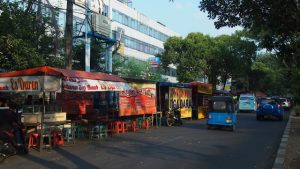 City Hall Street is located in the Rawangmangun area of ​​East Jakarta. On Jalan Balai Pustaka there are several street vendors and restaurants that are worth trying. You can try food with various price ranges, from cheap to expensive. (Also read: Waterfall Tour in Lombok)
Some of the restaurants on Jalan Balai Pustaka are:
Juice Palace.
Cake Putu Bamboo Medan Bang Fudin
Tofu Sumedang Bongsang.
Rawangmangun Fried Meatballs.
Local Shop.
In addition to the four culinary tours above, there are still many Jakarta night culinary tours that are worth trying, namely:
Southbox. (read also:Semarang Culinary Tour)
Eat Happens.
Kopikina.
BC's Cone.
127 Café.
Wow Kitchen.
Kemayoran Ketan Susu stall.
Round Fantasy.
Grilled Sandwiches.
Soup Duren 88.
Sapo Bun Ong Porridge.
Those are some night culinary tours in Jakarta. Hopefully this information can help you determine the destination of your next night culinary tour.