For a Muslim, eating halal food is obligatory. Especially when traveling abroad, halal food is sometimes a major problem. Abroad, such as in South Korea, where Muslims are only a minority, halal food is a food that is quite rare.
Some Indonesian Muslims who go to South Korea even bring their own food supplies to be consumed there. It's a bit of a hassle, but according to them, this is the only way out with regards to this halal food.
Another problem that makes halal food scarce is that we don't have enough information about halal food in Korea. even if there is sometimes most of the information is written in Korean. And this is a problem in itself. For those of you who want to visit South Korea or just want to know about what foods are halal in South Korea, here is the list:
Kebab
Kebab is indeed a typical South Korean food. But if you are in the land of ginseng and can't find halal Korean food, kebabs can be an alternative stomach booster. It also tastes good.
The basic ingredient of this kebab is meat. The meat can be beef or lamb. But don't worry, the meat used is not haram meat.
This is because usually this kebab is a menu served in Turkish restaurants that are labeled halal.
You can enjoy this Turkish kebab in the Islamic Street area, there is a restaurant with the name 'Salam'. This restaurant is open every day. Hours of operation are 12 noon to 10 pm.
Tandoori chicken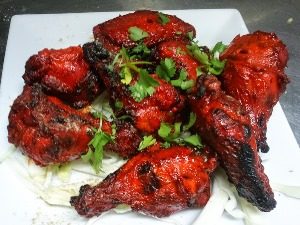 Tandoori chicken is also a menu that is no less delicious and appetizing. Tandoori chicken or also often called Tandoori Murgh is a typical food from India.
The main ingredient of tandoori murgh is chicken which is mixed and matched with several spices and also a mixture of yogurt.
Don't worry, the tandoori chicken served at this restaurant is halal food. At an Indian restaurant called Wazwan which is located opposite the Central Mosque in Seoul.
The Indian restaurant is indeed specialized in serving halal food and is suitable for Muslim travelers who are indeed required to consume food labeled halal.
Naan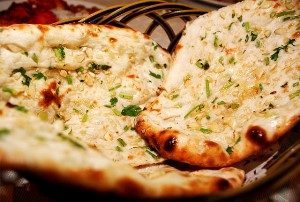 Naan is also highly recommended for Muslims who are in South Korea. Naan is a type of bread made with a mixture of bread and baked in the oven.
Actually, this naan is usually served as a friend to eat with tandoori chicken. Naan is also commonly used as a substitute for rice by the people of India.
The main ingredient, of course, does not involve meat. Only flour and yeast are mixed.
Naan can also be found at the Wazwan restaurant. Of course there is nothing wrong with eating Indian food in Korea. This might even add to your culinary experience.
Biryani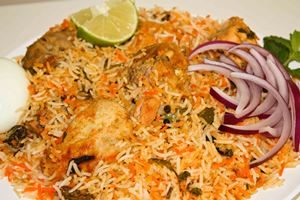 Biryani is a typical Indian food whose delicacy is recognized by the world. If you haven't been to India and are in South Korea, you can enjoy this very delicious food even in Korea.
The main ingredient of this biryani is Indian rice which is prepared with special spices for the biryani. Served with processed chicken or other meat as well as complementary ingredients such as additional vegetables and onions.
You can enjoy this delicious dish at the Wazwan restaurant in Seoul or at the Taj palace if you are in Itaewon or Yongsan.
Bibimbap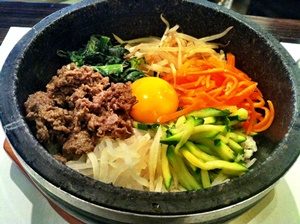 Coming to South Korea but not eating South Korean food is certainly not complete. Well, bibimbap is a typical Korean food that contains a mixture of meat and vegetables.
The vegetables used for this bibimbap menu are very diverse, such as mushrooms, cucumbers, bean sprouts, to carrots. To get bibimbap with a halal label, you can come to the restaurant Hanok Restaurant in Mokmyeoksanbang.
The restaurant is also widely available a variety of other Korean specialties labeled halal and safe for Muslims who live there and tourists who are on vacation. Because this food contains fresh vegetables.
Spicy Peanut Soup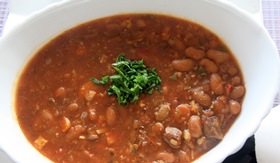 This spicy bean soup is another Korean specialty that Muslim travelers can enjoy while in South Korea. Of course from the name we already know, the main ingredient of this Korean dish is peanuts which are seasoned in such a way that it becomes a soup with a spicy taste.
You can enjoy this spicy peanut soup with a halal label at the Shabana restaurant. You can enjoy not only Korean spicy peanut soup, but other vegetarian dishes that are guaranteed to be halal.
Saengseon Gui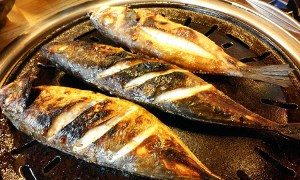 Saengseon Gui is a Korean food made from fish, to be precise, mackerel. In Indonesian, this saengseon gui means grilled fish, but when cooking this food, it turns out that the mackerel here is not fried but fried.
Saengseon gui is a typical Korean food. It's worth trying, besides being halal, the taste is no less delicious.
The fish used are fresh, the catches of fishermen are directly distributed in the market. Therefore this fish will not emit a fishy smell when grilled.
Maeuntang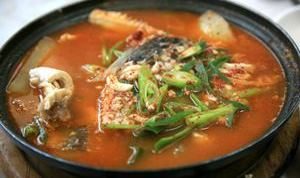 Maeuntang is also one of the most popular traditional South Korean foods recommended for Muslim travelers. This maeuntang food is made from fish that is boiled with spices in such a way and has a spicy taste.
This food is very suitable in winter because it is served on a hot plate which can continue to warm the food even though it is being consumed.
Maetang is a favorite food for Korean people because the taste of fresh soup with chewy fish meat increases appetite when the body feels frozen due to cold weather.
Sundubu Jjgae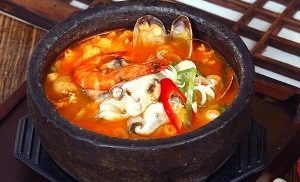 Sundubu jjgae is a typical Korean food made from tofu with a fairly spicy sauce and seasoning. The taste of sundubu jjgae may be easy to adapt to our tongue.
And the taste is no less delicious with other Korean specialties. In addition, the basic ingredients that do not contain meat are highly recommended for those of you who are looking for halal food. And is on a diet because it will avoid meat and fat fat and replace tofu which has protein.
Sundubu jjgae is very suitable to be enjoyed in winter, the spicy taste and warm sauce make sundubu jjgae the right choice.
Doenjang Jjgae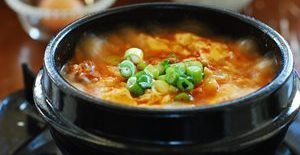 Doenjang jjgae is a soupy dish containing boiled vegetables and seafood or seafood. The vegetables used are quite diverse and of course this can also be used as a healthy meal.
So, still confused about what to eat in Korea? This Korean food is guaranteed to be halal and healthy too. It is suitable to be enjoyed in winter, to warm a cold body when it snows.
Tuna kimbap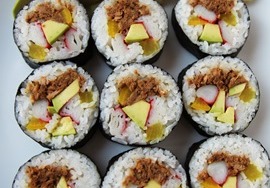 Tuna kimbab is a type of sushi that comes from Japan. The shape is also similar to sushi. Tuna rolled with sushi can be the main dish of your lunch.
Taste? Don't ask about the taste, many people have made this tuna kimbap their favorite food.
You wanna try? Please come to South Korea to be able to taste the authentic taste of this tuna kimbab.
Haemul Pajeon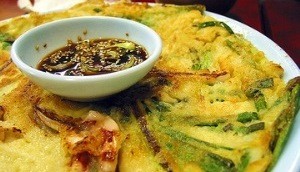 Haemul pajeon is also a typical South Korean food that you should try when visiting the country. This special food looks like a pancake.
The dough is mixed with seafood ingredients and then made like pancakes. From the raw materials used, this food is highly recommended for Muslims who travel to the land of ginseng.
Like martabak in Indonesia, Haemul Pajeon is a suitable snack for a celebration in Korea. Foods that contain gutita and squid toppings are foods that are worth trying.
Jjampong
This jjampong contains noodles that are processed with seafood such as squid and shrimp. The broth is spicy and rich in spices. And the overall taste of this spicy seafood noodle soup is very appetizing.
And the basic ingredients also indicate this food is halal food because there are no ingredients like pork that are commonly used in other Korean foods.
Because Korean people like to eat spicy food, this Jjampong has a sweet and sour spicy taste, according to the taste of seafood. But don't worry for those of you who don't like spicy food, because the broth produced is red, it doesn't guarantee this food will taste so spicy, it comes from spices mixed with Korean original spice paste.
tteokbokki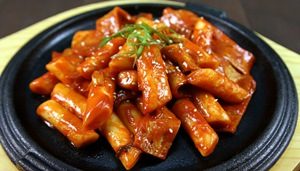 This tteokbokki in Indonesia is often referred to as spicy rice cake. Rice flour or tteokbokki that has been made into rectangular pieces of medium size is boiled in a spicy tteobokki sauce.
Very suitable as a snack, especially if it's summer or winter. And most importantly, tteokbokki is a halal food. Besides being easy to make, this food is a favorite among teenagers in Korea, and has even become a mandatory snack when gathering with family and friends.
Hobakjuk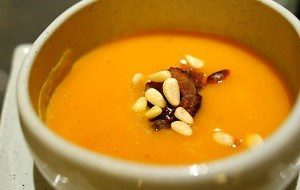 Want to try Korean food that is different from the others? Maybe hobakjuk is perfect to satisfy your Korean food appetite. Hobakjuk is a kind of porridge that uses pumpkin as its base.
Currently in South Korea, there are many restaurants that provide halal food. Because South Korea has become a favorite destination for citizens of the world.
The Korean government has also been quite proactive in addressing the problems faced by many Muslim travelers. With a lot of halal food available, you don't need to be confused and worry about looking for halal food.