Traveling has many purposes. One of them is to get a relaxed impression. To get the impression of relaxation itself can be obtained in many ways, including by visiting hot springs. Hot water baths can be one solution to make the body more comfortable so that the next day you can be better prepared for the day. If you want to travel to hot springs, here are some recommendations for hot springs in Indonesia that you can visit.
1. Ciater – Subang, West Java
One of the hot springs that is often visited by tourists is the Ciater hot spring. The location is in West Java, more precisely in Subang Regency. Namely on the border between Subang and Bandung.
This Ciater hot spring comes from Mount Tangkuban Perahu and is very natural. The temperature of the hot water in the Ciater baths ranges from 43 to 46 degrees Celsius.
To go to this hot spring, tourists will also get beautiful natural scenery. Tourists can see tea plantations with cool temperatures.
Location: Jl. Raya Ciater, Nagrak, Ciater, Subang Regency, West Java 40154
2. Tirta Sanita – Bogor West Java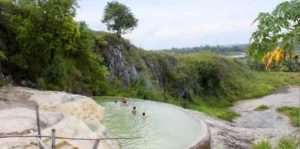 Still in West Java, this hot spring is in Bogor. That is more precisely in Parung District. Its name is Tirta Sanita hot spring.
The water in this bath contains sulfur as well as salt. Sulfur and salt can help treat diseases, especially skin diseases because of their natural properties to smooth the skin.
The scenery in this hot spring is very natural and also has a cool air. The unique thing about this bath is that there are large white stones and the presence of natural limestone mountains.
Location: Ciseeng, Bojong Indah, Parung, Bojong Indah, Parung, Bogor, West Java 16330
3. Mount Pancar – Bogor, West Java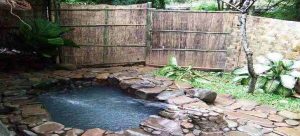 Bogor still has another hot spring location, namely the hot springs at Mount Pancar. The exact location is in Citeureup District, Bogor Regency.
Just like Tirta Sanita, Mount Pancar hot spring is also surrounded by beautiful views. There is also a beautiful pine forest that is often visited by tourists to hunt for contemporary photos.
The hot water content in Mount Pancar is calcium and a number of other minerals. Even tourists can use a safe and effective mud mask to remove dead skin.
Location: Babakan Madang District, Bogor Regency, West Java, 16810
4. Guci – Tegal
The next hot spring in Indonesia is the Guci hot spring in Tegal. More precisely, it is in Guci Village, Bumijawa, Tegal. This hot spring is also one of the tourist attractions in Tegal which is suitable for family tourism.
The unique and interesting thing about this hot spring is the existence of 6 springs and 10 waterfalls, so the scenery is very beautiful, and it becomes more spacious for tourists to bathe directly under the water.
The facilities of the Guci hot spring bath are also quite complete. In fact, in the vicinity there are inns, tennis courts, forests, and also camping sites or camps for students. Suitable as a reference for family tourism.
Location: Jl. Guci Tourism Object, Sigedong, Bumijawa, Tegal, Central Java 52466
5. Baturraden – Central Java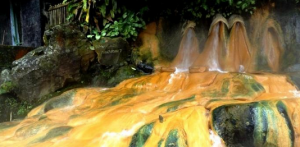 In Central Java there is also a hot spring called Baturraden. Baturraden itself is near the city of Purwokerto which is south of Mount Slamet.
The air and temperature around the baths are very cool and suitable to be enjoyed when traveling on nature. This hot spring in Baturraden has 2 locations, namely shower pitu and shower telu.
Pancuran pitu means seven fountains, while pancuran telu means three fountains. This name corresponds to the number of fountains there. The temperature in the shower is reportedly very hot, which is around 60 degrees Celsius.
Location: Lokawisata, Karangmangu, Baturraden, Banyumas Regency, Central Java 53151
6. Cangar – East Java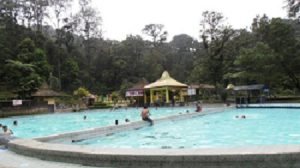 Cangar hot spring is located in Batu Tourism City. This hot spring is located at the foot of Mount Arjuno-Welirang so the temperature around it is very cool. Even this location is also one of the areas that can be addressed to climb Mount Arjuno-Welirang.
This hot spring from Cangar comes from Welirang, where there are three levels of hot spring pools which are distinguished by temperature, namely hot, warm, and slightly warm.
The interesting thing about this hot spring is the unspoiled scenery. In addition, this area is also famous for its delicious black sticky rice tape. Perfect for a snack after showering.
Location: Tulungrejo, Bumiaji, Sumber Brantas, Batu, Batu City, East Java 65336
7. Umbul Temple – Central Java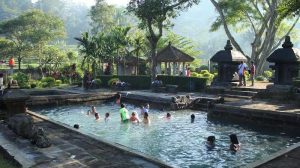 This hot spring in Indonesia is located in the Magelang area, Central Java. More precisely, it is in the Grabag area. Previously, this bath was the bath of the king and empress of Mataram.
Now this location is opened for tourist attractions in Magelang. Tourists can bathe in a large and adjoining pool. Both have different water temperatures, namely hot and cold.
The uniqueness of this hot bath is that it does not smell of sulfur. In addition, from the baths, you can also see the Umbul Temple. To get to this location, there is no public transportation, so it is recommended to use only private vehicles.
Location: Umbul Temple Street, Grabag, Kartoharjo, Grabag, Magelang, Central Java 56196
8. Tiris – East Java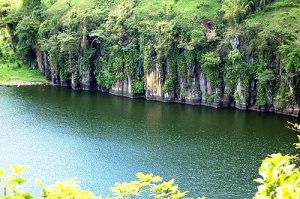 Tiris in East Java is in the Probolinggo area. The location of the Tiris hot spring is near Lake Segaran, Probolinggo. The view from this hot spring is also the same as the hot spring previously described, which is very natural.
The warmth of the water in Tiris is said to be related to Mount Bromo, which is still active. This hot spring has several hot springs with streams adjoining each other.
With temperatures ranging from 40 degrees Celsius, tourists can enjoy a natural atmosphere while calming the mind. Traveling there will provide both physical and psychological benefits.
Location: Segaran, Tiris, Probolinggo, East Java 67287
9. Cisolok – West Java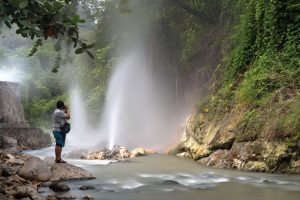 The next hot spring is the Cisolok hot spring which is one of the tourist attractions in Sukabumi. The location is in the Sukabumi area, which is approximately 10 kilometers from the famous beach, Pelabuhan Ratu Beach.
The uniqueness of this Cisolok hot spring is the source of hot water that gushes from the sidelines of the existing rocks. This hot spring has a hot water temperature, which reaches 80 degrees Celsius, so it should not be approached.
However, visitors can soak in the river water that has been mixed with hot water from the water spray above it. And because it is still very natural, this water contains a large amount of sulfur.
Location: Cikahuripan, Cisolok, Sukabumi, West Java 43166
10. Gonoharjo – Kendal
Gonoharjo hot spring is located at the foot of Mount Ungaran. Gonoharjo is also often referred to as Nglimut by local residents. The unique thing about this hot spring is the presence of a waterfall nearby.
Tourists who come can enjoy bathing with natural hot water and can also go to a nearby waterfall. In addition, the facilities in Gonoharjo are also complete for tourists.
There is a small zoo, flower garden, and also an outbound location that can be enjoyed. In addition, the beautiful scenery around the baths is no less to be enjoyed.
Location: Gonoharjo, Limbangan, Kendal Regency, Central Java 51383
11. Goa Susu – Lombok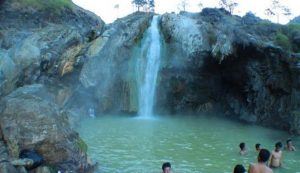 Goa Susu may already be familiar to the ears of climbers. This is one of the spots from Mount Rinjani that climbers usually enjoy, namely a very natural hot spring.
With a distance of only 1 kilometer from Lake Segara Anak, this hot spring has become one of the favorite locations for climbers. This hot water also contains sulfur.
Climbers used to bathe there to relieve fatigue. But please be careful, because bathing in the mountains can increase the risk of hypothermia, even if the water used is warm water.
Location: Mount Rinjani hiking trail near Segara Anak
12. Puncak Darajat – Garut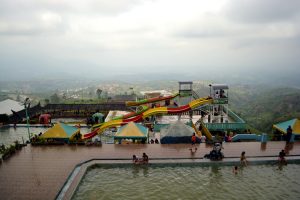 The next hot spring in Indonesia is in Garut, which is more precisely at Puncak Darajat. This hot spring is somewhat more modern than other hot springs, because this tourist location has been managed quite well. Puncak Darajat is also one of the recommended tourist attractions in Garut.
Even the concept of this hot spring resembles a mini water boom. The bathing facilities are also quite complete, with spill buckets and some interesting surfboards.
This location is suitable for family tourism, especially children because it has a complete view and water games, even though it is a hot spring in a natural location.
Location: Jl. Raya Darajat KM. 25, Karyamekar, Pasirwangi, Karyamekar, Pasirwangi, Garut Regency, West Java 44161
13. Maribaya – Bandung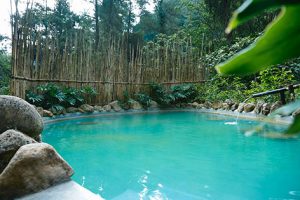 Maribaya Tourism is one of the famous tourist attractions in Lembang Bandung. This tourist spot offers natural attractions with management and facilities that are quite complete.
There is also a hot spring tourist attraction that tourists can use to bathe while enjoying the atmosphere. In addition, there is also a waterfall that is quite charming.
There is also a fishing pond, a place to eat, and a bridge that is suitable as a photo spot. Take your family there while on vacation in Bandung and enjoy the existing tourist facilities.
Location: Jl. Raya Maribaya No.105/212, Langensari, Lembang, West Bandung Regency, West Java 40391
14. Angseri – Bali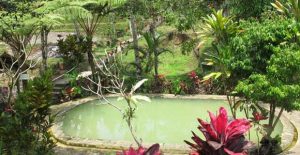 In Bali there is also a hot spring called Angseri hot spring. The location is in the Tabanan Regency of Bali, namely in the Bangli area.
In this hot spring scene there are two separate pools for adults and for children. In addition there are also private pool booths that can be rented for private use.
The natural and green atmosphere around the pool will make tourists relax and pamper themselves for a while. If you visit Bali, don't forget to visit this one place.
Location: Angseri, Bangli, Baturiti, Tabanan Regency, Bali 82191
Those are some lists of hot spring baths in Indonesia that can be visited to get the impression of a relaxed and calm tourist. Hopefully this article can provide a useful reference.