Portugal is one of the countries that we can find on the European continent and has the Latin name Lusitania, while the official name of this country itself is the Republic of Portugal. It should be noted that Portugal is a highly developed country because its economic, political and social conditions are extraordinarily stable, and can even be well maintained along with a high Human Development Index. Then, what kind of tourist attractions in Portugal which is considered a developed country?. Here are tourist attractions in Portugal which are tourist attractions in Europe:
Douro
Being one of the main rivers of the Iberian Peninsula, the Douro is a very suitable tourist location to visit to get coolness and peace of mind. The river's water flows from its source not far from Duruelo de la Sierra in the province of Soria, and it is known that at this location there are 15 dams built above the Douro.
The function of the dam is to regulate the flow of water and issue hydroelectric power. Hiking on the 3rd longest river after the Ebro and Tagus on the Iberian Peninsula with a length of 897 kilometers will not make you regret it.
Lisbon Oceanarium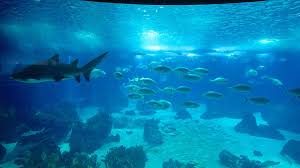 This tourist location is one of the best to visit with family while in Portugal. This is the aquarium indoor the largest in Europe and is located in Lisbon, to be precise at the Parque das Nacoes. Arriving at this place, you will be surprised by the architectural design that is so conceptual and indeed built like the structure and shape of an airplane. Peter Chermayeff is the one who designed this oceanarium building and he is also famous as the designer of the Osaka Oceanarium building (one of the largest aquariums in the world).
The Lisbon Oceanarium is open from 10 a.m. to 8 p.m. in summer, while in winter it is from 10 a.m. to 7 p.m. only.
Visitors are charged an entrance fee of EUR 13 or around Rp. 188 thousand. Children visitors aged between 4-12 years and seniors aged 65 years and over are charged EUR 9 or around Rp. 130 thousand. Meanwhile, children aged 3 years and under are free.
Jeronimos Monastery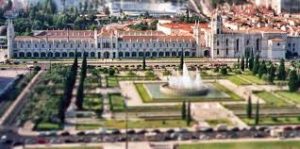 Another name for the Jeronimos Monastery is the Hieronymites Monastery and is a monastery of the Order of Saint Jerome which is located not far from the beach of the Belem parish. Tourists who will only be satisfied after a building tour, are obliged to come to this place because apart from being an example of a building in the Gothic Manueline style, this location has also been included in the list of UNESCO world heritage sites in 1983.
Jeronimos Monastery is open only from Tuesday to Sunday from 10 am to 5 pm only.
For single ticket prices, visitors are charged EUR 10 or around Rp. 145 thousand.
For combination tickets where there is more than one spot in the monastery area that you want to visit, such as the Tower of Belem, Museum of Popular Art, National Archaeological Museum, Coach Museum, and National Museum of Ethnology, prepare EUR 12-25 or around Rp. 174-362 thousand.
Clerigos Church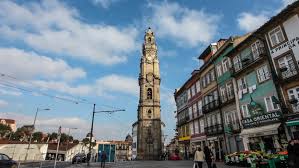 Located in the city of Porto, this Baroque church has a tall bell tower and attracts the most tourists. The tower is known as Torre dos Clerigos and can be seen from various corners of the city wherever you are making this tower one of the distinctive symbols. This church has existed since the 18th century and was specially designed by Nicolau Nasoni for the clergy.
Clerigos Church is open daily from 9 am to 7 pm.
Visitors can enter the church for free, but to go to the tower it costs around EUR 1 or Rp. 15 thousand.
Porto Cathedral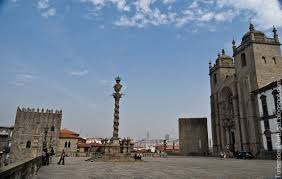 Porto Cathedral can be visited in the historical center of Porto and the reason why this site is such a must-visit is that it is one of the oldest monuments in the city and is the most important Roman monument in Portugal. The most recent cathedral underwent construction in 1110 and was completed in the 13th century under the patronage of Bishop Hugo. A trip to this area will give you the opportunity to capture the cathedral building with its Baroque terrace and beautiful Roman-style windows.
Porto Cathedral is open every day with two operating hours, namely from 9 am to 12 noon, then resumed to open from half past 3 pm to 7 pm.
Visitors are not charged to enter this cathedral.
Madeira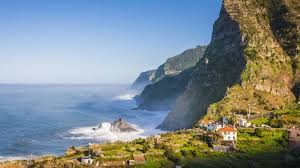 Travelers with hobbies hiking You shouldn't miss Madeira because this island filled with mountains, fauna, flora and forests is very suitable as a place to visit.hiking happy. The rich ecosystem and the extent of the Luurisilva forest seem to have made this spot included in the ranks of the UNESCO world heritage. Visitors who like to swim can also do this activity right on the north side of Madeira which is a volcanic salt water pool and is known to come from Porto Moniz.
This island also has a very attractive beach, you will be satisfied because you can dive and watch the action of whales and dolphins. Unfortunately, this island is not recommended for those of you who bring children because the sand is not fine and instead is in the form of gravel. So, it would be nice not to take the children on vacation on this island even though it is very interesting not to be missed.
Marvao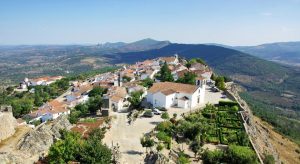 Portugal offers a village that has a height of about 900 meters above sea level. Standing on a hill, the buildings in this village on average have a medieval-style building style so that it is very worthy to be immortalized when you arrive in this village.
There is also a 13th century castle which makes this village even more unique and special. The vast country of Portugal, along with Mount Estrela and the country of Spain can be seen from this Marvao village while enjoying food made by local residents.
Casa de Musica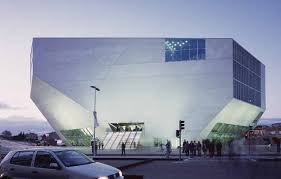 The building used for this music concert is a large building located in Porto. This place is also known as a place for cultural institutions whose buildings were designed by Rem Koolhaas, a Dutch architect. Casa de Musica is now considered one of the icons of the city of Porto with a large auditorium that can offer 1,300 seats. This is the only concert hall that has two walls made of glass.
The concert hall, ticket office and shop are open daily; on Monday to Saturday it is open from half past 10 am to 7 pm, while on Sunday and other holidays it is open from half past 10 am to 6 pm only.
A restaurant is also available in this concert hall with an open schedule from Monday to Thursday from half past 1 pm to 3 pm, then continued from half past 8 am to 11 pm. While on Fridays and Saturdays the operating hours during the day are the same, but will be open longer at night until 12 at night.
Guimaraes Castle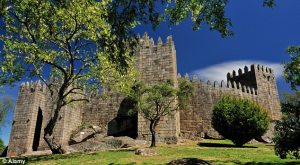 Try to come to the city of Guimaraes in northern Portugal to find Guimaraes Castle which is the main medieval castle in this city. The palace is quite old because its construction was carried out in the 10th century under orders from Mumadona Dias. This castle is indeed quite isolated by being on a small hill that is created naturally from granite and a small forest garden that surrounds it. However, tourists can rest easy because there are a number of pedestrian paths that can be taken to access this location.
Guimaraes Castle is open from Tuesday to Sunday with operating hours from 10 am to 6 pm.
Guimaraes Castle is usually closed on Mondays and certain other holidays, such as Easter Sunday, January 1, May 1, and December 25.
There is no charge for visitors to enter the castle.
Azores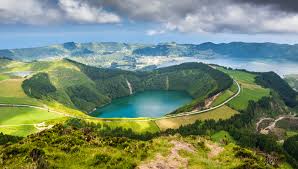 Another island with a beautiful panorama in Portugal, namely the Azores. It was the volcanic eruption that finally created this amazing island and even then it was from several hundred years ago. There are 9 islands that were formed and are still in the same territory as the Azores. The island of Villa Franka do Campo is the most popular in the region, so a visit is a must.
Not only the sea views are perfect, but the lakes and lagoons are also so spectacular, even tourists will also be able to find the attractions of dolphins in the sea and wild whales. There is a lake on the island of the Azores which is shaped like a perfect circle and is connected to the sea directly. What makes this lake connected to the sea is the Baqute pass. Rent a boat to get to this island and enjoy snorkeling, diving, swimming, and relaxing sunbathing activities on this island.
Vicentin Beach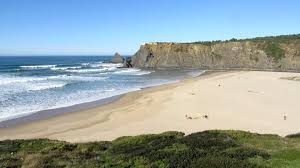 Portugal also has an exciting beach tour to enjoy, namely Vicentin Beach which will be very crowded with tourists, especially when summer arrives. To reach this beach is not difficult and when you get to this beach, you will find a million unspeakable beauty.
Starting from the view of a number of rock cliffs where the waves seem to paint there by scraping them slowly to enjoying delicious food on the beach area while accompanied by dance and music.
Sintra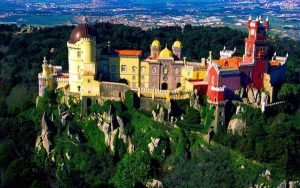 This city is one of the cities in Portugal that has a UNESCO world heritage site, namely a castle called Palacio National da Pena. This city is also famous for its romantic atmosphere and atmosphere because there are beautiful buildings whose architectural designs combine Neo-Renaissance, Neo-Manueline, Neo-Islamic, and Neo-Gothic styles that are truly extraordinary. All ancient items are still stored and well maintained today, such as tableware and a number of paintings.
Not to be missed, there are also several other castles apart from the Palacio National da Pena that can be found in Sintra, namely Castelo Mauros, which was built from the 8th to 9th centuries. Even though it is quite old, the castle building still looks majestic and sturdy and for those who want to get a comprehensive view of the city of Sintra, you can head to the top of the castle.
Another castle not to be missed is the Palace of Monteiro the Millionaire which has another name Quinta da Regaleira. There are five floors in this castle building and even more beautiful, you will be able to find the beauty of the castle because the views of the hills and gardens also surround it. Another spot that can be found in this castle is the tunnel that connects a number of places in this castle and also a charming lake.
Roman Temple of Evora
This tourist spot can also be said to be in the form of a temple or temple and has another famous name, namely Templo de Diana. This building is not a new building, but an ancient building in the city of Evora. Considered as one landmarks which is very important in relation to the Lusitanian and Roman civilizations of Evora in the Portuguese region, it is not surprising that this spot is finally included in the UNESCO world heritage site classification because it is part of the historical center of the city as well.
The Roman Temple of Evora is open 24 hours a day, so it's very flexible to plan a visit to this place.
Visitors are not charged an entrance fee at all to be able to enter and look around this temple area.
Thus a review of tourist attractions in Portugal which is very popular for its football star, namely Christiano Ronaldo. Seeing so many objects that can be enjoyed, the more impatient is not it to come and spend vacation time in Portugal?
Also read articles on other unique tourist attractions