Tanjung Balai Karimun tourism can be a vacation option for those of you who are looking for and want to try new destinations. There are still many domestic tourists who do not know about Tanjung Balai Karimun. Its popularity is indeed not equivalent to tourism in Raja Ampat, Papua, the Island of the Gods, Bali, and various other tours in Indonesia. However, the beauty of the tour should not be underestimated.
Tanjung Balai Karimun City is the capital of Karimun Regency, Riau Islands. Its location is very strategic for foreign tourists, because it is on an international shipping lane west of Singapore. The area of ​​Karimun Regency is 7,984 km2 and consists of hundreds of islands.
Some of the hundreds of islands in Karimun Regency are part of exotic and beautiful tourist destinations. As a city located in an archipelago, it is certain that coastal tourism is the main attraction for tourists traveler. The following are 13 tourist destinations in Tanjung Balai Karimun.
Read also:
1. Pelawan Beach
This beach is located in Pangke Village, Meral District, Karimun Regency. The scenery that is presented is so enchanting and calming.
The waves are quite strong, the stretch of white sand, the blue sea combined with the clear sky is the main strength of this tour. For you selfie lovers, guaranteed photos in this place will not disappoint.
This beach is visited by many local and foreign tourists. More and more tourists visiting this beach make this tour growing. Many lodgings are provided for tourists, road access is getting easier, and there are many food vendors along the road near the beach. For those of you who haven't decided on your holiday destination, Pelawan Beach can be included in your vacation agenda.
2. Pongkar Beach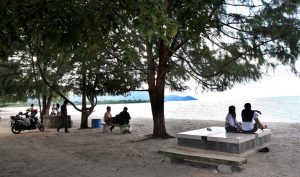 Pongkar Beach is not much different from Pelawan Beach in terms of its natural beauty. The difference is, on this beach you can play rides Banana Boat provided there.
In addition, you can still swim at the beach or play in the clean white sand. If you just want to relax under the pine trees that line the beach while looking at the blue sea, you can do that too.
This beach is located in Pongkar Village, Tebing District, Karimun Regency. Many local and foreign tourists spend their holidays in this place. When the holidays arrive, various rides or water games are a favorite to play on this beach.
3. Pongkar Waterfall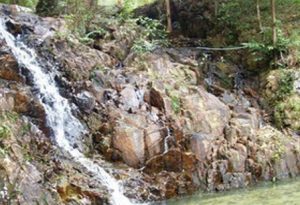 Not far from Pongkar Beach, there is another alternative tour, namely Pongkar waterfall. It is located at the foot of Mount Jantan, about 3 kilometers from Pongkar Beach.
Access to this tour is not too difficult, you have to tracking few minutes to reach this location. Although not yet fully managed as a tourist location, the place is quite interesting to visit.
This waterfall comes from natural mountain water so it is very cool. Coupled with the surrounding environment lined with towering trees further adds to the cool air in this location. There is a small pool that you can use as a place to relax your feet or body after traveling.
4. Telunas Beach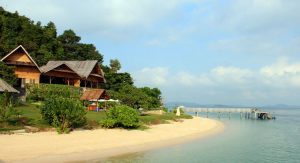 Telunas Beach is perfect for your holiday agenda. This place is recommended for those of you who want to vacation with your partner for their honeymoon.
The reason is, this beach offers an unforgettable experience like being on a dream island. The blue sea is clear as glass, the breeze, the blue sky, and the stretch of white sand are on this tour. Plus there is lodging on the sea like being in the Maldives.
This beach is located in Mentangun Village, Moro District, Sugi Island. Tourism on this beach is still rarely known by local tourists but is a favorite place for foreign tourists. Because not many people are on vacation to this tour, it's as if you feel on vacation on a private island. Besides being calming, it is also very comfortable for you to enjoy its charm at any time. While you are here, don't expect you to be able to do your job because there is no phone signal that you can use.
also read:
5. Ketam Beach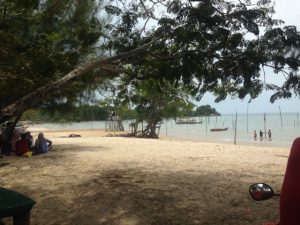 Ketam Beach is still adjacent to Pongkar Beach and is located in Pongkar Village, Tebing District, Karimun Regency. This tour is starting to attract local people as a tourist spot.
Judging from the name, we expect to find many crabs on this beach. In fact not, because the name of this place was taken because it was once used as a crab breeding place by one of the local residents.
Indeed, tourism in this area is not as popular as other beaches which are a favorite for Caucasians for vacation. The reason is, this beach has not been managed properly for tourist purposes. There are no inns or resorts that can be used. Local tourists often visit to just unwind and relax here. Seeing the sea view and feeling the breeze is perfect for family gatherings.
6. Tanjung Ambat Beach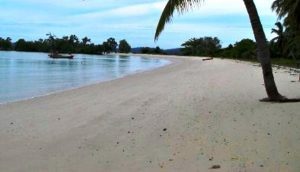 Another beach that is no less beautiful is Tanjung Ambat Beach. This beach is located on Buru Island, Teluk Dalam Village, Lubuk Puding Village, Buru District, Karimun.
The beauty of this tourist location can be seen from the blue sea and white sand along the beach.
This location is still very natural and has not been visited by many tourists. Visitors can play in the sand or swim in the sea to spend time in this place.
7. Ivory Coast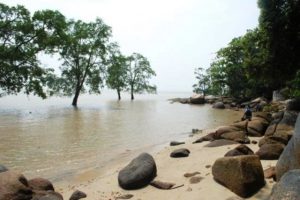 This beach, which is located in Tanjung Batu, Kundur District, Karimun Regency, has its own uniqueness compared to some beaches in the Karimun Regency area.
Its charm can be seen from the piles of granite stones along the coastline. The rocks are there naturally. Not only because of the stone that makes it unique, there is a staircase that according to local people's stories holds a mysterious story.
They believe that the number of steps is always changing. If when you go up there are 65 steps, but when you go down you can reach 60 stairs. This oddity invites many newcomers to prove the truth of the story.
also read:
8. Limestone Beach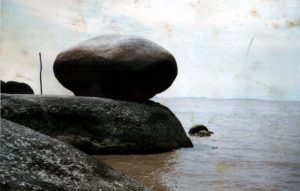 This one beach also has different characteristics from most.
How not, the beach, which is located in Batu Limau Village, Ungar District, Karimun Regency, is filled with various stones of various shapes and sizes. Some are the size of a ship and up to the size of a snake fruit. This tourist location keeps stories from generation to generation and is still trusted by the local community.
Batu Limau Beach is a tourist destination for the surrounding community. For those of you who want to gather with family to relax while eating, there's nothing wrong with trying it on this beach.
9. Coastal Area Tanjung Balai
Never miss this very popular place in Karimun district.
Locals often spend time taking photos or on culinary tours at food court which is in that place.
There are also rides and various games provided for visitors. This reclaimed land is perfect for relaxing while looking at the ocean view.
10. Man Mountain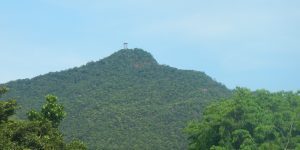 Mount Jantan is the highest spot in Karimun district. Become the most favorite place for climbers.
The view on the mountain is very beautiful because you can clearly see various areas and several tourist sites in the area.
Besides being able to enjoy its natural coolness, Mount Jantan is located in Pongkar Village, just like Pongkar Beach and Pongkar Waterfall. These three places are a must-visit for travelers who are visiting this area.
11. The Great Mosque of Karimun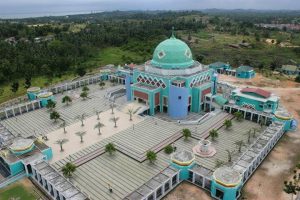 The Great Mosque is located in Meral District, Karimun Regency. The mosque that became landmarks Tanjung Balai Karimun city has a unique and interesting architecture to visit.
With the dominance of bright colors to make anyone who saw amazed. This mosque can be a religious tour for those of you who are looking for a relaxing tour.
In addition, you will get an unforgettable experience in this magnificent mosque. You can also take pictures with your family and friends.
12. Sibadang Tomb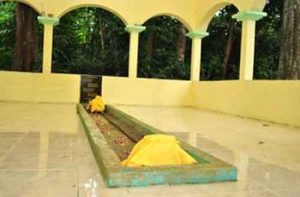 One of the religious tourism that is visited by many local tourists. This tomb is located on Buru Island, Karimun Regency.
This place is believed by local people to be the tomb of a Riau Lingga Kingdom chief named Badang. This tomb is sacred and many people make pilgrimages to ask for blessings because of the supernatural powers he had during his life.
The tomb of Sibadang is elongated in shape and unlike in general which is about 1 × 3 meters in size. The length of this tomb can reach 6 meters. For those of you who are curious, there is no harm in trying to visit this place.
Read also:
13. Tamara Swimming Pool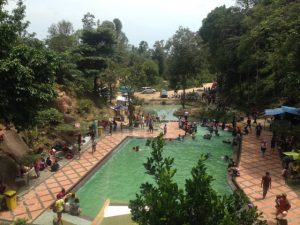 This swimming pool is located in Pongkar Village, Tebing District, Karimun Regency. Initially this place was only a private swimming pool owned by residents, but because of its great potential, this swimming pool was used as a water tour.
This tour is relatively new, but visitors who come start to fill up on weekends. This tour is crowded with families and children
This pool water also comes from Mount Jantan water so it is very clean and cool. The swimming pool is surrounded by shady trees so that it adds to the coolness of being there. This tour is still under construction so the existing facilities are still not complete. For those of you who want to try it, you can also visit the beaches adjacent to this tour.
Read also: