You could say Bandung is one of the attractive tourist destinations in Indonesia. Apart from its culinary diversity, the capital city of West Java also saves natural wealth that is worth a visit. Even today, Bandung is known as the Creative City of Asia. No wonder domestic and local tourists put Bandung as their list of vacation locations.
If you are planning a vacation to Bandung, you will definitely be confused by the abundance of tourist destinations. But don't worry because this article will provide a list of tourist attractions with beautiful views in Bandung. (Also read: tourist attractions in Bandung)
1. Ciwidey white crater
Tourist attractions with beautiful views in Bandung, the first is the white crater. Kawah Putih is the most popular tourist spot in Bandung. A lake formed by the eruption of Mount Patuha in the 10th century is located in a mountainous area with cold reaching 8 to 22 degrees Celsius. As the name implies, the water in the white crater lake has a greenish-white color, sometimes turning bluish according to the reflection of sunlight and temperature.
The sulfur content is quite sharp which causes the surrounding soil to turn white. Therefore, tourists are advised to prepare masks to anticipate the entry of too much sulfur. To be able to enjoy the coolness and beauty of the white crater, it is enough to pay a levy of IDR 18,000 from 7 am to 5 pm. (Also read: tourist attractions close to the white crater)
2. Mount Tangkuban Perahu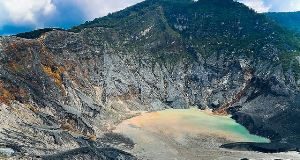 Talking about Tangkuban Perahu Mountain, of course, it cannot be separated from the legend of Sangkuriang. This tour, which is located in Lembang, is one of the favorite destinations for Bandung travelers. Around the mountain, there are several craters due to the eruption which are used as tourist attractions. Two of the most famous are as follows:
This is the most visited crater in the Tangkuban Perahu mountain area. Ratu crater is also the main and widest crater. To be able to see the crater, here has provided a scenic spot from above with a guardrail. Just like in the white crater, the soil here is also white due to a mixture of sulfur content.
If in the Ratu Crater, visitors can only see the view from above, in contrast to Domas Crater because they can directly approach the crater closer. Even visitors can also try the sensation of boiling eggs with hot water in the crater and soaking in sulfur mud.
3. Farmhouse Lembang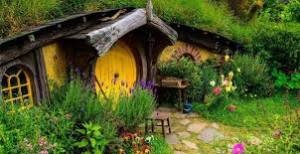 The next tourist spot with beautiful views in Bandung is Farm House Lembang. This new tourist spot that is currently a trend in North Bandung is a village natural scenery tour with a European feel. Visitors can also try on European-style clothes provided by the officers.
Even here, tourists can visit the houses of The Hobbits. The Hobbits? Are you serious? Yes, at Farm House visitors can find buildings that resemble dwarf houses. One of them is exactly like the house in The Hobbit movie. The entrance ticket to the Farm House is IDR 20,000 and can be exchanged for pure milk or grilled sausage. Visitors can choose according to taste. (read also: elephant village tour)
4. Situ Patenggang Ciwidey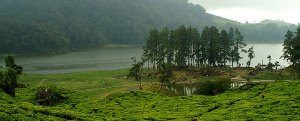 The name Situ Patenggang is never separated from the legend of Dewi Rengganis and Ki Santang. In the tourist area there is a Love Stone on the island of Asmara which is said if you are able to surround the island you will get eternal love like the love of Dewi Rengganis and Ki Santang.
Situ Patenggan is a lake surrounded by a beautiful expanse of tea plantations. Because of its location in the mountains, not far away, visitors can also feel the sensation of bathing in hot water in the Ciwidey hot spring pool.
5. Rancabali Tea Plantation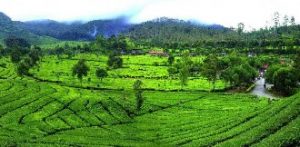 One more thing that is interesting in Ciwidey District, South Bandung, there are many tea plantation tours, one of the most famous is the Rancabali Tea Plantation.
The Tea Garden, which is located at an altitude of 1,628 meters above sea level, has interesting mosaics so that visitors continue to be amazed by its beauty and coolness. What is different from this Rancabali tea garden are several small waterfalls on the banks of the terraced tea trees.
Because of this beautiful scenery, Rancabali tea plantations are never empty of visitors, besides being able to be used for family holidays, especially children who can get to know gardens, one of which is the tea garden.
6. Cihideung Flower Garden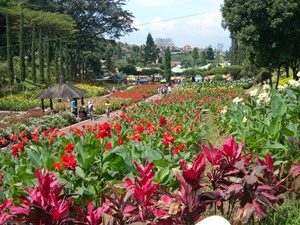 Various types of flowers and ornamental plants are available at the Cihideung flower garden. This area is also used as a center for plant cultivation. Located in Cihideung Village, Lembang, tourists can enjoy the beauty of flower beds for free.
Very suitable for flower lovers. Besides being used as a photo spot, the flowers that are there can also be purchased to take home.
7. Rock Mountain
If you want to feel the charm of the sunrise in Bandung, then visit Mount Batu Lembang. In this place the beauty of the sunrise is not in doubt. Located at an altitude of 1,228 meters above sea level, visitors can see the expanse of the city of Bandung.
In addition, visitors are also presented with views of Mount Burangrang, Mount Tangkuban Perahu, Mount Putri, Mount Bukitunggul, Mount Palasari, Mount Manglayang, and Mount Pangparang.
8. Keraton Cliff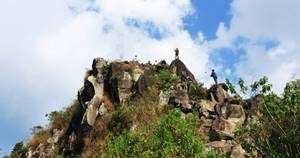 Having the original name of this palace, it is located in the Tahura area, Dago, Bandung. For nature and photography lovers, this place is perfect as a spot to wash your eyes and lungs. Fresh air with a view of the forest wrapped in a thin mist from a height is able to make visitors feel at home for a long time enjoying the beauty.
Especially if you can watch the sunrise because the most enchanting sight at the Keraton Cliff is in the morning. Therefore, it is not surprising that since dawn this place is already crowded with tourists.
9. Moko Hill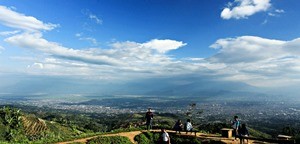 This is the place for romantic scenery in Bandung! If Mount Batu and Cliffs of the Palace are suitable to be visited at sunrise, it is different from Moko Hill which can be enjoyed from the afternoon until the evening.
With a view of the charming city lights that create an atmosphere of romance is created. Therefore Moko Hill is also known as Bandung Star Peak. Not only seeing the view of the city lights, around the Moko Hill area, visitors can also enjoy the coolness of the pine forest which is still natural.
10. Forest Park (Tahura) Ir. H. Juanda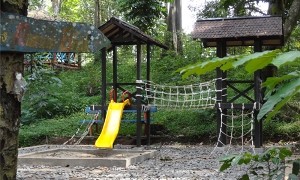 Missing clean air free from pollution? This is the right place to breathe fresh air as well as nature tourism. This forest which has an area of ​​526.98 hectares holds interesting tourist spots such as waterfalls, caves, the Lembang fault, and of course the cool forest panorama.
The entrance ticket offered is a package with natural waterfalls and caves. So there is no need to pay retribution if you stop by at the place. This tourist spot has also become one of the favorites in filling vacations and free time to take a walk, so this place is never empty of visitors. (Also read: tourist attractions for kindergarten children in Bandung)
11. Maribaya Waterfall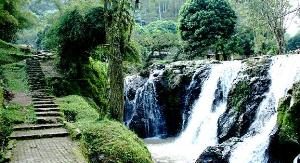 Whoever comes here, no one will dare to deny its beauty. The natural panorama is still natural, making the air here so clean and beautiful. The tiredness of the city atmosphere will disappear if you are already in the waterfall which has a height of 25 m. Marabaya Waterfall is part of the Great Forest Park (Tahura) Ir. H. Juanda.
Located in Lembang, this place is easy to reach because the distance from Bandung City is around 8 km. In addition to enjoying the freshness of the waterfall, visitors can also soak in the hot spring pool which is located not far from the location of the waterfall. This hot spring contains high levels of sulfur so that if you soak here it is believed to cure diseases. (Also read: waterfalls in Indonesia that must be visited)
12. Dago Waterfall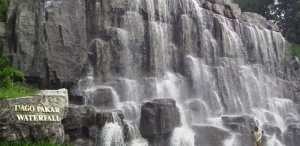 Hearing the word Dago, what immediately comes to the minds of Bandung tourists is shopping. But make no mistake because Dago in Bandung is not only limited to shopping centers. Ever heard of Curug Dago? Well, this is another Dago in Bandung.
Located in the Bukit Dago area, this place is arguably still quite hidden. However, its natural beauty is what makes Curug Dago a mandatory destination to refresh the body and mind. Although this waterfall only has a height of 12 meters, its charm is never in doubt. If you are visiting Tahura, don't forget to take the time to visit this waterfall which has a history with the country of Thailand.
Those are 12 natural tourist attractions in Bandung with beautiful views. Always remember, wherever the traveler travels, keep our beautiful nature so that it is not polluted by destructive ignorant hands. Hopefully inspired. Happy traveling!\\
other related articles: