Have a plan to spend your vacation in East Java province? Ngawi can be the main destination that will provide a million best things that are guaranteed to be fun and will not be forgotten. There are many natural tourist sites that are definitely liked by local tourists. If you don't have a reference for the best tourist attractions in Ngawi to visit, which are tourist attractions in East Java, there are a series of recommendations below that you can take a peek at.
Bridal Waterfall
This tourist spot can be found when visiting Ngrambe District and please go directly to the Bridal Waterfall, which is located in a village called Hargomulyo. This two-pronged waterfall has a height of 20 meters. The tourists are guaranteed not to regret because the peaceful atmosphere will really spoil every visitor.
Even our eyes will be cooled by all the beautiful scenery around this waterfall. With a location in the shade of a bamboo forest, every visitor will really feel refreshing. For young couples who are dating and come to this place, it is believed that they can become partners for life, aka durable. It is good news for the road infrastructure to reach this waterfall, but visitors still have to walk to cover a distance of 1 kilometer to get to the actual location.
Visitors are charged Rp. 2,500 for the entrance ticket.
Visitors please be aware of slippery terrain when going to this place, especially during the rainy season. Those who drive motorbikes or cars must also be careful because the roads are up and down.
Jamus Tea Plantation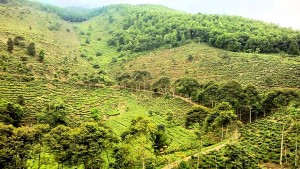 For those who like a vacation spot full of peace and coolness but with green and tropical nuances, Jamus Tea Plantation is one of the best locations in Ngawi to spend vacation time. Located to the north on the slopes of Mount Lawu, the serenity, freshness and beauty of this tea garden is second to none in Ngawi. From the city of Ngawi itself, tourists can head to the southwest about 40 kilometers to reach this place.
To get to this extraordinary tea garden, visit Sine District, then set foot in a village called Girikerto. Under the management of PT. Candi Loka, this one tourist attraction is famous for its Jamus mineral water and tea. Apart from the tea factory, in this place visitors will be able to find Borobudur Hill, a special children's swimming pool, a campground for those who like camping, Japanese caves, and Sumber Lanang.
Visitors are charged Rp. 10 thousand per head to enter the tea plantation area. Cheap enough to get a myriad of useful knowledge.
Pondok Reservoir
Another tourist location that will provide a different experience in Ngawi is the Pondok Reservoir in Bringin District. Try to come to a village called Dero and this reservoir will be displayed in plain sight with views of the hills and panoramic views of the water that are so beautiful. For those who like fishing, this reservoir is also the right location for mania anglers apart from its function which can be a place for family entertainment.
Various types of fish can be found in this reservoir, such as milkfish, tombro fish, and even tawes fish. If you are lucky to come to visit at the right time, tourists with a hobby of fishing can participate in fishing competitions which are held regularly. Together with anglers from the area around Ngawi, visitors can try to enliven.
Visitors can enter the reservoir by paying an entrance ticket of IDR 2 thousand.
Srambang Waterfall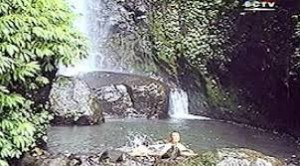 Apart from Bridal Waterfall, Ngawi has other attractions that are no less beautiful and exciting, such as Srambang Waterfall, which is located in Girimulyo Village. Located in Jogorogo District, this waterfall is precisely on Mount Lawu which is in the north. The fun in this place is to feel the beauty and splendor of the shady pine forest that surrounds this beautiful waterfall.
Located in the middle of a pine forest, that means tourists can happily enjoy the pine forest and waterfall at the same time. The fresh air in this place will also be very pleasant even though visitors have to walk 1 kilometer to reach this spot. As well as exercising, of course every tourist needs to prepare a physical condition in order to successfully capture every natural beauty in Srambang Waterfall. It is believed that everyone who washes his face or bathes in this waterfall will have a long life and always stay young.
Visitors need to spend Rp. 5 thousand to be able to enter and enjoy Srambang Waterfall.
This fee includes parking for those who bring a vehicle.
Fort Van Den Bosch (Fort Pendem)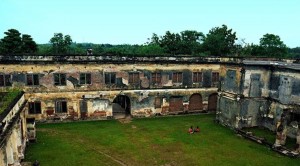 Not only the natural attractions are stunning in Ngawi, historical tourism will also be able to satisfy every tourist with a collection of relics from the Dutch colonial period. Located right at the confluence of the Madiun River and Bengawan Solo, visitors can find this fort in Ngawi District, Pelem Village. Pendem Fort is a fort built by the Dutch East Indies government whose construction was completed in 1845.
In ancient times, the inhabitants of this fort were Dutch soldiers, there were about 250 people who had rifles and 60 cavalry under the leadership of Van Den Bosch and 6 fire cannons there. The tomb of KH Muhammad Nursalim who was one of Prince Diponegoro's followers is also in this fort. This is because in the past he was arrested and taken to Fort Van Den Bosch by the Dutch.
Fort Van Den Bosch begins to receive visitors from 8 am to 5 pm.
Visitors are charged an entrance fee of IDR 5 thousand per head.
Visitors who bring a car need to pay for parking of Rp. 3 thousand. Meanwhile, motorcyclists only need to pay Rp. 1 thousand for parking.
Soerjo Monument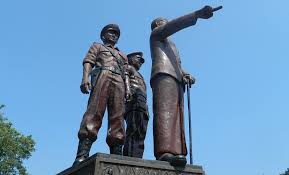 Another historical building in Ngawi is a monument. The Soerjo Monument, which was built specifically to commemorate the first Governor of East Java, is on the side of the main Ngawi Solo road. The Soerjo Monument is located very shady because it is located in the middle of the forest where every tree is so dense and tall. Facilities that can be found in this monument area include rest areas, food and drink stalls, bird markets, toilets, prayer rooms, tourist attractions accompanied by a statue of Governor Soerjo, various bird cages, various teak wood crafts, and a children's playground. To be able to enter this area, visitors do not need to pay a penny at all.
Teleng Waterfall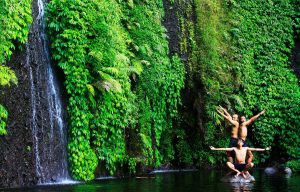 There are more waterfall tours that are worthy of being used as destinations when setting foot in Ngawi. Teleng Waterfall is a beautiful sight with stunning natural authenticity. When you ask about what are the advantages of tourist attractions in Ngawi, this waterfall, which is located in Ngrayudan, really should be included in the list. Not only suitable as a place to take pictures, souls who are longing for coolness and tranquility can come directly to this place. Not only the eyes will feel cool, but our bodies are really refreshed. All the beautiful panoramas in Teleng Waterfall can be enjoyed to your heart's content without an entrance fee.
Trinil Museum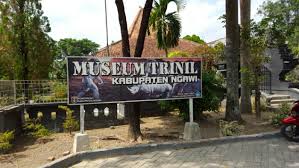 History tourism fans will not be satisfied if they have not arrived at the Trinil Museum. Only 12 kilometers from the city of Ngawi to the west, this museum will not be in vain because there are various collections of the history of ancient human life and others in this place. Discovered by Eugene Dubois, an archaeologist from the Netherlands in 1892, all forms of this historical exhibition will add insight to visitors. Not to forget there are also ancient elephant and bull fossils which will certainly satisfy the curiosity of tourists.
Visitors are charged around Rp. 5 thousand to enjoy the collection from the Trinil Museum. In addition, from this museum a panoramic view of the Bengawan Solo River is also offered.
Waterboom Tirto Nirmolo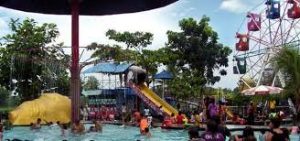 Visiting Ngawi, there is a fun water park that will add to the excitement during the holidays, namely Tirto Nirmolo. Especially this tourist location is very easy to reach because it is on the side of the road. To get to this place, come directly to Paron District, to be precise in a village called Tempuran. Recreation is more fun and exciting with various rides that are suitable for children and adults. water boat, flying foxelectric car, electric train, boom-boom boat, boom boom carpedicab family, 3D cinema, and cable car are available at this water park to provide more satisfaction for every visitor. In addition, tourists can also have culinary tours in this waterboom area.
Waterboom Tirto Nirmolo is open and welcomes visitors from 8 am to 5 pm.
Visitors are charged an entrance ticket for Rp. 12,500 per head from Monday to Saturday, while Rp. 15 thousand is special on Sundays and National Holidays.
Entrance tickets do not include ride fees. For all the games inside, visitors are required to prepare Rp. 5 thousand to Rp. 20 thousand for each ride.
To save money, there is a Silver Package that can be purchased at a price of IDR 27,500 per head or a Gold Package at a price of IDR 33,500 per person.
Hargo Dumilah Baths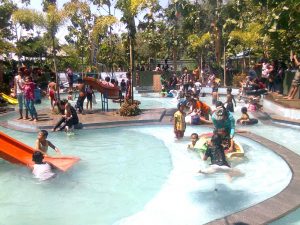 For tourists who want an exciting vacation while relaxing, there is Hargo Dumilah Baths located in Ngrambe District, and visitors must come to Setono Village, which is only 30 kilometers south of Ngawi city. Located on the slopes of Mount Lawu, this bathing location has water whose springs come from Mount Lawu.
After being satisfied with enjoying the freshness of the scenery and the water in this bath, don't forget to stop by a restaurant with mountainous and rural nuances in the bathing area. Try the variety of meatball and fish dishes that are the mainstay of the menu at the bamboo restaurant.
Tawun Park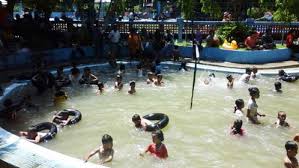 Picnic with family feels more complete if you take the time to enjoy this one park. Located in Kasreman District in Tawun Hamlet, tourists only need to cover a distance of about 6 kilometers to the east side from the city center. Kids are guaranteed to love this place where there is a mini zoo, recreational park, swimming pool and turtle pond.
Even adults will not regret coming here because there is an artificial lake that has also been provided with canoes and fishing areas for anglers.
Teak Gembol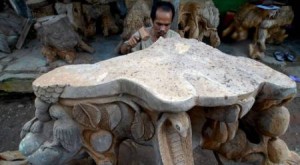 Tourists who really like the unique handicrafts of Ngawi, especially the art of gembol teak, can come to this place. Located in Ngawi, Mantingan, Widodaren and Bringin Districts, this place is highly recommended to add insight into arts and crafts and culture. Gembol teak itself has been converted by craftsmen into goods that have high artistic value. That is the reason why antique collectors are interested in these art items. Not only domestic collectors, but collectors from abroad are very fond of this teak gembol craft in Ngawi.
Thus a number of tourist attractions in Ngawi that are not only soothing, but also can add insight to the tourists. Take the time and take the time to walk in these locations during your vacation in Ngawi.
Also read articles on other unique tourist attractions