Before going to a city for a vacation, of course we will find out in advance about the attractions that are there. Especially if we have children who are still sitting on a kindergarten bench. Of course, you have to look for tourist destinations that are not just recreational or provide entertainment, but also provide education for your children.
Here we will take a walk in the flower city, Bandung. In this city we can find tourist attractions that are suitable for children, including those who are still in kindergarten. Due to the variety of tourist attractions in Bandung, making the city of Bandung a practical and close tour to visit.
Bandung zoo
This zoo is actually the same as zoos in other cities. There are various kinds of animals including those that are protected or animals from outside Indonesia that we can find in this zoo.
Of course, children will be happy and feel at home in this zoo. They can see various animals that have never been seen before.
Interact with animals, including the sensation of riding camels and elephants. Enhance the child's experience.
Kampoeng Maen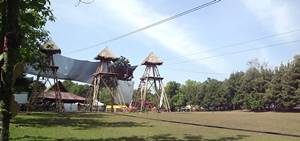 There are 7 locations that can be visited while in Kampoeng Maen. Among them, the village of games, the traditional village, the family village, the work village, the taste village, the knowledge village, and the adventurous village. Children can choose which one they like. Including if the baby is still sitting in kindergarten. Need more supervision, compared to older children.
In traditional Kampoeng, for example, we will be taught to make various traditional crafts from Indonesia. Such as, making batik, making creations from coconut leaves, jumputan, and woven sticks. One place that girls will definitely like is kampoeng rasa. Here children will be taught how to make various types of food and children can taste their own creations (serabi, milkshakes, noodles, putu, and others).
Traffic Park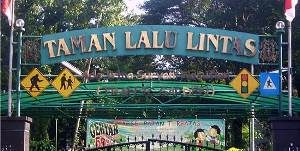 When visiting the Traffic Park, children will definitely love to play there. Because there is a fun game area that contains slides, animal statues, and swings.
In this Traffic Park, children can find out what can be done while on the highway or what rules must be obeyed when driving. Including the prohibition when driving on the highway.
In addition to the play area, Traffic Park also provides a bike area and a mini train ride. Well, in this bike area, children can learn about traffic signs and regulations when they are on the road.
cultural Park
This children's tourist spot can provide knowledge about Javanese culture to children, especially the culture that comes from the West Java area.
Children will be treated to various dance performances, and they can freely watch without restrictions to bring food and drinks.
Well, besides seeing how charming the dancers are in action, there is also a dance arena here, you know. Where children can participate in dance practice or just play is also allowed.
geology Museum

Children will be invited to learn history when visiting the Geology Museum. In this tourist spot, there are many collections of archaeological objects that can definitely attract the attention of children. Some examples are the fossils of the t-rex dinosaur, the Javan rhinoceros, and the giant tortoise.
In addition to seeing various kinds of amazing collections, children can also play there. Would you like to take your children to visit? Just come to Jalan Diponegoro 57, Bandung.
Nature Window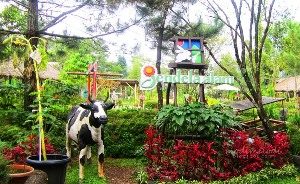 In addition to having a playground for children, this one tourist spot also offers a fun tourist experience for children.
Children will be able to see farms, plantations, horseback riding, picking strawberries, picking up eggs, surely the children will love the activities in it.
In addition, it will help children's growth by introducing children to nature and farm animals as well as plantations at the same time. Jendela Alam is located at Sersan Bajuri Street, Lembang, Bandung.
Saung Angklung Udjo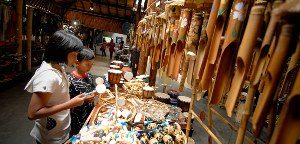 In this tourist spot, children can watch dance performances as well as playing musical instruments presented by the children of Saung Angklung. Satisfied with the show, children can watch the making of Sundanese musical instruments or can also learn to play the angklung.
In addition, children can try to play a variety of musical instruments that are there. Even more exciting, at Saung Angklung Udjo there is a fairly large yard with huts or huts made of bamboo around it. A place to rest and have lunch, yes, here.
The children of the Saung Angklung will also invite your child to play stilts in the yard. Furthermore, Sundanese arts will be taught so that children do not just play, but also add insight. The location is on Jalan Padasuka 118, Bandung.
Lactasari Mini Farm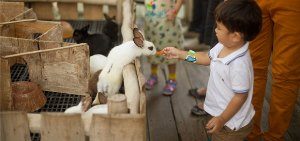 This is a kind of mini farm located in Paris Van Java Mall. Unique, right? Usually many farms are found in the mountains, this one is even in the mall.
In Lactasari the children can feed the rabbits or water the lambs. It's fun for children, they can relax while shopping too. Children can become friends with animals and get to know animals from an early age.
This recreation is quite entertaining and educational to fill a short vacation time or on weekends for the little ones.
Elephant Village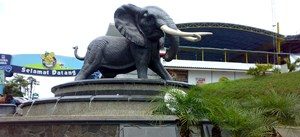 Wow, surely we can see a lot of elephants, here! Wrong, Kampung Gajah is just the name, really. It contains various rides, not only for children, but also for families.
There are quite a lot of recreations available in this place, ranging from water rides, outbound arenas, park recreation to serving Bandung specialties at well-known restaurants that are quite appetizing. Entrance tickets are priced at IDR 10,000 (Monday-Thursday) and IDR 20,000 (Friday-Sunday).
Phantasia Barbie Gallery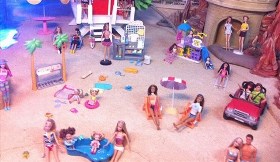 Especially for girls, you can see hundreds of barbies wearing beautiful colorful dresses. Beautiful! And guaranteed to feel at home here. Located in the restaurant and café Balcony.
Enjoying good food and drinks in this place while watching the beautiful barbie, just come here. The location is at Jalan Sersan Bajuri 100, Lembang.
Not only for children, this cafe is also often visited by teenagers and adults who really like barbies. Besides that, you can also reminisce with toys that are quite legendary to date.
De Ranch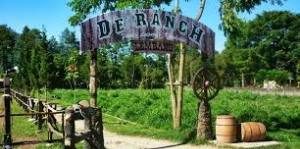 This place is very famous, you know. It is famous for its activities in the form of riding horses in cowboy-style costumes. Well, not only that, we can also do activities with children.
Among them are seeing farms (especially horses and cows), the fun of riding a horse or wagon, and trying to do archery.
The location is at Jalan Maribaya no. 17, Lembang Bandung. The schedule is open Tuesday to Friday at 09.00-17.00. For weekends or holidays, it is 08.00 to 18.00.
Vin's Berry Park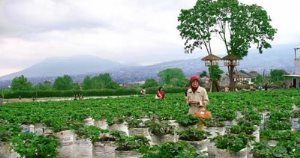 Garden tours are identical to strawberries, but different from those at Vin's Berry Park. Here we can see firsthand various kinds of berries ranging from strawberries, blackberries, raspberries, guava, water guava, to passion fruit.
There is also a vegetable garden. It's fun to walk through the fruit and vegetable gardens while picking the fruit yourself. Other facilities offered by Vin's Berry are camping and outbound areas. With a ticket for IDR 10,000, – and opening hours are 08.00-16.00.