Malang is one of the big cities in East Java which is often visited as a tourist spot. This city does have abundant natural diversity. Ranging from beaches to mountains in Malang and Malang Regency. No wonder the Malang Station area is always crowded with tourists during long holidays or on weekends. If you get off at Malang Station and want a cheap or even free tour, here are some affordable tourist attractions near Malang Station.
1. Trunojoyo Park
Trunojoyo Park is one of the city parks located right in front of the Malang Station. If you exit Malang Station, then you just have to cross the highway to get to Trunojoyo Park.
This park is a fairly new city park. There are several facilities that you can use to unwind after a long train journey, including canteens, toilets, and seats.
If you take small children, on the other side of the park there is also a simple playground that can be used as a Children's Tourist Place in Malang. There is also a library at the end of the park. You can wait for friends or family to pick you up at the park.
2. Malang Tempoe Doeloe Museum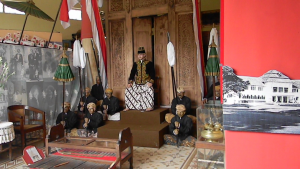 Not far from Malang Station, there is also a museum that can be visited. Its name is the Malang Tempoe Doeloe museum. As the name suggests, this museum displays Malang's collections in ancient times.
The location is on Jalan Gajahmada, which is behind Malang City Hall. For those of you who like the history and culture of a city, this museum can be easily accessed from the station. You can even walk.
The museum is open from 08.00 to 17.00. The entry fee is also quite affordable. This location is suitable for historical tours as well as educational tours while planning the next vacation agenda in the city of Malang.
3. Malang Monument Square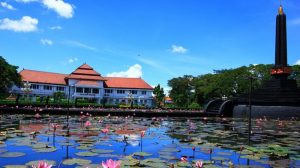 The next tourist spot near Malang Station is Tugu Malang Square. This square has a circular shape, with a towering monument in the middle. Around the monument there is a large lotus pond.
Tugu Park also has a garden area with green grass and various flowers. This area is also often used as a photo location for tourists who are visiting Malang for the first time.
To reach it, from the station you also don't need to use a vehicle, because it can be done on foot. From the station, cross to Trunojoyo Park, then follow the main highway. From a distance, the monument can be seen.
4. Malang City Hall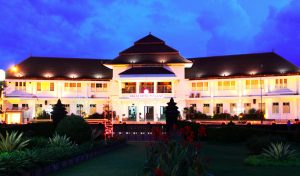 One of the Cheap Travel Tips to Malang is to visit a free tourist attraction. Even though Malang City Hall is not actually a tourist place, there are also many tourists who stop by Malang City Hall to just take pictures. The City Hall location is right across from the monument. Even the monument itself is also a part of the City Hall.
The interesting thing about Malang City Hall is its magnificent building, former Dutch colonial architecture. The building has undergone several changes, but is well maintained so far.
Another interesting thing from City Hall is the existence of double-decker tourist buses (Malang City Tour) which operate in the morning. The bus was deliberately intended for tourists who want to get around the city of Malang. But reportedly you need to arrive very early to be able to register as a passenger.
5. City Recreation Park (Tarekot)
This City Recreation Park is indeed not one of the modern tourist attractions in Malang. But there is nothing wrong if you stop by this tourist spot near Malang Station.
Tourist facilities there are swimming pools, playgrounds, and also several animal cages. You can see several types of animals that are kept there.
The location of Tarekot is at Jalan Simpang Majapahit No. 1. You also don't need to use a vehicle to get there, because walking is enough. The location can be reached from Malang City Hall and Tugu Park by foot.
6. Flower Market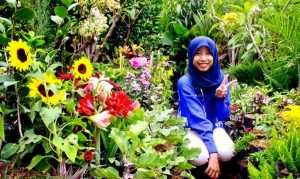 The next tour near Malang Station is the Flower Market. The flower market in Malang is very famous. If you're planning on buying flowers and other types of plants, try the Flower Market. The local people call it the Splendid Flower Market.
There are various types of flowers and plants that are sold at varying prices. This market is considered a very old market and has been famous since ancient times.
The location is also affordable and can be reached by foot or by public transportation from Malang Station. This market can be an alternative shopping tour before you return to your hometown.
7. Bird Market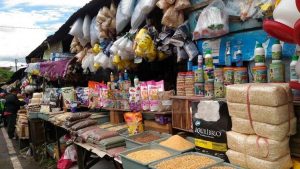 In addition to the flower market, in the Splendid area there is also an animal market which is more commonly known as the Bird Market. However, the animals that are sold there are not only birds, but there are lots of them.
If you like animals like cats, rabbits, and other types of pets, you can buy them there. In addition, animal feed and cages can also be purchased there.
Likewise with aquatic animals such as fish. Various types of fish, aquariums, and fish feed are also sold there. This location is also suitable as a location for a walk while looking at animals.
8. Jodipan Colorful Village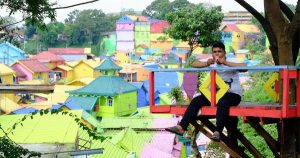 Have you ever heard of Jodipan Colorful Village which is famous as one of the Photo Spots in Malang? If you have and you want to visit it, then get off at Malang Station. From there, tourists only need to walk to get to the tourist village.
This village is very interesting. Previously, this riverside village was a slum and unattractive settlement. However, after being developed as a tourist village, now its appearance is better and attracts the attention of many tourists from outside the area.
The entrance ticket to this village is also very cheap, which is only Rp. 2,000. You can explore this village while taking pictures. However, keep your decency because this village is basically a residential area.
9. Tridi Village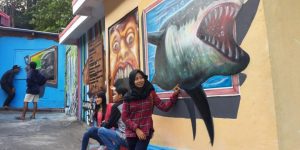 Besides the Colorful Village, in Jodipan there is also a Tridi Village. As the name suggests, this village is decorated with very interesting 3-dimensional images to be used as photo spots.
This village is suitable for those of you who really like painting and like to hone their creativity to take photos. The location is also directly adjacent to Kampung Warna-Warni so you can visit it at once.
In this village there are lots of interesting pictures, ranging from pictures of characters, pictures of the atmosphere, to pictures of animals that feel like they are alive. Prepare the best camera if you want to visit there.
10. Malang Square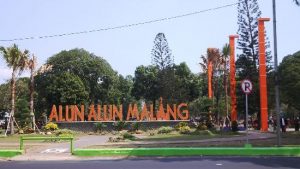 Don't think Malang city square is Tugu Square. Because the actual Malang city square has a shape that is not round, but square. The location is quite far from the station. But you can also visit it on foot.
Malang Square, which is one of the tourist attractions in East Java, is located on Jalan Merdeka Utara. This area is very spacious with a garden that has become better. In the past, the square only had a fountain in the middle and it was often misused for selling.
However, Malang Square is now more well-organized. Even there there are many interesting places to take pictures, both day and night. You can rest there for a while.
11. Jami Masjid Raya Malang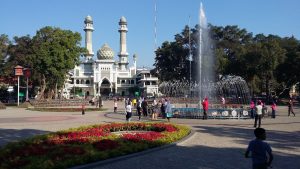 If you want to rest while taking the time to pray, there is a mosque right across from Malang Square. Jami Malang Mosque can be visited for worship.
The largest mosque in Malang is also always crowded as a place of worship during major Muslim celebrations, such as holiday celebrations. This mosque is also next to the church which has classical architecture.
Although it is not one of the tourist attractions, this mosque is also often visited by tourists to just rest while waiting for prayer time to arrive.
12. Handwood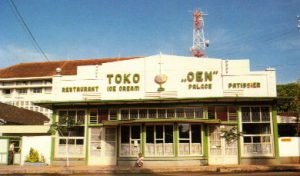 Kayutangan is one of the road markings around the historic Malang Square. Kayutangan consists of several Dutch colonial buildings which used to be a shopping center during the colonial period.
Until now, Kayutangan remains a shopping and office area. You can take pictures in this area and learn how the ancient shopping system with the ancient building structure.
There are also some legendary shops that still exist today, such as Toko Oen. Oen shop sells old fashioned ice cream and some other old fashioned snacks. But the price is quite expensive.
Those are some tourist attractions near Malang Station that can be visited to explore Malang city center. Hopefully this article can provide recommendations and useful travel alternatives.